If you're new to digital art and looking for a drawing program, your search ends here.
I want to give you my list of the top 8 best free drawing software, highlighting their best features and worst cons, so that you can pick the one that suits you best.
Remember: While achieving success in the art field is no child's play, the good news is that you don't have to pay anything to get decent drawing software. Some of the best artists started off on free software.
So, let's get started.
The Top 8 Picks for Free Drawing Software Compared
Best free open source painting program for both beginners and professionals
Individual file storage format allows you maximum control over your images. 
Graphic tablet support means excellent versatility for you to draw on your computer and on the go. 
Ability to open PSD files so you can modify them without an Adobe subscription. 
Create plug-ins to increase GIMP's amount of features and maximize your workflow.
Best free drawing tool for comics and manga
Improved OpenGL that works better with Windows graphics card drivers.
Up-to-date UI with a great layout allows you to work quickly.
Many brushes give wide design options.
Layers are available to create detailed art.
HDR is supported allowing colours to pop out of your screen beautifully.
Best free drawing app for PC
Simple to use and perfect for beginners. 
Multiple functions and effects to create stunning images. 
Well-organized interface makes the software quick and easy to use. 
Useful tutorials and online support are a great help to get you started.
Best free drawing app for PC
Brushes can be customized giving lots of drawing versatility.
Excellent vector tools to create hiqh quality illustrations.
Great colouring options to make your drawings wonderful.
Large user base and community meaning lots of help is available.
Best drawing program for animation
Simple interface makes this product quick and easy to use.
Multiple patterns and brushes give you lots of options when drawing.
Supports various input modes allowing you to draw with whatever you're most comfortable with.
Best free software for image editing
Friendly interface that's easy to use and provides an easier workflow
Realistic media providing you high quality output on images
Supports layers enabling you to create with precision
Runs on Windows OS
Best for creating 3D models
Converts drawings to 3D models with the click of a button
Wide range of paint effects allowing you to create unique paintings
Multiple drawing tools for flexibility while creating art
Intuitive user interface easy to use without having to customize
Best free graphics software
Simple interface very easy to use with no learning curve
Layer management allows for easier workflow when rendering images
Graphics tablet support makes this flexible to use on a variety of devices
Top 8 Best Free Drawing Software
GIMP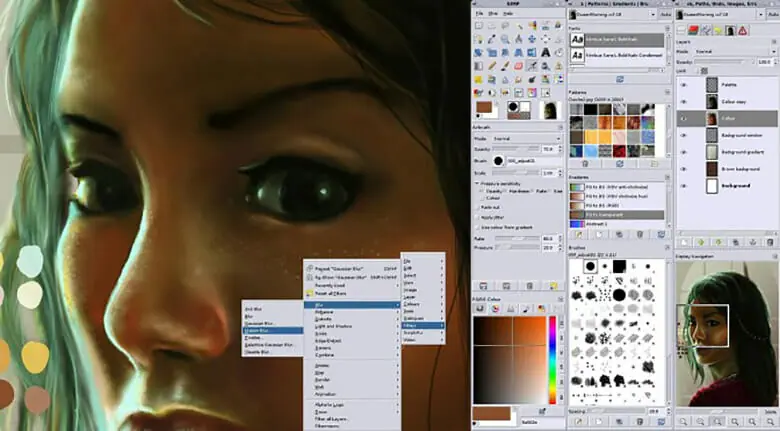 GNU Image Manipulation Program (or GIMP for short) is a free, open source software and graphics editor developed by GIMP Development Team. It's the best free drawing software and was created to compete against Adobe Photoshop.
GIMP is a free drawing app for PC. Simply install it on your computer. It includes many helpful features like assets for interactive design production, graphical user-interface creation tools, an animation effects suite with a timeline editor, and more.
The GIMP drawing tool helps designers easily create high quality graphics without the costly price tag that's associated with other drawing software programs like Photoshop.
Pros
Multiple OS support — Including Linux, macOS, Windows, FreeBSD, AmigaOS and Solaris operating systems, all commonly used for free-form drawing, editing, and exporting through different file formats.
Wide variety of tools — This includes brushes, filters, layers, masks, and colour grading tools that are also available in paid software, providing great flexibility with the ability to add tools via third-party extensions.
Opens PSD files — This allows for layer by layer editing, making it possible to create intricate drawings from scratch. That's the best feature on this free drawing software.
Variety of customizable brushes – Includes both soft and hard brushes all with extra features that allow for a smoother drawing process.
Cons
Interface is not user friendly – It's not as well organized in comparison to other software, creating a steeper learning curve for beginners.
Overall, however, GIMP is an excellent choice for both beginners and professionals. The support for multiple operating systems is fantastic, and the variety of customizable brushes allow great versatility.
GIMP is like an art studio on a computer. If you've always dreamed of being the next Picasso, GIMP can help make your artistic dreams come true. Get creative with your artwork and start drawing paintings, photorealistic portraits, or abstract sketches now.
Krita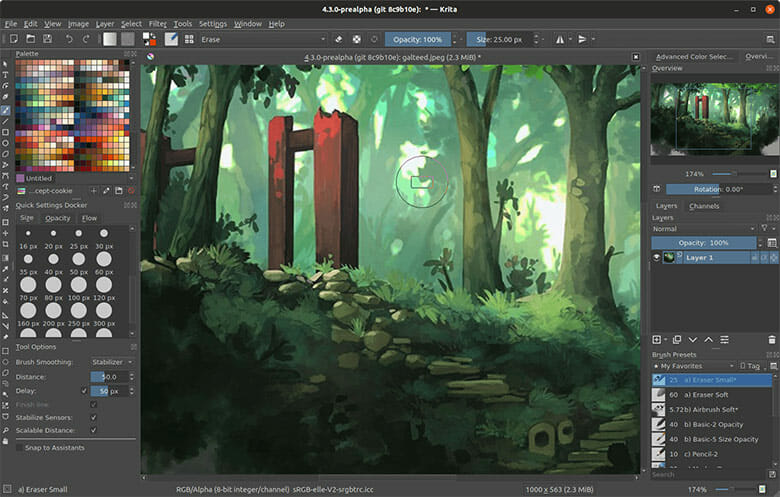 Krita is an extremely powerful, free, open source graphics software. It was originally developed as a drawing tool but now performs several additional functions from image editing and painting to 2D animation.
The software runs on Windows, Linux, macOS, Android and Chrome.
Krita is known for being the best alternative to Adobe Illustrator — a paid drawing software.
Krita also has many features that sets it apart from other open source software such as the ability to work with multiple layers and filters.
Pros
More drawing tools — This free digital art software provides smooth layering as it has drawing tools for post-processing, providing a high level of detail and precision.
No limit on canvas size — Drawing on Krita feels natural and realistic since the interface imitates real canvas, providing a wide range of artistic effects with additional drawing tools.
Improved OpenGL — This free digital painting software interacts better with your GPU and has an advanced brush engine for a better rendering experience.
Cons
No retouching tools — This makes it challenging for colour replacement in images and performing repeat patterns.
Krita and GIMP are both amazing free drawing apps for PC but Krita performs better since it has all the tools needed for vector graphics.
Krita is known for being the best free open source drawing software. The Krita community places a strong emphasis on producing high-quality graphics and artwork, to ensure that Krita stays best in terms of its capabilities and features.
Because it's free, Krita is an essential tool for students, professionals such as illustrators, comic artists, matte painting and VFX specialists, as well as amateurs.
"I am very happy with Krita. For an app you can use for free, this is a fantastic tool to have. I cannot stress enough, you should donate to this project if you find it useful."
Paint.NET
Paint.NET is a completely free digital art software that runs on Windows OS. It was originally designed as a replacement for Microsoft Paint but is now used as an editing tool.
Paint.NET is free, lightweight drawing software that is fast, simple to use and yet powerful enough for many digital artists and hobbyists alike.
It can be your illustrator, photographer or designer at your fingertips. If you've ever wanted easy photo editing capabilities from a program with a tiny footprint or needed a sturdy painting app for touchscreens then this may be what you've been looking for.
Pros
Simple, well-oriented interface — Paint.NET is similar to normal drawing tools. It's easy to learn and use — perfect for amateurs this makes it one of the best free digital drawing softwares out there.
Handles heavy tasks — This free art program provides the best functionality. It can run multiple heavy operations even on devices with low stem specs.
Broad selection of tools — This includes tools for sharpening, styling and blurring, plus several effects which collectively expands the creative process.
Actively developed — Aside from it being a free painting software, Paint.NET is continually being developed and refined, getting better with each update.
Cons
Interface is not project-based — Therefore only one image can be edited at a time.
Limited to Windows — This software cannot be used on devices that run on other operating systems such as macOS, Android or Linux which is quite limiting.
Despite these cons, Paint.NET's simple, well oriented interface and broad selection of tools make it a fantastic choice for a free painting software.
Clip Studio Paint
Clip Studio Paint, also known as Kurisuta, is a Japanese free drawing software developed by the company called Celsys.
Clip Studio Paint is one of the best free art programs for PC, used to create illustrations, 2D animations and comics supporting Windows, Android, Chrome, and macOS.
This drawing software is perfect for all those aspiring artists looking to enhance their illustrations and drawings skills, with its variety of features that make it great for projects such as storyboarding, manga, comic books, illustration, and manga-style art.
Pros
Customizable and realistic brushes — Coupled with a powerful brush engine, this free drawing software provides a natural feel when drawing, with smooth strokes and realistic simulation. Learn how to adjust your brushes.
AI technology — This software is embedded with the latest AI technology which performs multiple auto tasks from drawing to colouring in animations, and that allows for easier creation.
Huge selection of digital art tools — This helps artists create professional-style artwork and provides flexibility in the creative process.
Advanced vector tools — With several modes, advanced vector tools help in customization of images, and performing quick touch-ups which helps complete projects in a shorter timespan, something Paint.NET doesn't have.
Cons
Difficult to set up — With many options to choose from, it can be difficult to set up this software, especially for beginners since every tool has to be customized.
Once Clip Studio is set up, however, it is by far the best drawing app for PC. The customizable and realistic brushes are next to none, and the AI technology is an innovation in design software.
MediBang Paint Pro
MediBang is powerful and one of the best free drawing programs for both Mac and Windows PCs. It has all the features necessary for creating comics while being lightweight enough to run smoothly without overworking your computer.
This is the free drawing software you've been waiting for. Say goodbye to expensive, monthly subscription fees that limit your creativity and unlimited access. With Medibang Paint Pro, creating an amazing work of art has never been so easy or budget-friendly.
Pros
Powerful and lightweight — This free drawing program is designed to handle heavy tasks like creating comics while still being able to run smoothly without overworking your computer.
Simple interface — It's easy to use and is specifically designed for illustration and comic creation. It has 800 pre-installed anime templates, making the creation process much easier.
Free fonts and over 50 brushes — With a variety of customizable settings and the option to create your own brushes, this software allows for smooth workflow and precision.
Built-in cloud — The best part about this free paint program is that you can upload work to the cloud for free, so it won't take up too much space on your computer.
Cons
Ad pop-ups — Being one of the best free drawing programs with all features and tools, the caveat is that advertisements pop up when opening the program each time and there isn't a way to remove them.
Despite the annoying ad pop-ups, having over 50 brushes makes this art software a fantastic choice. It's simple interface means both beginners and professionals can prosper with this software easily.
Artweaver
Artweaver is a free drawing and image editing software for Windows that offers an intuitive work environment for artists.
It features various tools similar to those found in professional image-editing programs, allowing users to quickly add colour, improve the quality of images or create original artworks using various different techniques.
Artweaver is free and easy to use software that can help you create your next masterpiece. In just a few minutes, you'll be able to sketch out your ideas with sketches, lines or shapes using Artweaver's pencils, pens, markers, paintbrushes, or erasers.
It's the perfect tool for artists who are looking for a free drawing software they can try before making a commitment to expensive programs like Adobe Illustrator.
Pros
Tool variety — This free graphics editor offers a logical approach to editing and painting, making it ideal for both beginners and professional artists. It contains all the tools you'd expect to find in an advanced graphics editor including selection tools, layers, filters, blending options and more.
Multiple formats — With Artweaver, you can open various graphic file formats such as JPEGs (in the JPG format), PNG, TIFF, BMP or PSD (the native format of Photoshop), allowing you to work with a wide range of art files.
Great layering features — Artweaver is a great sketching software. It's also suitable for more elaborate works including paintings, posters and comics. The use of layers allows you to experiment freely without worrying about ruining your work.
Excellent brushes — Besides the set of tools common to most graphics software, Artweaver features a wide range of brushes that can be used to create very specific effects. These include both predefined and custom brushes.The wide range of tools and brushes accommodates the needs of all digital artists.
From simple drawing tools to advanced features such as layers, Artweaver offers an impressive array of functionality.
Simple interface — Artweaver's straightforward interface makes it easy to get started, even for beginners. Its intuitive design resembles popular image-editing software such as Photoshop, making it easier for users familiar with such programs to use.
Cons
Difficult advanced features — Artweaver is optimized for use by both professional and amateur artists, so the advanced options are difficult to learn.
However, with standard Artweaver features, you don't have to know anything about drawing skills to create masterpieces. It's the simplest drawing software that's completely free.
Microsoft Paint 3D
Microsoft Paint 3D is the best free drawing software for Windows that lets users draw and paint in three dimensions.
It was launched on February 28, 2017 as the successor of Microsoft's 30-year-old MS Paint program. It has since been downloaded more than 10 million times by users in all corners of the globe.
With Microsoft Paint 3D, it's never been easier to doodle, paint, sketch or animate.
You can choose from new hand-picked templates (to get you started on your own pictures to share with the community) or start creating right away – tweaking colours and shapes is as easy as playing with a toy.
Get creative with your art on the go with Microsoft Paint 3D. This free drawing software is colourful and incredibly accessible, it's never been easier to create tangible art pieces that you can print or share online.
Pros
Draw 3D models in real time — You can easily switch from 2D into 3D mode as you draw and go back again. Unlike other apps, the 3D models you draw will stay in place when you do this.
Intuitive user interface — Using Paint 3D is as easy as whistling a tune. The best part is that it doesn't use any resources, so don't be afraid to give it a try.
Downloadable content — Unlike other free drawing software available online, you also have access to downloadable content which is available for free.
Multiple drawing tools — This free drawing software comes with a number of tools, including pencils for drawing curves, circle brushes for creating round objects, and colour tools and calligraphy pens that enhance the creative process.
The new Paint app also has a set of stamp tools such as the "Fill" tool which can fill an area with colours or gradients, and the "Stamp" tool which can be used to stamp or paint colours onto the drawing surface.
Cons
Can't handle complex models — The downside to using Microsoft Paint 3D is that it is best used for drawing simple models, rather than complex ones.
Since the software was created as a successor to Paint, all its best features are on the simplistic side. It doesn't have any filters or effects that you can use to transform your drawing into something unique.
Download Microsoft Paint 3D now on your PC and start drawing without having to spend any money on software.
MyPaint
MyPaint is best known as being an open-source alternative to Adobe Photoshop and GIMP. Its user interface was inspired by those two applications, but it has a few unique aspects that quickly set it apart.
MyPaint is one of the best free graphics software that runs on Windows, Mac OS X, and GNU/Linux operating systems.
With this free drawing software, you'll be creating masterpieces in no time! Simply sketch using a pen or pencil tool and fill your sketch with colour.
Want to add some flair? Fill an area with light for focus or darken the edges so they pop.
Pros
Wide range of drawing tools — There are countless options to choose from – transform more than just colours, enlarge drawings, turn shapes like circles, squares, and curves into recognizable figures for drawings of all kinds and much more.
Realistic brushes — MyPaint uses realistic brushes that allow for working more naturally than traditional drawing applications. MyPaint's brush library rivals other professional graphics programs, all without a price tag.
Several brush engines — MyPaint offers several brush engines that emulate the real world behavior of different brushes. This allows the user to recreate many types of special brushes, and also to create new ones which would be impossible with conventional software.
Optimized configuration settings — Suitable for both right and left-handed users. MyPaint also works with graphics tablets without requiring configuration but still supports custom configurations for advanced users.
Related: Best Android Tablet For Drawing: Top 5 Tablets With Stylus
Cons
Limited features – MyPaint is not as feature-rich as other digital drawing programs such as Photoshop, but it is very easy to use, and many artists prefer this ease of use over the vast array of features that exist in other programs.
However, you can explore many possibilities with MyPaint, such as advanced layers, canvas rotation, and more. It's the best graphics software for beginners.
How to Choose the Right Drawing Software
Here's what you need to look out for when choosing a drawing software.
User friendliness — You want drawing software that has a wide range of brushes, quality colour palettes and multiple export options to allow you to perform multiple tasks.
Brush flexibility — You need to be able to not only add new brushes, but edit and customize them as well.
Layering — Your drawing software of choice should have different blending modes for an easier layering process.
Creation and transformation — Choose a software that has different colouring styles and allows for creation in different line styles according to your preference.
How Many Types of Drawing Software are There?
There are three main types of drawing software.
Vector – Deals more with shapes and lines to create smoother curves in images, allowing for resizing without losing resolution.
Bitmap – Handles images as a grid of pixels, best for general drawing and photo manipulation. However, you cannot resize images without losing image quality.
CAD – Designed for more technical drawings such as architectural or mechanical designs.
Now you know all there is to know about the best free drawing software, you're ready to take your digital art to the next level. You're fully equipped to make amazing creations, and we can't wait to see you learn even more here.
Click here to see our list of the best free and paid drawing tutorials that will help improve your skills and master the art of drawing.

Featured Image from: Pxfuel