Are you looking to get into digital animation? Want to know what the best tablet for drawing backgrounds, sketching character ideas, and creating storyboards?
It can be hard to find which tablet is the best drawing tablet for the wide range of tasks an animator has to complete.
But don't worry, I've got your back…
This guide compares and explains a carefully curated selection of the best tablets that we believe will work best for you. You'll then learn what to look out for in animation tablets to pick one that best fits the way you like to draw.
What Are The

Best Animation Tablets?
Our picks for the Best Animation Tablets are:
Huion Kamvas Pro 12
Wacom Intuos Pro
Apple IPad Pro with Apple Pencil 2
Wacom One
Wacom Intuos
Best Animation Tablet with Screen
178 Degree viewing angle to help you draw at the right angle for you
Customisable Touch Bar, which allows you to make your user experience more efficient
3-In-1 Cable to minimise cable usage
Best Animation Tablet for Beginners
Tilt Recognition Pen, closer to drawing with a real pen
Option for Paper Edition, enhances the natural drawing experience
Wacom Pro Pen 3D Compatible, which is useful for those using 3D applications
#3. Apple IPad Pro with Apple Pencil 2
Best Portable Animation Tablet
Industry Leading Colour Accuracy, which can allow you to see your artwork at it's best
Fast working speed which works especially well with multitasking
Magnetically charging Pencil

for less cables

 
Best Wacom Tablet for Animation Overall
Moderately Priced
Free Addition of Bamboo Paper, an app which allows you to mimic a paper notebook
Can be used with select versions of the Galaxy Note phones, which is great for multitasking if you own a Galaxy phone
Best Cheap Animation Tablet
Variety of Nibs to choose from, which can allow you to draw with the right pressure for you
Ergonomic Lightweight Pen, capable for using for long periods of time
Compact design, good for working on the go
The Best Drawing Tablets For Animation Reviewed
Huion Kamvas Pro 12
Display: 11.6 inch
Resolution: 5080 LPI
Pen Pressure Levels: 8192 Levels
This drawing tablet has an active drawing area of 11.6 inches and a chemically etched anti-glare glass to enable you to see colours more accurately.
This tablet has a customisable touch bar and a 16.7 million colour display, complete with a battery-free stylus pen. A battery-free stylus allows you to work efficiently without worrying about running out of charge.
The shortcut keys on this display tablet are especially considered a bonus to enhance the drawing experience. It can allow you to make quick edits and changes without breaking your workflow.
Pros:
Touch bar and customizable express keys, which can make the drawing experience feel more personalised and easy to use
Digital resolution is crisp on the display, which makes this tablet work well for animation as you can see more clearly.
Expensive-feeling build, combined with a good screen size and a battery free stylus, this tablet is ready to plug in and go
Cons:
Connection wire and usb cable shorter than other types of model
Not as lightweight as it could be, lack of portability
Too many wires could cause annoyance, especially for those working in a small space
Wacom Intuos Pro
Display: Available in Small (10.6 x 6.7 x 0.3 in), Medium (13.2 x 8.5 x 0.3 in) and Large (16.8 x 11.2 x 0.3 in)
Resolution: 5080 lines
Pen Pressure Levels: 8192 levels of pressure sensitivity
This is a display tablet which has between 6 to 8 express keys depending on size, which allows for a quick workflow, and comes with the benefit of offers on popular software such as Adobe Photoshop.
This graphics tablet also has 8192 levels of pressure sensitivity, which is especially useful to give a more natural drawing experience. The different sizes also allow animators to choose between smaller tablets or one with a larger drawing surface.
Pros:
Right or Left Handed Use, this graphics tablet may be a great choice for an artist who likes to draw from different angles
Touch Ring which is customisable, can make the creative process quicker and more intuitive, this feature is often seen as desirable by the best drawing tablets
Compatibility with Windows and Mac display, which is a great choice for animators who are working on different types of computer at work or at home, so as not to halt the animation process
Cons:
Pen stand is flimsy. It's not a huge deal, and it comes with a Wacom Pro Pen which can be a plus for animators.
Premium price-tag. Wacom's premium tablets come with a price tag, which can be off putting. However, you are getting a great display tablet with one of the best known brands in the business
Difficult to get replacement nibs, however Wacom's Intuos Pro model does include some replacements in their package, so this is less of an issue.
Apple IPad Pro with Pencil Review
Display: 11 inch
Resolution: 1920 x 1080 pixels
Pen Pressure Levels: N/A
The Apple IPad Pro with Apple Pro Pencil 2 is a tablet which is well known for being one of the best tablets for animation. With portability and high quality graphics – as well as a good camera –  this tablet can also function as a standalone computer.
The iPad Pro comes in either 11 inch or 12.9 inch drawing area and is especially valued for its intuitive use of Procreate and multi touch. This tablet is known for being an excellent computer replacement.
Pros:
Tablet includes a built in camera, which can allow you to take images and videos that can be used later as animation references.
Intuitive, known for it's easy to use software, such as Procreate, which is used by professionals and only costs $10 on the app store.
Portable and lightweight, therefore easy to travel, especially due to lack of needing a computer to connect to. With an excellent build quality, this may be one of the best tablets for somebody on the go.
Cons:
High Price Tag – the iPad selection is known for being on the pricier side. The price is highly affected by whether you would use the additional tablet features or, as an animator, you only want to draw.
Apple Pencil is an add-on, less value for money than other tablets on the market which comes with a full battery-free pen attached.
Not able to connect to a bigger screen, can prove tricky with large scale projects, although there are options around this, such as with Procreate where the app has inbuilt functionality that allows you to work with a second screen.
Wacom One Review
Display: 11.6 x 6.5 in
Resolution: 1920 x 1080 pixels
Pen Pressure Levels: 4096 levels
The Wacom One is a graphics tablet with a 13.3 inch active screen size and a battery free pen. This display tablet is known for its affordable price despite being part of Wacom's brands. As well as this, the Wacom One is able to connect to certain Android devices.
This tablet comes with tilt recognition and fold-out ergonomics such as an adjustable stand to allow you to view from different angles. This is especially useful as you may be at your desk for a long period of time, or like to see how your work looks from different angles.
Pros:
Affordable Price Range, especially good for those new to tablet drawing or looking for the best mid range tablet in price.
Precise drawing due to 4096 pen pressure levels this tablet comes with and lightweight pen
Excellent Value for Windows, Mac and Android users, allowing you to connect up to any of these devices seamlessly.
Cons:
Screen isn't very bright, and can be an issue if working in a space with less overhead lighting.
Lower colour and resolution than the Pro line, may not be as useful for professional artists needing higher quality, or full hd
No eraser on the pen, lacks that natural drawing feel. However, this is a personal preference.
Wacom Intuos Review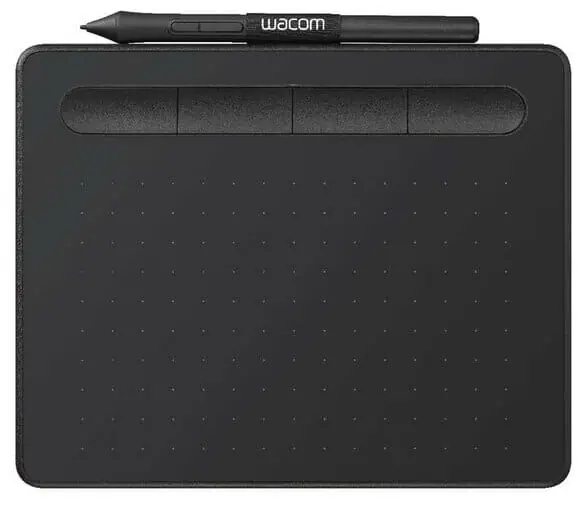 Display: 6 inch x 3.7 inch
Resolution: 5080 lines
Pen Pressure Levels: 4096 levels of pressure sensitivity.
This is a thin graphic tablet with a light-weight pen and a good sized display, as well as programmable express keys. Being light-weight allows this tablet to be portable, whilst the express keys allow for a fast and easy workflow.
The tablet is great for animators as it comes with a range of free digital art software trials. It also has good build quality as well as three different size options available, so there's a range of options if you would prefer a more compact tablet for travel.
This high quality display tablet also has a great battery life, which means it would work especially well for those who don't want to be sat at their desk plugged in for charging.
Pros:
Intuos' customization options can be useful especially for animators in software like Adobe Lightroom and Photoshop, as you can programme your express keys to select common tools in these apps.
Includes free trials of apps like Clip Studio Paint Pro, Corel Painter Essentials 7 and Corel AfterShot Pro 3, giving you more value for your money.
Available with or without Bluetooth, giving you the option that works best for you, whether that's wirelessly for greater flexibility or connected via USB.
Cons:
Has been noted to lag with Bluetooth, could be more problematic for large scale projects
Nibs can wear down quite easily
Can be considered too thin and flimsy

, especially with the small display options with less surface area
 Choosing An Animation Tablet: Buyers Guide
Size & Active Area
The active area of animation tablets can be a defining feature, as the size of your drawing area can affect your drawing experience. A smaller display may work perfectly well if you're only working on detailed projects such as photo editing, as you're less likely to need to make broad strokes.
However, Photoshop can encounter some problems if a tablet is on the smaller side, as it can be harder to select items on the display.
Nevertheless, price-wise, a smaller display tablet may be the way to go if you're a beginner on the lookout for more affordable tablets. This allows you to test your interest in animation without being too much out of pocket.
On the other hand, if you're experienced with digital art and using a graphics tablet, a larger display area will allow you to feel less confined, and make larger broad strokes. A larger tablet may also be more ideal if you want more of an immersive art experience.
Resolution
Resolution is measured in how many Lines Per Inch (LPI) the stylus pen will pick up, with a higher resolution meaning the clearer they will appear on your tablets. Animators may find this especially important as being able to draw accurately on the drawing surface can make all the difference to a project.
Display tablets can capture 1270, 4000 or even 5080 LPI. The good news is: for most artists, 1270 LPI will be enough detail for projects. It's true that incredibly advanced tablet users and professional digital artists may note more differences and need a level up on their graphics tablets, however.
For animation, it may be better to look for a tablet which comes with a higher resolution. This will enable you to see your projects in the best light.
Pressure Sensitivity
Styluses attempt to mimic a real brush or pencil by being pressure-sensitive. You see, the pressure sensitivity you apply on the display with the tablet pen will determine how your strokes look in terms of both density and style.
Pressure sensitivity can range from the low 1000's to 8192 levels of pressure. Pressure sensitivity is a good marker of a quality product that will make a great drawing tablet.
The more pressure sensitivity you have on your tablet, the more flexibility you will find in your stroke size or opacity, and therefore the closer a tablet will feel to a real artistic medium.
Pressure Sensitivity can make a huge difference in your user experience. This is especially needed for tablets used for animation, and, best of all, many tablets are offering high levels of pressure sensitivity to the growing market of artists.
Controls
Often, drawing tablets comes with customizable express keys – sometimes known as hot keys or shortcut keys – and even a touch ring on their device. Express keys are located on the sides of the drawing tablets and on the stylus.These controls are customisable and therefore extremely useful.
Simply put: artists can map these controls to their own individual needs. If you're wanting to use the back key, double click or eraser often, these are some of the settings you can control using these keys. This will enable animators to work more efficiently and intuitively.
Control keys can help your work-flow, allowing you to minimise the time it takes to complete your piece.
Budget
Now, animation can be your hobby or your career, and this vastly determines how your budget is going to affect your choice in drawing tablets. If animation is your career, you're going to want the specifications, quality and reliability of going from choosing one of the higher priced animation tablets.
However, if you're a beginner, or only considering animation as a hobby, you may be better off looking at tablets which have more multi-functionality or are cheaper. This will enable you to test the waters without buying an expensive product.
Buying a cheaper drawing tablet can mean not always reaching for the best drawing tablet on the market, as you have to compromise on certain capabilities to get a better price. On the other hand, drawing tablets are becoming increasingly popular in this digital age and therefore we are seeing the variety of different price ranges increase.
Turns out, you can now get graphics tablets with a wide range of capabilities, like the Wacom Cintiq, for a competitive price.
Capabilities
Display tablets are a competitive market. Manufacturers are always trying to find a new unique selling point that will hook a buyer in. As if that's not enough, there is your budget to consider.
Therefore, It is useful to know what capabilities you really want for a tablet before you start looking, as you may get sucked into wanting something that won't be of benefit to you.
For example, if portability isn't a huge issue for you, there isn't much use in looking for a lightweight tablet. Think about it: does great battery power matter if it will be plugged in most of the time? It's likely that you would prefer to focus on other capabilities, such as hot keys or display size, which you will use more often.
Similarly, if you are fine doing everything with touch capabilities, you may not want the most amount of express keys – turns out it's all based on how you like to work.
Capabilities vary from tablet to tablet, including USB connection and express keys, and it's no wonder that many animators create a list of things they must have from a drawing tablet before beginning to browse drawing tablets for animation.
The best drawing tablets will include all the features that you need from a tablet.
Some capabilities you may want to consider include:
USB Cable and Bluetooth connection
Good Battery Power
Customizable Express Keys
Multi touch
What the stylus pen can do
What's My Favourite Animation Tablet?
Ultimately, the best tablet to use as an animator is going to depend on your unique working style.
The iPad Pro is going to be useful if you have a large budget and want more portability. If you are on the go a lot, the IPad Pro is for you. If you prefer a Wacom tablet, the Wacom One has the flexibility to connect the tablet to a variety of devices including Android, high pressure sensitivity, good battery life and a great screen size.
However, combining both high quality and excellent value for money is the Huion Kamvas Pro 12. It's a good choice if you want customisable keys and a touch ring, and is more suited to animators who like the traditional graphic drawing experience.
In my opinion, the Huion Kamvas Pro 12 is the best tablet for an animators tablet, and one you won't want to miss out on.