Want an affordable drawing tablet that doesn't break the bank?
A premium price tag is often considered proof of having the best features for everyone's drawing needs, but that's simply not the case. As artists, we don't always need the product with the highest spec's or most features to work best for our needs.
In this guide you'll learn our top choice of the best tablets on the market right now for those on a budget. You'll also learn everything you need to know to pick a great tablet at an affordable price.
What Are The Best Cheap Drawing Tablets?
Our picks for the best cheap drawing tablets are:
Wacom Intuos: Our top drawing tablet for beginners
Huion KAMVAS Pro 12: Our favourite drawing tablet with a screen
XP-PEN Deco 01: The best drawing tablet for the large surface area
GAOMON M10K2018: The best drawing tablet for under $100
VEIKK A30: The best drawing tablet for artists wishing to develop their talent
Huion H610 Pro V2: The best drawing tablet for windows only devices
Here is a quick comparison of each of these choices:
Best cheap tablet with a screen.
Hand holding part of the pen is covered with a silicone sleeve to minimise pain whilst holding.
178°full viewing angles for optimum drawing at any height.
±60 degrees pen tilt to allow artists to shade just like a real pencil when the stylus is tilted.
Best cheap tablet for developing artists.
Smart Gesture Touch and Easy Touch Keys, which can be used to get the most intuitive experience from your tablet.
 Trace line trajectory & automatic line correction, which can help for developing artists who still need some assistance.
Device compatibility with Mac or Windows so switching devices shouldn't be an issue.
Best cheap tablet for Windows devices.
Comes with a drawing surface protector to alleviate scratchy texture when drawing.
This tablet is known to work particularly well on the latest Windows update therefore will be particularly compatible with recent Windows devices.
Good, but doesn't compare to the others
The Best Budget Drawing Tablets Reviewed
Wacom Intuos Review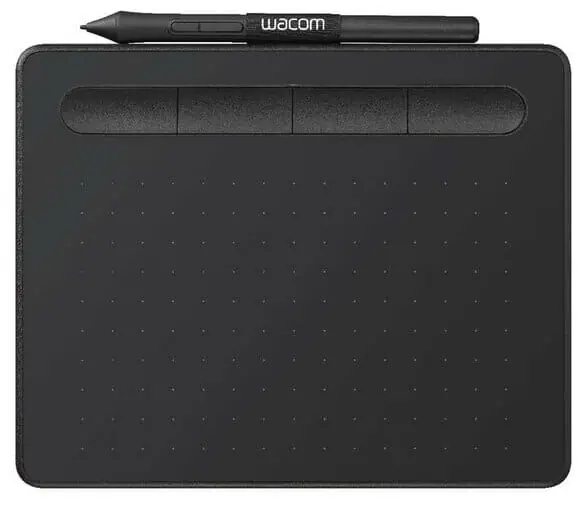 Display: 6 inch x 3.7 inch
Resolution: 5080 lines
Battery Level: Tablet is dependent on the device it's plugged into, 15-hour pen battery life.
Pen Pressure Levels: 4096 levels of pressure sensitivity.
Wacom Intuos is a thin graphic tablet with a light-weight pen that comes in three different size options, with a good sized active drawing area and programmable express keys. The Wacom Intuos comes with a range of free software trials to get you started.
Pros:
Includes free trials of apps like Clip Studio Paint Pro, Corel Painter Essentials 7 and Corel AfterShot Pro 3, giving you more value for your money.
Intuos' customization options come in handy especially in software like Adobe Lightroom and Photoshop. These softwares are perfect for those at entry level to these apps, and has already had success on the Wacom Cintiq.
Available with or without Bluetooth, giving you the option that works best for you, whether that's wirelessly for greater portability or connected via usb.
Cons:
Difficult set-up. Wacom requires you to create an account, which can frustrate those who want to be able to plug in and use immediately.
Some users have found compatibility issues with the latest version of Windows 10, however Wacom is known for their excellent customer service and so fixing this may be on the horizon.
The Wacom intuos range is by far my favourite. If you are new to digital art, or want a quality tablet at an affordable price, then you can't go wrong here.
VEIKK A30 Review
Display: 10 x 6 inch
Resolution: 508 Lines.
Battery Level: Tablet is dependent on the device it's plugged into, battery-free pen with smart chip.
Pen Pressure Levels: 8192 levels of pressure sensitivity.
The VEIKK A30 drawing tablet with a 10 x 6 active drawing area and a battery-free pen. This tablet works with most Android devices and is compatible with popular software such as Photoshop and Illustrator. The VEIKK A30 comes with Smart Gesture Touch and 4 Touch Keys.
Pros:
Device compatibility is a huge bonus for graphics tablets, with this tablet working with both Mac and Windows systems.
Smart Gesture Touch and Easy Touch Express Keys. These features allow for hand gestures to control the screen attached, which is suitable for both right-handed and left-handed people, and allows for greater efficiency when graphics drawing.
Trace line trajectory and automatic line correction. These features allow you to optimise your drawing on the 10 x 6 area and create your best work faster.
Cons:
Some users have found the pressure levels on the pen difficult to use, finding it difficult to create thin lines.
The screen can feel rough to draw on, which can help prevent an optimum drawing experience.
The pen is quite light which may make the drawing experience difficult for those used to a more solid pen, however the pressure sensitivity levels are very good.
GAOMON M10K2018 Review
Display: 10 x 6 inch
Resolution:  5080 Lines.
Battery Levels: Dependent on the device it's attached to, battery-free pen.
Pen Pressure Levels: 8192 levels of pressure.
The GAOMON M10K2018 is a graphic tablet which has 10 shortcut keys, a battery-free stylus and a touch ring. This tablet has a 6.25 x 10 inch active drawing area and a high level of pen pressure sensitivity. The GAOMON M10K2018 has a 10mm sensing high to make drawing efficient.
Pros:
Easy to set up and customise your express keys. Users have remarked it is incredibly intuitive, with the express keys in the best placement.
The pressure sensitivity curve on the pen mimics an actual pen, and provides a very natural pen shape to use on the drawing area, especially if you're inking in Illustrator.
Connecting to a laptop or monitor is simple, there is a user-friendly feel to this device.
Cons:
Lack of compatibility to certain Mac apps like Illustrator C55. If this would make a huge difference to you, as it is the software you are used to, this may not be one of the best drawing tablets.
Pressure sensitivity has been reported to not feel as tuned as other tablets with the same levels, with some users saying they suspect the pen pressure sensitivity of working at lower levels than it's meant to.
The software driver/preferences do not allow for as much customization as brands like Wacom, which can inhibit how well the active area works for you.
XP-PEN Deco 01 Review
Display: 10 x 6
Battery Level: Tablet is dependent on the device it's plugged into, battery-free pen.
Resolution: 5080 lines
Pen Pressure Levels: 8192 levels of pen pressure sensitivity
The XP-Pen Deco 01 comes with 10 x 6.25 active area and one battery-free XP Pen stylus that works at an increased 266 RPS. This budget tablet has an ergonomic design with good build quality. Furthermore, this tablet has the benefit of a new pen stand which has a built-in tool to replace pen tips to increase efficiency.
Pros:
Eight express keys with ergonomic placing that have been designed to alleviate awkward positioning when drawing. The eight keys can be programmed to your own preferences which means you shouldn't have to use your keyboard when working on your XP Pen tablet.
The XP Pen tablet is compatible and works well with most operating systems and creative programs. It is especially easy to use with the most popular apps like Photoshop and Illustrator.
Ultra-slim profile and lightweight build quality, good for travelling as well as for those who do not have too much room to spare.
Cons:
XP Pen Deco has no support for Android devices, which means if your current monitor is an android device this will not be the best drawing tablet for you.
A few users have reported connectivity issues with Windows 10, one of the most popular operating systems.
No eraser as well as switching to eraser mode being difficult can pose issues for people who want a more natural approach to graphics drawing.
Huion H610 Pro V2 Review
Display Size: 10 x 6
Battery Life: Dependent on your device plugged in, battery-free pen.
Resolution:  5080 lines.
Pen Pressure Levels:  8192 levels of pressure sensitivity
The Huion H610 Pro V2 is a drawing pad which has a 60 degree tilt function, which allows for ease of use when shading. Similarly, 8 to 12 shortcut keys to allow for efficient digital drawing. This budget drawing tablet has good levels of pen pressure sensitivity and has a wide compatibility with both Android and OS models.
Pros:
Comes with a drawing surface protector that is extremely easy to apply, which removes the rough feeling and means there's no scratches on the device after heavy use.
Pen pressure sensitivity levels are great, especially for the price, and this tablet comes with an additional pen holder and 8 nibs which increases the value for money. This pressure sensitivity allows for the most efficient way to use the drawing area of your tablet.
Users have reported that it works incredibly well for drawing with the latest Windows Update, one of the most popular operating systems.
Cons:
No touch function which means you can't finger paint or use your fingers to zoom, which may be less intuitive for those used to a regular tablet.
Although the pen is battery free, it lacks a wireless option which means you will have to work in one space. This may make your drawing area less portable, and pose an issue if you are somebody who likes to work without cables.
There have been complaints about compatibility issues on Mac.
What Is The Best Cheap Drawing Tablet With A Screen?
HUION KAMVAS Pro 12 Review
Display: 11.6-inch
Resolution: 1920 x 1080
Battery Level: Tablet is dependent on the device it's plugged into, battery-free pen with tilt function.
Pen Pressure Levels: 8192 levels of pressure sensitivity.
The Huion KAMVAS Pro 12 has an 11.6 inch drawing area, 4 shortcut keys and is equipped with one of Huion's latest battery-free stylus.
The main benefit of this tablet is the ergonomic full viewing angles, which allows you to use the tablet at a better height to reduce fatigue.
Pros:
Equipped with one of Huion's latest battery-free pens, as well as a new pen holder in a doughnut shape with 10 extra pen nibs and a pen lifter inside of it. The pen is covered with a silicone sleeve, which makes drawing for a long period of time more comfortable. The pen itself is known for its instant and accurate response with a 220PPS report rate, as well as high levels of pressure sensitivity.
178° full viewing angles, which can help reduce fatigue and enable you to draw on the active area at whatever angle works best for you.
60 degree pen tilt sensing, which, in particular software that also supports tilt sensing function such as Photoshop, can allow for effortless shading on your drawing area, and is a popular feature of the best drawing tablets.
Cons:
Because this tablet allows you to draw on a screen, it is a more expensive option than a standard drawing pad.
Added features including tilt sensing may confuse a beginner to drawing, who just wants a simple introduction to digital art.
It's also considered one of the best wacom cintiq alternatives. It's large active area, affordable price and excellent build quality makes it one of the best drawing tablets on a budget.
Looking to upgrade your drawing tablet?
If you're looking to upgrade your drawing pad, it's worth checking out the Wacom Intuos Pro which was featured as our Best Drawing Tablets for Beginners. This tablet comes with a wide range of features to best suit every need.
Wacom Intuos Pro
Display Size: The Wacom Intuos Pro is available in Small (10.6" x 6.7"), Medium (13.2" x 8.5)  & Large (16.8" x 11.2") sizes.
Resolution: 5080 lines
Battery Life: 15 hours on average.
Pen Pressure Levels: 8192 levels of pressure sensitivity
Wacom Intuos Pro is one of the best drawing tablets due to it's combined power with the Wacom Pro Pen 2, which is known for its tilt function to allow a more natural feel and high levels of pressure sensitivity.
Pros:
Wacom Intuos comes with the Pro Pen 2 – The recommended pro pen for this tablet allows for greater control when drawing.
Thin and lightweight design. At only 8mm thick, each tablet size is compact to allow for easy travel but sturdy enough to allow for different kinds of pressure. The design includes a substantial active area on all different sizes.
Wacom Intuos drivers are known to work particularly well with Photoshop, a popular software for the best drawing tablets to have.
Cons:
The price for this tablet is on the more expensive side, which may not be beneficial for those on a budget or entry level artists who aren't sure if it's worth the investment yet.
Wacom Intuos Pro comes with a lot of different features which can make it hard to appreciate at first and can be a bit overwhelming for beginners.
How To Choose The Right Affordable Drawing Tablet on a Budget?
---
Drawing Tablets vs Graphic Tablets: What's The Difference?

What is a drawing tablet
A drawing tablet is a type of drawing pad which enables artists to work in digital form, drawing directly on their computer screen through the tablet.
Most drawing tablets have a pressure sensitive drawing area and the tablet itself will have to be connected to a device such as a computer or a laptop in order to be fully utilized. You won't be able to see your drawing on the tablet itself, but on a separate screen it is connected to.
The most popular brand of tablets are usually Wacom, Huion, or XP Pen. However, Apple and Android also have a range of drawing tablets with a stylus.
What features can you expect from a drawing tablet?
A Drawing surface (Also known as the Active Area)
A Stylus
Hotkeys (also called Express Keys)
Pen Pressure Sensitivity
Tilt-Sensitivity
What is a graphics tablet and how is it different?
A graphics tablet – which can also be known as a pen display – is like a drawing tablet, however it allows you to directly draw on a screen. This allows you to see your artwork in real time as you are drawing with a stylus. It feels a lot more natural.
The Wacom Cintiq range and Huion KAMVAS range are particularly noteworthy graphics tablet ranges, however there are a wealth of other graphic tablets out there available on a budget.
What features can you expect with graphics tablets?
A complete screen
Often a lack of hotkeys in exchange for touch capabilities
Everything else a drawing tablet has
How to choose the best affordable drawing tablet
User-Friendly Or A Gruelling Set-up Process?
Nothing is more disheartening than opening up your brand new tablet to find that there's a convoluted process to connect and use the tablet, with a set of complicated instructions that seem to make no sense – and you're left wishing that you had just stuck to the pen and paper.
Fortunately, many tablets nowadays have automatic installation. Your OS will identify and download the drivers which are necessary to get your tablet working. Alternatively there will be the option to install the drivers from a CD ROM.
Make sure to check the user reviews to see whether any other users have come across driver issues, especially if you're not technologically proficient, or willing to spend a lot of time researching.
Some cheaper tablets can have issues with the driver which can make the pen erratic and hard to use, so it is worth making sure that you're spending your money on a good quality product that is easy-to-use.
What is the Drawing Experience actually like?
One of the key areas to think about when choosing your drawing tablet is the actual feel of it, and how you can work with it. As most tablets used for digital art are now bought online, it can be difficult to differentiate and understand how the tablet will actually feel.
Some tablets will have the feeling of drawing on glass. If you are used to drawing traditionally, this can take some getting used to. Many digital artists actually prefer it.
However, if you like the natural feel of drawing, then some tablets will have a textured surface that can feel more natural.
But, this isn't the only thing that determines the experience of different graphics tablets. Below I show you other things to consider…
Drawing Area.
Most tablets have two measurements, the size of the overall tablet and the size of the drawing area. It is useful to know both when deciding your tablet, as you may want a generous drawing surface but on a small, portable tablet.
All tablets have a drawing surface, which is usually the majority of their surface area, dependent on buttons and design. This surface is often called the Active Area.
This active area is pressure sensitive to the stylus and where it is placed.
Graphics tablets are more varied in design than drawing tablets. Some have a regular touch screen on which you draw – such as the Samsung Galaxy Tab range – while others might opt to include express keys instead.
The stylus.
All types of drawing tablets come with styluses, specifically designed to work with the pressure-sensitive drawing area. The stylus is incredibly important – probably the most important tool – so it has to be a factor in what tablet you choose.
A good stylus will fit comfortably in your hand, be light and wireless so you can draw freely, and have a good depth or pen pressure sensitivity. A stylus may also come with different features such as being battery free, like the XP Pen, and have bluetooth enabled.
A more advanced feature found in some styluses, such as Wacom's Pro Pen 2 range, is tilt sensitivity. This attempts to emulate a more natural drawing experience, and allows to change the direction of your strokes. I'll share more about this below…
Hotkeys / Express Keys.
Many tablets will often feature hotkeys, also known as shortcut keys or express keys. Depending on what product you buy, these hotkeys may do different things, so keep an eye out for ones that interest you. Some tablets allow you to calibrate the hotkeys to your individual drawing needs.
Graphics tablets have, generally, the same parts as drawing tablets, but sometimes their hotkeys will usually be on the touchscreen instead of actual physical buttons.
Portability.
Tablets come in a variety of sizes. Most will include USB cords to be connected to your computer. However, some will be able to connect to your computer via bluetooth, or be entirely self contained systems (such as the Wacom's Pro Pen 2).
Some of these more portable tablets are also equipped with regular tablet functions, like internet connection, apps and camera functions. Because of this, they are often more expensive.
With a graphics tablet, you're going to want to strike a balance of being light enough to carry around, but not so small that you can't draw on it.
Tilt-Sensitivity.
As mentioned previously, tilt-sensitivity is a function of your stylus. Although tilt-sensitivity is not guaranteed with most tablets, it can be found with XP Pen range, most Wacom tablets, and some Huion tablets.
Tilt Sensitivity is an art specific feature which allows you to mimic the natural use of a pencil, or pen. Some software allows for you to mimic air brushes and paint brushes, working as if in the real medium.
Tilt-sensitivity may be enabled in certain apps that are designed with tablet use in mind. Many of the best drawing tablets and apps will allow for tilt sensitivity.
Warranty.
Especially if you're buying from an unknown brand, it's best to check there is a good warranty in place. Most major brands, such as Wacom, Huion and XP Pen, do offer a warranty on parts and labour of at least a year, but it is best to check just in case this isn't the case.
Wireless Support/Bluetooth.
It is worth thinking about how you work. If you will work more productively without wires getting in the way, but would still want a graphics tablet, you may want to consider finding a tablet which includes a wireless or bluetooth feature.
This can make a big difference in terms of accessibility, as it will allow you to forget the cables – providing greater flexibility. This can create an experience that is much closer to the traditional pen on paper, and may maximise creativity.
USB port.
Many tablets do already feature a built-in USB, however it is always best to check this. Even if you were thinking of going for a wireless model, a USB port can maximise compatibility with devices, particularly when travelling.
Cost.
Due to their screens, graphics tablets can often be more expensive than standard tablets. Whilst you can often find a range of drawing tablets for under $100, the same can not be said for a graphics tablet. This is often a major deciding factor in decisions for amateur artists and is something worth considering.
Extra Accessories or Software.
Some drawing pads and graphics tablets will feature add-ons such as software bundles or accessories such as extra pen nibs or anti-smudge gloves. Often, tablets can have software included that makes it simpler to get the tablet up and running as quickly as possibly.
Due to these extras, it's worth checking out what your intended tablet includes, as this could be the difference between a budget tablet which functions well for you and a tablet which is ready to go at no extra cost.
Our Favourite Budget Drawing Tablet
Our favourite budget drawing tablet is a Wacom's Pro Pen 2, which encompasses the best ergonomic features, good technical specs, an amazing pen and extra features for an affordable price.
This tablet also has the added benefit of anti-glare glass, which makes it easy on the eyes. With 8192 levels of pressure sensitivity exceptional, ±60 degrees pen tilt, and generous drawing area, the HUION KAMVAS Pro 12 feels so natural to draw on.
If you have been eyeing the Wacom Cintiq range, but want a graphics tablet at a more affordable price, then the HUION KAMVAS Pro 12 is my favourite choice.