Nowadays, buying ready-made canvases is relatively easy; No canvas stretching, no sweating, and minimal measuring: it's a dream.
But finding the best canvas for oil painting is an entirely separate challenge.
Not all canvases are made equal…
To help you find the right canvas, we're reviewing some of the top options based on cost, quality of materials, and durability.
Best Canvas for Oil Painting: Our Top Five Picks
#1. Blick Premier Stretched Cotton Canvas
Best canvas for oil painting (overall)
Hand-splined stretched canvas, which hides the staples for a neater appearance
Ready to use: triple-coated with acrylic gesso
Works for oil and acrylics
#2. Centurion Deluxe Professional Oil Primed Archival Linen Panels
Best panels for oil painting
Archival-quality linen canvas for paintings that last years
Linen doesn't absorb the paint, which enhances blending and color
Lightweight and easy to store
#3. Fredrix 3501 Canvas Pads
Best oil canvases for students
Mimics the feel of canvas without the weight or cost
Stiff, acrylic-primed surface works with oils, acrylics, pastels, graphite, collage, and more
Available in a wide variety of sizes
#4. Senso Clear Primed Linen Panels Multipack
Primed with clear gesso to maintain natural linen surface
Sturdy board panels for long-lasting paintings
Mid-toned canvas is ideal for oil painting en plein air
Best canvas paper for oil painting
Versatile: can also use for oil pastels and acrylics
Fine-grain surface mimics a stretched canvas
Affordable and portable!
Oil Painting Canvases Reviewed
1. Blick Premier Stretched Cotton Canvas
Durability over time: 5/5
Best canvas for oil paint
Pros:
Hand-woven cotton fabric is triple-primed with gesso, so you're ready to paint!
Clean, gallery-ready appearance: no bulky corner folds
Solid wood stretcher bars are warp-resistant, so paintings will last
Smooth yet toothy surface for easy blending on the canvas
Cons:
Difficult to restretch. Canvases are hand-splined, meaning that the staples are deeply hidden. Splining creates a neater appearance but also makes it difficult to remove and re-stretch the canvas if desired
For pros and amateurs, these canvases are a pleasure to paint on. Whether you're working with oils, acrylics, or watercolors, they're consistently gessoed with just enough tooth to hold the paint.
Blick offers its premier stretched canvas in three different profiles: traditional, museum, and gallery. Here's the breakdown of each type:
Traditional Wrap
The stretcher bars are slightly thinner, and the fasteners may be visible on the sides. This style of stretched canvas looks less finished and may need to be framed.
Gallery Wrap
The canvas is stretched around the sides of the wood frame so that the staples are hidden: that way, viewers will focus on your painting, not the staples. At DickBlick, this canvas is thicker than the traditional profile.
Museum Wrap:
This profile is the thickest. The sides of the cotton canvas remain white, while the painting is done exclusively on the front of the stretched canvas.
Each canvas profile is crafted with professional-grade cotton duck: a super-durable textile used for many oil and acrylic canvases. The cotton canvas is sanded between coats of gesso, resulting in a smooth painting surface. The price and sturdiness of these canvases make them accessible to artists of all experience levels.
2. Centurion Deluxe Professional Oil Primed Archival Linen Panels
Durability over time: 4.7/5
Best panels for oil painting
Pros:
Lightweight linen canvases are designed for travel
Oil-primed surface is super receptive to oil paints
Excellent quality for both professionals and students
Cons:
You might notice some inconsistency in the texture of natural linen
Some painters need a sturdier backing for their paintings
Looking for lightweight linen that's also light on the budget? These linen oil painting panels take up only a quarter of the space of a 3/4″ canvas. They arrive in compact 6-packs, which slip easily into a bag for painting en plein air or a trip to the studio.
The non-absorbent canvases are backed with a sturdy compressed wood fiber known as "hardboard," so each of your masterpieces is protected. The panels are also oil-primed, which means that the primer is oil-based: a feature that optimizes the natural color and gloss of oil paints.
Upon switching from old cotton canvases, many artists become entranced by these smooth, oil-primed linen surfaces. The oil primer is less absorbent than acrylic primer and preserves each brushstroke for a more "painterly" aesthetic.
3. Fredrix 3501 Canvas Pads
Durability over time: 4.7/5
Best oil canvases for students
Pros:
Canvas pad feels like real cotton canvas – but doesn't take up as much space
Ready-to-paint, acrylic-primed sheets are perfect for oil paint studies
Lightweight canvas pads are perfect for art students and traveling painters
Cons:
Canvas texture is notably rough
May not be suitable for professional or gallery work
This artist-grade canvas pad is a well-priced option for artists who want the feel of oil canvas without the hassle of creating their own. The canvas surface also works for acrylic paints and pastels, so it's a versatile studio addition for multimedia artists. Each pad contains ten medium-textured cotton sheets.
Keep in mind that these canvas pads are acrylic-primed, not oil-primed. In most instances, acrylic primer is just fine (and less expensive); that said, you may notice that oil paints sink into the surface slightly, particularly if you're applying many layers of oil paint.
4. Senso Clear Primed Linen Panels Multipack
Durability over time: 4.7/5
Best linen canvas for oil painting
Pros:
Sturdy panel backing
Stiff surface is suitable for a range of both wet and dry media
Some artists may prefer the mid-tone canvas, which adds value and depth to oil paints
Cons:
Some artists may prefer white-primed oil canvases
The weave is not as fine as traditional linen stretched canvases
Painters of all skill levels will enjoy working with these natural linen panels. Their medium-tooth finish and stiff surfaces support a range of media: use them for oil painting, gouache, drawing, screenprinting, and more.
For artists who work both large and small, you'll appreciate the variety of canvas sizes in this series: you can paint a miniature on their 3×3" canvas panel or a full-scale portrait on a 16×20" linen panel.
These canvases are elegant yet sturdy: they're designed with heavyweight board panels that purportedly last a lifetime. Whether you're creating oil studies, quick sketches, or collages on these panels, they'll likely last much longer than you'd expect.
5. Arches Oil Paper
Durability over time: 4.5/5
Best canvas paper for oil painting
Pros:
Balanced fine-grain surface is perfect for smoothing and blending
12 large sheets = 12 days of playing with oil paint
Heavier paper is resistant to oil washes, solvents, and impasto techniques
Cons:
Difficult to professionally mount / frame a painting created on this paper
100% cotton: not ideal for oil painters who prefer linen
Arches Oil Paper is a classic, and for a good reason: it's a cost-effective, easy, and fulfilling way to jump into oil painting. I've used this paper to plan for larger paintings, play around with color, or practice thinning my oil paints.
The smooth surface of the Arches Oil Pad is classified as 300 GSM (Grams per Square Meter). Canvas makers use GSM to express the weight of the canvas: the heavier the canvas, the more paint it can hold. For canvas paper, 300 GSM is an excellent value: you'll experience the weight of oil canvas without the bulkiness of a traditional wooden frame.
Similar to the Senso canvas panel, the lightweight design of the Arches Oil Pad makes it ideal for plein air painters. Each pad offers a unique balance of weighted paper and a fine-grain surface. This makes it the perfect canvas for any artist who needs a good quality canvas without the space requirements.
How to Choose the Best Canvases for Oil Painting
While there are many online and in-store canvas options, the "best" canvas will vary depending on the artist's needs, skills, and budget. Before hitting the art supply store, painters usually consider the following criteria:
How the canvas is built and what type of material is used (cotton canvas, linen canvas, etc.) – more on all of these next!
Cost of the canvas
Subject/ scale of painting
Surface texture or "tooth," which depends heavily on how the oil canvas is primed – and whether acid-free gesso is used
Here are some of the most important questions to answer before purchasing your next and best oil canvas.
What Kind Of Canvases Do Professional Artists Use?
Professional artists use a variety of canvases, many of which are constructed from either linen or cotton.
Linen vs Cotton
Linen
Linen is tough, more organic-looking, and more supportive of thick paint. Paintings on linen tend to last longer, but it may take some time to adjust to its imperfect (and sometimes bumpy!) surface.
Cotton
Cotton is more affordable and can be stretched tightly over a wooden frame for a taut-yet-springy painting surface.
If you're a new artist looking for your lightbulb moment, here it is: "canvas" doesn't refer to a singular type of material! It's simply an umbrella term for various kinds of woven fabric and surfaces used for painting.
With fabric type in mind, here are some of the most common oil paint canvases used by both professionals and amateurs:
Canvas Boards / Canvas Panels
Canvas boards, also called canvas panels, are canvases stretched over and glued to stiff cardboard. The canvas material is usually cotton.
While many canvas panels are already primed, some artists add an additional layer of gesso to improve the quality of the painting surface. Mercifully, you can easily gesso and sand the surface without poking through the canvas (been there, done that!). Unlike stretched canvas, canvas boards are often backed with hardboard: a super-dense type of engineered wood fiber.
Regardless of whether you add more gesso, canvas panels are usually less textured than traditional stretched canvases – and cheaper. They're best for painting subjects with smooth surfaces such as faces or flower petals. I'd also recommend canvas panels for beginners who may be intimidated by more textured canvases (and higher price points!) or for professional artists looking to create quick studies.
Canvas Paper/ Canvas Pads
There are hundreds of canvas papers and canvas pads specially designed for oils, like the versatile Arches pad featured above. These affordable papers emulate the springiness and thickness of canvas. Students, beginning artists, and even professional painters appreciate their affordability, portability, and overall excellence for quick studies and working en plein air.
Canvas Rolls for Stretched Canvas
Many professionals purchase canvas by the roll and use stretcher bars to build their own stretched canvases. Canvas rolls are usually heavier and more textured, which provides top-notch support for large, heavily-layered oil paintings.
Buying a roll of canvas is an initial investment but is cheaper in the long term. Artists who create their own canvas report that the process takes time, patience, and practice. The first few attempts can be taxing, but over time, the process also promotes a sense of empowerment and professionalism. Instead of relying on predetermined canvas sizes, you can build a stretched linen canvas in the exact size you want.
As the canvas maker, you alone are responsible for the tightness and neatness of the surface and frame. Along with an unprimed canvas roll, you'll need fabric scissors, a T-square or carpenter's square, a staple gun, and two equal-length pairs of wooden stretcher bars to stretch the canvas.
If you have the funds, you can purchase primed linen canvas rolls instead of applying your own primer: just note that the price will rise accordingly.
If you are looking to build your own canvas, check out our article on how to stretch a canvas.
Wood Panel or Board
Many contemporary artists pay homage to the Old Masters by painting directly on wood, or panel, without any fabric stretched on top (in contrast to canvas boards). Gessoed, sanded wood can be a dynamic and quality surface for oil painting.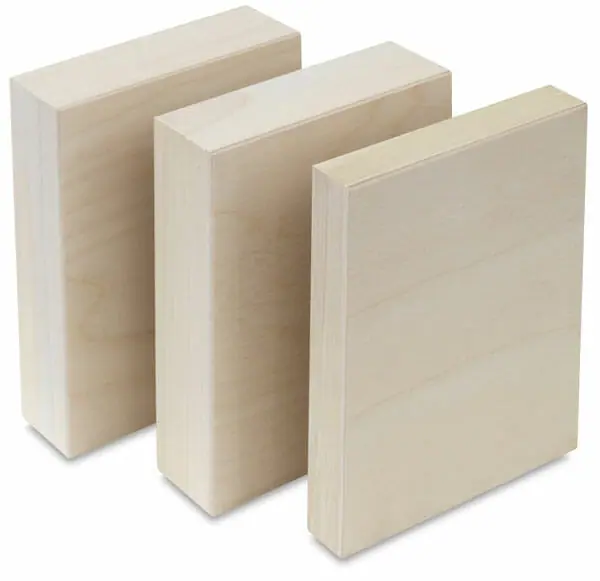 Why paint on a wood panel? Other than its aesthetic and historic appeal, wood panel is much stronger than cotton canvas or linen. It's also easier to control the texture of paint on a wood panel, since you don't have to work against woven fabric.
These are our preferred wood panels.
Unusual Painting Surfaces
Truly, anything can be an oil painting surface if you try hard enough (and prepare it properly). Plexiglass, old denim, metal panels, cardboard, you name it: someone has probably painted on it. Before trying an unorthodox painting surface, you just have to ensure that the canvas is properly primed: more on that soon!
Canvas for Oil Painting Price
Whether you're purchasing canvas panels online or creating your own stretched canvas, price is an obvious factor when searching for the best canvases.
Choosing the cheapest option at the dollar store may be tempting, but many painting pros – like professional oil painter John O'Neill – argue that artists pay more for cheap canvases in the long run.

A professional artist-grade canvas should be "archival quality," meaning that it's made to last. The
Blick
,
Centurion
, and
Senso
canvases from our list are archival, so they're best for professionals who are weighing price and longevity.
The ultimate goal is to select a well-priced, quality surface with a weave that works with – not against! – your painting style. A finely woven canvas typically works best for more delicate, detailed work, while a sturdy canvas with a rugged weave suits a painter who paints with thick, broad strokes.
Do You Need to Prime Canvas for Oil Painting?
Technically, you don't need to prime canvas for oil painting, but we definitely recommend it!
Primers – either artist gesso or acrylic artist's primer – are used to smooth out the canvas texture and create a flatter surface for oil painting.
The five canvases we've featured here are pre-primed. If canvases are not primed, oil paint may sink into the surface unevenly – and creative chaos may ensue. That said, some artists appreciate the dull, textured color of unprimed canvas and paint on it with acrylics and/or other media that won't rot or sink into the surface of the canvas.
Purchasing unprimed canvas is also less expensive, so some painters purchase unprimed fabric and then prime the canvas to their liking.
There are tons of different primer brands on the market, but just remember the three main types of primer for oil painting: gesso, acrylic-based primers, and oil-based primers. We'll dive into each of these in the next section!
Can You Oil Paint on Any Canvas?
With the right oil paint brushes, the proper primers, and your unique creative vision, you can use oil paints on virtually any canvas. Of course, there are some caveats:
1. Sizing
Size doesn't just refer to the width and height of the canvas. In oil painting, size is a glue that stiffens the canvas before priming, making it tauter and less wobbly. Size seals the canvas' pores and prevents paint from damaging the surface – which will keep the final painting bright, vibrant, and glossy. Think of size as a face mask for your painting: one that never comes off.
Working on an unsized, unprimed surface can cause the oil paint to sink into the canvas, which leads to rotting (yuck). To avoid this, purchase a pre-primed canvas – and remember that you can use an oil or acrylic primer to adjust the canvas texture.
2. Priming
Traditional Gesso
Gesso is a mixture of plaster of Paris, glue, chalk, and/or pigment. Painters describe it as a thinner, more transparent version of white acrylic; unlike acrylic, gesso forms a distinctive rubbery coating when layered on canvas.
This flexible coating further prevents the paint from seeping into the canvas surface. Unlike acrylic, Gesso offers a unique combination of absorbency and "tooth," or texture, for oil paint to stick to. Most artist-grade gessos are acid-free, which retains the flexibility of oil paintings and minimizes color change. Double check that you're selecting an acid-free product before making your purchase!
Acrylic Primer
Some artists use a simple, versatile acrylic primer, such as this non-absorbent acrylic primer, which works under both acrylic and oil paintings. Acrylic primer is often used as an all-in-one tool to size, prime, and create a ground for a painting.
Confusingly, the words "primer" and "ground" are often used interchangeably. To keep it simple, many artists use ground as an umbrella term for the final surface that their brush touches. The texture and absorbency of that surface – or ground – depends on how you prime the canvas.
Oil Primer
Many oil painters prefer an oil-based primer for their paintings. Compared to an acrylic primer, an oil primer is usually thicker and takes longer to dry; but when you use an oil primer, you'll also notice less "sinking" of dark oil paint colors into the canvas.
Which Canvas Would I Choose?
For a winning combo of professionalism and affordability, I'd go for Blick's Premier Cotton Canvas. The primed cotton canvas is meticulously hand-woven with just enough bounce, and you can feel the craftsmanship with each brushstroke. That luxurious, triple-gessoed surface – available in three different profiles – is hard to beat.
Behind every winner is a runner-up: we've decided that the Centurion Linen Panels make the cut! These canvas panels cater to those who prefer oil-primed linen without the cost.