Looking for the best canvas primer for oil painting? Have you tried canvas primers in the past but haven't gotten the results you were hoping for?
Don't worry, I've got you covered…
I've tested and reviewed a ton of oil primers to determine which is best for different artists.
Below, you'll find out the best overall primer, the oil primer most loved by professional artists, and an easy-to-follow buyer's guide on what to look for when choosing a primer.
The Top 5 Oil Painting Primers Compared
#1. Michael Harding Non-Absorbent Acrylic Primer
Best Overall Primer For Oil Paint
Dries quickly. Start painting in as little as 2 days!

Skip having to seal your unprimed canvas!

Choice of different colors means you get a toned ground without having to mix in paint.
#2. Gamblin Oil Painting Ground
Cheapest Canvas Primer For Oil Painting
Get a traditional experience without the 6-month wait.

Start painting in 1 week.

Stay focused with an easy-to-use formula.
#3 Williamsburg Titanium Oil Ground
Best Oil Primer For Professional Artists
Achieve a vibrant painting without having to use lead.

Use indoors without a chemical odor.

Get into the painting mood with a smooth application process.
#4 Winsor & Newton Oil Painting Primer
Most Concentrated Oil Primer
Cover several square feet of canvas before having to buy more primer.

Start painting in as little as 1 week.

Control the flow of the primer by adding as little or as much oil paint medium as you want.
#5: Williamsburg Lead Oil Ground
Best Traditional Oil Primer
Achieve the most vibrant colors from your oil paints.

Paint like a pro with a traditional oil primer.

Have peace of mind knowing your painting will last decades.
The Primer Reviews
#1: Michael Harding Non-Absorbent Acrylic Primer
When purchasing this primer, you'll get 16 oz of a non-absorbent acrylic gesso, perfect for oil painters in a hurry. This acrylic gesso gives you 10 colors to choose from! Say goodbye to mixing paint with your primer to achieve a tinted ground!
Pros
Dries Fast: Because this is an acrylic gesso, it's dried and ready for oil painting in as little as 24 hours
Least Expensive: Being made from acrylic polymer, it's always going to be least expensive than the oil primers that contain linseed oil or alkyd resin. This makes it the best option on a budget
Non-Absorbent: If  a primer is absorbent, it will soak up the oils in the oil paint, leading to a dull painting. A non-absorbent primer prevents this.
Can Be Applied Directly To An Unprimed Canvas: Most primers used for oil painting cannot seal a raw canvas. This one can.
Cons
Flimsy Packaging: The chief complaint among buyers is the container. They say it's thin and too flexible, and sometimes the lid doesn't screw on all the way.
Strong Odor: Another downside is the smell. Some buyers say it's so strong they are forced to use this primer outdoors
Thin Coverage: You will need to use a fair amount of coats to get the desired coverage.
Despite its flaws, this primer is perfect for beginners and the artist in a hurry. Its color options and 24-hour dry time save you from any any extra steps. And no waiting 6 months before being able to paint.
#2: Gamblin Oil Painting Ground
This primer gives you 8 oz of opaque, white primer. Because it contains alkyd resin instead of the usual linseed oil for oil primers, you'll be ready to paint in just 1 week.
Pros
Inexpensive: This is one of the least expensive options on the market. Your wallet will thank you.
Fantastic Coverage: Achieve an opaque painting ground in as little as 2 coats. This saves time and product quantity used. A thinner formula would have you going through the can much faster.
Smooth Finish: Sand this ground only if you want to. Due to its extra-smooth texture, sanding is optional, not necessary. This can save you the hassle of an extra step before painting.
Cons
Strong Odor: Many artists need to apply this primer outdoors to avoid the fumes filling their studio. However, I do not consider the odor that strong, but it is present.
Cannot Use On An Unprimed Canvas: To use this primer successfully, you must apply it to a canvas with a sealant or gesso already applied to it.
This primer is perfect for artists already acquainted with oil painting and wanting to take their work to the next level. It's still beginner-friendly because it's ready to use out of the can and can be applied to a pre-primed canvas.
#3 Williamsburg Titanium Oil Ground
Purchasing this oil painting primer gets you the closest to a traditional oil ground without exposing yourself to toxic lead. The titanium base works with marble dust and linseed oil to function like a lead-based ground.
Pros
Excellent Coverage: Buyers love that it only needs 2 coats for maximum coverage
Smooth, Toothy Finish: Dries with a smooth surface but has just enough tooth for maximum oil paint adhesion.
Low Odor: No odor or fumes were reported with this primer.
Cons
6-Month Cure Time: Because of the linseed oil, artists must wait the entire 6 months for the linseed oil to cure before applying their oil paints. Not doing so can result in a cracked surface on the painting as the oil layers attempt to dry.
Cannot Use On An Unprimed Canvas: As with all primers that don't contain an acrylic medium, you must first seal your stretched canvas with gesso, PVA, or rabbit skin glue before applying this primer to it.
This oil primer is a perfect option for the professional oil painter. It is the best-reviewed primer by professional artists, and it's as close to a traditional lead primer as you can get (without the toxic lead). The titanium replacement gives the professional artist a vibrant white ground, just like lead would.
#4 Winsor & Newton Oil Painting Primer
You'll get the most concentrated formula with this oil primer. Because of its concentration, you get the most bang for your buck, allowing you to cover tens of square feet in just one can.
Pros
1-week Dry Time: Because it contains alkyd-resin, this speeds up the drying process for the linseed oil meaning you can apply your oil paint in as little as 1 week instead of a 6-month cure time of other oil primers.
Self-Leveling: This primer allows for optional sanding. You only need to lightly sand if the already smooth surface isn't smooth enough for your liking.
Great Coverage: This primer's concentration means full canvas coverage in as few coats as possible.
Cons
Needs Thinning: This is a concentrated formula. Mix in some mineral spirits or turpenoid to get it thin enough for an even flow.
Forms A "Skin": Similar to gravy, leaving this primer to sit in the can after opening will form a skin on top. I find this easy to remedy by taking a siv or popsicle stick and skimming the skin off. Similarly, other artists have solved this issue by just using the entire can at once, priming multiple canvases at a time.
Strong Smell: This is another primer that artists use outdoors because of its smell.
Cannot Apply To A Raw Canvas: This is oil-based, and so you will need to seal your canvas before applying this primer on top of it.
Another primer perfect for the artist already familiar with oil paints, but looking for a more vibrant oil ground. Similar to Gamblin Oil Painting Ground, it gives you the traditional experience without the lead and 6-month dry time.
The only difference is this is a concentrated primer; so if you don't mind thinning it down, you can cover several feet without needing to buy more.
#5: Williamsburg Lead Oil Ground
Since this is a traditional oil ground, it's the best money can buy. The lead makes it the least absorbent and most vibrant, precisely what you want for your oil paintings.
Pros
Completely non-absorbent: This will not soak up any of the oil from your oil paintings meaning, they will stay vibrant and cure with an almost resin-like surface
Lead-Based: Many oil painters prefer lead because it's as non-absorbent as possible. Titanium and acrylic formulas will still soak up a little of the oil paint and the alkyd resin formulas will dry to a slightly shiny surface. Lead will give the traditionalist artist a vibrant painting but a matte surface to start on, and will weather the test of time like a champ.
Cons
Strong Odor: Because of the fumes, you will want to use this in a well-ventilated area.
Toxic: Lead is toxic and has been known to cause many illnesses, so be careful when using this primer.
Expensive: This is the most expensive oil ground on the market, so if you're on a budget, this primer is not the best option.
Cannot Apply To A Raw Canvas: You will still need to seal your canvas before using this primer.
Perfect for the advanced, traditionalist oil painter. The lead ground gives your painting the best finish because it will not soak up any oils in the paint, keeping the colors as vibrant as they were right out of the tube.
The Buyer's Guide To Oil Paint Primers
There are a few things to consider when purchasing an oil paint primer. These include how well it will cover the painting surface and how it performs with your oil paint.
Below, you'll find out what to look for in an oil primer…
Rigidity
"Rigidity" refers to how flexible or rigid the primer will be once dried. A more flexible primer will be suited for a canvas where one that dries stiff might crack if not used on a stiff board.
Coverage
Next to look for is coverage. This is how opaque or transparent the primer will be. A more opaque primer will need fewer coats to cover a surface fully.
Tooth
"Tooth" is the final texture of the dried primer. Some artists love a surface smooth as butter, but "too smooth" is a factor. If your primer lacks texture or tooth, your oil paints will peel.
Absorbency
Absorbency is the most crucial thing to consider for oils. If your primer is absorbent, your oils will sink into it, creating a dull painting. You want a primer that is as non-absorbent as possible.
Color
The color of the primer isn't of high importance because you're always able to mix in some paint with your primer to achieve a tinted ground if that is your desire. However, a primer with colored options will save you this step and may be preferable to one without colored options.
Oil Primer Alternatives: What About Gesso?
While there isn't another product that works as well as an oil primer, you can get away with using gesso with some adjustments to your priming process.
So, gesso vs oil primer, which one is better?
Because gesso is acrylic based, it will absorb the oils in your paint, resulting in a dull finish. Using an oil primer is better, but sometimes you just have to use what you have on hand.
Firstly, you can use the best overall product from this list, Michael Harding Non Absorbent Acrylic Primer. It isn't an oil-based primer (it's technically a gesso), but because it's non-absorbent, it's still a perfect option.
Otherwise, any acrylic gesso will do. However, I recommend that you choose an artist-grade gesso.
If Michael Harding isn't an option, I would choose Liquitex Professional Acrylic Gesso. It's an artist-grade gesso made with higher-quality ingredients, so it will help the painting stand the test of time.
Additionally, though it is more expensive than other acrylic gessos, it's still easy on the wallet; so the upfront cost is worth the higher-quality gesso.
So, How Do You Get Around the Sinking Problem?
You're not going to stop the sinking completely when using a gesso. However, you can thin some oil paint with mineral spirits or linseed oil. Use this thinned paint to create a thin layer on top of the gesso.
Allow the coating to dry for 10 minutes, then use a paper towel or lint-free cloth to wipe the excess off. Next, paint as you normally would. If you're letting your painting dry between layers, then oiling out each layer will be beneficial.
To oil out, apply a very thin layer of linseed oil to the canvas before continuing to paint.
Lastly, once your painting is complete and dry, seal it with a varnish such as Gamvar. The varnish will bring the "pop" back into the oil paints.
FAQ
Can I Use Water-Based Primer on Oil-Based Paint?
Absolutely NOT! Using a water base on top of an oil base will cause peeling. DO NOT, under any circumstances, use acrylic over oil.
Can You Paint Over Oil-Based Paint With Oil-Based Paint Without Priming?
Yes, you can paint over oil-based paint with oil-based paint; no, you don't have to prime it first. However, a primer will save you time and money if you are attempting to cover an old painting to reuse the canvas. A primer can cover an old image in 2 coats. Plain paint may take several coats.
How Many Coats of Primer Do You Need for Oil-Based Paint?
You need at least 2 coats of primer before oil painting.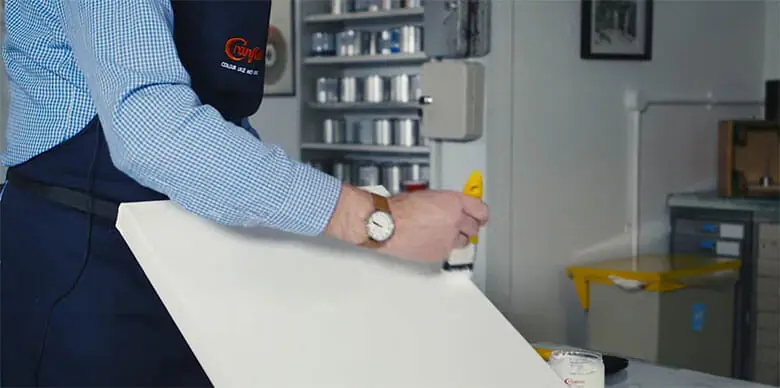 Do I Need to Sand Oil-Based Primer Before Painting?
Not all oil primers need to be sanded before painting begins. Check the label to be sure. Sanding is always an option for a smoother surface but is not required.
Is Oil-Based Primer Better Than Water-Based?
Oil-based primer is better than water-based primer when using oil-based paints on top of said primer.
How Do I Prime a Canvas?
To prime a canvas, apply at least 2 even coats of the primer or gesso of your choice. Find out more detailed instructions on how to prepare canvas for oil painting.
Which Will You Choose?
You read the options, now it's time to pick one, maybe two.
My go-to's are Michael Harding Non Absorben Acrylic Primer and Gamblin Oil Painting Ground.
I'll use Michael Harding when I'm on a time crunch for its extra fast dry-time and colored options. When I'm more relaxed I'll prefer the Gamblin because it's a little less absorbent than Michael Harding.
Both are easy on the wallet and easy to use.