The foundation that supports your painting matters more than you might think, especially if you want your masterpiece to last decades or even centuries.
To preserve it, you should always protect your raw canvas with a couple of coats of gesso – a primer made of chalk, a binder, and pigment (in most cases).
But which gesso is best?
After combing through hundreds of customer reviews, we've compiled a list of top-notch gessos for your favorite medium, the pros, and cons of each, and highlighted their unique features to help you decide which is right for you.
The Best Gesso Compared
#1. Golden Gesso – Bright White Acrylic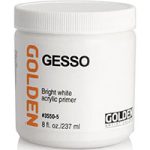 Best gesso for oil painting or acrylic painting if you want a bright white ground
Highly opaque formula that requires just one coat
Dries quickly so you can apply the next coat sooner
Stays flexible once dry, keeping it from cracking
A perfect acrylic gesso for both oils and acrylics
#2: Liquitex Basics White Gesso
Best white gesso for student grade acrylic and oil paintings
A cheaper alternative to professional grade acrylic gesso
Excellent coverage, so you use fewer coats
Goes on smooth and requires little sanding
#3: Liquitex Clear Professional Matte Gesso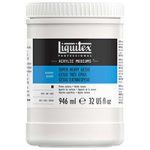 Best gesso for acrylic painting or oil painting with professional grade art supplies
Dries clear – perfect for seeing your pre-sketches underneath the gesso
Flexible for a non-cracking surface
Compatible with pastel, oil pastel, graphite, charcoal, acrylic, and oil paint.
Non-yellowing gesso that stays clear
#4: Black Golden Acrylic Gesso
Best black gesso for oil painting and acrylic painting
Highly pigmented gesso that covers in one coat to save you time (and gesso)
Pigment doesn't rub off once it's dry like other gesso options
Works well with oil and acrylic paints
#5: Daniel Smith Watercolor Gesso
Best for watercolor paintings
Dries clear, leaving your initial sketches uncovered
Eliminates the need for a glass frame
Can be used to cover mistakes and imperfections
#6: Golden Gesso for Pastels
Best ground for pastels and charcoal mediums
Versatile and can be applied to many surfaces like paper, wood or canvas
Transforms watercolor paper into a pre primed pastel surface with just a few layers
Can be blended with Golden acrylic paints to make a colored ground
#7: Traditional Gesso (Marble Dust + Rabbit Skin Glue + Water)
Best ingredients for a traditional gesso recipe. Ideal for egg tempera.
Highly absorbent surface that's compatible with egg tempera paintings, unlike acrylic gesso
An excellent ground on wooden panels when painting with oils or egg tempera
Gesso Reviews
A quick note on traditional vs acrylic gesso to avoid confusion:
The word gesso means "plaster" in Italian, and used to only refer to traditional gesso, made from animal hide and chalk. It's applied in at least 10 layers and can only be applied while warm.
Today, the word is used much more loosely (often confusing artists). Manufacturers refer to acrylic gesso as "gesso." But modern-day options are just white pigment, chalk, and acrylic resin suspended in water. They dry in minutes and require far less effort.
All of the options listed below discuss acrylic gesso, except for the final review (#7 Traditional Gesso).
1. Golden Gesso – Bright White Acrylic
Compatible with: Oil and acrylic medium
Layers required: Many artists use 1, but 3 coats are recommended for oils


What is the best acrylic gesso, you ask? Golden has done a stunning job with their bright white acrylic gesso for oils and acrylic paintings. Just a few brush strokes of this smooth, creamy gesso will leave your surface prepped and ready for paint.
Pros
Many artists are astonished by how heavy this gesso is, and are happy with just one coat. (But you do need at least three coats if you're painting with oils.)
You can use Golden's bright white gesso on several surfaces, including canvases, wood panels and paper. Some happy customers say it also works well on glass and plastic.
When the gesso dries it leaves a smooth surface behind – one you can make even more smooth with a bit of sanding.
Cons
A lot of painters dislike the container it comes in. Some say the lid will pop off if the jar is compressed, or it can feel downright impossible to open the first time.
Golden's buttery gesso is easy to use, completely opaque, and offers excellent coverage – even when very little is used.
2. Liquitex Basics White Gesso
Compatible with: Oil and acrylic mediums
As you scan the various gesso options you might wonder, "does the quality of Gesso matter?" And the answer is "yes," especially if you want your artwork to last through the years. But the lower price tag on Liquitex Basics Gesso certainly doesn't mean low quality.
Pros
Liquitex Basics acrylic gesso comes at a much lower price point than professional options, but customers still rave about its quality and smooth coverage.
It can be used on most porous surfaces like canvas, paper, fabric, wood, and plaster.
This acrylic gesso dries in just a few minutes, saving you time between coats.
Cons
It's not as opaque as professional-grade gesso, but a few extra coats will do the trick.
Liquitex Basics is an excellent option for beginner artists, students, or if you're on a budget but still want high quality.
3.  Liquitex Clear Professional Matt Gesso
Compatible with: Pastel, oil pastel, graphite and charcoal, and oil and acrylic paint
Trying to decide between clear gesso vs white gesso, and wondering what the difference is? Here's your answer.
Pros
This clear gesso has more tooth than Liquitex's other gesso options making it compatible with more mediums.
Despite the small size of just 4 oz, a little goes a long way, and many artists only use 1 coat for complete coverage.
You can see through your gesso layer – something that's extremely helpful if you like to pre-sketch your artwork.
Cons
Because of the high tooth, the surface has a gritty feeling that can damage soft bristled brushes. To avoid this, you can sand down the tooth to create a smoother surface.
If you're an artist who likes to bounce around between mediums, then you may have found your perfect match.
4.  Golden Black Gesso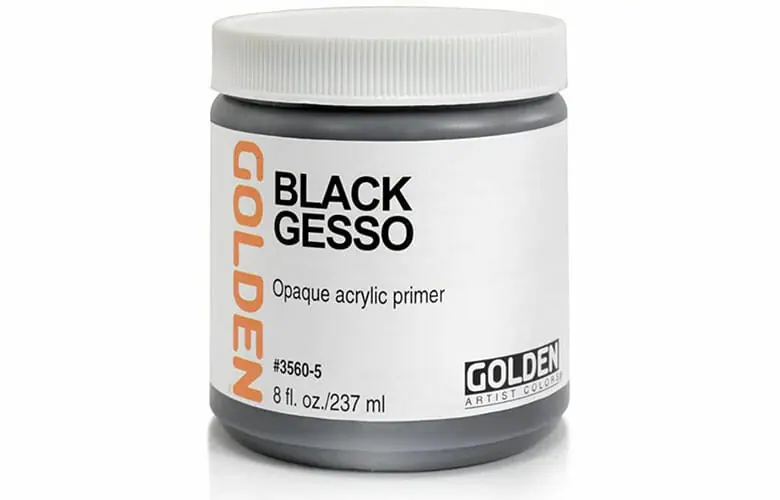 Compatible with: Oil and acrylic paints
Layers required: Many use 1 coat, but 3 coats are recommended for oils
As you peruse the primer aisle in your local art store you've probably wondered, "what is black gesso?" As it turns out, white and clear aren't your only options. Fortunately, Golden makes black gesso, which saves you from using heaps of your black paint to cover the background.
Pros
The Golden black gesso is extremely opaque and can be used for acrylic or oil paints.
It dries extremely fast with minimal streaking.
The pigment doesn't become chalky and rub off like other black gesso brands.
Cons
A few customers mentioned Golden black gesso has a much stronger smell than any of Golden's white or clear options.
If you want to set the stage for your painting with a black background and save your precious acrylic paint, Golden's black gesso may be the answer.
5. Daniel Smith Watercolor Gesso
Compatible with: Watercolor
Layers required: 2 or more
If you read closely, you probably noticed that none of the previous gesso choices are compatible with watercolor paints. Fortunately, gesso does exist for this beautiful medium.
Pros
This watercolor gesso turns paper, raw canvas, fabrics, wood, plaster, shells, and hardboard into paint-ready surfaces in just a few coats.
It dries clear, so you can see any sketches below the gesso.
You can also use it with water-thinned acrylic paints.
Cons
Some artists dislike how the gesso interacts with watercolors, saying they become slightly muted. However, it seems a few layers of glaze can bring life back to them.
Many customers love how Daniel Smith watercolor gesso makes their watercolor paper much more "workable" after they apply gesso. But the only way to know if it meets your standards is to try it out yourself…
6. Golden Gesso For Pastels
Layers required: 2+ layers 
To avoid buying stacks of pastel paper, you can make your own by applying gesso for pastels by Golden.
Pros
Golden's pastel ground is an inexpensive option when compared to pastel paper.
You only need a few coats of gesso to completely cover the surface.
To add a little color, just mix a bit of Golden acrylic paints into the acrylic gesso before applying.
Cons
Some artists say the gesso makes certain papers appear off-white when it dries. To avoid surprises, I recommend testing your gesso on a few paper options before committing to one.
Pro tip:
This gesso adds a noticeable tooth to your surfaces to really "grab" onto your medium. But to make it even more textured, you can add
Golden's coarse pumice gel
.
7. Traditional Gesso (Marble Dust + Rabbit Skin Glue + Water)
Compatible with: Egg tempera and oil paint
Layers required: 10+ layers
Applying traditional gesso isn't for the faint of heart. It's a time consuming process that requires you mix it properly, heat it to the correct temperature, and be patient between coats.
But if you decide traditional gesso is the way to go, you can use this recipe to prime your panels.
Pros
Traditional gesso primes your canvas for egg tempera – something acrylic gesso can't do since it doesn't create a sufficient absorbent ground.
You'll be prepping your canvas in the same style as past famous artists (no cutting corners here).
Cons
This gesso can't be used on canvas, since it's too flimsy. It must be used on a hard surface, such as panels made of wood.
The process is extremely time-consuming, and your gesso must be applied warm.
If you're a patient person who enjoys learning a tedious skill, traditional gesso application is for you.
The Buyer's Guide To Gesso
If you're itching to buy one of these Gesso options, slow down for a minute… Below are a few things you may want to consider before purchasing.
Do You Need Gesso For Oil Painting?
Yes, you need gesso for oil painting to keep your oil paints from sinking into the canvas or paper. If you paint directly on the surface, the oil will seep into the canvas fibers or create a halo of oil on your paper.
Does The Quality Of Gesso Matter?
Yes, the quality of gesso matters as it may affect how many coats you have to apply. Lower-quality gesso might require several coats, streak easily, or bind poorly to your surface. That being said, many student-grade acrylic gesso choices are still high quality, even though they aren't labeled for "professional artists."
Do a quality check before you buy (the reviews reveal all)
The gesso compatible with the medium you're using
It provides enough tooth for the paint to "grab onto"
It isn't too transparent
The formula doesn't streak badly
Once dry, the gesso doesn't flake off or create a dusty coating
Are Gesso And Acrylic Gesso The Same?
No, gesso and acrylic gesso are not the same. "Gesso" on its own refers to traditional gesso, which is a combination of hide glue and calcium carbonate (chalk). Priming your canvas with this gesso requires over 10 coats and is far more time-consuming than using modern acrylic gessos.
Traditional gesso is also required for tempera paintings and some argue it should always be used for oil mediums – not acrylic gesso.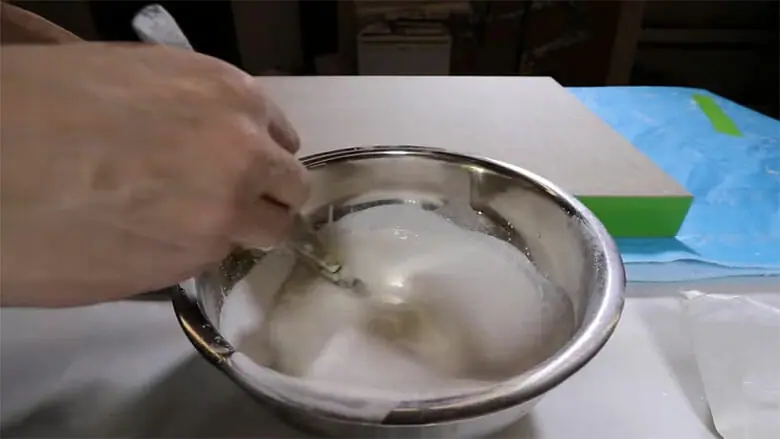 To read a very entertaining debate on traditional gesso vs acrylic gesso for tempera paintings and oil paintings check out this forum. (Read all of the responses to the original question – I promise you won't be disappointed.)
Acrylic gesso is a mix of white pigment (white acrylic paint), chalk, and acrylic resin suspended in water. You only need 2-3 coats for full coverage and each dries in a matter of minutes.
Clear Gesso Vs White Gesso: What Is The Difference?
Clear gesso dries transparent, while white gesso forms a white, opaque layer over the surface.
What Is Black Gesso? And Should You Use It?
Black gesso is an acrylic gesso made with black pigment (black acrylic paint), chalk, and acrylic resin suspended in water. Black gesso is similar to white gesso, the only difference is the pigment added.
You should use black gesso when you prefer painting on a dark background since this will help you preserve your precious black paint.
FAQs
What Is The Best Gesso For Oil Painting?
The best primer for oil painting is Michael Harding Non-Absorbent Acrylic Primer in terms of dry time, price absorbency, and ease of application.
What Is The Best Acrylic Gesso?
The best acrylic gesso is Golden Bright White Gesso for oil and acrylic painters due to it's highly opaque formula, quick dry time, and smooth creamy texture.
How To Gesso A Canvas
Learn to gesso a canvas step by step with this handy guide.
What Is The Best Gesso To Use?
As an avid user of acrylic and oil paints, my go-to's are usually Golden Bright White acrylic gesso and Liquitex Basics.
Golden's is thicker in texture and it's easy to apply with a palette knife to create neat textures below acrylic paints.
I also find Liquitex Basics extremely affordable and effective at coating my entire canvas in a few short brush strokes.
There's not a one-size-fits-all for gesso, so you'll have to experiment for yourself. But you're in good hands with the list of 7 above.