When buying a canvas, there are many options to choose from, including size, shape, and material. Many beginner artists find themselves wondering which is the right choice. The most confusing of these choices is choosing a canvas size.
How big are some of these sizes?
What size do professional artists use?
These are just two of the many questions you're bound to ask yourself. Luckily, this article answers just about all of them, so keep reading.
The Common Canvas Size Chart
Measurements in Centimeters
Wow, that's a long list, but not to worry; you'll find out about each in detail below…
What Sizes Do Canvases Come In?
The standard canvas sizes are 4 x 6 in, 5 x 7 in, 8 x 10 in, 9 x 12 in, 11 x 14 in, 12 x 16 in, 14 x 18 in, 16 x 20 in, and 18 x 24 in.
In addition to the typical canvas sizes, you can choose from mini, small, medium, large, and extra large.
There are also common sizes for square canvases, which are typically 10 x 10 inches (25.4 x 25.4 cm), 12 x 12 inches (30.48 x 30.48 cm), and 16 x 16 inches (40.64 x 40.64 cm).
Here's what some of these sizes look like:
What Are The Most Popular Canvas Sizes?
The most popular canvas size is a 16 x  20 inch (40.64 x 50.8 cm) canvas. Other popular canvas sizes are 8 x 10 inches, 12 x 12 inches, 16 x 16 inches, and 10 x 24 inches.
Let's explore these sizes more.
8 x 10 inches (20.32 x 25.4 cm)
An 8 x 10 in (20.32 x 25.4 cm) canvas is an ideal size for beginners because it's about the size of an A4 sheet of paper (the paper being 8.27 x 11.69 in). In addition to it being a good beginner size, it works well for hanging on the wall of small spaces or  a photo gallery wall.
12 x 12 inches (35.56 x 35.56 cm) or 16 x 16 inches (40.64 x 40.64 cm)
These square sizes are considered medium sized canvases, and you can compare them to your standard 1-foot ruler. 12 x 12 in would be a ruler by a ruler, and the 16 x 16 in would be a ruler and a half by a ruler and a half. The square canvas size makes copying from reference images a breeze since it's a 1 to 1 ratio.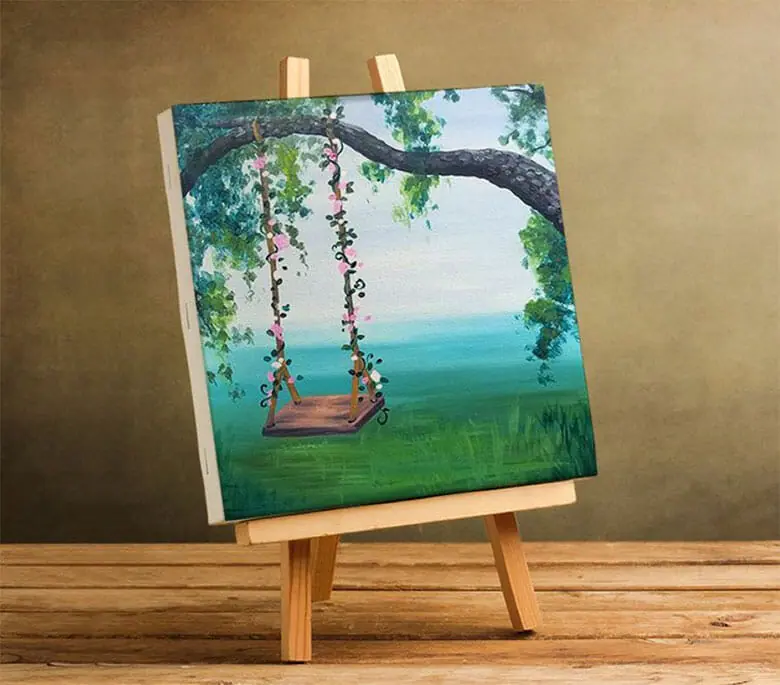 Ratio matters when transferring an image to a different surface, especially when using a grid. This is covered further down, so keep an eye out.
Additionally, it's still small enough to fit well with a photo gallery wall or small spaces.
10 x 24 inches (25.4 x 60.96 cm)
This is an oblong canvas size. That means it is longer (or taller, depending on orientation) than tall (or wide). However, it is on the smaller end of oblong shapes, so it would be suitable for beginners wanting to do something a little different such as a panoramic or tall, narrow view.
This is just under your standard 1-foot ruler by 2 rulers in size, so it will still fit on your photo wall or in your small space.
16 x 20 inches (40.64 x 50.8cm)
This is the size of canvas most commonly bought among beginners and pros alike. It's still small compared to larger canvas dimensions, so it is a good size to practice painting larger before getting into the really large sizes.
Even though it's on the smaller end of the larger canvas dimensions, it is still big enough to be a statement piece or focal point in a smaller living area or the centerpiece of a photo wall.
Mini Canvas Sizes
Looking at this image, it's fair to say that mini canvases are tiny! Kudos to anyone able to paint detailed work like this on an itty-bitty canvas.
Here are the most common sizes of mini canvas:
Measurements in Centimeters
You'll notice that all of the mini canvases are square mini canvases. There isn't a particular reason, but it likely has something to do with square canvases being easier to make smaller.
Look at your index finger. Now, curl your finger in on itself. Your middle digit is generally an inch long. For reference, the image shows canvas dimensions of  2 x 2 in (5.08 x 5.08 cm).
What do you use mini canvases for? As you can see, they tend to be pretty niche and used for miniature paintings. However, if you're getting canvas prints, these can be the perfect size for a mini photo collage or gallery wall.
Small Canvas Sizes
The most common sizes for smaller canvases:
Measurements in Centimeters
The image shows a painting done on a 6 x 8 inch piece of paper held in hand. 6 x 8 is the largest of the small canvases; you can tell it's still pretty small. A good size comparison is a standard printed photo. These are usually 4 x 6 in, so a 6 x 8 in would be about 50% larger.
Small canvases are great for artists wanting to offer a budget-friendly option to buyers. Many buyers like the idea of a hand-made work of art, but getting into the larger canvas dimensions increases the price, and all of those zeros can scare some people away. Additionally, if you are comfortable painting smaller sized canvas, this size range is perfect.
Simple landscapes or series paintings do well on small canvases. For instance, you may want to paint a series of individual flowers or illustrate individual comic-book characters. If that doesn't sound appealing, these sizes are great for doodle pieces (illustrated graffiti-like images).
Medium Canvas Sizes
The most popular medium sized canvases are:
Measurements in Centimeters
The image of the simple yet elegantly popular theme shows an 8 x 10 in canvas size held by a hand.
As mentioned, 8 x 10 inches (20.32 x 25.4 cm) is just shy of a standard A4 sheet of paper. Medium canvas sizes are suitable for beginner artists and those wanting a larger thumbnail image for an extra-large painting. Likewise, if portrait-oriented, a medium sized canvas make a great canvas size for portrait artists.
Large Canvas Sizes
The most popular large canvas sizes include:
Measurements in Centimeters
Hold on, wasn't 16 x 20 in with the medium sizes? Yes, yes, it was. 16 x 20 is one of those in-between sizes and can be considered a medium or large canvas size.
As you read earlier, 16 x 20 in is the most popular canvas size. The image above is a 16 x 20 in work in progress compared to a 12 inch stir stick and a rather used charcoal pencil. It is definitely on the larger end of canvas dimensions if you're grouping it in with the medium canvases.
An excellent large canvas size (and one I prefer to work in most often) is an 18 x 24 in (45.72 x 60.96 cm). For a comparison to the size of the canvas, 18 inches is about the size of a rolling pin (used in baking) not including the handles. 24 inches is 2 feet, so about the length from the floor to the top of an average coffee table.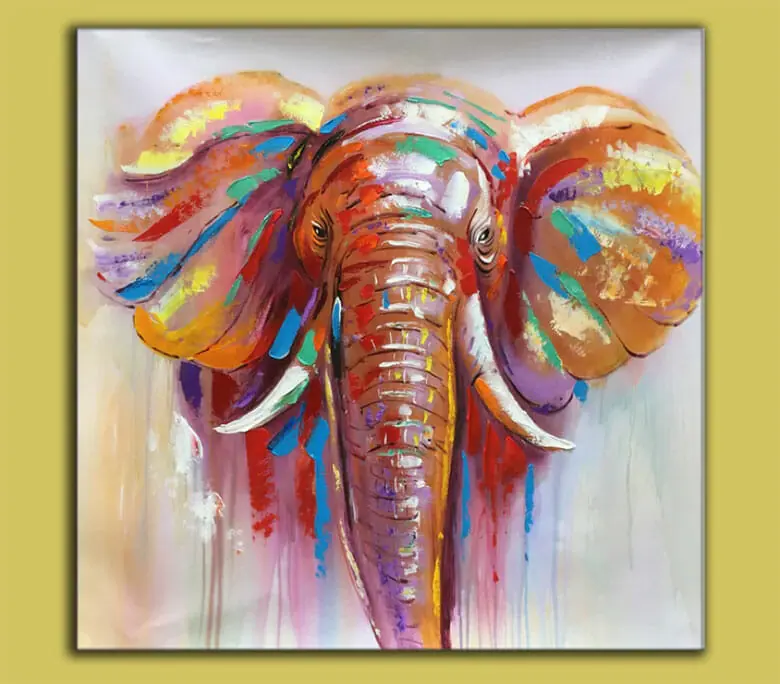 Many artists find larger canvas dimensions more comfortable because it's much easier to render minute details. Have you ever painted something about the size of an A4 sheet of paper and found it looked better the further away you stood from it? If this sounds familiar, try a larger canvas size.
Extra Large Canvas Sizes
Extra-large canvases are as big as the name implies: extra-large, massive, gigantic, etc.
The most popular extra large canvas sizes include:
Measurements in Centimeters
Artists may refer to these sizes in feet or meters more often than inches or centimeters. That's because these canvases take up a lot of wall space, if not the entire wall. The largest commercially available canvas to purchase is 5ft by 6ft. That's about as tall as a person and nearly the same length in width.
These canvases are statement pieces. Artists working in this size are doing murals. For an idea of what that would look like, take a look at the work of Jackson Pollock. He commonly worked so large that he would have to lay the roll of canvas on the floor to paint and stretch it onto a frame when he finished. You can see him in action in the image below.
Square Canvas Sizes
Square canvas sizes are being more and more popular.
As a result, the number of square canvas sizes commonly available is huge:
Measurements in Centimeters
The image above shows a painting on a 16 x 16 in canvas compared to a 12-inch ruler and a Sharpie.
The medium size and 1 to 1 ratio make this a great size and shape for beginners. Square canvases in general, are an excellent shape to begin on. Granted, painting in this style had me dreaming in dots for about a month, but overall, I encourage anyone to start on this size.
Oblong Canvases
Despite their unusual ratio, oblong canvases can be pretty versatile, which will explain why the sizes range so much.
The most popular oblong canvas sizes include:
Measurements in Centimeters
These are an excellent option for tall, narrow views such as down an alleyway, expansive panoramic landscapes or cityscapes, abstract pieces, and multi-canvas paintings. Also, they hang nicely on an awkwardly-spaced wall since they are more narrow. Is that 3 feet of blank wall between your kitchen and living room looking weird? Put an oblong painting on it.
Other Canvas Shapes
"Nature is painting for us, day after day, pictures of infinite beauty." John Ruskin~ So true!❤️ 10 x 14" acrylic on oval canvas. #acrylicpainting #mountains #rivers #cozycabin #lateautumn #wintermountainart #art #painting #kimberlyropsonart https://t.co/RHHQ2RotAA pic.twitter.com/qXTd65jW6O

— KimberlyRopsonArt (@kropsonbarrett) November 23, 2021

Canvases can come in just about any form you can think of. Canvas shapes commercially available to buy are:
Circles
Ovals
Hearts
Rhombuses
If you want a different shape (perhaps a pentagon), you can make it yourself; more about that later.
As you can see in the image, oval canvases make for an exciting view of a landscape. Circular canvases can be a good base for mandalas. A heart canvas would make an attractive shape for a portrait, and a rhombus could be intriguing for a still life. With anything, though, it all depends on the person using the canvas.
Custom-Sized Canvases
Custom-sized canvases are specially made and differ from commercially available shapes and sizes. The image above shows a square canvas with a circular hole in the middle. This canvas isn't available to buy at your local craft store. No, it had to be hand-built, taking extra care that the canvas could support the central hole.
Aside from unusual shapes, a custom canvas would need to be created if you wanted one larger than 60 x 72 in (152.4 x 182.88 cm). Though it was common practice in his day, Pollock (mentioned earlier) hand-stretched his extra-large canvases. If you wanted a similar size canvas today, you would need to do the same.
Canvas Sizing Guide: Things To Consider When Purchasing A Canvas
Alright, you've heard the standard canvas sizes and shapes. Now, what else do you need to keep in mind when buying? Find out the main things to think about, below.
What Is The Canvas Aspect Ratio?
The ideal canvas size is relative to the artist. However, consider the aspect ratio of your image, especially if you're using a reference image. The ratio of the image (whether it's the final look, or because you're using a reference image) determines the size and shape of the canvas you need to use.
If you decide to use a canvas that doesn't match the ratio of the reference image, then the image will end up cropped (as shown in the image above) or you will end up with a weird blank space wherever the picture doesn't match up.
Canvas ratios are described in 6 sets: 1:1, 1:2, 2:3, 3:4, 4:5, and 5:6.
1:1 is a square canvas.
1:2 means that the width is twice as large as the height, and may look like a 10 x 20 in (25.4 x 50.8 cm) canvas
2:3 describes a height that is ⅔ (two-thirds) of the width. A canvas with this ratio may measure 20 x 30 in (50.8 x 76.2 cm)
3:4 means the height is ¾ (three-quarters) of the width measurement. This would be a 9 x 12 in (22.86 x 30.48 cm) or 12 x 16 in (30.48 x 40.64 cm) canvas.
4:5 canvases may measure 8 x 10 in or 16 x 20 in.
5:6 may measure 20 x 24 in.
What  Canvas Material Should You Get?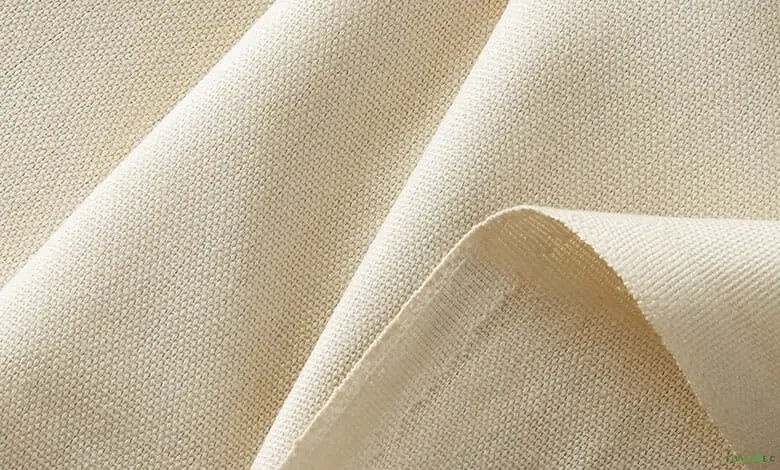 You probably noticed that canvases come in different materials, mainly cotton and linen. However, they can also be made from polyester and vinyl. Occasionally you'll find canvas fabric treated with PVC (for weather-proofing). The traditional canvas material was hemp, and you can still find hemp canvas fabric today.
Cotton vs Linen
A typical squabble among elitists is cotton vs linen canvases.
Once stretched and gessoed, it's hard for the average person to tell the difference between the two. Yet, some differences should be taken into account. Here's a basic rundown of each type:
Linen Canvases
Overall, linen is a more durable fabric. Because of its durability, artists may choose linen just for longevity. Texture-wise, linen is a smoother fabric. This kind of texture will make a relatively flat surface and may be preferred for oil painters and those who want almost an air-brushed finish to their artwork.
Check out this article on why professional artist, Dan Schultz, prefers to use linen.
Linen will be more expensive than cotton, but that doesn't mean it needs to break the bank.
This Winsor & Newton Professional Linen Canvas is an excellent economic buy. It lets artists get their hands on linen without getting into the triple digits.
However, this Masterpiece Elite canvas is one of the fanciest you can buy online, but expect to pay for it, as this 16 x 20 canvas starts at $200, which doesn't include the shipping cost. Masterpiece is said to be the best quality brand you can get, and this canvas is already primed for oil paint.
Cotton Canvas
Despite being less durable than linen, cotton is still an excellent material for painting. Its durability will still stand the test of time if taken care of, and because it's a cheaper material, it is more affordable. This is especially true for extra-large sizes. Cotton isn't as smooth as linen, but  a duck cotton canvas can be close to it.
Don't let the name confuse you; duck cotton isn't some fabric made from duck feathers. In this case, "duck" refers to the weave, a closer weave achieved by thinner threads. It derives from the Dutch word "doek," meaning cloth.
All that being said, this cotton canvas from Edge is a good canvas for a reasonable price, and you get 3 of them for the same price as 1 lower-end linen.
On the higher end of cotton canvases is this one from Fredrix. Fredrix is a great quality brand and comes in as a close second to Masterpiece. Another pro for this canvas is the price, $30 for a professional-level quality canvas vs $200+ for a high-end linen canvas.
Amazon doesn't have a pre-stretched duck cotton canvas, but if you want to try stretching one, this fabric will make a great canvas. The duck weave means it will be smoother than the average cotton canvas, and at 10 oz, it's a durable canvas.
Why Is Weave Important?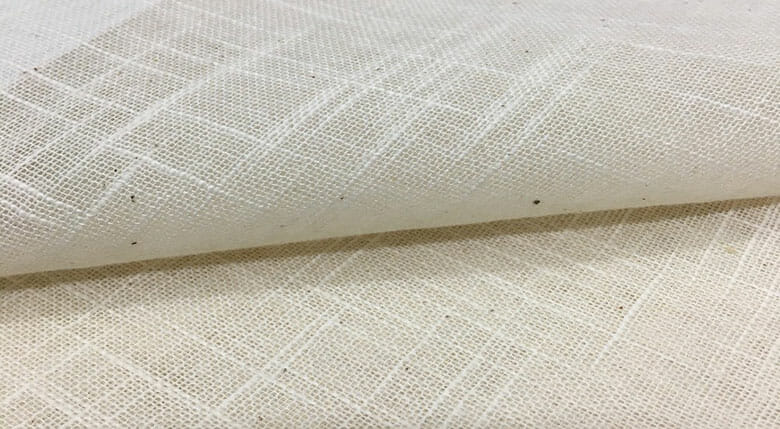 The weave of a canvas is crucial because it determines the texture and durability of the final product. A finer weave means the canvas will be smoother. This is an excellent option for artists that like softer details in their paintings.
Larger weaves are great for artists who like bold brushstrokes or extra-large canvases because the larger weave can hold the weight of these painting techniques better than a finer weave.
Most canvases come in a "medium texture"; this weave is just fine for most artists. Those who are hard-pressed to have a different weave generally make their own canvases because they can control the materials.
What is a good Canvas Weight?
Why do canvas labels show the weight? In general, the heavier the canvas, the more durable it is. Most pre-stretched canvases come between 7 oz and 12 oz, with the less-expensive canvases being 7 or 8 oz.
The better weight will be at least 10 oz, but this matters more for the larger canvas sizes. For everything else, don't go lower than 8 oz when creating a painting for professional purposes. The lighter canvases won't hold up as well, and you don't want to sell a painting that will fall apart or sink.
Canvas Structures
The structure of a canvas can come in framed or pre-stretched, canvas rolls, panels, or paper.
Pre-stretched canvases are referred to as framed canvases when purchasing, which are good-to-go for painting after a coat or two of gesso.
Gesso is a primer placed on a raw canvas so the paint will adhere to the fabric. To learn more about the different types of gesso and how to use them, check out this article on gesso.
Canvas also comes unstretched in rolls for those who make canvases. Additionally, canvas panels are available for purchase which is canvas fabric wrapped and glued to stiff cardboard and primed. Another canvas option is canvas paper, a chemically treated canvas that mimics the structure and flexibility of heavyweight paper.
Where To Buy Custom Shaped Canvases
Shaped canvases are available to purchase anywhere that sells rectangular canvases. This includes craft stores like Michaels and Hobby Lobby, art stores like Blick, and online markets like Amazon and Etsy. However, it is challenging to find a well-made shaped canvas on Amazon, as most of them are made from MDF instead of wood.
Custom shapes that are not commercially available can be found on Etsy or a company called Upper Canada Stretchers (if you are in North America).
What's the Purpose of this painting?
Commission?
Is this a piece you're selling? Are you shipping it? Larger canvases are
more expensive to ship, and rolled works are cheaper. However, a rolled canvas
isn't the most professional way to deliver a painting.
Gallery?
Are you hoping to hang this in an art gallery? You need to consider more than
just professional appearance. Most galleries tend to rent out wall space in 4ft sections.
For yourself?
Maybe this is a painting just for you. Where do you plan on hanging it? Consider
wall-space-to-canvas. A canvas too small will look just as odd as a canvas too large.
To Frame Or Not To Frame?
There are a few different kinds of frames for canvases. The main two are gallery frames made only to wrap the sides of the canvas, not covering the front, and a standard frame that will likely cover a quarter-inch space along the image's border.
A frame will determine size for 2 reasons: the standard frame will cover a portion of the image, and a framed canvas is more expensive to ship.
Another thing to consider is if your canvas is unusually large or shaped, you may need to make your own frame or have one custom-built. For these reasons, you need to plan your painting accordingly.
Upfront Cost
What is your budget? Can you afford to get a pre-stretched, extra-large linen canvas? A 36 x 48 in pre-stretched linen canvas can cost at least $175 without shipping and handling. Another thing to consider in your budget is whether or not you can sell your work at a high enough price to cover your time and materials.
If you need help selling your work, work on a smaller scale until you have the marketing skills to sell larger paintings.
What About Making My Own Canvas?
Making your canvas is always an option. While it may be cheaper to do so in the long run, the upfront cost will be more than buying a pre-stretched canvas. Another thought is that it can be less convenient to stretch a canvas yourself, especially if you're not very good at it. The video tutorial will show you how to make a canvas.
If you are brave enough to try it, stretching a canvas yourself can have many benefits because this means it's fully customizable. You can create any size and shape and control the fabric, weave, and weight. It's an excellent option for artists with a particular taste.
FAQ
Is a thick or thin canvas better?
A thick canvas is better than a thin canvas for longevity and durability.
What canvases do professional artists use?
Many professional artists prefer a linen canvas of at least 10 oz.
How can you tell a good quality canvas?
A good quality canvas is made of cotton or linen, has at least a weight of 8 oz, and has a medium-textured weave.
Do you stretch a canvas before or after?
It is easier to stretch a canvas before painting, but some artists, like Jackson Pollock, stretch it after painting. I recommend stretching before if you are new to painting on canvas.
How far apart should 3 or more canvases be?
Multi-canvas pictures are more aesthetically pleasing when they are placed 3-5 inches apart from each other. Individual works should be separated by at least 4-6 inches.
What paints last longer on a canvas?
In general, oil paints last the longest.
Which brand canvas is best?
Everyone has their own preference, but for help choosing one, check out this article on the best canvases for oil painting.
Do you wet the canvas before stretching?
If your canvas isn't already painted, you may find it easier to wet the canvas before stretching. The water will make the fabric easier to stretch by making the fibers more flexible.
How do you treat canvas before painting?
A canvas is usually treated with gesso before painting begins. To learn how to prep a canvas before painting, read this article on how to prime a canvas.
What's the difference between primed and unprimed?
A primed canvas has been covered with a primer such as gesso and is ready to paint on. An unprimed canvas is a raw fabric that hasn't been prepped to accept paint.
Why spray the back of the canvas?
Spraying the back of the canvas with PVC, glue, or gesso can help protect the canvas from the elements. Additionally, spraying the canvas with water before tightening it makes it easier to work with and will dry taut.
Does canvas last forever?
Like everything, the canvas will degrade eventually, but there are things you can do to preserve the canvas for as long as possible. These include using gesso to prime the canvas before painting, painting with higher quality paints, sealing the painting with a varnish, and storing the painting out of the sun and away from humidity.
There's No Right Or Wrong
Choosing the correct canvas has no right or wrong answer, and it is solely up to the buyer's preference what canvas is the most ideal. Smaller sizes may be preferable to larger sizes. Specific ratios may determine the chosen size and shape.
Materials like linen or a certain weight may be chosen over other options for durability. Lastly, the cost is the most significant deciding factor. Some materials and sizes are more expensive than others, possible shipping costs need to be considered, and time and ability to make your own canvases can be a factor.
What will you choose?
Did we answer your canvas questions? Do you have a preference for size and material? Will you try stretching your own canvas? Let us know!
Feature Image: Source