So you're considering investing in a complete portable drawing solution?
I've often dreamed of the ability to make digital art while traveling, or finish heavy tasks on the way to work. This usually seemed as elusive as the proverbial unicorn.
Most portable pen displays leave you wishing for more, and wondering how you'll justify and gain from the investment.
I'm excited that technology is finally catching up to our need for powerful, portable visual processing tools.
In this Wacom MobileStudio Pro review, I'll help you determine if this is the device to end your search.
Things to consider before buying a portable drawing tablet
Image Source: Wacom
Minimal drawing tablets typically aren't the most powerful of devices. And some of the tablets that are marketed as portable have limited portability due to a clunky or complicated build.
The best portable pen displays offer a great, balanced solution for your mobile art needs.
Consider these points to find the best tablet for you:
What you will use it for
Simple pen displays can cover your needs for sketching and painting. But if you want to do 3D modeling, or need a drawing tablet for animation and video editing, you need a more advanced tool. These tasks require much more processing power and storage space.
Balancing this with portability requires compromises, but some high-end pen displays can pull it off.
Battery life
How long you can work between charges greatly limits portability. Are you fine with a few hours of time before having to charge? Or do you need to immerse yourself in power-thirsty software for long sessions while moving about?
How you work
How much drawing space do you need? How much space and weight can you allow for your drawing tablet? Do you need to save a lot of files on it?
Portable tablets are all about balance and how well you can work on the go.
If you're going to be working in a designated spot, it's better to get the biggest and most powerful tablet you can get. The Cintiq 27QHD is an ideal example. The processing power, working space, and more ergonomic working position can't be matched by portable units.
A Closer Look at the MobileStudio Pro
Image Source: Surface Pro Artist
The Wacom MobileStudio Pro is the improved spiritual successor of the Wacom Cintiq Companion 2.
Most of the hardware has been upgraded, and the overall design has changed a bit. The higher-end models even come with a 3D camera.
The most important drawing changes are the new screen coating and the big increase in pressure sensitivity levels. This creates a smoother feel and flow to your drawing.
Technical specifications:
Wacom MobileStudio Pro 16
Display Size: 15.6 inch (39.6 cm)
Resolution:4K UHD (3840 x 2160)
Processor: 3.3GHz  Intel® Core™ i5 or  i7
Graphics chip: NVIDIA® Quadro® graphics 2GB or 4GB
RAM: 8 – 16 GB DDR3
Pressure levels: 8192
Pen: Pro Pen 2 with tilt and rotate
Touch: MultiTouch
Keys: 8 ExpressKeys + on-screen controls
Storage space: 256 – 512GB SSD
Orientation: Right or Left handed
Wacom MobileStudio Pro 13
Display Size: 13.3 inch (33.8 cm)
Resolution: WQHD (2560×1440)
Processor: 3.3GHz  Intel® Core™ i5 or  i7
Graphics chip: Intel® Iris™ Graphics 550
RAM: 4 – 16 GB DDR3
Pressure levels: 8192
Pen: Pro Pen 2 with tilt and rotate
Touch: MultiTouch
Keys: 6 ExpressKeys + on-screen controls
Storage space: 64 – 512GB SSD
Orientation: Right or Left handed
Pros
Amazing Stylus: With 8192 pressure levela and tilt and rotation detection, Pro Pen 2 gives you a natural feel and gives you more creative expression. The ergonomic design makes it comfortable to use.
Portable Power: The MobileStudio Pro packs a lot of power into its compact, lightweight body. This is ideal if you like to edit videos or 3D objects on the go.
Natural Feeling: The etched glass finish makes the pen nib action smooth without any slipping or squeaking.
Cons
Operating System: The MobileStudio Pro runs on Windows 10. This makes it a bit complex and prone to bugs. If you're new to this it can be difficult at first.
Connections: All connections are USB-C. This means you may need adapters. The Wacom Link can be bought separately and lets you make the most out of your PC or Mac.
If you're looking for a cheap digital sketch pad, this isn't the best fit. It's an advanced, powerful pen display. But if you seek a powerhouse for your studio, you're better off with something like the Cintiq 27qhd.
If you want a reliable, portable tablet that's easy to use, the MobileStudio Pro is an ideal candidate.
What's Included (and not included)
Image Source: Wacom
The MobileStudio Pro comes with a Pro Pen 2, and a case for it. The case is cylindrical and smaller than the older versions, so it's easier to pack.
The case has 3 replacement nibs, a nib removal tool, and color rings to mark your Pro pen.
There's also a pen holder. This isn't the typical pen stand, it attaches to a little socket in the side of the device so you have your pen close to your drawing surface at all times.
The pen holder doesn't work as a stand-alone, so if you want a separate pen stand you have to buy one.
You get a power cable and power adapter so you can relieve and recharge the battery. There's also a cleaning cloth and a quick start guide included.
There's no carry case included, which is a bit odd for a portable tablet. The shape of the MobileStudio Pro doesn't fit all laptop bags, so you may need to get a designated bag for this drawing tablet. You can buy a separate Wacom carry case, or a third-party option like the Bag of Holding.
It doesn't come with a stand either, most likely because the stand for older models wasn't very popular. If you need a stand, you can get a third-party stand such as the Kensington SmartFit Easy Riser.
Another thing you may want to get with your MobileStudio Pro is a Wacom link. This adapter lets you connect the pen display to your computer via MiniDisplayPort or standard USB and use it like a Cintiq tablet or an extra monitor. You can get one here.
Wacom MobileStudio Pro Features & Benefits
Quality Build
Image Source: Flipsteady
The design is sleek, robust, and sturdy. The 13" version weighs 3.13 lbs, while the 16" weighs 4.85 lbs. It's light enough to bring along wherever you go, but still feels balanced and durable.
The aluminum frame gives is a smooth, cool feel, and should be able to withstand basic clumsiness. It can get pretty hot when under a heavy workload though.
Along the sides you'll find an SD card slot, a lock button, a pen holder socket, a headphone jack, a volume controller, and 3 USB C ports. The exclusive use of USB C makes the MobileStudio Pro very future-proof and gives you a lot of options for charging the battery.
The slight downside is that you'll need adapters for older equipment. This is a common issue with pen displays, but easy to fix. Note that you will need a Wacom link adapter for full functionality with your computer.
The standard Wacom design with ExpressKeys and a customizable touch ring is as powerful and easy to use as ever. You get 6 keys on the 13" and 8 on the 16". They're responsive, tough, and a nice size, as expected from a Wacom tablet.
Drawing Surface
Image Source: Photoshop Creative
The active drawing area is 13.6 x 7.6" on the 16" model, and 11.6 x 6.5" on the 13". I can't see any scenario where this isn't big enough for your portable drawing tablet needs.
Its bright, high-resolution LED display is ideal for colorful creativity. The 13" has a 2560 x 1440 WQHD resolution, with a contrast ratio of 800:1, and 253.4cd/m2 brightness. The 16" offers 3840×2160 4K UHD resolution, with a 1000:1 contrast ratio and 314.78cd/m2 brightness.
All versions can display a maximum of 16.7 million colors, and the wide viewing angle of 178° lets you see the right colors from all angles. All the ones you'd realistically work with, anyway.
The drawing surface has a new etched glass finish, which makes the pen slide a bit smoother than it would on a the paper-simulation screen protector of the Cintiq Companion. This is ideal for quick, precise strokes.
There's virtually no parallax, and the new technology compensates automatically when the nib touches the surface. The response is quick, with only minimal lag that you won't notice unless you work on huge projects in heavy software. And you can use multi-touch functions while drawing.
Battery Life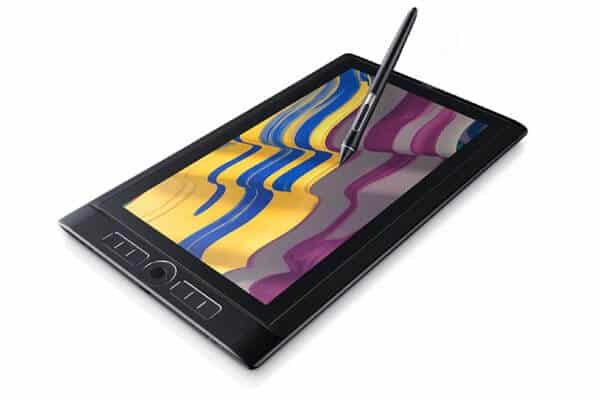 Image Source: Wacom
The battery can last up to 6 hours on a single charge, and charging takes less than two hours.
You can use it on long commutes and trips, or bring it with you to work in a café without problems. It might not be enough to do heavy 3D editing on a nature hike without a power bank, but it's still a nice battery life for a mobile device.
This is the kind of drawing tablet I wish I'd had when I used to take long bus rides from country to country on a regular basis.
How long the charge will last depends on brightness settings and the software you use. But it shouldn't disappoint.
Pro Pen 2

With 60 degrees of tilt sensitivity and 8192 pressure sensitivity levels (almost four times the pressure levels of the previous model) this pen is very precise and versatile.
The moving tip makes it even more precise, but can take some getting used to. It sinks into the pen when you push down on it, unlike the static tip of a pencil.
A thick, non-latex rubber grip makes it ergonomic and comfortable for long sessions.
The pen case is a cylinder that opens in one end. It's very convenient for storage, but it can roll away if you're not careful. The shape may potentially raise some eyebrows if people don't know what it is for.
You get 2 additional standard nibs and one felt tip, along with a nib replacement tool and color rings. All of it fits in the pen case.
There's no pen stand, instead you get a pen holder that attaches to the side of the tablet.
Processing power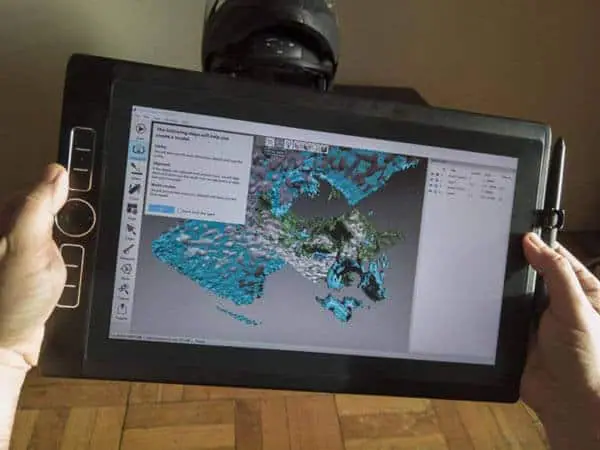 Image Source: PocketNow
Now for the hardware. MobileStudio Pro tablets operate on 3.3GHz Intel® Core™ processors. The cheaper models have the i5 processor, while the more high-end ones run on the i7 version.
They also come with between 4 and 16GB of DDR3 Ram, depending on the model.
If you like to run demanding software without lag while on the move, this device won't disappoint.
The 13" versions use Intel Iris Graphics 550 GPUs, while the 16" versions have the more powerful NVIDIA QuadroGPUs. You can choose between the 2GB or 4GB NVIDIA GPU, the latter is stronger but more expensive.
You can take the edge off the quite steep price tag by opting for less RAM and a weaker GPU. If you need pure power though, you're better off with the high-end models. Truly powerful mobile drawing tablets are rare, but this is one.
The fans are also much quieter than those of the Companion 2. Barely audible even under a lot of stress.
Storage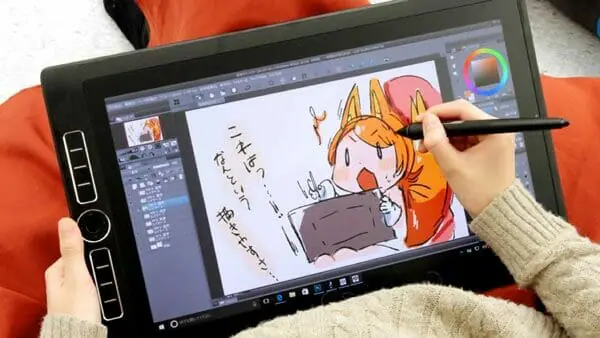 Source Image
For a mobile unit, the amount of storage space is generous. Just like with the processing power, you can choose the amount that best fits you.
The 13" MobileStudio Pro comes with 64, 128, 256, or 512GB SSD storage. The 16" offers 256 or 512 GB.
If you want a mobile device for editing videos, the bigger drives will make your life easier. It's also helpful for photo processing and 3D work. What I like the most about the storage space is the ability to store music or movies for inspiration.
Figure out your hardware needs and balance it against your budget to find the best MobileStudio Pro version for you. It's not a cheap device, but well worth it for professionals and serious hobbyists who need the freedom of movement.
You can always add more storage space with an SD card. This can be a cheaper option.
Keep in mind that you'll need a Wacom Link in order to hook it up to your computer.
3D Camera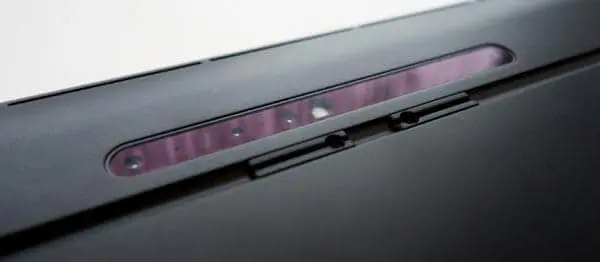 Image Source: 3D Scan Expert
The high-end versions of MobileStudio Pro have a built-in Intel RealSense R200 3D Camera. It consists of a monochrome IR camera and an HD color camera. You can use this to scan the shape of real-world objects to use for 3D modeling. While the detail precision isn't perfect, it's a nice addition for 3D artists.
You also get one year of Artec Studio 3D scanning software.
MobileStudio Pro 13 vs 16: What are the Core Differences
So which model is better for you? Let's do a repetition of the main differences.
The Wacom MobileStudio Pro 16 comes with more powerful graphics cards, higher resolution, 2 more ExpressKeys, and a bigger drawing space. The smallest storage space is 256GB and the least RAM is 8GB. Both versions of Pro 16 have the 3D camera. If you need optimum performance, this is the choice for you.
MobileStudio Pro 13 is cheaper and more portable. The smallest storage space is 64GB and the lowest Ram is 4GB. However, only the most high-end version of Pro 13 has a 3D camera.
You have more different versions to choose from with the 13" inch version, with different storage and performance capabilities.
The short version is that MobileStudio Pro 13 is cheaper and more portable and better suited for hobbyists.
Pro 16, on the other hand, is more powerful with more storage and drawing space. It's the best option if you're a professional.
What Other Artists Think
Since one perspective doesn't always paint the full picture, I searched around for other artists' impressions and opinions. Here's what they have to say:
I also like the fact that the processor speed is finally to a point to where it's almost like you're free from technical limitations now. It's super fast and you don't get any lag at all.
– Noi Sackda (Digital Artist)
It has no compromises in anything I want to do with it, and I love her for that.
– Peter (YouMeAndTheDog): Graphic designer and illustrator
I think this is the best tablet for both 2D and 3D artists. I highly recommend you to try this out.
– Kouji Tajima (Concept Artist)
Noteworthy MobileStudio Pro Alternatives
Before deciding on a tablet, it's always worth considering some alternatives. Here are some relevant options.
MobileStudio Pro VS Cintiq Companion 2
Image by Sticker Robot
The older sister of the MobileStudio Pro doesn't look very different at first glance. But there are fewer features and buttons, and older connection ports.
It only offers about 25% of the pressure levels (2048) and the hardware is not as modern and powerful.
Older Windows: The Companion 2 runs on Windows 8. You may experience compatibility issues.
Less precision: With fewer pressure levels, lower resolution, and more parallax, it's not as precise.
Approachable: The lower price tag and simpler hardware make it easier if you're not used to Wacom.
That's not to say it's a bad pen display at all. If you want a cheaper, simpler option, give it a look.
Wacom MobileStudio Pro VS iPad Pro
Image Source: Apple
The iPad pro can handle artwork, graphic design and video editing. It's not as powerful and versatile as the MobileStudio Pro, but if you prefer simplicity it's worth a look.
Both software and hardware are more simplistic, it's an Apple device after all. The new pen is very intuitive and has a natural feel. Since there are no moving parts, it's much more beginner friendly than the Pro Pen 2.
More portable: The iPad Pro is smaller and lighter than the MobileStudio Pro. This means less drawing space though.
No shortcuts: There are no ExpressKeys, no stylus buttons, and no touch ring. This can slow you down.
Limited software: You won't have a big selection of software, and there are few powerful options.
The iPad Pro is better suited for beginners and hobbyists looking for a digital sketchpad.
Wacom MobileStudio Pro 16 VS Surface Pro
Image From Microsoft
Microsoft's ultra-portable laptop offers a different digital art solution. It's cheaper, but the resolution is lower and it's not a dedicated artistic tool.
It's basically a Windows tablet PC with a modern stylus.
All-in-One: This is a more general multi-media device. It has more different uses than the MobileStudio Pro, but few are art-related.
Keyboard: Since it has a keyboard by default, you get a lot of shortcuts. A MobileStudio Pro needs a separate keyboard or computer connection to achieve this.
Less precise: The pressure sensitivity and precision can't compare to a drawing tablet.
If you'd rather have a laptop that can cover basic visual creative tasks, give the Surface Pro a chance. It's not the best for professional artists, but it should work for video editors and graphic designers.
Conclusion
Making art and doing heavy-duty visual work on the go doesn't have to be a struggle.
If you're a traveling digital artist or want to become one, the MobileStudio Pro is a very useful tool. It can also help you do last-minute work on your commute.