Art education is more accessible than ever with online schools that have adapted high-quality art programs specifically for online learning.
The big "HOWEVER" is that online art school is still a huge investment of your time and money, so you'll want to make sure you commit to a school perfect for you!
This guide will help you learn about some of the best online art schools and some worthwhile alternatives.
Our Top Online Art Schools Compared
Receive the same high quality of education as ASU's on-campus programs, learning with the same impressive curriculum and professors

Affordable, high-ranking art and design program at a public research university.

Offers multidisciplinary and specialized BA and BFA degrees.
3 year hybrid online program at one of the top art colleges in the world.

Summer residencies are in Chicago, a major visual arts center.

Alumni Advisors in your area meet with you during your online independent study semesters.
3 year hybrid online program at one of the top art colleges in the world.

Students learn from some of the best professors out there without having to relocate entirely.

Dedicated faculty mentor supports you through the entire program.
Best Asynchronous Classes
Offers a wide variety of degree programs you can complete at your own pace.

Perfect for students who work/have family commitments.

Dedicated to building a lasting online community.
8-week mini semesters allow you to keep a minimal course load each semester and still graduate on time.

Most affordable school and highest retention and graduation rates.

Place importance on connecting fellow students and faculty online.
1. Arizona State University Online
Arizona State University Online has earned its title as one of the best overall art schools online for its combination of expertise in online learning and quality affordable fine arts education.
Pros
ASU is a public school that has put tremendous attention into building up the strength of its online programs. Their online degrees are as worthwhile as their highly ranked in-person fine arts programming.
Online students learn from the same professors and with the same curriculum as their on-campus students. An online degree holds the same prestige.
They offer accredited BA and BFA degrees in multiple disciplines, including Digital Photography, Museum Studies, Art History, and Art Studies.
Their BA in Art Studies program is one of the few fully online multidisciplinary studio art programs. Art students survey printmaking, painting, drawing, photography, sculpture, animation, illustration, and art history while learning to write and speak about art.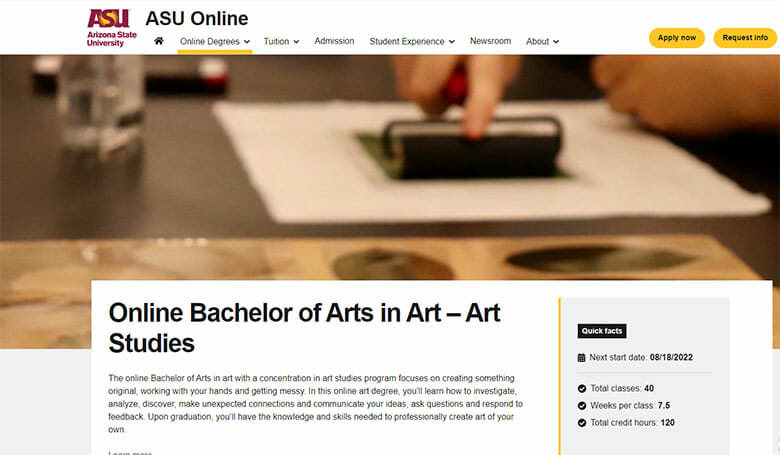 Possible Cons
If you choose a studio-based major, you must have your own space to work and won't have the hands-on assistance you would in an in-person program.
ASU Online provides as many resources as a fully online art program can, including access to online library resources and career counseling in the arts. They're dedicated to the success of the students in the variety of affordable degrees they offer.
2. SAIC Low-Residency
The School of Art Institute of Chicago's Low-Residency MFA program is our choice for the best online MFA program. It functions as a hybrid online and in-person program that prioritizes flexibility but not at the expense of opportunity.
Pros
SAIC's low-residency MFA is a self-directed 3-year multidisciplinary program catering to artists that need greater flexibility while pursuing their graduate degrees.
A dedicated SAIC alumni advisor in your area keeps in close contact with you as you work remotely from home in the fall and spring semesters.
They also facilitate three six-week-long intensive summer residency sessions with your peers and professors in the studio, classroom, and the world-class galleries and museums that Chicago offers.
Possible Cons
If traveling to Chicago every summer for six weeks is out of the question, this program is not possible.
Private school tuition costs.
SAIC is one of the top US art schools, and its low-residency program matches the caliber of its traditional on-campus fine arts programs. The artwork produced by their low-residency students proves it.
3. MICA Low-Residency
While not fully online, Maryland Institute College of Art's low-residency MFA program in Studio Art is of incredible value, situated in a world-class art college.
Pros
MICA's low-residency program is designed for working artists who want to get an MFA degree without putting their careers on hold.
Its 3-year program consists of remote independent study during most of the academic year, allowing you to work comfortably in your home studio space.
Each summer, low residency students spend six weeks on campus, using the facilities and resources that MICA has to offer that are fundamental to the graduate school experience.
Students stay in touch with a dedicated faculty mentor throughout the entire program.
Possible Cons
If you cannot commit to traveling to Maryland each summer for three years, this is not the program for you.
Private school tuition costs.
This low-residency program provides a seamless blend of the best of online education and on-campus opportunity, without having to relocate entirely.
MICA also offers some unique MPS programs, which provide fully online Master of Professional Studies degrees.
4. SCADNow
Savannah College of Art and Design's online art school, SCADNOW, was chosen as some of the best asynchronous classes on our list.
Pros
SCADNow's online art programs stream courses for students in real-time but are accessible for students at any point. This dedication to allowing you to learn on your own time makes it possible to fit your art education into your busy schedule.
They boast a rich digital art community of professors and students that makes getting an art degree online comparable to getting one in person at an art university.
SCADNow offers more diverse degree programs than anywhere else, including online master and bachelor's degrees in Graphic Design, Illustration, Interactive Design, Game Development, Photography, and Painting. There's a fit for you at every level and specialization.
Possible Cons
You must remain self-motivated to complete your studies at your own pace. If that's something that you struggle with, the freedom and flexibility could become a downside.
Private school tuition costs.
5. University of Florida
University of Florida is the most affordable online art school on this list. That affordability translates to an accessible art and design education for students of all kinds.
Pros
The University of Florida offers a variety of online art degrees, including a BA in Digital Arts and Sciences that prepares students for commercial art careers in art and design across the entertainment and UI/UX design industries.
They also have an online Master of Arts Education program that combines education theory/practice and studio work, perfect for future art educators that want to develop their practices.
The pacing of their programs involves flexible, eight-week "mini semesters" that allow you to focus on one course at a time and still complete your degree in 2 years! This is perfect for those with jobs and families.
Their online programs facilitate a close-knit community through online study and foster connections to fellow art students and faculty, so you won't miss out by learning online.
Possible Cons
University of Florida's affordable, quality art education is a huge asset for your future wallet and your peace of mind while working through your online degree.
What Can I Do With an Art Degree?
With an art degree, you could work in graphic design jobs, photography, the entertainment industry, galleries, museums, and academia.
To teach at accredited schools and universities, you need both a Bachelor's degree and a Master's degree.
Many art and design jobs don't necessarily require a degree, but they do require the skills and strength of portfolio that you can build at the best online art schools.
Connections you build with professors and peers during your art education can be beneficial for getting industry interviews, internships, and jobs through recommendations.
Jobs in animation, illustration, game design and graphic design are highly competitive, so anything to make your application stand out is helpful!
SCADNow and Univeristy of Florida offer degrees in these areas that can help guide you through industry standards in these specializations. However, there are some cheaper alternatives, which we will list further below.
Degree Types
Bachelor of Arts degrees are 4 year programs at the undergraduate level and can prepare you for jobs in the art and design field.
Bachelor of Fine Arts degrees focus on areas like painting, illustration, or graphic design. ASU Online has a dedicated digital photography BFA program for those wanting to focus primarily on photography.
A Master's degree program is a 2 or 3-year graduate level program that requires a deeper, more personalized level of research and study. SAIC's Low-Residency MFA program is multidisciplinary, so you can work in any medium. (You must get a bachelor's degree first.)
What Are the Advantages of Online Art Schools?
The main advantage of online art schools is that they are more accessible and flexible than traditional in-person art schools.
You can learn from anywhere and be taught by amazing professors that you wouldn't normally have access to if you could not relocate to attend in person.
Online courses cut costs of moving and/or commuting, which add up tremendously. All you have to worry about is funding your tuition, books, and supplies (which is already enough to focus on!).
The flexibility that an online art university provides makes it possible to work to support yourself while you're in school. (SCADNow even offers asynchronous learning options for many of their classes, so you don't have to choose between class and your job or family.)
Disadvantages of Online Schools
As much as the best online art schools have adapted and made up for many of the differences between online and in-person learning, there are some disadvantages to consider.
You must have your own studio space, equipment, and tools at home. There is no access to the resources, shops, or hands-on help you could find in person.
You must be self-motivated to make the most out of it. (With great flexibility comes great responsibility.)
Online students have fewer opportunities to show their work in person and gain exhibition experience.
Low-Residency vs. Online Only Programs
Low-Residency art programs are graduate degree programs in art and design with a hybrid online and in-person schedule. Summer sessions are typically held on campus.
This works particularly well at the MFA level since graduate art programs involve a significant amount of individual study. Still, most graduate students also desire the exhibition opportunities and resources that in-person institutions can offer.
Both the MICA and SAIC low-residency fine arts programs acknowledge that often artists who are returning to school for their Master's have developed careers and lives already that can't be easily uprooted.
The main con to this program style is that the costs of travel and lodging can be enough to dissuade students who do not have the financial resources to commit to it.
Things to Look For in Online Art Programs
Some major things to look for when searching for online art and design programs include:
Art Degrees Offered (BA, BFA, MA, MFA?)
Is it discipline-specific or multidisciplinary? (Do you want to specialize in one subject? Or explore a little bit of everything?)
Retention and Graduation Rates (Are students sticking with the program?)
Requirements of the program (What classes do they require? Is there a thesis component?)
Cost (Is it within your budget? What percentage of students receive financial aid?)
Accreditation (Will the degree be recognized after all of your hard work?)
Retention and Graduation Rates
Look at the retention and graduation rate percentages of each online art school you are considering. Retention rate is the percentage of students that return for the second year, while graduation rate is the percentage that complete their degree on schedule.
If a school has particularly low retention and graduation rates, this can be a red flag!
University of Florida's retention rate for freshmen is reportedly 97%, which is way higher than the national average.
What Are the Requirements for an Art Degree?
Requirements for an art degree vary depending on the type of degree, specific program, and school. They include general education level, as well as theory, art history, and studio courses.
For a bachelor's degree, you will typically be required to take general education courses along with your art and design courses.
Many degrees in art also require a thesis that is the culmination of what students learn in the program. This may be a written thesis, a portfolio, a show, or a combination.
Theory Courses
Theory courses help students learn to think more deeply and critically about their work and the work of other artists.
They'll provide you with the language necessary to professionally discuss, question, and critique art.
Art History Courses
Art history courses give you a background of art world and help you contextualize your work and artistic influences.
You'll learn about movements, styles, periods, and art influences throughout the ages and worldwide.
You can expect to learn about anything and everything from ancient cultures to Renaissance Masters to Modern Art.
Studio Courses
Studio courses are where you get your hands dirty and show off your creative skills.
These are the drawing, painting, sculpture, and photography classes you imagine when you think of a fine arts program.
Studio courses involve demonstrations by professors, lectures, and critiques of your work as you build your artistic skills.
How Much Does an Art Degree Cost?
An art degree costs less at public universities than at private art schools, but it is a big investment of time and money wherever you go.
SAIC charges $1860 per credit for their low-residency MFA program.
In contrast, the University of Florida's BA online program costs $552.62 per credit for non-Florida residents and just $129.18 for Florida residents. (I have a feeling this is part of why their retention and graduation rates are so high! Students can comfortably afford their programs.)
These are drastically different prices for drastically different programs. SAIC's program involves summer residencies on campus in Chicago. It is also a private school and ranked as one of the top art schools in the country.
Financial Aid Options
Art program costs vary WILDLY; sometimes, the price tags for an art education can be shocking.
You should follow your dreams, but I do NOT recommend going into huge amounts of debt to do it.
This doesn't mean expensive programs have to be out of reach, though! Some aid options can help make the costs more reasonable for your budget.
Students in the US can apply for FAFSA, which is federal student aid based on income. It comes in the form of grants (free money!) and loans that have to be paid back once you finish your program.
Types of Scholarships
Merit Scholarships are awarded based on the strength of your application and portfolio, so make sure your portfolio shows off your best work!
Diversity Scholarships are awarded based on application essays and personal statements. What diverse experiences and perspectives can you bring to a program?
Need–based Scholarships are based solely on financial need.
TIP: Reach out to aid offices at the schools you're applying to for resources and help with applying for additional aid!
Accreditation for Your Art Education
Most scholarships and aid programs will only allow you to apply if you're seeking a degree from an accredited college. This is meant to protect students from scams.
Make sure the schools you apply to are properly accredited so your degree will be recognized once you graduate.
Application Process
Applications typically involve personal statement essays, statements of purpose, letters of recommendation, an art portfolio, an application fee, and possible interviews.
Each program will have a slightly different application process, so be sure to check each one.
The portfolio section usually holds the most weight, so take your time crafting it!
Best Art School Alternatives
If an arts degree program doesn't seem like the right fit for you right now, but you still want to build your technical skills, there are some inspiring alternatives for online education with the best online art classes at a fraction of the cost.
You can still learn from art teachers worldwide and get quality feedback from industry veterans.
New Masters Academy: Best All-Round
New Masters Academy has fantastic subscription-based online classes in every medium and subject you can imagine. Sign up to learn new skills in drawing, painting, and sculpture from art teachers who are masters in their fields.
You can start at whatever level of courses you're comfortable with, from beginner to more advanced. If you want tailored feedback, you can also sign up for their affordable coaching program.
Check out our full review of New Masters Academy for more information.
Evolve Artist: Best For Traditional Art
If you're interested in learning oil painting specifically, Evolve Artist offers a deep and guided exploration into the medium.
Evolve Artist stands out as one of the best oil painting classes we've come across online. They'll teach you everything you need to know about oil painting from the foundations up, breaking lessons down into easy-to-understand blocks of study.
Group classes and 1-on-1 critiques will ensure that you have support every step of the way.
Additionally, all supplies are provided for you, built into the online class cost!
Read more about Evolve Artist in our full review here.
And use the coupon code: ARTIGNITION100 to save $100 when you sign up.
CG Spectrum: Best School for The Entertainment Industry
If you know you want a career in the entertainment industry, CG Spectrum has you covered with their intensive courses taught by current industry professionals.
Find in-depth digital arts courses in game development, concept art, animation, 3D modeling, and more.
They'll teach you specialized skills, step-by-step, so you'll go from beginner to professional within the span of the 3-9 month classes. (As long as you have the time to commit!)
Are You Ready to Find Your Fit?
Whether you want to study fine art, find an art education program, learn to paint digitally or prepare yourself to dive into the industries of the commercial art world, accessible online art degree programs are waiting for you.
Arizona State University Online is our best overall winner for its variety of affordable, high-quality programs. Still, all of the online art colleges and schools on this list have excellent benefits depending on your needs!