Do you want to become a better artist? Are you starting out and don't have access to an art school? Maybe you just want to brush up on fundamentals and advanced techniques?
You may have heard New Masters Academy is a great learning platform for any artist.
But the question still remains…
Is New Masters Academy Worth It?
For this New Masters Academy review I've spent weeks exploring the content in the website. In short, I have found it to be a great resource for beginners and intermediate artists who want to accelerate their art education and ramp up their skills.
Below, you'll find out everything you need to know about the New Masters Academy website and the art resources available. I'll share with you my experience NMA, and the experiences other students had. I've also included some tips on getting started!
You'll have everything you need to decide if New Masters Academy is a good learning fit for you.
Things To Consider Before Joining New Masters Academy
Online education comes with its own pitfalls. There are many platforms out there that allow just about anyone to put up courses. The content can be superficial or, even offer incorrect techniques or harmful shortcuts.
This isn't the case with New Master Academy …
If you are starting out, you want to get all your basics right. From how to hold a pencil to understanding the skeletal system of the human body. These technical details determine your level of perfection later on.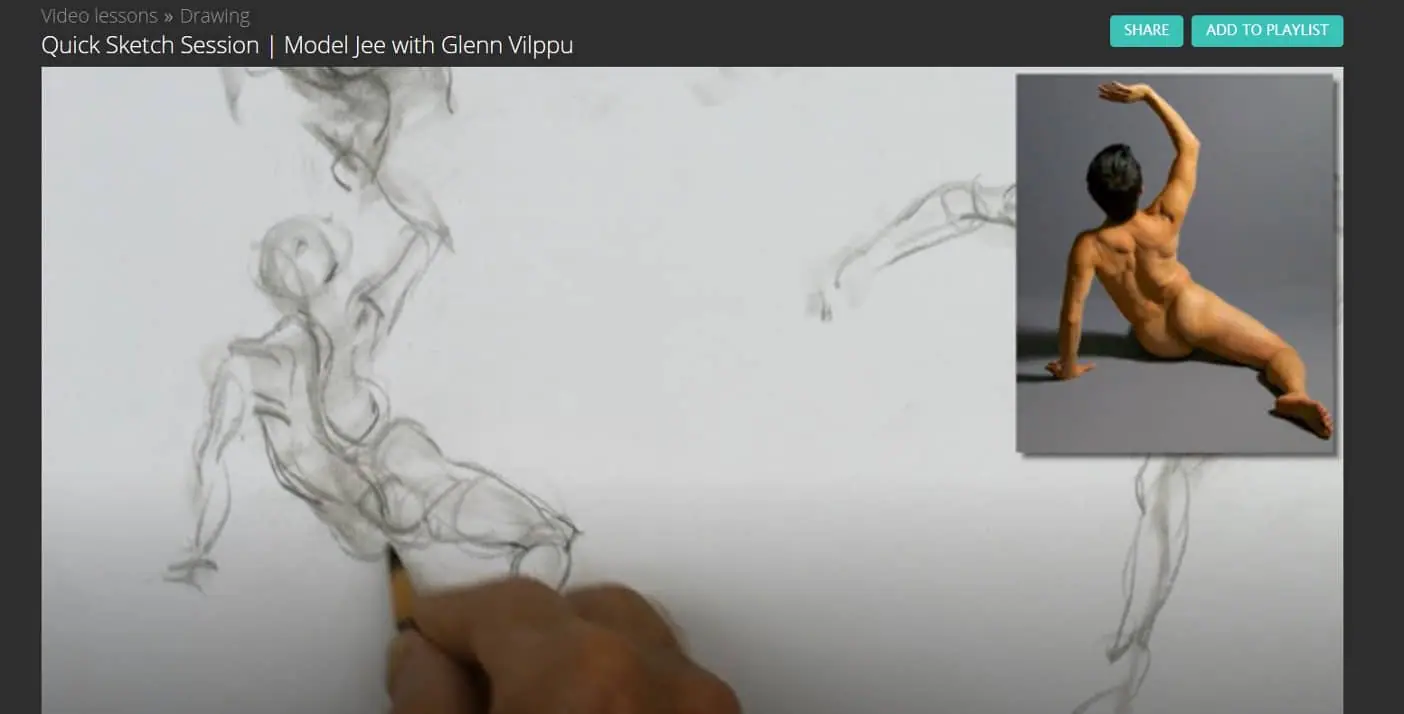 NMA teachers are masters of fine art. They have honed their skills over years of professional work. And, have experience in art education.
Learning from them is a sure way to avoid picking up bad habits.
Since it is a subscription based platform, like Netflix, you have the freedom to choose your pace of learning. There are beginner to advanced courses, for those who wish to continue their journey beyond the beginner levels.
Overview of New Masters Academy
New Masters Academy provides incredibly high-quality tutorials at a low monthly cost. You'll learn drawing, painting, sculpture, composition, perspective and anatomy through top-quality art tutorials from renowned artists.
Website Structure
The website structure is extremely intuitive. Right at the top, is a prominent Library menu. When you click here, you'll get a drop-down menu with the following five options:
Learn – Takes you to the video lessons
Images – Photo references for practice and daily drawing sessions
3D Models – 3D scans of live figure models
Coaching – One-on-one coaching sessions
Forums – An active artist's community
The simple organisation makes it easy to find the right content. There's also a Personal Profile menu. I find this great to manage my subscription details and save courses in personal playlists. You can also view your progress using the Courses option.
Learn – The Online Art Classes
New Masters Academy offers one of the most extensive learning video libraries online compared to other online art programs. There are over 1000 online art classes. The subjects include drawing, painting, art theory, modeling and sculpting, designing movie posters, making digital art, some of the best oil painting classes online and much more…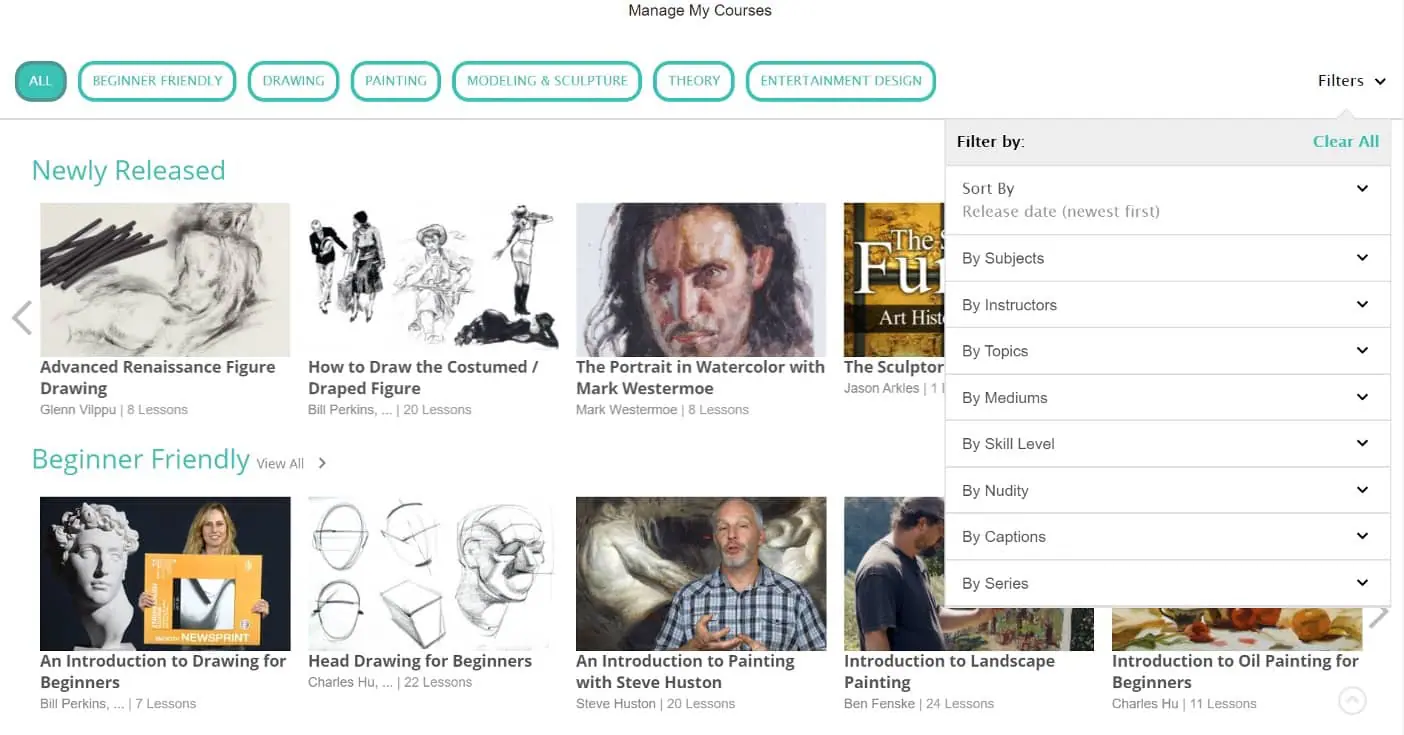 The classes are meticulously organized making it easy to find content by material, subject and artist.
Where To Start
You can choose the courses based on the topics and mediums that interest you, as well as your skill level.
As a beginner, it can be confusing to have so many choices. NMA offers a Beginner Friendly tag. Right at the top of the page. I loved this option, as I could quickly get a list of the foundational art tutorials.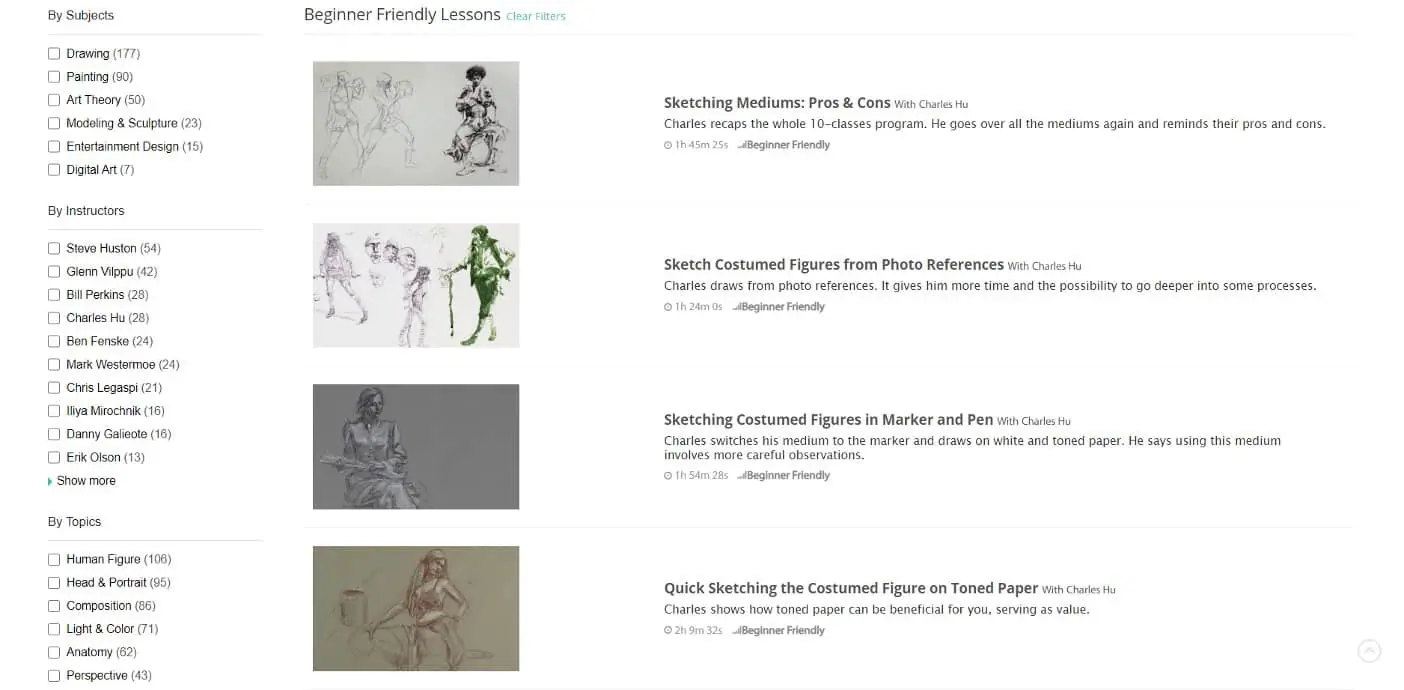 For absolute beginners, A Beginner's Guide to Drawing will help you start your artistic journey on the right foot. This learning path will guide you though:
Essential materials and studio setup to begin your drawing journey
Using your pencil to translate what you see in your subject to your drawing surface
Learn and apply the basics, including the Laws of Light, rendering techniques, and constructing basic forms in 3D
Understand the core principles of drawing: Gesture and Rhythm, Values, and more
Practice plaster cast drawing and landscape drawing
Learning Paths
Learning paths are the best tool I found on the website. These are courses with a collection of lessons to help you master a skill set. Like drawing costumed figures, drawing animals and much more.
I like to take up small chunks of content per week. This way I can balance video tutorials with practice hours.

Here I'll review three of the learning paths that stood out for me. There are many more that you can explore on the website.
Russian Drawing Course With Iliya Mirochnik – Learn the fundamentals of drawing in classic Russian academic drawing approach. A 250-year-old tradition preserved at the Repin Academy in Saint Petersburg, Russia. You'll be learning in an academic method seldom taught outside Repin Academy. And, for the first time online.
Constructive Head Drawing with Glenn Vilppu – Master draftsman Glenn Vilppu reveals the secrets to creating head drawings. The course has 10 classes. You'll start by drawing the structure of the head. By the end of the course, you'll be learning techniques for blocking in the head accurately.
Introduction to Landscape Painting With Ben Fenske – A 24 part series of art lessons on landscapes in o

il or acrylic paint

. It is one of the most extensive courses on landscapes. Ben walks you through every step. From understanding value and value relationships to capturing a sunset.
Course Details
You'll love the course interface. It is clean and simple – with just what you need. And, absolutely no clutter.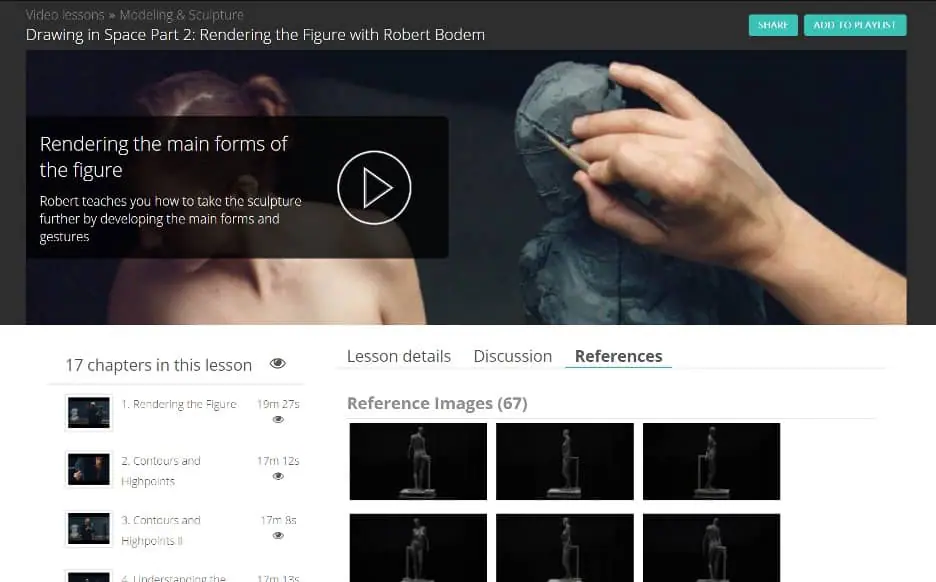 Duration: Courses vary in length. Some have 24 lessons (each anywhere from 30 to 60 minutes in length) and others just 1 or 2 lessons.
Structure: Every course starts with an introductory chapter. The instructor introduces himself or herself and sets expectations. Some might list materials required or ask for some baseline exercises. There are some chapters devoted to technical details and demonstrations, ending with an assignment.
References: You'll have access to the video transcripts, lesson attachments, image references and links to discussion forums. I loved that there were useful suggestions of similar videos and the next lesson.
Teaching format: While this varies from instructor to instructor, there is always a good balance of detailed technical lectures, concepts, instructor demonstrations, projects and assignments. The lessons are interesting and easy to follow.
Progress: Your progress is captured in the video and course history.
The Instructors
At the heart of New Masters Academy are the master artists. Have you been trying out the free drawing tutorials online? This content is completely different.
You'll get to learn from true masters of the craft. Maybe you've already heard of them. Or, a google search will flood you with information.
Who's Who of the Art World
NMA started with three core instructors: Glenn Vilppu (master draftsman), Ed Fraughton (sculptor par excellence) and Steve Huston (accomplished figurative painter). The exalted faculty expanded to bring in highly qualified artists from the world over. Now, the team of instructors has expanded to include over 31 artists.
Glenn Vilppu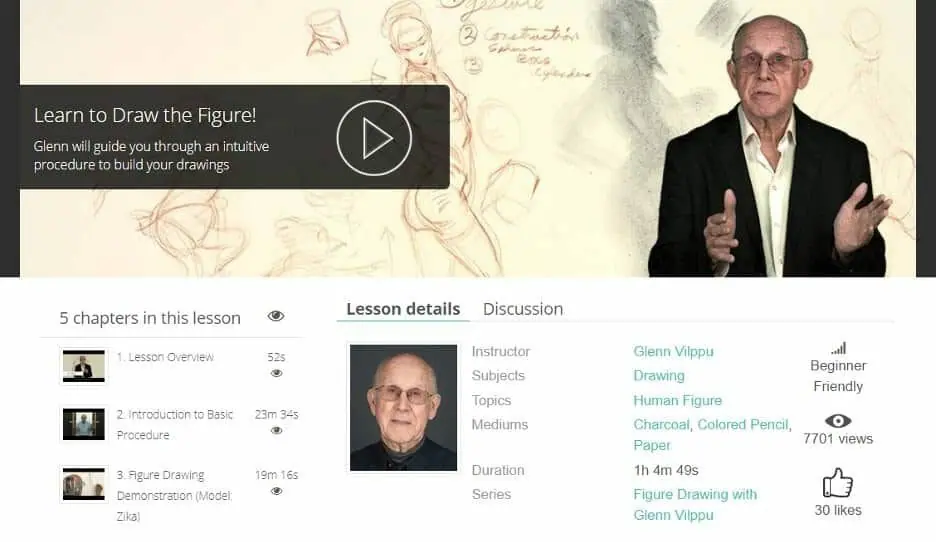 Glenn Vilppu is an internationally renowned draftsman, painter and instructor. He's had an immense influence on American Animation industry. He has worked at Walt Disney Studios, Marvel Productions and Warner Bros. Animation.
Vilppu's famous for teaching figure drawing to professional animators. Universities and art schools use his books. Professional artists look upon his teaching approach as a benchmark!
"Get the total and communicate it as clearly as you can." says Glenn Vilppu. At NMA art videos, you'll find 94 videos by him.
Steve Huston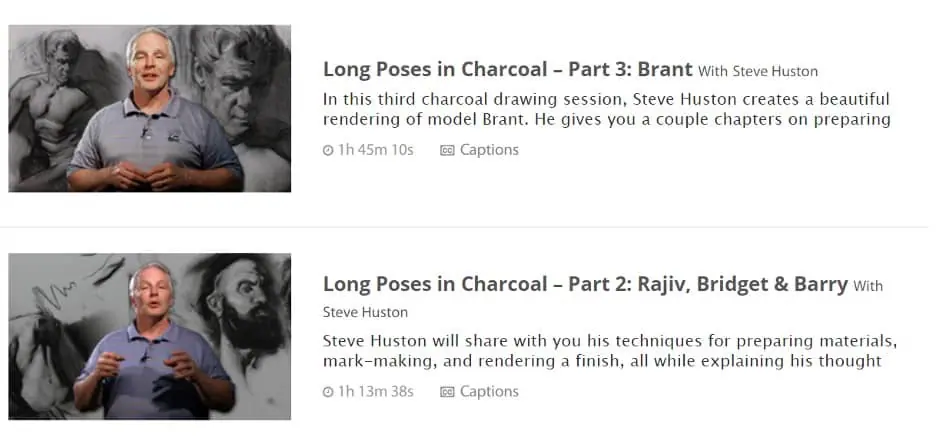 Steve Huston is an Alaskan born painter and draftsman. He has illustrated for Caesar's Palace, MGM, Paramount Pictures and Universal Studios.
Huston is famous for teaching life drawing and painting, composition and anatomy. He's even taught at Disney, Warner Brothers and Dreamworks Studios. Steve's philosophy is making every mark on the canvas meaningful, such as every act in life.
Learning figure drawing from Steve is a privilege. I also found his lectures on artistic theories very valuable. If you put in the practise, his classes will help you improve your skills.
Bill Perkins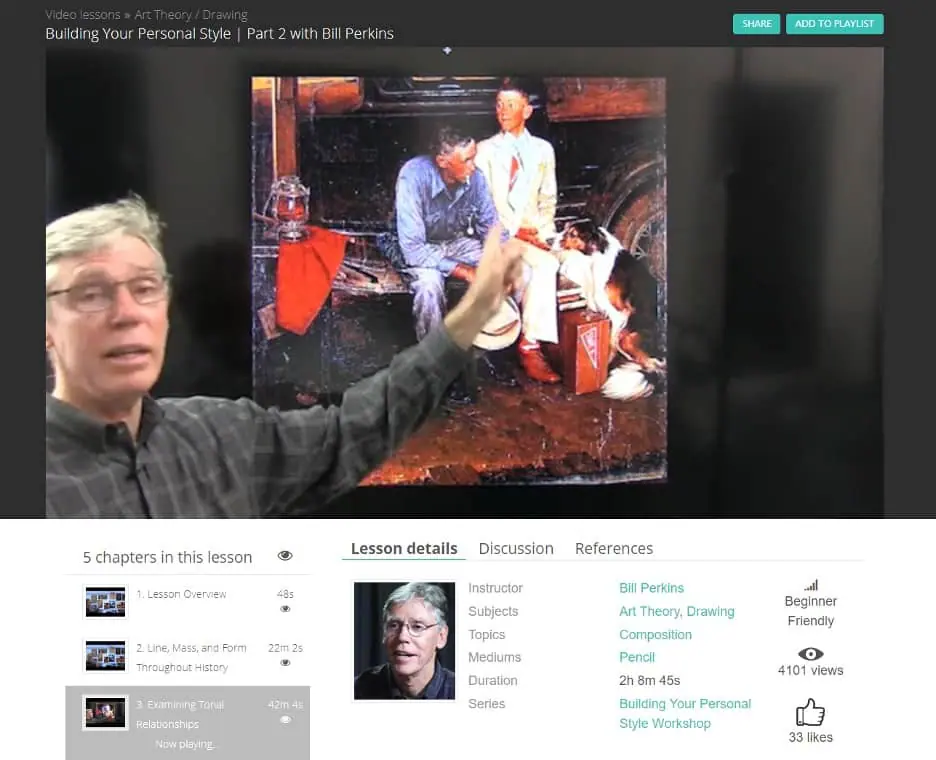 Bill Perkins is a painter, draftsman and art director. His portfolio includes over 30 films, TV shows, DVDs, short films and video games.
Bill Perkins started his career as layout artist at Walt Disney Feature Animation on Oliver and Co. Bill is associated with beloved movies such as Little Mermaid and Beauty and the Beast. He was the art director on Aladdin and much more!
Disney fans are in for a treat. Because, there are over 36 phenomenal online art tutorials by Bill Perkins. You'll find everything you want to learn in these videos.
As an artist who is still learning, I found his workshop on 'Building Your Personal Style' very relevant. He examines the elements of design throughout history. And, he shows many examples of his design work for various films. And, outlines the choices he made to create distinguished styles for each. He ends with an assignment to help you practice the concepts you have learned.
Other interesting courses by Bill Perkins include, 'A Beginner's Guide to Drawing' series and a 10 lesson course on 'Composition for Visual Artists'.
Learning Highlights From Other Art Teachers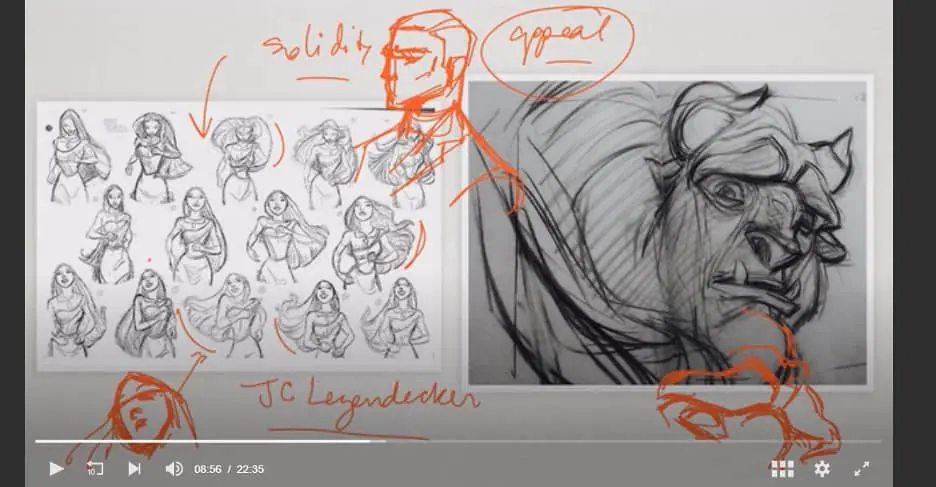 Learning from Iliya Mirochnik! Who bagged 'First Place' in the American Portrait Society's International Portrait Competition.
Designing posters along with Mark Westermoe (the artist behind the iconic Home Alone poster!).
Bring depth to your art with perspective by Erik Olson and Gary Meyer.
A unique curriculum called 'Drawing in Space.' For the first time, master sculptor Robert Bodem goes on camera to reveal how to sculpt the human figure in clay. If you want to learn sculpting this is a great place to begin.
Learn figure sketching from Danny Galieote, who's done 2D character animator at the Walt Disney Animation studios (among other things). Understand figure studies of Italian Renaissance masters. Learn how you can apply learnings in an animation drawing.
The course content made me feel like I'm at an art school. I've not seen this depth of information in other online art tutorials.
Teaching Style & Video Presentation
You can view the video content via streaming HD videos. While there is no download option right now, they are working on an app to provide offline access to videos.
During demonstrations, you'll be able to see every stroke the instructor makes as well as the reference image or model.
Some courses offer timed assignments followed by the same exercises done by the instructor. I could compare and pick up on what I needed to improve on.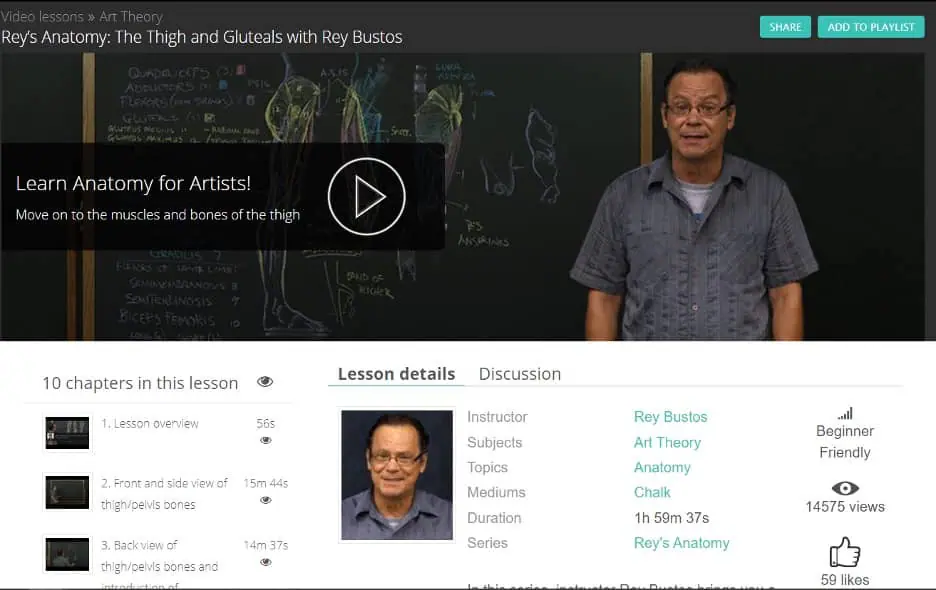 For example, in 'Beginning Figure Drawing by Steve Huston' the lesson ends with an assignment video. Followed by Steve's approach where you can review your own work.
If you want to learn figure drawing, there is no end of options on New Masters Academy. There are follow along videos where you draw with living legends.
Every instructor in New Masters Academy has a unique style. Overall, the courses are professional. The academic tone of instruction is great for serious learning. You can pace lessons and balance them with practice time.
The ones that challenged my attention were the technical lectures. I found it helpful to be able to rewind and refer to the transcripts.
Images Library
A monthly premium subscription gives you access to the massive image library. There are over 30,000 reference photos.
With more than 60 models to choose from there is no shortage of content here!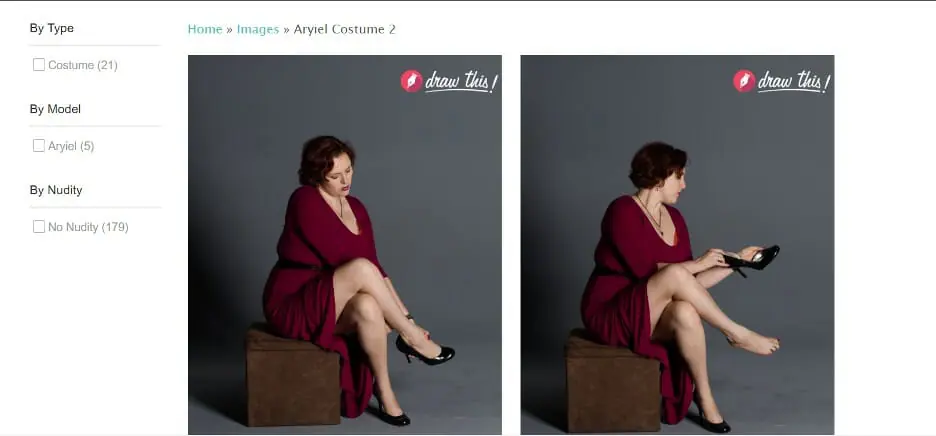 You'll find young, middle-aged and mature male or female models of different ethnicities. Filter for clothed and nude reference images. I used these reference photos to put the techniques I learn to use.
You can dip into this resource for life study observations and inspiration. Also, the images are downloadable which is great if you want to print them for reference.
The image library also includes master artworks, still life scenes, plaster casts, animals, portraits and closeups of hands and feet.
3D Models
One of the coolest features of New Masters Academy is the 3D Models feature. Using a unique NMA Full-Body Scanner, the team creates 3D rendering of a human body. You can see the body from any angle and lighting. This is as close to live drawing as it gets!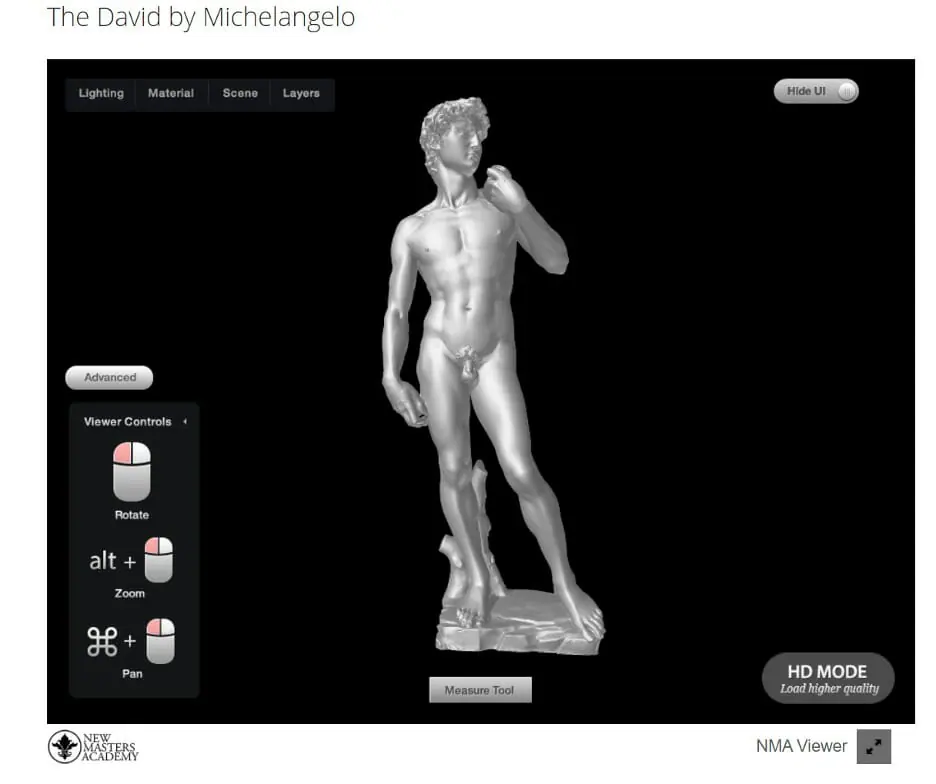 Put gesture and figure drawing videos to practise with these models. There are renders of masterworks, such as The David by Michelangelo.
Want to practice anatomical drawing? You also have the option of viewing the anatomical forms. Choose skeleton, flesh and muscles views for conceptual sketching.
The New Masters Academy Forum
I love that NMA has a community for learners. It is much more private than Instagram and Facebook. So I felt comfortable sharing my practice and finished works, seeking advice and joining challenges.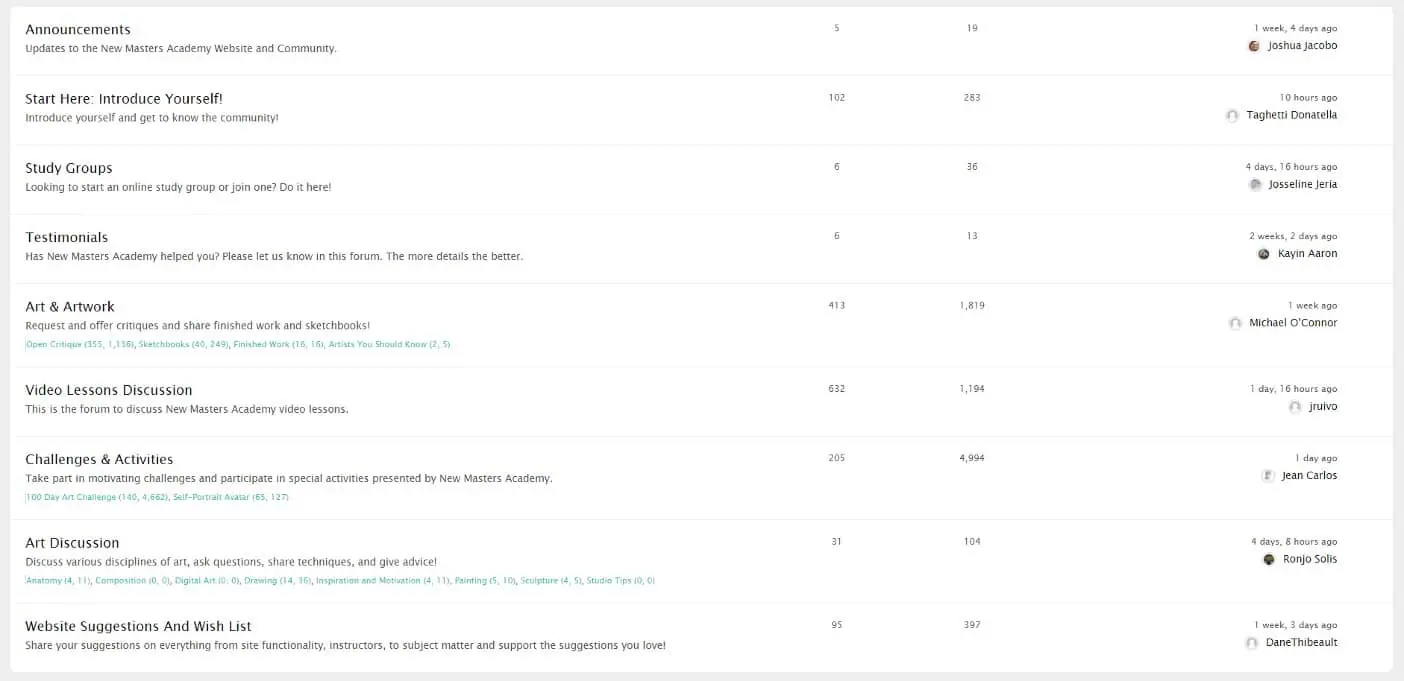 You'll find 9 main discussion threads. Some are more active than the others, with maximum activity in the one related to the art lessons.
I click on Video Lessons Discussion. And search for specific art lessons. This allows me to see what my peers were doing and ask questions. Some instructors may not respond immediately. However, the community steps in with answers and suggestions.
Form study groups. Share your designs and sketchbooks. You can even take up challenges to keep the motivation high.
Coaching Review
If you have enough time and resources, the coaching option on New Masters Academy is worth looking into. You'll get personal coaches who'll help you to create a personalized learning path.
When you are starting out, learning can feel overwhelming. With the coaching program, you'll get the support to take your skills to the next level.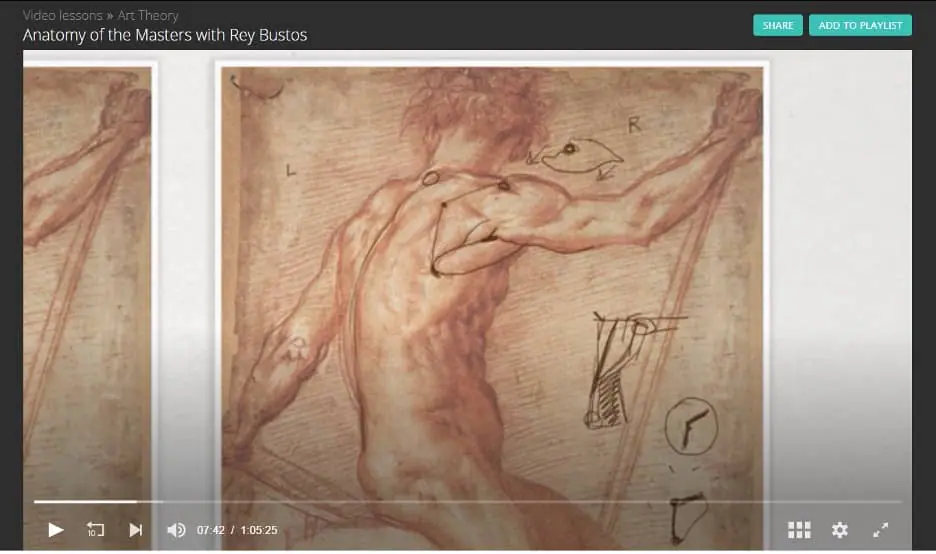 Sometimes, we need a little push to get going. That's where the assignment system comes in. Having a personal coach to review your work really helps. With this kind of personal, one-on-one support – you'll be getting even more support than you would at some art schools!
Find out about their different coaching plans here.
How Much Does New Masters Academy Cost?
You have different payment structures to choose from at New Masters Academy.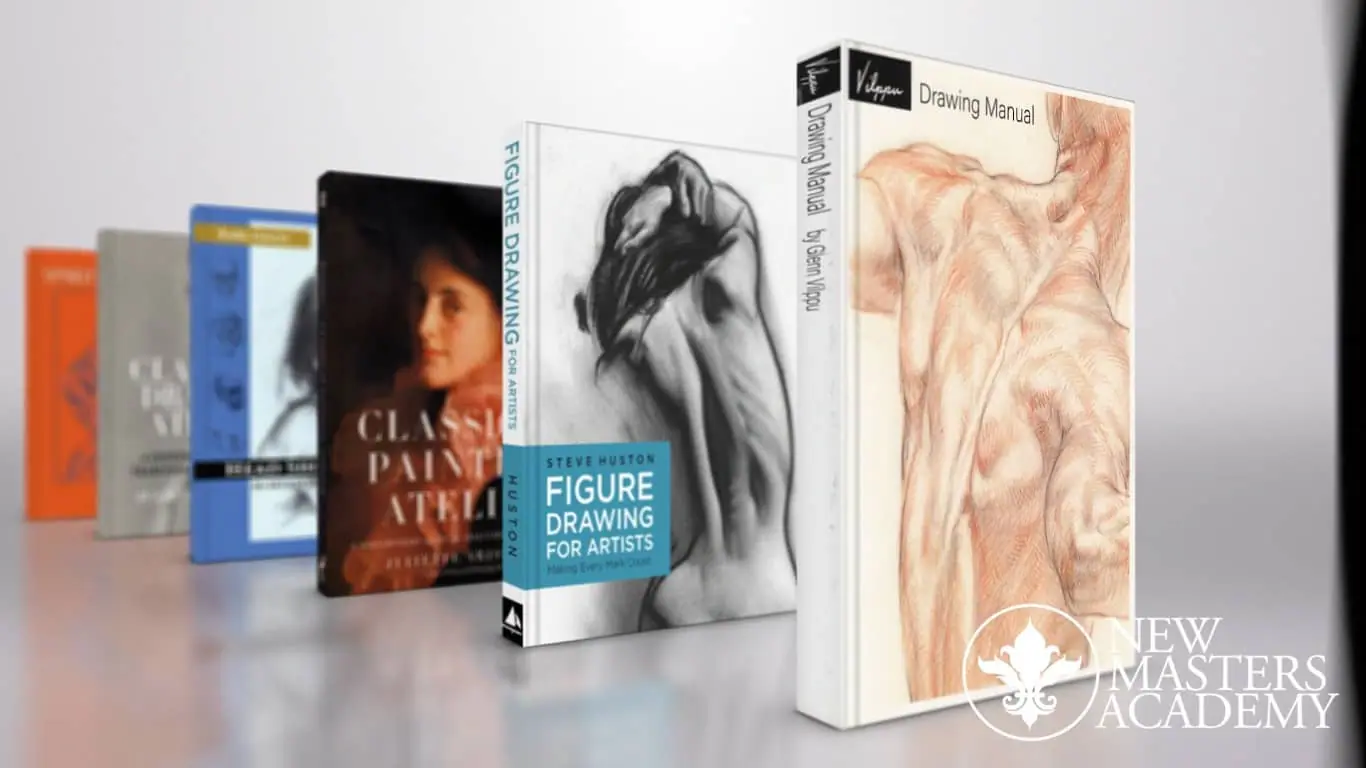 Standard vs Premium
The standard plan gives you access to all the learning videos. You'll enjoy unlimited streaming of 1000+ hours of art instruction videos. You'll also get to view all the lesson attachments.
With the premium plan, you have access to all the content (except coaching). This includes New Masters Academy reference images and the interactive 3D reference gallery.
Annual Subscription
If you want to learn on NMA, you'll need to put in hours of practise. By paying annually you'll save some money and have ample time to work through the courses.
Coaching Levels
There are seven levels of coaching at New Masters Academy. Each level offers you specific benefits. Explore the programs in detail here.
Artists' Experiences
I scoured the internet for artist experiences to understand what New Masters Academy offers. Here's what learners have to say: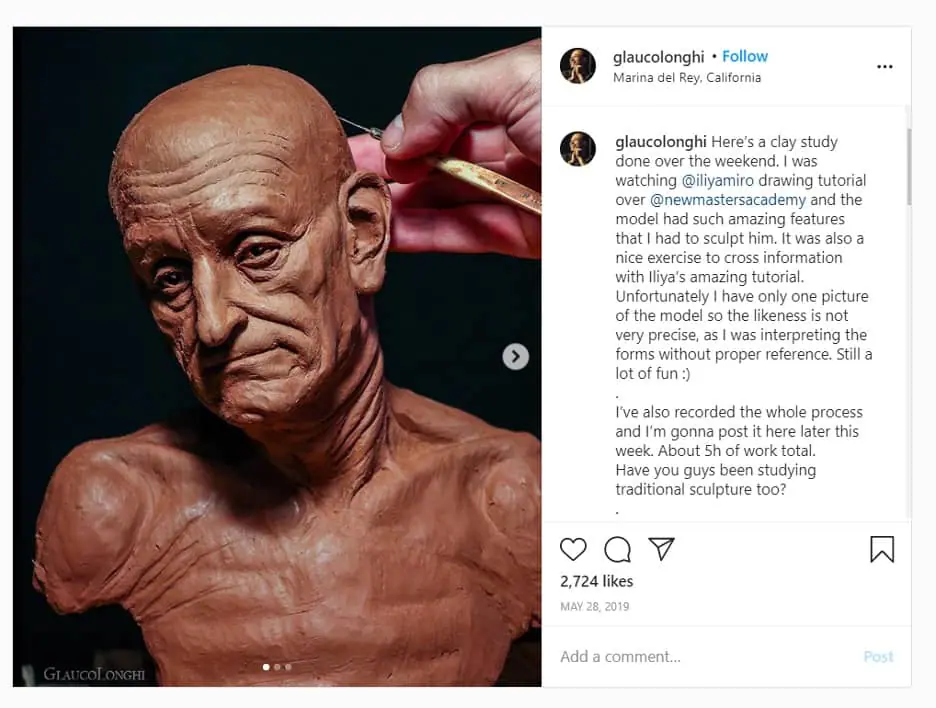 "When I was first learning about concept art and designing, I was looking at what people were doing and their techniques. I wasn't understanding the foundation of that stuff. Signing up for NMA allowed me to discover the true use of drawing & painting. Seeing Steve Huston paint was really what opened my eyes as to what painting is."
– Volen CK – Concept Designer, Illustrator, Artist
"Karl Gnass is great at not only teaching the foundation of drawing but also the spirit of drawing. Learning from him at NMA can push your drawings from stiff to taking it to the next level and breathing life into it."
– Janet Chan – Art Entrepreneur
Read more New Master Academy Reviews >>
Conclusion
Learning from masters of the art industry, for a relatively low monthly cost, is a great opportunity. I would definitely recommend this if you want to learn art online.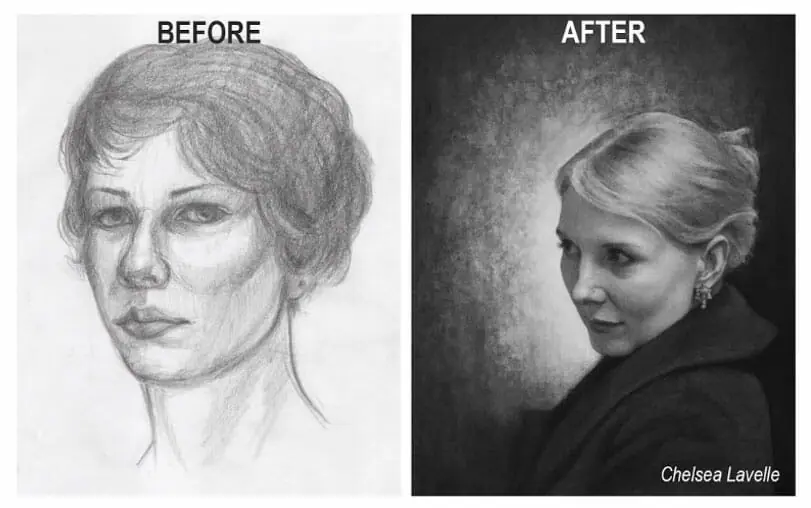 These foundational courses offer a solid base to elevate art skills. Self-learning through these resources can get you started in any art field.
Be it animation, editorial illustration, graphic novels, sculpting or fine art, NMA has you covered…
If you can dedicate even an hour every day to the lessons, you'd derive great value from these courses. Of course, the more you watch, absorb and practice the more you'll improve.
Click here to try out a phenomenal online art tutorial with a free trial for seven days!
Read more New Master Academy Reviews >>