There are many budget oil paint brands on the market, but some are better suited to your journey than others. Our M Graham Oil paint review will help you decide whether their paints are good for you.
With a lower price point and longer drying time, this paint brand is popular with beginner and experienced artists.
Below you'll learn about the brand's reputation, the quality of its paints, and what to consider before buying.
M Graham Oil Paint Overview
This brand is instantly recognizable in many art and craft stores. Their high pigment load, smooth consistency, and affordable price point make them a consistent hit among painters.
The company has been around for over twenty-five years and was created to provide safer painting materials. If you've ever had headaches or breathing problems with solvent-based oil brands, M graham paints' are a health-conscious choice. Their solvent-free painting materials use walnut seed oil and honey instead of turpentine or spirits.
How Long Does it Take for M Graham Oil Paint to Dry?
Another significant benefit to M graham oil painting mediums is their drying time. Their walnut oil base dries slower than linseed oil, allowing you more time to blend and fine-tune details.
Linseed oil can take two to three days to dry on average. Walnut oil can take four to five days.
Pros
When you want to craft a brilliant oil painting without breathing in harmful fumes or working too quickly, M Graham Oils has you covered.
This brand stands out from other paint brands by committing to safe and sustainable materials such as walnut alkyd medium and honey. Artists with chemical sensitivity will appreciate the switch.
There's no loss in quality. Their walnut oil mediums have a good pigment load and don't leave an annoying yellow tint.
Alkyd walnut oil dries slower than linseed oil, allowing you to spend more time blending to your heart's content. Slow drying times also make it easier to fix mistakes since you can paint over them seamlessly.
Cons
No brand can be perfect. While M Graham Oils are among the best paint manufacturers, they can still be unsuitable for some artists.
They're still a little pricey for beginner artists, often hovering between $45 to $80 for a starter set. The costs rack up quickly when you add other expenses, such as brushes, canvases, and mediums.
Walnut oil is also not suitable for painters with nut allergies. Both breathing in the paints and coming into contact with them can cause a reaction.
Some artists may also find the slow drying time frustrating. If you prefer to work faster or want to use this paint for quick studies, consider a brand that uses linseed oil.
Things to Consider Before Buying M Graham Oil Paints
These paints are well-suited to your journey if you're between a beginner and intermediate, eager to upgrade from student-grade paints. They're also ideal for spending more time on your paintings.
Oil Painting Features and Benefits
M Graham Oil paints have remained a staple for many years thanks to their wide availability, solid pigment count, and decent price point. They're also free from toxic fumes due to using walnut oil and honey.
The slow drying time allows for incredibly subtle and complex results that are harder with linseed oil paints. With rich and buttery colors, artists will be able to capture the majesty of classical paintings. The solvent-free Graham walnut oil doesn't compromise tinting strength or brilliant color mixing.
Their price point is reasonable for artists on a budget, though you should use your discretion before committing. Double-checking your art supplies for compatibility with oils can save you some money.
Below are my ratings with 5 at the highest and 1 at the lowest.
Good for artists with chemical sensitivities, but not nut allergies
Your painting will dry after 4 to 5 days
Intense and consistent for the price point
Affordable, but not cheap at between $10.25 to $34.95 per tube
M Graham Oil Paint Alternatives
Plenty of other brands have fantastic oil paints if you have a nut allergy to walnut oil or want to see different price points.
Winsor & Newton is a famous paint manufacturer with a lower price point. While M Graham ranges between $45 to $80 for a set, Winsor & Newton usually cost $30 to $50. They use linseed oil and safflower oil, drying almost as slowly as walnut oil. They also have a high pigment load, standing out among oil painters of different skill levels. Read our full review here.
Utrecht is a beloved student-grade brand around the same price point as Winsor & Newton. Not only do beginners love them for their vibrant color, but they're also non-toxic. They also use linseed oil instead of walnut oil.
Grumbacher Academy is a go-to budget oil brand at one of the lowest price points. They're great for starting with oils, though experienced artists also like them for quick and casual pieces.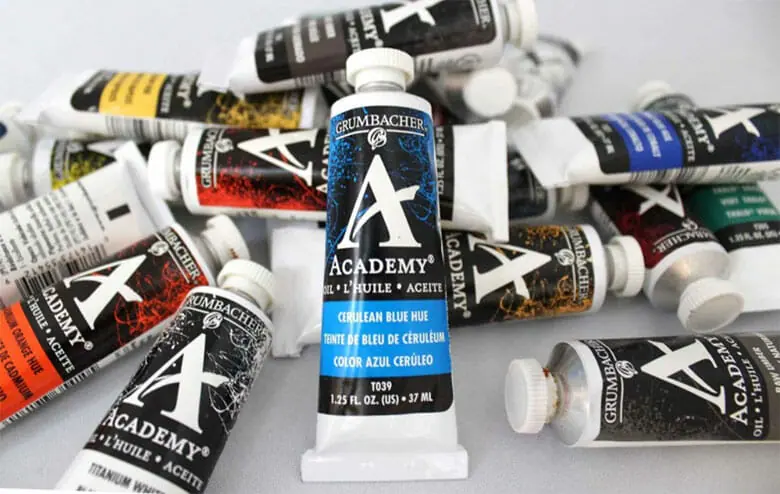 What Do Other Painters Think?
Many beginner and intermediate skill-level artists attest to the value of M Graham's walnut oil paints. This reviewer finds the colors beautiful and the paint texture slick, but also thinks the paint is rather oily.
I love M Graham oils. They are heavily and beautifully pigmented. My only issue is they can be a bit too oily in that when I squeeze it out of the tube on to the pallet there can be a little pool of oil as well the edge around the cap gets messy because of this. Even so it's the paint I use the most because it's beautiful and as you described a bit more "slick" so a joy to paint with. It can be hard to get in Canada with Covid. I now also use Williamsburg as my local art store carries it so supply is not an issue. It is a fabulous paint. It's less oily out the tube but not as dry as Old Holland for comparison.

thisandthatdailylife9081 – Youtube
Another artist also finds them one of the best brands available for its high pigment density.
The higher the quality the higher the pigment density in general. Windsor & Newton are pretty good standard paints. Paints made by M Graham. or Michael Harding or Sennelier are even better though as they just have such a pigment dense mix.

flabberjabberbird – Reddit
Are M Graham Oil Paints Any Good?
M Graham oils are a strong choice for beginners who want more vibrant paints and slower drying oil. Their lower price point makes switching easy, though they may still prove too expensive depending on your budget.
M GrahamGraham oil paints are ideal for painters with chemical sensitivity to traditional oil solvents. You can find the M Graham Oil Paint Set in the link below.