Are you unsure about buying low-privced drawing tablets? While it's nice to pay less, the fear is you will have to sacrifice a lot of quality for the price. Many less expensive tablets can be smaller, slower, and quite buggy.
The Huion h610 pro is a different story.
It's a real drawing tablet at a great price. This Huion h610 pro review will confirm that you don't need to be rich to get a decent pen tablet.
Things To Consider Before Buying A Huion Drawing Tablet
Less expensive drawing tablets can owe their low prices to a lower quality design. This sometimes means that they don't perform well or lack features you may take for granted if you're used to high-end brands like Wacom.
With the Huion h610, the only major things lacking are touch functionality and wireless compatibility. The latter doesn't really matter on a graphics tablet. Unlike a pen display, a graphics tablet is best for sitting right by your computer anyway.
When it comes to Huion vs Wacom, the pen may feel a little bit limiting. Otherwise, there's nothing to really complain about. On their own, Huion tablets are solid options and their best-selling products work really well.
It's always little things like these that you should look out for before buying a Huion or other cheap drawing tablets.
Weighing these factors against the great price is how you determine whether a low-cost graphics tablet is worth your money. And in this case, I'd say it is.
A Closer Look at The Huion h610 pro
Source: Huion.com
Technical Specs
Active Area: 10″ x 6.25″
Resolution: 5080 LPI (Lines Per Inch)
Report Rate Speed: 233 PPS
Keys: 8 express keys, 16 soft function keys
Pen Type: Rechargeable with two buttons
Pressure Sensitivity: 2048 levels
Cables: 1.5 m mini USB
What's In The Box
Huion h610 pro tablet
Rechargeable Pen
Mini USB Cable
Pen Charging Cable
Pen Holder with 4 spare nibs
Installation CD
User Manual
At this price point, there's not much real competition.
The Huion h610 pro offers a surprisingly good value. It has all the important features you could expect of a graphics tablet, it handles well and it doesn't lag.
It seems to be modeled after the Wacom Intuos Pro, which is a lot more expensive. Even the "less expensive" Wacom Pen & Touch costs more than the Huion. And if you prefer a smoother drawing surface, the Huion could even come out on top.
What makes it Pro compared to the original version? There's a bigger drawing area and a micro-USB port, the resolution is higher and so is the report rate.
To put it simply, I think the Huion h610 is an amazing option for beginners and hobbyists because it's both affordable and easy to use.
Pros
Large Drawing Area: You can create without unnecessary restrictions.
Price: It's a great deal.
Build Quality: Sturdy for its price range.
Left-Handed Support: Just flip the tablet and start drawing
Cons
Tapered Frame: You can't always plant your hand while drawing.
Pen: Somewhat crude, and there are no special nibs.
No Wireless: If you like to sit further from your screen, this is a challenge.
Features And Benefits
Overall Build
Source: Huion.com
The Huion h610 has a surprisingly solid build. Nice and sturdy for a low-cost drawing tablet. It's kind of like a slightly smaller and lighter Intuos Pro Medium, which seems to be what it aims for.
The Wacom Intuos has a significant quality advantage, but the price difference makes the Huion h610 a worthy contender. Price-wise, it's closer to a Wacom Bamboo, and that would be one of a smaller size.
The frame surrounding the active area may feel a little thin if you like to rest your hand on it when you draw. But you could just place a thin book next to it if necessary, or do what I usually do and work on your lap where there's plenty of malleable padding.
Since the Huion h610 pro doesn't come with a stand, creative solutions like a book or lap will be useful. Thanks to the solid build, you can prop it up without having to worry about damaging it if something slips.
The light weight makes it easy to set up and use anywhere, and really easy to bring with you even in a regular backpack or brief case.
Drawing Surface
Source: Huiontablet.com
The coating of the drawing surface is a very important feature that not every manufacturer gets right. It can make a really big difference in how well you can use the tablet, especially during long sessions.
Huion h610 pro nails it with its smooth, semi-matte finish. You'll find it easy to work fast and make long, smooth strokes. It doesn't seem to catch or squeak, but it does make a fair amount of noise.
However, if you're used to the paper-like coating of Wacom tablets (or actual paper), it might feel a bit too slippery. This comes down to preference and experience. It should be a nice middle ground for most digital artists.
If it wasn't for the lack of touch, I'd consider this an ideal drawing surface. Without shortcut gestures and fingerpainting capabilities, it's not as versatile as a Wacom Intuos Pro. But you can't really expect that at this price anyway.
With an active area of 10 x 5.25 inches, drawing feels natural and unrestrained. That's a little bigger than an A5 paper. You'll find it easy to use with monitors up to about 20 inches.
Beyond that, the size difference becomes a bit annoying. However, it's still a pretty generous drawing area for this price point.
Function Keys
Source: Huion.com
You get 8 express keys on the side. They're similar to those of a typical Wacom tablet, but there's no ring or touch scroll. It's still nice to be able to zoom, undo, and change brush sizes with a quick press.
The buttons are very smooth, each one having an embossed logo. They're responsive and easy to use, you won't press them by accident, although they have a flimsier feel compared to more high-end drawing tablets.
You can specify your own preferred functions for each key in the driver settings if you don't like the stock settings.
The 16 soft keys let you assign your favorite keyboard shortcuts and custom macros for a really fast workflow.
Especially if you need a somewhat portable drawing solution. Sure beats the "Wacom Bamboo and a laptop keyboard" combo I used to deal with. And if you don't like soft keys on your drawing area at all, you can just disable them.
The Pen
Source: Huiontablet.com
Now for the pen itself. It's a solid pen with a nice shape and weight, 2048 pressure levels, and 2 shortcut buttons. The nib can move a little bit to help make smooth tapered lines.
Compared to a Wacom pen, it's not quite as good. It's thinner and lighter with less padding. This is more about preference, you may even like it better this way. There's no eraser end though, instead there's a charging port where it would be.
Unlike what many of the faulty manuals and online electronics dealers claim, it uses an internal battery, so you don't need AAA batteries for this pen.
There are some other downsides to this pen. The first is the lack of nib choices. If you like to work with a range of different nibs, or if you like to use a really soft or hard one, you may be a bit disappointed.
Then there's the battery operation. Like most non-Wacom tablet pens, it runs on a rechargeable battery. The good news is that you can work while charging the pen, and it holds a charge well, but it's still not as convenient as a battery-free stylus.
It also comes with a simple, cylindrical pen holder. There's a holder for the spare nibs and nib removal ring inside. The holder is nothing fancy, but it has a firm hold and screws shut tight.
Software
Source: Huion.com
There's no software included, other than the drivers.
Installing the drivers is quick and easy. So is customizing the shortcuts, sensitivity, and usable surface area.
If you like to use a lot of different software with your drawing tablet, you'll be happy to know that the Huion h610 pro is compatible with most popular graphics software. Examples include the Adobe suite, Corel Painter, Manga Studio and Zbrush.
You can adjust the active area to better fit the size and shape of your screen. Adjusting the pen sensitivity curve is also easy. It grants a smooth and responsive drawing experience overall, with no notable lag or jitter.
Driver problems are quite common, as tends to be the case with a lot of drawing tablets. Your computer may not recognize the tablet, or the pen may be unresponsive, for example.
Make sure to follow the instructions given in the manual, uninstall any potential clashing drivers, and update your Huion driver to the latest one after the installation.
User Experiences with the Huion h610 Pro
I gathered some input from other artists to paint a more complete picture of what this pen tablet is like. Here's what they have to say:
So simple and easy to use. It works smoothly and I can not recommend this graphics tablet enough.
Holly Hearts Art – YouTube Artist
It's really good. I really like the pen pressure of it. I do indeed love the feel. I love how much space there is.
SenpaiLove  – Digital Artist, Graphic Designer, Comic Creator
Possible Huion H610 Pro Alternatives
No graphics tablet is perfect for everyone. If you're not sure that the Huion h610 is right for you, take a look at these alternatives.
Wacom Intuos Pro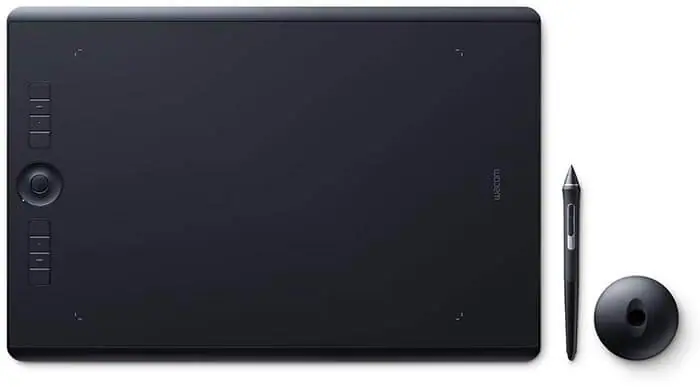 The graphics tablet that most other graphics tablets are trying to be.
It's got higher overall quality than the Huion, you won't have any problems with nibs or USB cords falling out from vigorous use. A more advanced pen makes drawing more natural and effective.
The touch functionality is another big plus, giving you many workflow-improving shortcuts.
If you're a serious artist who craves superb quality and can afford to pay about three times as much as you would for the h610, the Intuos Pro is a great option.
|   | Huion H610 Pro | Wacom Intuos Pro |
| --- | --- | --- |
| Touch Screen | No | Yes |
| Resolution | 5080 LPI | 5080 LPI |
| Pressure Sensitivity | 2048 | 8192 |
| Tilt Sensitivity | No | Yes |
| Express Buttons | 8 | 8 |
Huion 1060 Plus
This is, in essence, the sequel to the h610 Pro. They've improved the general design and added a convenient pen sleeve to the side for easier portability.
It has four additional express keys and an SD card slot so you can bring your work without having to bring your computer or HDD.
The pen has twice as many pressure levels, which is ideal if you like perfect controlled strokes. It's not as price-friendly as the h610 pro, though.
|   | Huion H610 Pro | Huion 1060 Plus |
| --- | --- | --- |
| Touch Screen | No | No |
| Resolution | 5080 LPI | 5080 LPI |
| Pressure Levels | 2048 | 8192 |
| Tilt Sensitivity | No | No |
| Express Buttons | 8 | 12 |
Ugee M708
Ugee is another low-price drawing tablet brand. Their M708 is very similar to the Huion in most ways. It's less expensive, but it's also smaller and the quality isn't as good.
There are no soft keys and the overall experience may feel a little crude in comparison. But if you're looking for a bargain, this is a great graphics tablet.
|   | Huion H610 Pro | Ugee M708 |
| --- | --- | --- |
| Touch Screen | No | No |
| Resolution | 5080 LPI | 5080 LPI |
| Pressure Sensitivity | 2048 | 2048 |
| Tilt Sensitivity | No | No |
| Express Buttons | 8 | 8 |
| Report Rate | 233 | 230 |
Conclusion
If you thought you'd be unable to find a good drawing tablet because of a limited budget, consider yourself proven wrong.
The Huion h610 pro has a lot of features that aren't common on affordable tablets, at least not with this level of functionality. With its amazing price-to-value ratio, this drawing tablet is a great option for both beginners and experienced artists looking for a bargain.