Want to start using watercolor pencils, but don't know where to begin?
Don't worry, I've got you covered …
Read on to know the ins and outs of painting with watercolor pencils.
In this post, you will find out the essentials of watercolor pencil painting. You will learn what supplies to buy, how to get started, and the techniques to use. To make things ultra-easy, I have also included a quick review of a tutorial I found super helpful.
Let's get started…
What are Watercolor Pencils?
Watercolor pencils look, feel, and draw like regular colored pencils. There's a fundamental difference, though. Add a bit of water and watch the pigment gently spread. For me, it was like magic.
Let me explain how this works.
At their core, crayons, colored pencils, and watercolor pencils are colored pigments held together with a binding material.
In crayons, the binder is wax. Regular colored pencils have an oil-based binder. The oil or wax binder makes the pigment sticky. They do not spread.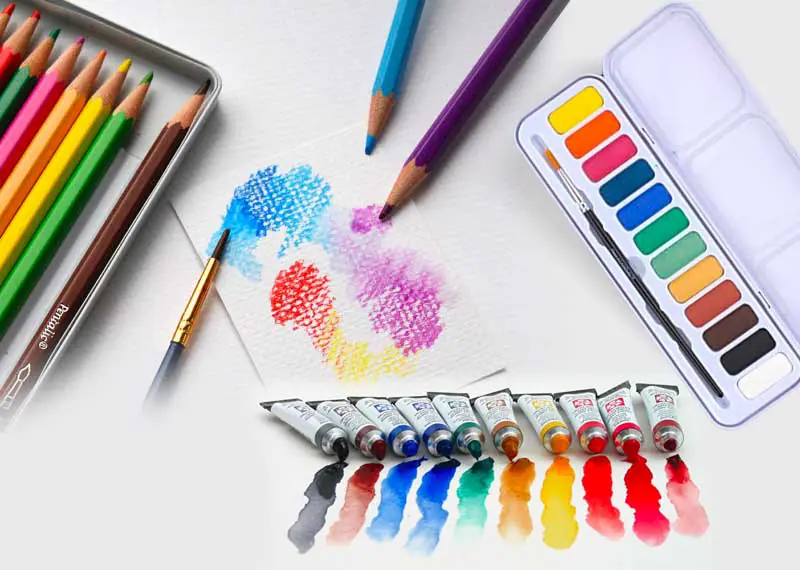 Watercolor pencils use a water-soluble binder to hold the pigment together.
The binder dissolves in water allowing the pigment to diffuse and spread.
You can always leave your watercolor pencil drawing as is – dry – but then it will be just a beautiful color pencil art. It won't be a watercolor painting! Add water, and the colors swirl, merge, ebb and flow.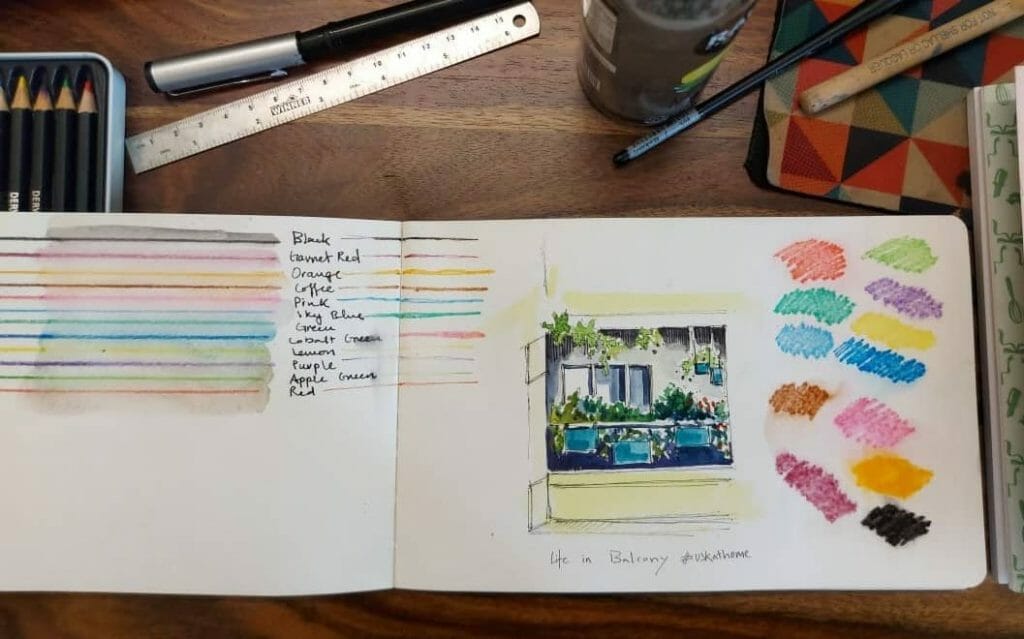 Why Use Watercolor Pencils?
Let's begin by comparing watercolor paint to pencils. Are they similar?
Both media use water-soluble pigments. So, yes, they are similar in nature. Yet, the techniques differ! With a pencil, you apply dry color to paper. It remains dry until activated with water. With paint, you directly apply wet color with a brush.
Traditional watercolor techniques are beautiful and have stood the test of time. This painting by Albrecht Dürer, stands proof.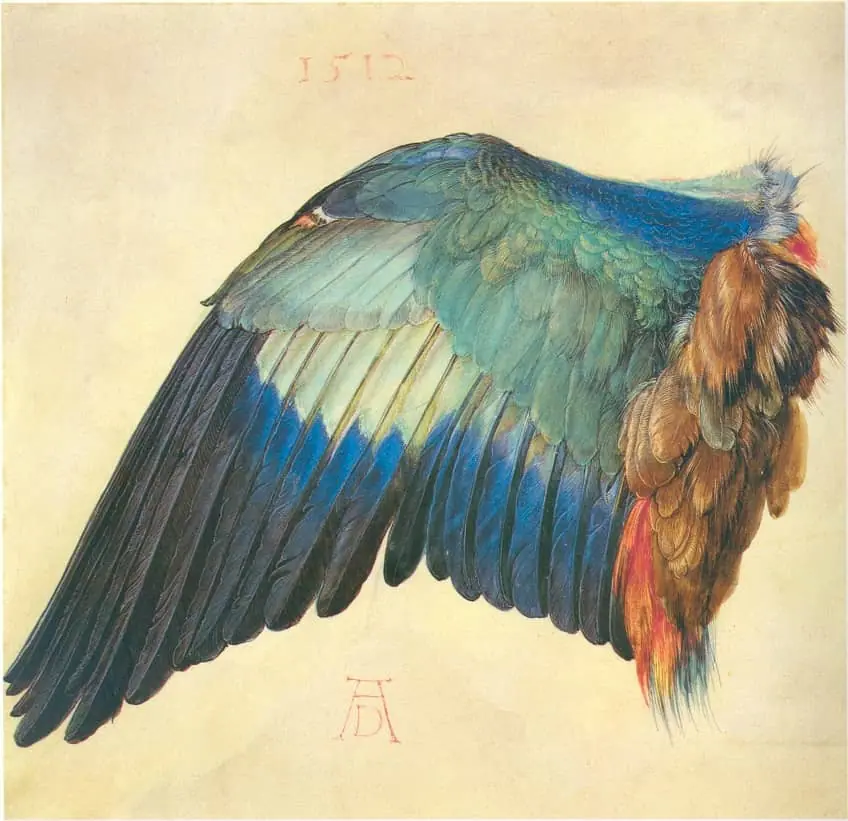 However, with proper technique, right supplies, and loads of practice, you can work wonders with watercolor pencils too.
Pencils vs Paints: What are the benefits of watercolor pencils?
Pros:
Easy-to-use: I find pencils more predictable, easy-to-use, and familiar. The firm tip of a dry pencil ensures your strokes come out as predicted. The flexible, moist tipped brush can throw some unpleasant surprises. The chances of your lines going wrong are plenty.
Portable: Pencils are easy to carry, take little space, and are definitely less messy. You don't need a palette, multiple brushes, or lots of water to rinse your brushes.
Exciting: Activation can be done using a brush, sponge, Q-tip, toothbrush, or a fine nozzle spray. Lots of scope for experimentation and having fun.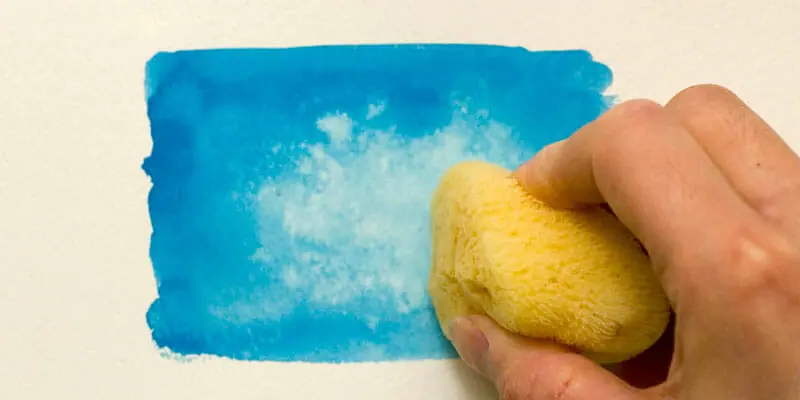 Versatile: Supports several techniques, such as you can draw on dry paper and then activate, draw with a pencil dipped in water, etc.
Excellent for mixed-media art: Watercolor pencils are valuable assets in mix-media compositions. You can use sharp-tipped pencils to add those edges and finer details that cannot be done with a brush.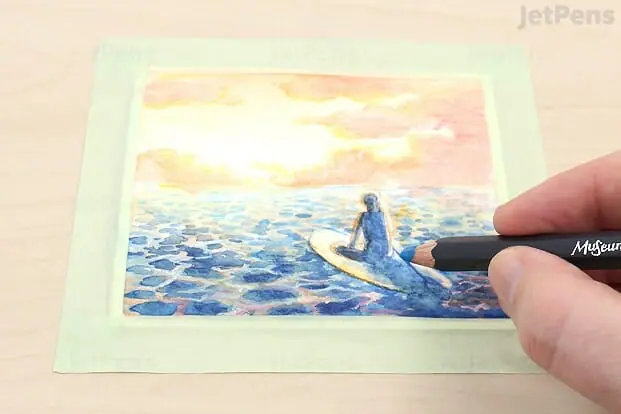 Source: www.jetpens.com
Here's a mixed-media art – a beautiful painting using watercolors, watercolor pencils, and pan pastels. 
Two-in-one experience: Watercolor pencils combine the best of two media – pencils and paint! With this medium you are drawing and painting simultaneously.
Cons
Pencils dry faster than paint and aren't suitable for complex layered watercolor techniques.
Pencils do not lend favorably to big-sized artwork – difficult to fill large expanse of paper with pencil strokes.
What Watercolor Pencil Supplies Do I Need?
Whether a novice or a professional, you must stock up with the right supplies. Quality matters!
The market is teeming with art provisions with prices ranging from super cheap to skyrocketing. To make it easy for you, I have suggested products that you could check out.
Watercolor Paper
Watercolor paintings need thick textured paper of a certain weight – different from your regular sketchbook sheets. Remember the paper should not buckle under water, so to say.
Let's go a bit deeper…
What are the different varieties of textured watercolor paper available?
In the market, you will get three basic types: Hot-pressed (smoothest to touch), Cold-pressed (relatively rougher), and Rough (roughest to touch).
What you need to know is – smoother the watercolor paper, slower is the drying process. So, hot-pressed paper, being the smoothest, absorbs water slowly, giving you more time to manipulate the paint. Whereas, with rough paper, you will have to work quickly before the paint dries. The cold-pressed paper falls in-between.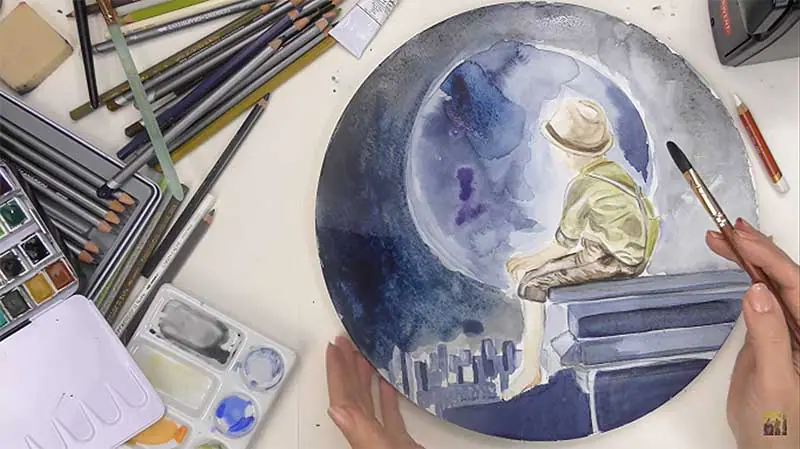 Further, on smooth paper, your pencil glides smoothly. So, if you want to add a cool textured touch to your work, go for rough paper. In the end, it's all about your personal preference.
Apart from the texture, artists also consider the weight of the paper. Textured paper is available in the following three weights: 90 lb per ream (190 Gsm), 140 lb per ream (300 Gsm), and 300 lb per ream (640 Gsm) – where a ream is 500 sheets.
Thicker the paper, more is the weight, and greater is its water holding capacity. Thin paper, like the 90 lb (190 Gsm), warps fast creating peaks and troughs, making it difficult for you to control the flow of color. Anything below 140 lb (300 Gsm) has to be mounted on a board.

Most artists prefer to tread the middle line and opt for the 140 lb (300 Gsm) cold-pressed paper.
Please visit my review of different watercolor paper for in-depth information on the topic.
Here's my top 3 recommendations: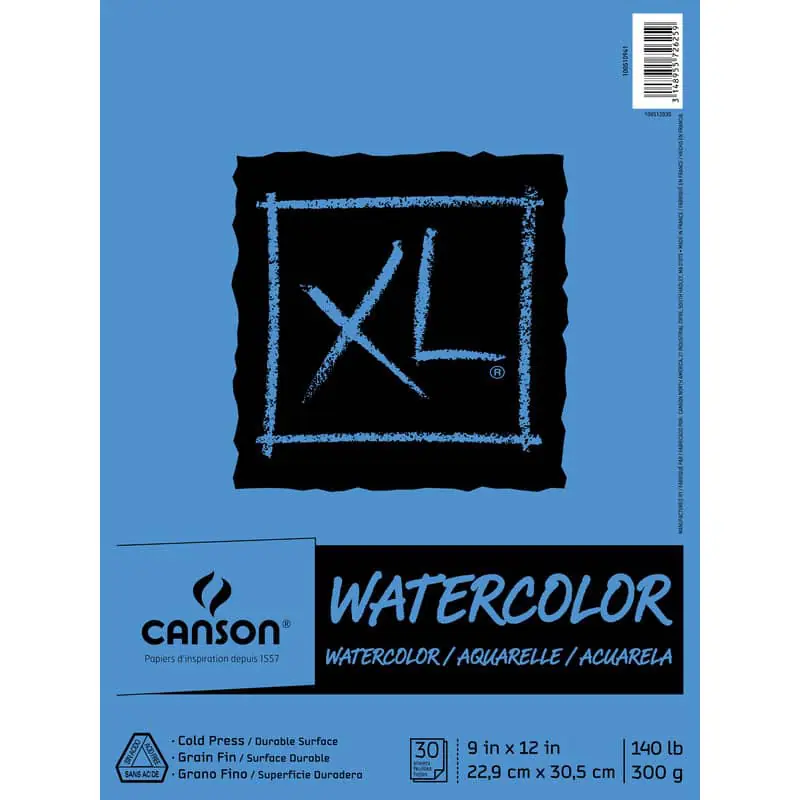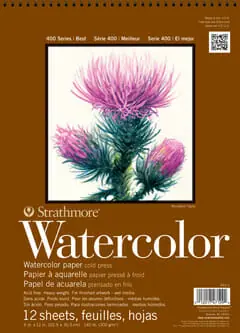 Brush or Water Brush
Water brushes are often used to activate watercolor pencil strokes. The traditional, pen-like design with a detachable water container, makes them easy to carry and use. I'd suggest a water brush for quick, on-the-spot paintings.
However…
If you are painting an intricate sketch, go for a conventional brush. You can buy natural hair, nylon, or mixed natural-haired cum synthetic brushes. Again, it's a matter of preference and budget.
Personally, I like the fine-pointed round brushes sizes 8 and 10. Please read my blog on my favorite watercolor brushes for more information. It will help you to make an informed decision.
I'd recommend:
Sharpener
Pencils and sharpeners go hand-in-hand. Watercolor pencils, however, have notoriously soft cores and break easily. You will need a gadget that will sharpen gently and evenly, with minimum breakage, ensuring your pencils last long.
I'd recommend the Sonic Ratchetta Capsule Pencil Sharpener. The unique ratchet mechanism makes it easy to use, gives a long sharp point, and is total value for money.
Graphite Pencils
Always have a couple of graphite pencils at hand. They come handy for laying down the outline.
Graphite pencils are graded as:
9B  8B  7B  6B  5B  4B  3B  2B  HB  H  2H  3H  4H  5H  6H  7H  8H  9H  F
A hard 'H' pencil draws light lines and a soft 'B' pencil draws darker lines and wears off faster. I prefer 2B, 4B, and 6B – easily sharpened and the lead isn't too soft. 
I would suggest …
The Faber-Castell Graphite Pencil Set of 6 sketch pencils (2H, HB, B, 2B, 4B, 6B) is an excellent option for all artists.
Faber-Castell Pencil Set of Six Sketch Pencils
Water, Paper Towels and Masking Tape
Your art kit will be incomplete without the following:
Water – You'll need clean water for the activation and for rinsing your brushes – lesser quantity compared to when using paints.
Paper towels – May seem miscellaneous, but you'll need them to pat dry over-wet paper and brush. Believe me, it happens more often than you think.
Masking tape – This is an absolute must. Not only will it fix the paper to your work surface, but also keep the picture margins color-free. Try the Scotch Masking Tape.
Masking fluid – This is optional. Artists use it to prevent the color from spreading to areas that need to remain white or color-free. I use the Winsor & Newton Art Masking Fluid.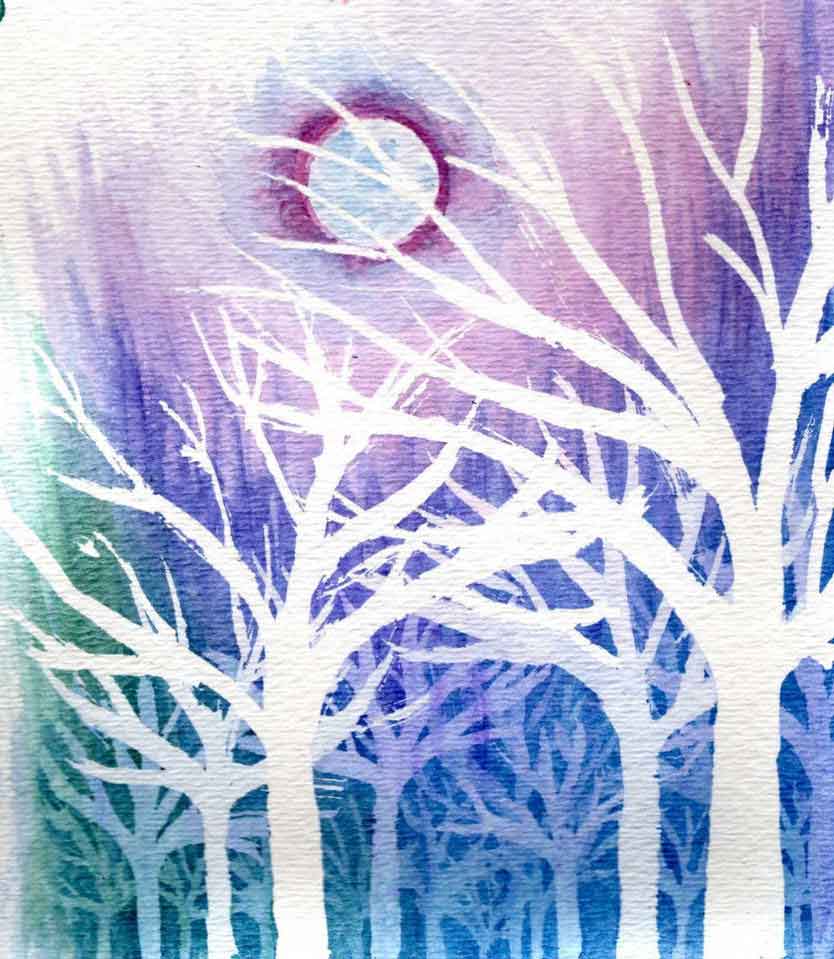 An excellent use of masking fluid
What Watercolor Pencils Should I Use?
Watercolor pencils come in a wide range of shades. But they are expensive. So, I would suggest that you begin with a set of 12 basic colors and add other shades as you progress. With time, as you learn how to use watercolor pencils, you'll know your preferences better.
If you have a tight budget, start with a blue, red, yellow, and black pencil. You'll be surprised how much you can achieve with these primary colors.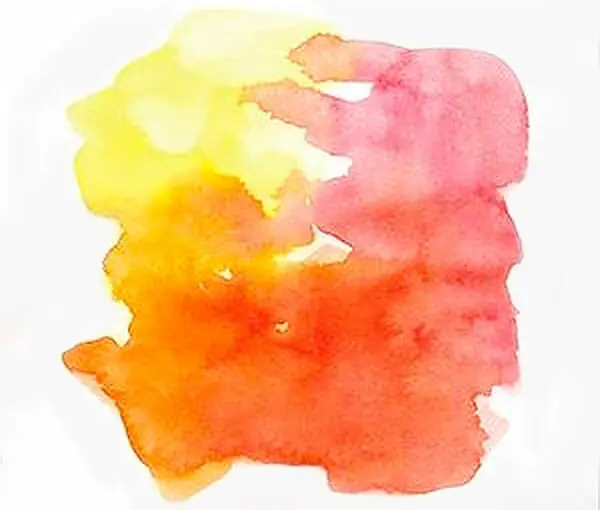 Blending primary colors
Tip: Look for brands that sell individual pencils, else you'll end up with a bunch of rarely used shades.
Please visit my review of the Top 10 Best Watercolor Pencils for more information.
For the time being, here's a quick recommendation:
Pros: Vibrant colors; soft, creamy core that resists breakage while sharpening; easy to blend and mix; provides most value for money.
Cons: Prone to drying up fast; low on lightfastness.
Pros: Beautiful hues; extremely lightfast; sturdy and versatile – can be used dry or wet, and on black and toned paper; rich, soft pigments ideal for blending and layering; easy to sharpen.
Cons: Price is the only constrain. But totally worth it in my opinion.
Getting Started
Okay, you are now kitted up and ready to go.
In this section you'll get to know your pencils and start using them for watercoloring.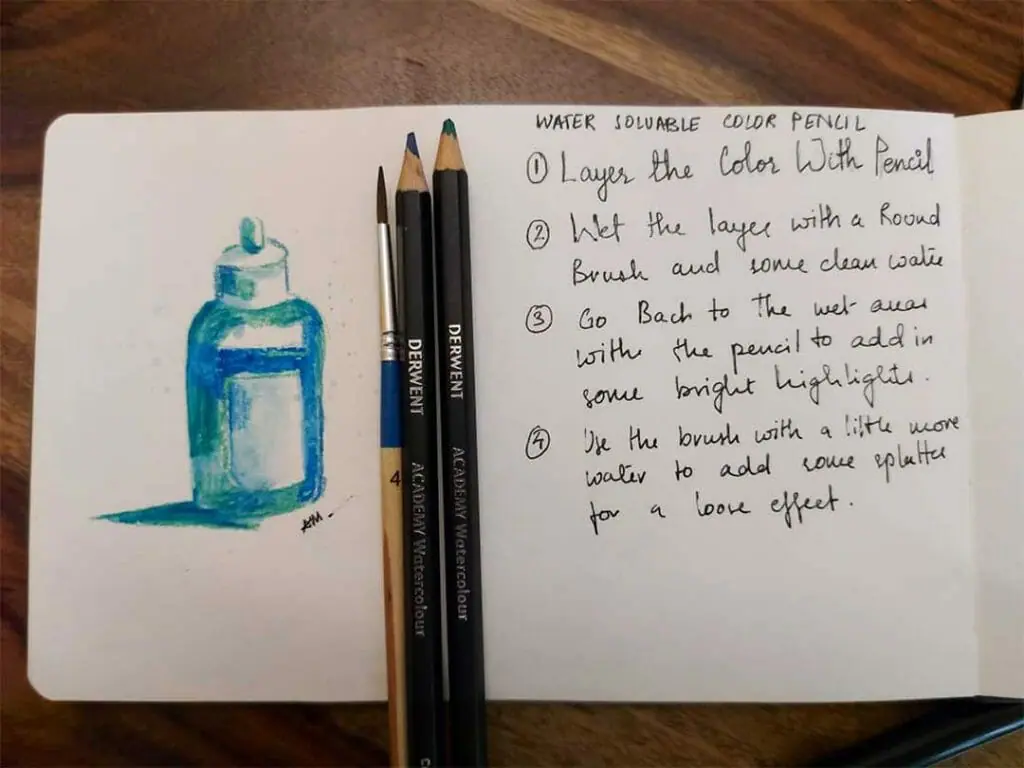 Know your pencils: Create a sample chart
Pick a pencil and draw a few strokes. Mark the color. Now activate with water. You'll notice that the color looks different when activated. Create a sample color chart, showing each shade in its dry and activated state. This knowledge will allow you to use your pencils intelligently.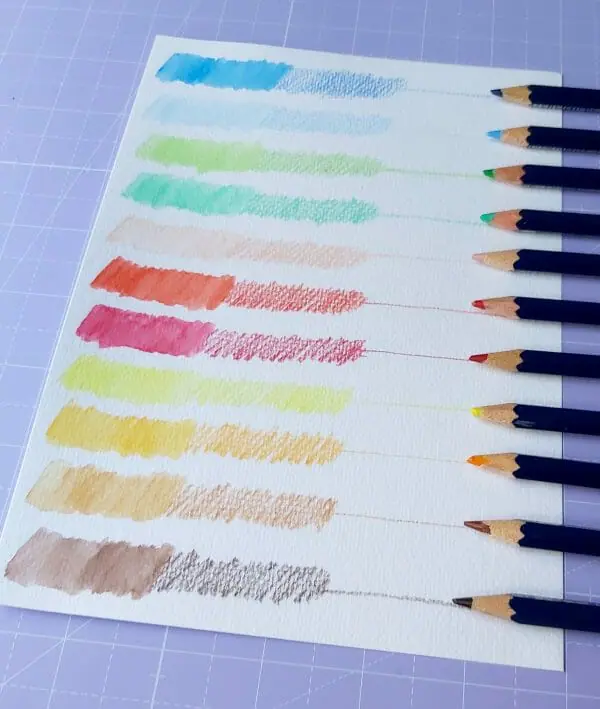 Sample color chart: dry and wet shades
Prepare your paper: mositen and mount
The recommended 140 lb (300 Gsm) cold-pressed paper doesn't easily buckle.
However, for best results, it's always advisable to stretch it.
Soak paper in cold water. The 140 lb and 90 lb paper need about 8 and 3 minutes of soaking respectively. Note, the 300 lb paper needs no preparation.
Tip: To ensure that the paper is not over or under soaked, keep checking by gently bending (avoid creasing) a corner of the paper. If the bend holds in place, you are done soaking and the paper can be removed. If the paper flops down, it's over soaked. If the paper springs back, it needs more soaking.
Place the soaked paper on the work surface and gently remove excess water with a sponge or paper towel. Make sure the paper is not dripping.
Use strips of masking tape or wet adhesive tape to fix the paper.
Leave the entire set-up in a horizontal position and allow to dry.
I found this 'Susan Harrison Tustain's Stretching Watercolor Paper Update' video very useful.
Make the preliminary sketch
Use a graphite pencil to outline your picture with light lines – avoid making grooves. Take a few minutes to plan which color will go where and the shading that you wish to work in.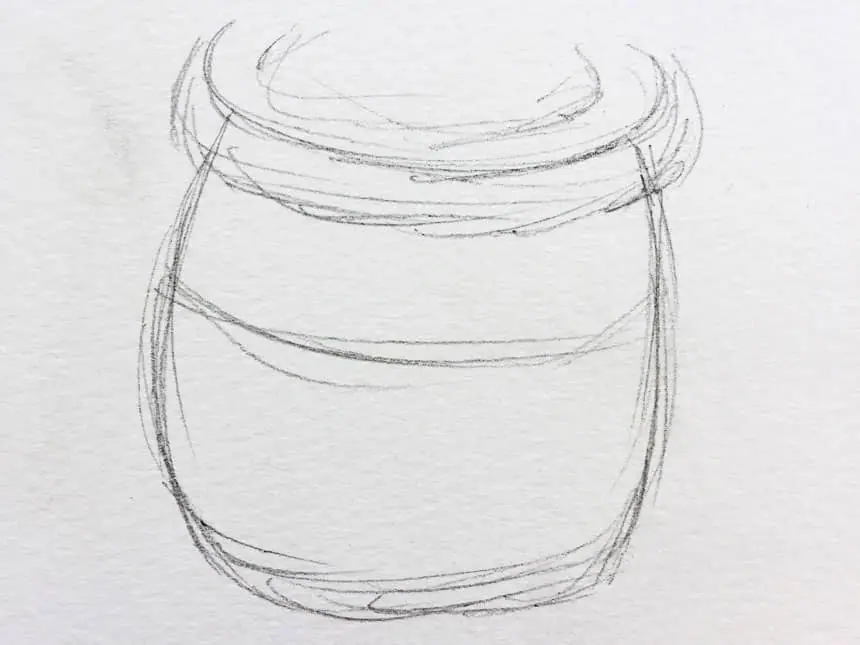 Source: mfa.org
Add color: apply first layer of color
Fill-in the base colors. Remember, eventually the color will spread on application of water. Add color accordingly, leaving areas that are to be lightly shaded blank.
Tip: Since pencil lines never blend totally, make sure your pencil strokes are regular and smooth.  Haphazardly applied lines look clumsy, if not blended well.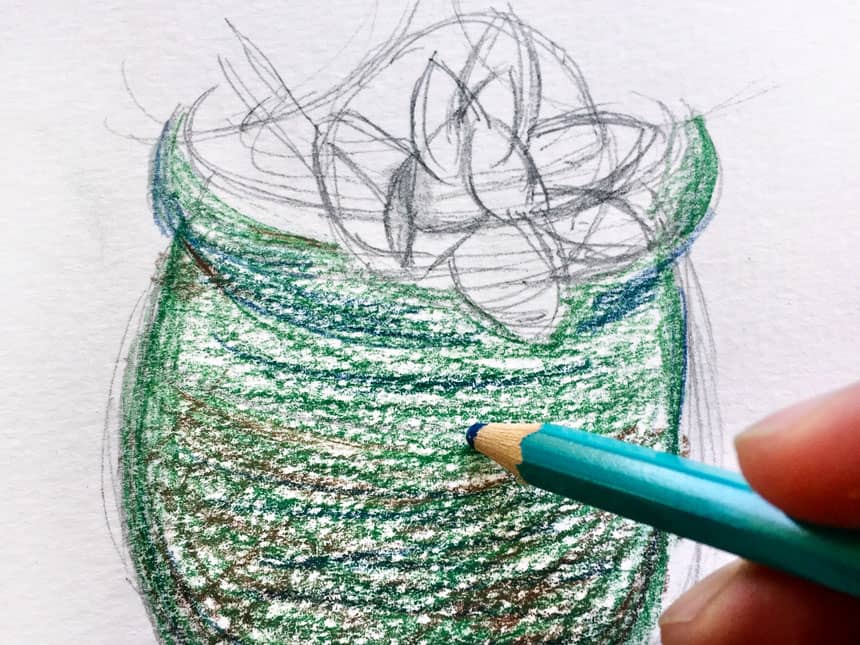 Source: mfa.org
Activate the color: Apply water with a round brush
Use a wet brush (not overloaded with water) to gently activate the pigments. Move your brush in the same direction as the pencil lines. This blends the color to give a paint-like finish.
Tip: If you have applied more water than required and one color lynches into another (say the green from a leaf spreads into the red-colored flower), use a paper towel to gently soak up the color before it dries.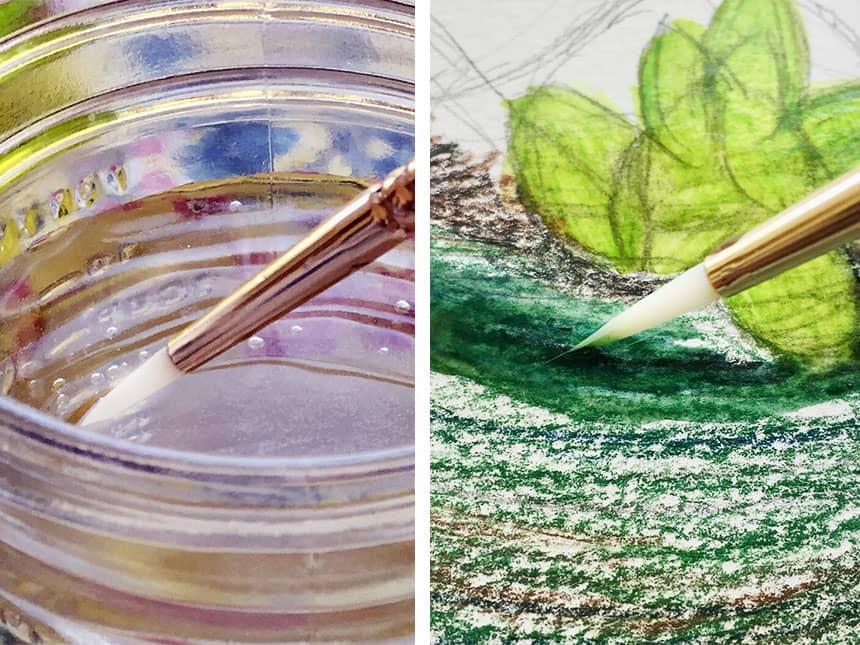 Source: mfa.org
Add details: apply second layer of color
Allow the base colors to dry and your picture is ready for detailing. Now deepen the base color or add different hues and shades as needed. Activate the pigments.
Source: mfa.org
Highlight outlines
Use sharpened colored pencils to add highlight edges. You can also dampen the tip of the pencil to add details to the colored areas. Dampening delivers intense, vivid hues.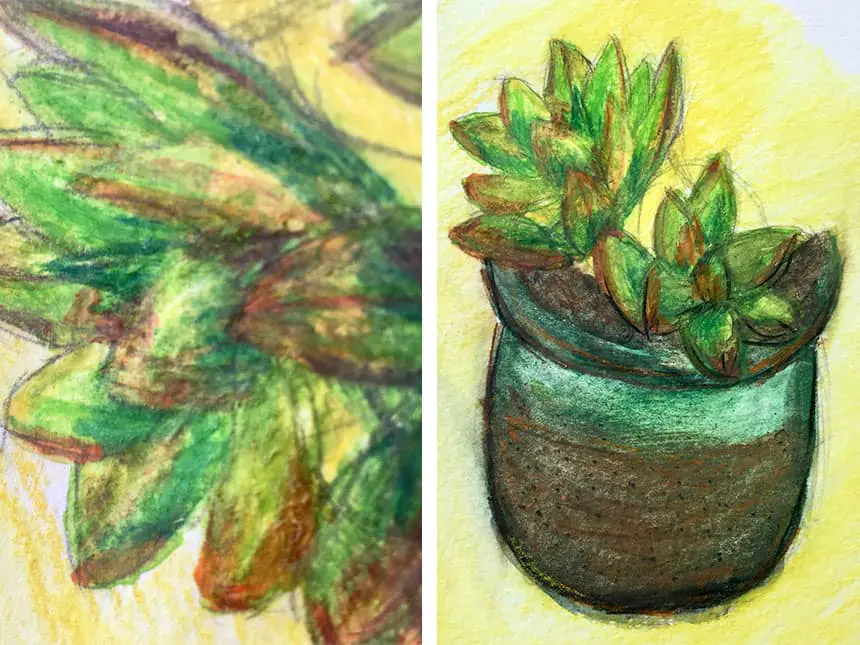 Source: mfa.org
Watercolor Pencil Techniques for Beginners
In this section I'll tell you the different ways to activate the pigment in watercolor pencils.
You can use these methods individually or in combination to come up with amazingly creative paintings.
1.   Draw on dry paper, then activate
This is the commonly used technique, where you draw with dry pencil on dry paper. The pigments are activated by brushing water on the pencil strokes.
Source
2.   Draw on wet paper
This technique involves drawing directly on wet paper.
Use a flat brush to apply a layer of water to a section of the paper. Draw on the wet portion with
a dry (dry-on-wet), or
a wet (wet-on-wet) pencil.
This method of activation delivers hues that are more intense than the previous technique. However, the lines may be wobbly – kind of fuzzy – since you are drawing on wet paper.
Tip: Apply an adequate amount of water and draw fast before the water dries.
Try variations, such as scraping the pencil tip on to the wet surface with a knife or a sandpaper.
3.   Draw with pencil dipped in water
In this third technique you dip the pencil in water and draw on dry paper. This method transfers a big amount of pigment, the colors look vivid and intense.
However, this method, I think, has two drawbacks: doing an entire picture this way is cumbersome, and once dry, the drawing ends up looking more like a pencil drawing than a watercolor painting.
Tip:  Use this technique for drawing the darker lines and details in your picture.
4.   Use brush to pick color from pencil
This technique uses a wet brush to pick color directly from the pencil tip. If you wish to avoid pencil strokes, this method is for you. No pencil application, you pick and apply color using a brush.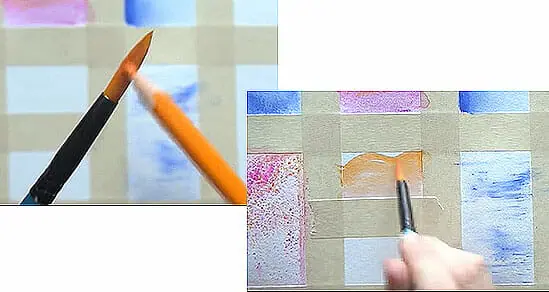 Source
Tip: Try using a wet flat brush with two colors applied to the brush head – It gives a lovely gradient.
Source
5.   Create a paper palette
I simply love this technique, where you virtually create a paper palette. It is almost like painting with paints. Another excellent way to avoid those pesky pencil strokes that sometimes just don't completely blend.
Take a watercolor paper and thickly apply square or round shaped patches of the colors you will need – and your palette is ready for use. Now pick up the color with a wet brush and start painting.
These paper color swatches are very convenient to carry around. And the best part is that you can easily replenish a color with a few pencil strokes. Besides, no pencil lines in your drawing.
Advanced Techniques
It's time to blend colors. The beauty of watercolor paintings lies in translucent overlapping layers of colors. So let's take a look at two advanced techniques of creating gradients.
Flat wash: gradients with one color
This flat wash technique creates a gradient with a single hue. In one area, apply a few dense strokes of a pigment of your choice. Now, simply use a brush to activate and gently spread the color. Add some more water until you are satisfied with the translucency achieved.
Tip: More water means more blending and less visible pencil lines. Use enough water and gently work the pigments with a brush, lifting them to mingle and spread. Do not overdo or you might fray the paper.
Blending: gradients with two or more colors
Start with two analogous colors (hues next to each other on the color wheel). Apply the colors side-by-side using smooth firm strokes. Once done, gently apply water to blend the colors and see them mix and change.
Tip: Before applying brush to color, always check it for surplus water. Excess water can ruin your drawing, especially when working in small, delicate areas of it.

Now try blending complementary colors (hues on opposite sides of the color wheel) for a dramatic effect! You might just come up with some unusual, quirky shades. Have fun experimenting and practising.
Want Further Learning? Wondering What Are The Best Watercolor Pencils Tutorials?
I've always believed a proper, structured course is the best way of getting a hands-on learning experience. You get to learn much more than by just following a 5-minute crash course.
There is an umpteen number of online watercolor pencil courses available. I learned my basics from the online course "Intro to colored pencils: Watercolor pencil techniques" by Kate Amedeo on Skillshare
Skillshare.com offers some interesting watercolor pencil tutorials. The Kate's Intro to Watercolor pencil techniques is one of the more popular, premium courses. Kate is an artist, illustrator, and a great teacher.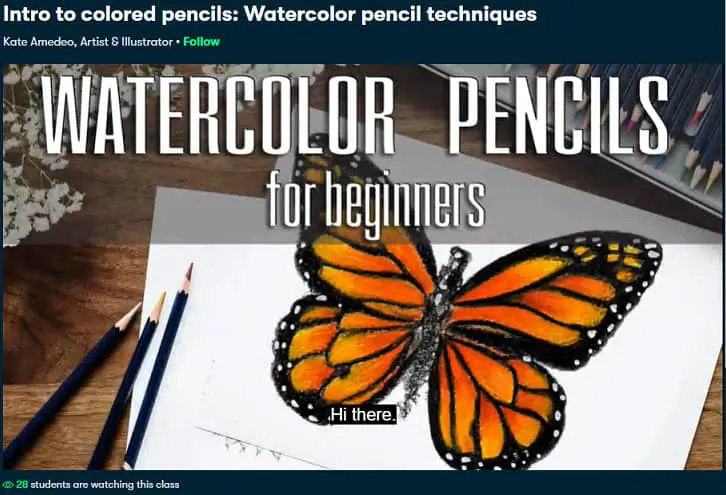 This course is ideal for beginners. The curriculum is 1 hour 40 minutes long with 17 lessons.
Lessons 2 to 4 walks you through the various art supplies needed.
Lessons 5 to 14 is all about how to use your watercolor pencils. Kate walks you through the salient aspects of this medium. You will learn the various techniques and how to create highlights.
Lessons 15 teaches you to create a color wheel. I really like this video on color schemes.
Lessons 16 and 17 are projects – creating a sphere and a butterfly.
Kate is an excellent teacher – clear and lucid. She uses several helpful examples to get the idea across – making it easy to follow her instructions. Finally, the two projects provide a hands-on experience of creating shadows, adding highlights, and blending. All in all, an excellent place to kick start your journey of creating masterpieces with watercolor pencils.
If this sounds perfect for you, Art Ignition readers can get 30% Off a Skillshare Annual Membership with coupon: annual30aff.
Time to Get Started
Now that I have demystified watercolor pencils, I am sure you will agree that it is an amazing medium – worth mastering.
You have a better understanding of the pros and cons of watercolor pencils compared to paints and colored pencils. The supplies are at hand – paper, pencils, brushes, eraser, etc. I have walked you through the basic steps of using watercolor pencils, and you know enough of the various watercolor pencil techniques to get started.
But, if you want to learn in more detail and do a couple of guided projects, check out the Intro to colored pencils: Watercolor pencil techniques course – it's a good starting point. And by clicking that link you'll get the first 14 days of Skillshare free.
Happy sketching, painting, and getting creative!