Do you feel that? That little tugging inexplicable feeling in your heart?
Something is calling you to change, to switch directions, to follow your passion, to finally do what you were put here to do:
Create art.
Yet, you're unsure because even though you've always loved art, you've never been that good at it. You're concerned about the looks your friends will give you when you tell them that you're giving up traditional art, paints, and brushes to start digital drawing instead.
Is it worth it? 
It definitely is. So, you decide to learn digital art creation, but where do you start?
1. Get an Art-Worthy Computer
If you already own a computer, you can practice drawing digital art without buying one. However, your computer should meet some system requirements to work with art programs.
Suppose your computer freezes and lags—consider increasing the memory or replacing it.
4GB memory is enough to handle basic functionalities. However, a professional approach would be to get a computer with a minimum of 8GB memory for excellent speed. If you're uncertain of the computer to buy, you can go for a Surface Pro — a hybrid computer tablet.
Otherwise, you can use smartphones and tablets to create digital drawings, but their technologies are limited. They might force you to hold back your creativity because they won't reflect the detail of every stroke.
For that reason, your first step is to get the right computer.
2. Get a Drawing Tablet
While you can learn to draw digitally with a computer alone, it's nearly impossible to be a professional artist without a drawing tablet. A drawing tablet lets you explore your creativity.
First, it offers you the freedom to draw on a computer with a stylus. You can draw on a computer as you'd have done with paper and pencil—the tablet is your paper, and the stylus is your pencil. This solves the problem of drawing with a mouse (which is usually a pain in artistry life).
However, it pays to know what to look for when shopping for tools for creating digital art. You can choose from three categories of digital painting tablets:
Graphic tablets
Display tablets
All-in-one tablets
A Graphic Tablet
Graphic tablets are the least expensive of drawing tablets and the best option when starting digital art.
A graphic tablet has two main components:
A touchpad
A stylus (digital pen)
Some advanced models of tablets have buttons and dials along the sides.
While graphic tablets are the least expensive option when learning how to create digital artwork, they don't have screens, and you'll need a laptop or monitor to plug them into and view your drawings.
When drawing on this tablet using the stylus, you can control your computer with the mouse as usual while drawing lines on your tablet.
If you choose a digital painting software that supports pen pressure sensitivity (like Photoshop) you can create lines that change in thickness and opacity as you draw.
Most digital artists like graphic tablets because they're super accurate and respond well to the pressure and movement of your hand. It gives the feeling of drawing on paper using a pen.
Inexpensive drawing tablets of this type can cost less than $100, making it the most affordable option.
A Display Tablet
A display tablet functions as a graphic tablet in digital art drawing, but it has an inbuilt screen. You can draw directly onto the screen, which is more intuitive, especially when you're used to painting on paper or canvas.
You can draw while looking into your hand like you usually would when drawing traditionally.
This visibility makes digital art setup faster because everything is in one workspace. This helps you achieve a faster workflow.
However, the price of a display tablet is higher than a graphic tablet.
Plus, it's common to have colour sparkles on display tablets due to applying excess pressure on the monitor. Screen degradation over time can also cause this. Colour sparkle is an unpleasant experience when drawing with a tablet.
What's more, display tablets are less durable than graphic tablets. Their touchscreens are more fragile than pressure-sensitive drawing surfaces.
Like the graphic tablet, however, you'll still need a computer to run digital painting software.
All-in-One Tablets
All-in-one options include popular tablets such as the Apple iPad Pro, Microsoft Surface Pro, and Android tablets. Their big advantage is that you won't need an extra computer to plug your tablet into. Just install digital drawing software for tablets and then paint directly onto the screen.
Such tablets are efficient because they combine both drawing-tablet and computer technology. They provide enough power to run heavy graphic programs while allowing direct drawing onto the screen surface.
For example, if you own an iPad, all you need is to download software like Procreate and use the Apple Pencil to draw.
Stand-alone tablets are the most expensive but are excellent as you can draw on the go.
That said, select the drawing tablet that addresses your drawing needs the most.
It's easy to learn how to use a drawing tablet, but the most efficient ones are the display and the all-in-one tablet because you can draw directly on their screens.
3. Choose a Digital Art Software for Creating Digital Art
After getting a tablet, you need to find software that'll allow you to make digital art. After all, drawing software is the core of digital artwork.
Your choice of software will depend on:
What you want to draw. Whether it be illustrations, comics, portraits, anime-style art, watercolour-style digital paintings, landscape, or character drawings.
Security features. Does the software collect personal data when making digital art? If it does, does the app ask for user consent before doing so? Does it allow third-party cookies? Check the security and privacy features before settling on an app.
Price. You can choose free or paid software. However, you might want to start with a free option and upgrade to paid drawing software as you learn, to access advanced features. When upgrading, check for:

Free trials
Whether the upgrade is a one-time purchase or subscription-based

Brush engine. If you're a texture painter, you need brushes that can both distil down to grayscale images and handle any other task at hand. Check the diversity of a tool's brush engine and the possibility of customising a brush to suit a specific drawing need.
You'll find expensive software has more advanced features, but that doesn't necessarily mean it's easier to draw with or that it'll meet your needs.
Here are painting apps that most digital artists use for making complex and simple digital art.
Clip Studio Paint
Clip Studio Paint Pro is excellent software for manga and concept art. It's superb. In fact, it eclipses Photoshop as a painting program and comes at an affordable price.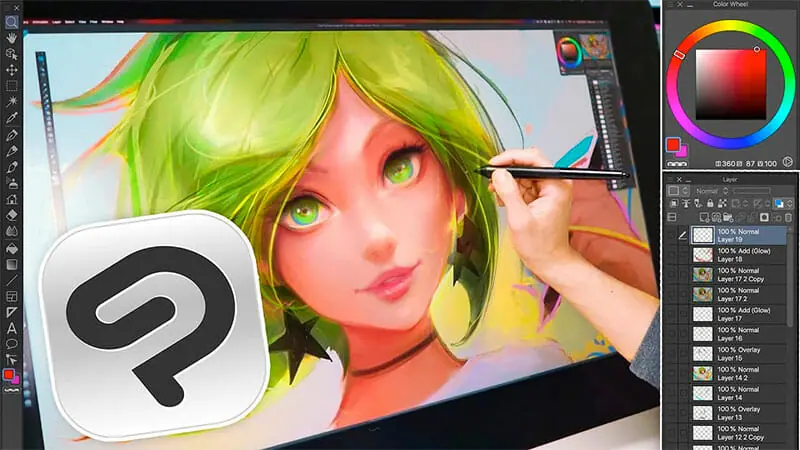 While most artists agree that Photoshop has an edge in creating unique brushes and effects, Clip Studio has the most ease of use and a better line drawing stabilizer. For that reason, it's a go-to option for:
Manga artists
Comic artists
Digital painters
Digital illustrators
Animation artists
Clip Studio Paint has such an outstanding reputation in the comic industry that art schools use it to teach comic drawing. It has a line-up of features for manga and comic arts. It can also record a timelapse of your work, which is great if you want to refine your creative process or promote your work online (people love time-lapses).
Adobe Photoshop
Photoshop is the world's most famous graphic software, popular with professional designers, photographers, editors, and artists.
It's the most popular drawing software because it has nearly all industry-standard features. You can draw on Photoshop, but it doesn't address illustrations or comics adequately.
As a result, it takes time and effort to customise the pen and brush tool. Plus, features like pen pressure are off by default.
However, it's a fully-featured and highly customisable program. Photoshop is the best option if you're targeting employment in the digital art world because most companies list Adobe Photoshop skills as a requirement.
Paint Tool SAI
People love Pain Tool SAI because of its excellent stabilisation and its overall feel when drawing. It's intuitive and simple software. It has fewer features but operates smoothly even on a computer with low specifications.
Its major problem is that it doesn't support CMYK output, so it might require you to switch to other software to execute some of your drawing steps.
Go for Paint Tool SAI if your computer has limited GPU resources.
Corel Painter
Corel Painter is another digital art tool for professional artists. It allows you to paint and draw with tools as you'd do with a typical drawing. Digital watercolours flow, mix, absorb and evaporate just like the real thing. It's excellent if you are used to traditional painting.
Even though Corel Painter is a complex program, having it is like having a whole art store buried in your computer. The only problem is it's expensive.
Autodesk Sketchbook
Autodesk Sketchbook is a professional painting and drawing app that packs professional drawing tools in a beautiful and easy-to-use interface.
However, it has some flaws. For instance, its editing features are limited.
Also, if you're sketching and you don't like the shape of your sketch layer, Sketchbook's warping tools are limited, too. This makes the reshaping part of your sketch complicated.
Medibang Paint Pro
Medibang Paint Pro is free software that comes with many features for drawing manga. All you need is to register and log in when you download the software. The tool is excellent if you want to try many features for free, like multi-layer drawing, comic panel creation and pre-made tones and backgrounds.
If you want to draw black and white comics for free, Medibang Paint Pro is an industry standard to go for.
4. Know Your Digital Painting Software
After choosing software, you need to learn to draw using it.
Today we'll give a short tutorial on Adobe Photoshop for illustration. While it isn't a free digital art tool, nearly every digital artist uses Photoshop because it's an industry standard.
Pro Tip: You can learn to do digital art with Photoshop even if you're using other apps because nearly all look the same and behave similarly.
Canvas and Documents
The first step to creating a digital painting is to create a new document.
Launch Photoshop on your computer and click on the Create New button when it opens (alternatively, you can press Ctrl/CMD + N).
The New Document window will pop up.
Then, set these three settings regardless of your art form:
Width and Height (set the size of your canvas)
Resolution (if you're printing your artwork, set to 300 pixel/inch. If you're not, use 72 pixel/inch)
Color Mode (Start in RGB. If you want to print, you can switch to CMYK later on)
When your settings are okay, hit the Create button on the lower right of the window.
The Software Interface
Photoshop has three integral parts:
The Toolbox (has all tools—selection tool, brush, eraser, etc.)
The Options Bars (changes when selecting tools from the toolbox to give you different options)
Panels (allow you to mix elements useful for your workflow)
Head over to the Toolbox and select the Brush icon (alternatively, you can press B to select the brush on Photoshop).
The tool has multiple standard brushes, like the Soft Round, Hard Round, Soft Round Pressure size, and Hard Round Pressure Size.
Experiment with them, and choose the brush setting that you prefer.
You'll need a drawing tablet to do a great drawing. Once you connect your drawing tablet, enable the pen pressure feature by clicking the icon next to Opacity.
A drawing tablet is critical as it determines brush pressure and how much paint comes out of your brush. Plus, it allows you to tweak your brushes so that they feel more natural.
While using brushes is the standard way to draw on Photoshop, there are other ways to create easy digital art using the tool.
Other Ways to Draw on Photoshop
You can draw in Photoshop using vector shapes and paths. You can also draw with:
Any shape tool
The pen tool
Freeform pen tool
All of these are available in the Options Bar.
Keyboard Shortcuts
To speed your workflow, you'll want to familiarise yourself with using keyboard shortcuts. Some important ones on Photoshop are:
B—selects the brush
E—selects eraser
Z—zooms your art
M—selects the Marquee tool
Ctrl/CMD + T—use the Free-Transform Tool
When you've selected the Brush Tool, you can access other shortcuts like:
Spacebar (to select the Temporary Move Tool)
Spacebar + Ctrl/CMD (to select Temporary Zoom)
Ctrl/CMD (to select Temporary Eyedropper)
Layers
Layers are the most valuable features of digital painting. They allow you to keep different elements of your painting separate.
For instance, when drawing a body part, a shadow, a highlight, or an object, you'd paint them on separate layers so that you can tweak each element without modifying the entire project.
The critical aspect of multiple layers is that the order you list them in the layer panel is how they'll appear on your canvas. However, feel free to drag and drop layers to change their order.
Brushes and Erasers
As in traditional painting, brushes and erasers add and remove colours.
The freedom to import brushes is limitless in digital art. In Photoshop, you can change the brush by changing the brush size, tip, softness, and pressure sensitivity. In the same way, you can configure erasers as brushes in terms of size, shape, and softness.
Blending Colors
Blending colour is critical in creating smooth, 3D effects. In Photoshop, you can create a blending effect in many ways, including:
Use of soft edge brush
Using the smudge tool
Using a mixer brush
The method you choose depends on the effect you want to create.
5. Create a Multilayered Digital Art Drawing on Photoshop
Now that you understand Photoshop's interface, you can start creating better artwork.
Create a new file on Photoshop and set the proper settings. Instead of drawing in the drawing space as before, create a new layer. Head over to the bottom of the right-side panel and click the + button to add a new layer.
The software will automatically create a background for the new layer.
Then,  create a rough sketch.
After creating a rough sketch, add another layer on top of the previous layer. You can name the layer as "sketch layer."
Now you can zoom your sketch and refine it.
Next, create another layer for line work. To do the line work, reduce the opacity of the sketch so that it's barely visible.
Then select a colour for linework. In this case, black.
Next, you'd want to go for colours. There are different ways to fill your character with colours. First, use the Object Selection Tool on the Tool Bar to select all of your art.
After selecting your drawing, head over to the "Select" option on the top pane, then select inverse to fill inside your sketch instead of the outer part.
Repeat the process of creating new layers and inverse-selecting parts of your drawings you wish to colour differently.
You can colour with brushes too, but it's easier when you use the selecting tool.
How to learn digital art in Photoshop varies. However, the above step-by-step guide on starting digital art should get you started before learning other ways of making digital paintings in Photoshop.
Creating a Digital Art Masterpiece
If you were wondering how to draw on a computer, the above digital art guide should get you started.
Master the basics of how to draw digital art. Then, take your skill further—exploring new techniques and topics like hand lettering, character design, and using different textures and brushes.
Move on to creating masterpieces, but first, you'll need to learn digital drawing lessons so that you can:
Rapidly increase your drawing skills (even when you have never drawn with a pen and paper)
Create amazing art (for professional use)
Find the part of digital art that fascinates you most (while exploring new skills, deepening your existing passion, and getting lost in creativity)
Showcase your portfolio (so that the right people in the industry can see it)
It's easier when you learn from the pros. Join a 21-Draw introductory course today to learn from some of the best artists in the industry.

Featured Image from: Freepik