Impressionism has captivated viewers for years with its dynamic brushstrokes and stylized depictions of everyday life. If you're interested in learning this art form, famous impressionist paintings will keep you inspired.
While I've been painting since I was young, I regularly revisit classical paintings to learn from the masters. Sometimes I'll revisit the same paintings year after year to see how the work has grown with me.
Below are fifteen famous impressionist paintings from legendary painters such as Claude Monet, Edgar Degas, and Mary Cassatt. By the end, you'll have fresh inspiration to pour into your next piece.
The Fighting Temeraire, tugged to her last berth to be broken up by J. M. W. Turner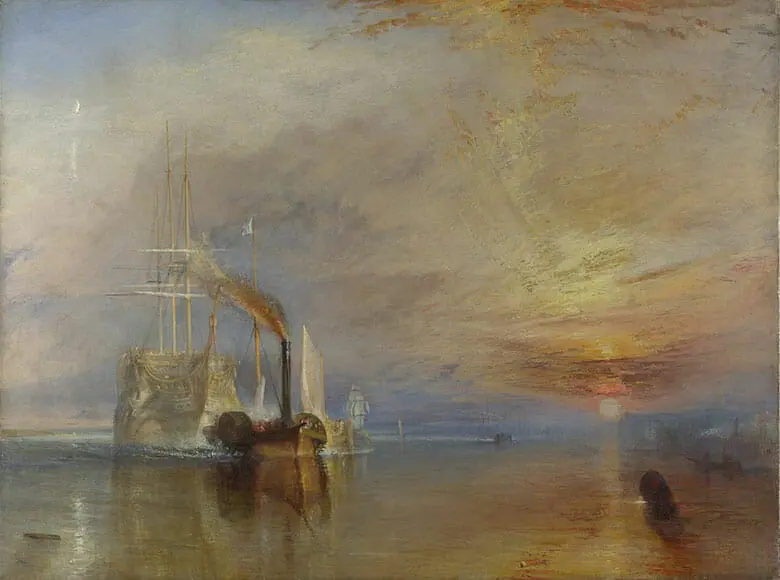 What better way to start off this list of the most famous impressionist paintings than with its origin? Art historians widely credit this evocative piece by J.M.W. Turner as the birth of the style.
J.M.W. Turner's inspiration for this painting is debated among art historians. Some believe he was present for the towing of the titular Temeraire, while others believe he was simply inspired by the event.
You can see the beginnings of the impressionist style in the loose, gestural brushstrokes. The clouds in the sky aren't carefully carved out, but hazy and relaxed. However, there are some differences from the impressionist movement.
Unlike most impressionist paintings, the level of detail here is still crisp and realistic. The artist's classical influence is apparent in how lovingly rendered the boat is.
Critic's Reaction
Critics embraced this painting upon release due to its patriotic overtones. The Temeraire was a famous and well-loved ship in the Battle of Trafalgar during the Napoleonic Wars.
The original painting is held in the National Gallery in London.
Fun Fact
Do you ever worry about feeling behind as an artist? J.M.W. Turner created this brilliant painting a full forty years into his career.
A Bar at the Folies-Bergère by Édouard Manet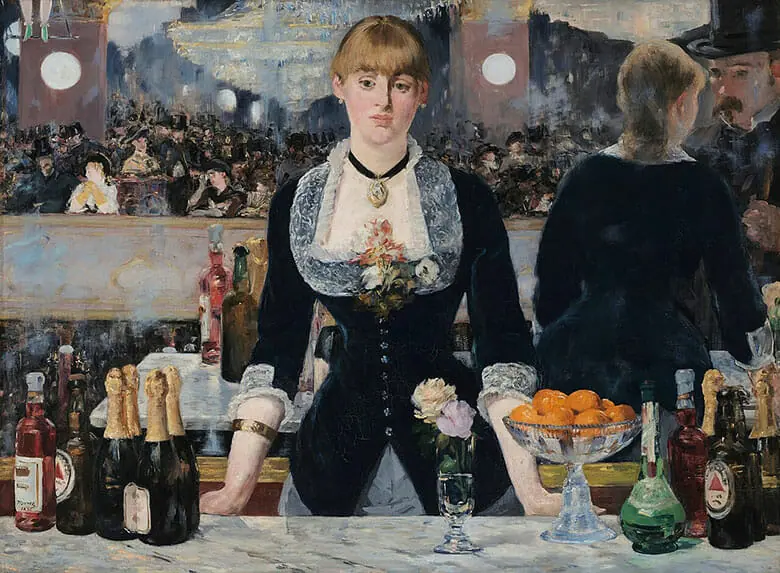 This iconic painting is a personal favorite of mine for its blend of several styles. Impressionist painters sometimes leaned into painterly realism to create a whole new look.
The subject of this impressionist painting is a real barmaid who worked at the Folies-Bergère, a famous cabaret music hall in France. Édouard Manet did several studies of the woman in his studio as well as smaller versions of the painting.
Critic's Reaction
Unlike the first example on this list, the critical reaction to this painting was overwhelmingly negative. Among the biggest reasons were alleged perspective and reflection errors, both of which have been debunked since.
The impressionist movement would proceed to use visual abstraction as a draw instead of a flaw. Impressionist paintings often use impasto or pointillism to exaggerate rather than aim for accuracy.
The original painting is held in the Courtauld Gallery in London.
Fun Fact
This painting is brimming with symbolism tucked in the little details. If you look to the upper viewer's right, you can see the green feet of a trapeze artist.
Likewise, if you look to the lower viewer's left, you can see the logo of Bass Pale Ale. This is a popular 18th-century British ale that still sells beer to this day.
Plum Brandy by Édouard Manet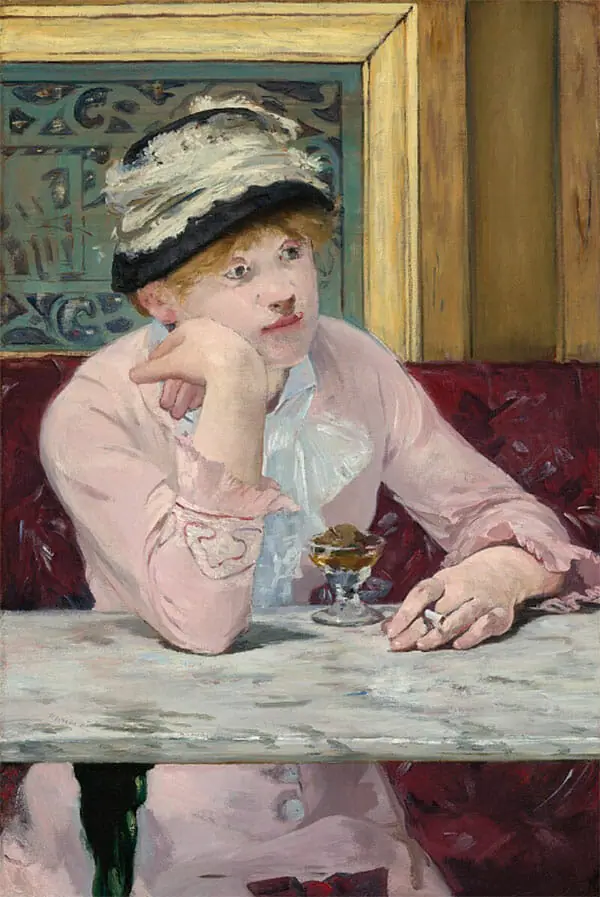 This brilliant portrait is notable for its seamless transition between smooth elements and casual, loose brushstrokes. It's another testament to the flexibility of impressionist paintings in depicting mundane scenes.
The painting earned its title for the popular plum brandy the subject is drinking. The model was a famed painting model and actress by the name of Ellen Andrée – she had quite the resume as a subject for impressionist paintings. Not only did she pose for Edouard Manet, she also posed for Edgar Degas.
Critic's Reaction
This painting is particularly notable for capturing the subtlety in both expression and pose. It's the kind of illustration that inspires a thousand stories about what the woman is experiencing emotionally.
The original painting is held in the National Gallery of Art in Washington D.C.
Fun Fact
While the background stylings suggest the setting is the famous Café de la Nouvelle Athènes, some historians believe the painting originated in a studio. One of the main theories is that the artist had café-style details in his room.
Bal du Moulin de la Galette by Pierre Auguste Renoir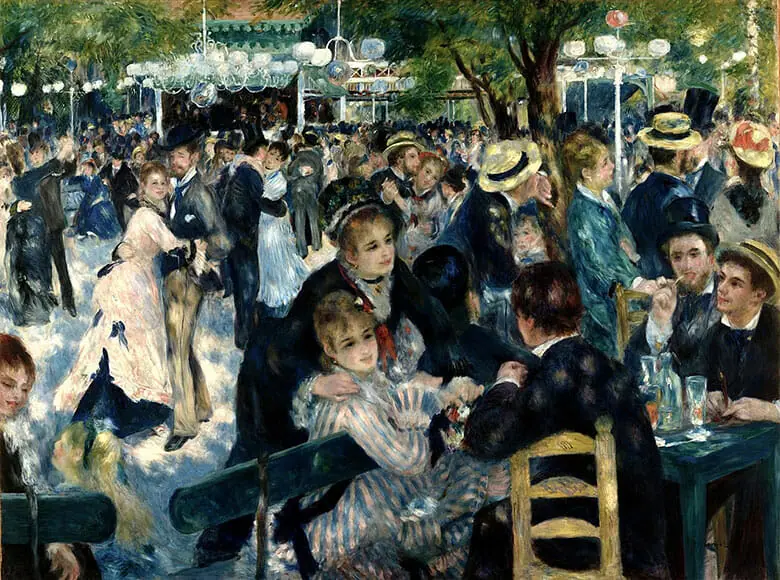 This Pierre Auguste Renoir oil painting is among the most famous impressionist paintings for its sheer complexity. This technique proves you don't need crisp detail to still invoke a sense of realism.
This illustration is set in the Moulin de la Galette in a famous French art district. The artist actually had to construct a studio in the same area to get better access to his subject matter. He finished the painting on the spot in traditional en plein air style.
Critic's Reaction
This painting has gone down in art history as one of the signature pieces of the Impressionism movement. It's widely credited as showcasing the most memorable aspects of the style such as dappled light and loose brushstrokes.
The original piece is held at the Musée d'Orsay in Paris.
Fun Fact
The painter created a smaller version of this painting with the same title. The original has changed hands many times and once sold for $78 million.
Little Girl in a Blue Armchair by Mary Cassatt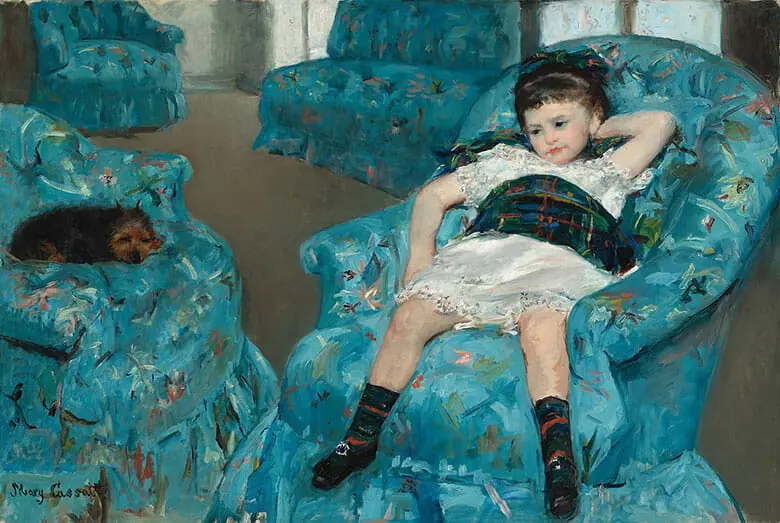 This impressionist movement staple showcases impressive realism. The subject's relaxed posture and mischievous expression are incredibly true to life.
Mary Cassatt went through a lot of trouble to get this piece shown in art exhibits. While some art galleries accepted the illustration, several more would reject her. At one point, the famed Edgar Degas would help her out by making subtle changes to the painting.
Critic's Reaction
Despite this painting's bumpy road to getting accepted in art galleries, it has received a generally positive reception. The subtleties in the girl's expression and pose are widely regarded as a spectacular portrayal of childhood innocence.
This painting is held at the National Gallery of Art in Washington, D.C.
Fun Fact
The dog in the corner is named Baptiste. He was a Brussels Griffon, a popular toy dog breed that Mary owned at the time.
The Dance Class by Edgar Degas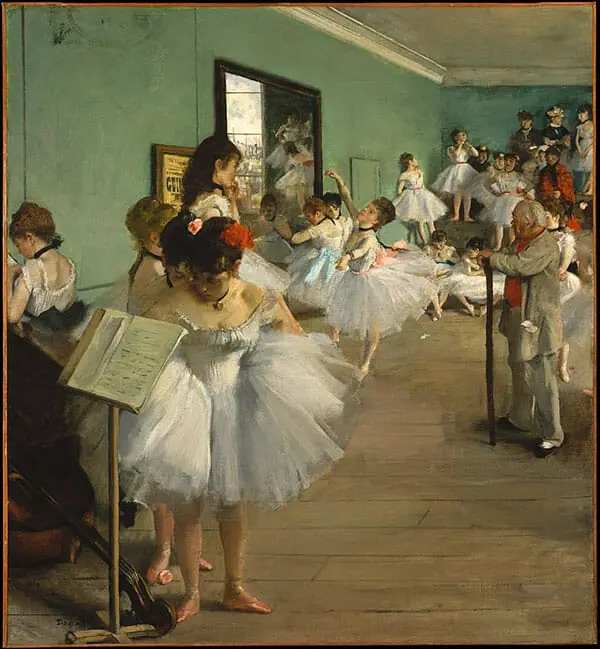 Speaking of Edgar Degas, let's take a look at another one of the most famous impressionist paintings. This oil painting portrays a smoother and more realistic approach with only a little background stylization.
While much of impressionism comes from real settings and models, this piece is a huge exception. This dance class is fictional and takes place in an Opera house that burned down before the painting was made.
Critic's Reaction
The singer Jean-Baptiste Faure commissioned this piece and later donated it to the 1876 Impressionist exhibition.
The original is held at the Metropolitan Museum's Gallery.
Fun Fact
Edgar Degas made a very similar painting called The Ballet Class. It has a practically identical composition, but different poses and environmental details.
La Gare Saint-Lazare by Claude Monet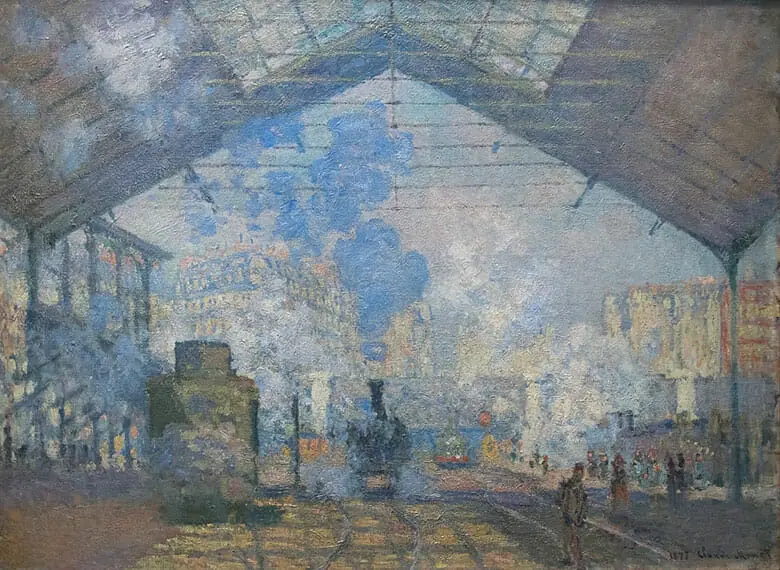 This iconic painting by Claude Monet has an absolutely stunning atmosphere. The rough brushstrokes and hazy colors make this a must-study example of the art movement.
While this piece is considered a classic now, it was an exemplary portrayal of modern art at the time. The setting is a celebration of the emerging steam technology of the time and the increasingly busy life of city occupants. The setting is the famed Gare Saint-Lazare station in Paris, a location that attracted many famous impressionist painters.
This work is part of an Impressionist group of paintings called 'Gare Saint-Lazare'. They're all based on different times of day at the same station.
Critic's Reaction
Critics were impressed with Monet's ability to accurately capture the minute details of an active train station, even down to the time of departure.
The original is held at the Musée d'Orsay.
Fun Fact
While this landscape painting is held at the Musée d'Orsay in Paris, the other paintings in the series are scattered across different galleries.
Woman With a Parasol by Claude Monet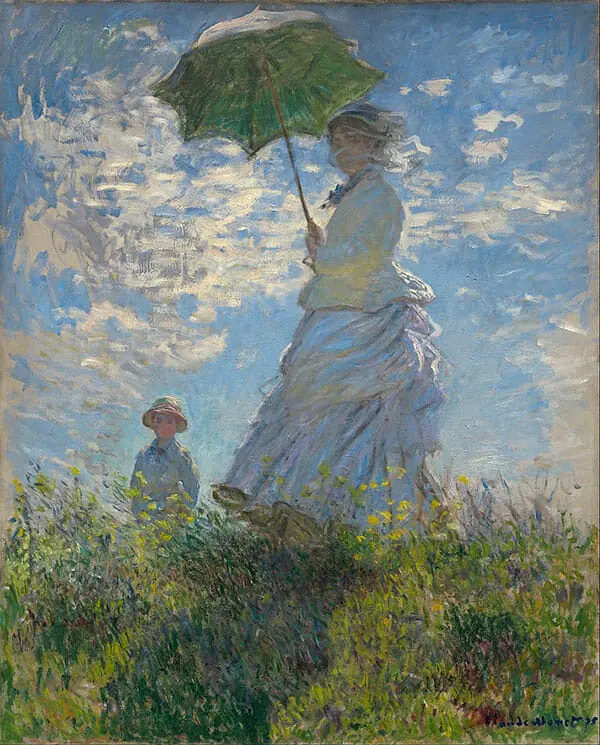 This iconic painting by Claude Monet continues to dazzle viewers with its phenomenal texture and beautiful lighting. It's among the most famous paintings of all time and has gone down in art history as one of the most recognizable, even among beginner artists.
The subjects of these paintings are his wife and son out on a stroll. Not only did he create this masterpiece en plein air, but it's also one of his largest paintings, measuring at 39 x 32 inches.
Critic's Reaction
Claude Monet debuted this painting at his second-ever Impressionist exhibition back in 1876. Over the years, critics have been overwhelmingly positive toward the painting, praising its composition and its atmosphere.
The original painting is held in the National Gallery of Art, Washington, DC.
Fun Fact
Claude Monet did several very similar pieces all based on a woman holding a parasol. These sketches and paintings include the Woman With A Parasol Facing Right in 1886 and the Two Girls With Parasols At Fladbury, 1889.
The Artist's Garden at Vétheuil by Claude Monet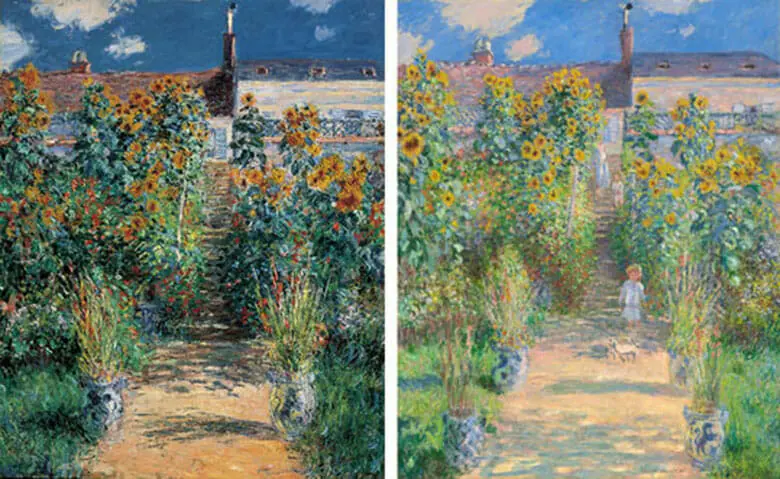 While not among the most famous paintings by Claude Monet, these lovely outdoor scenes are a vibrant depiction of everyday life. His ability to capture the heat of the day is unparalleled.
He created these serene illustrations during one of the roughest periods in his life. His previous depictions of modern settings would shift to a focus on nature and serenity. The above paintings were all variations of the same residence he took in a tiny village outside of Paris.
Critic's Reaction
Since the artist chronologically dated this series incorrectly at times, it wasn't always easy for museums to gather them in the right order.
These paintings are now held in the National Gallery Of Art.
Fun Fact
These paintings were kept separately since the late 1800's, but were recently reunited in the art gallery they're currently held in.
The Child's Bath by Mary Cassatt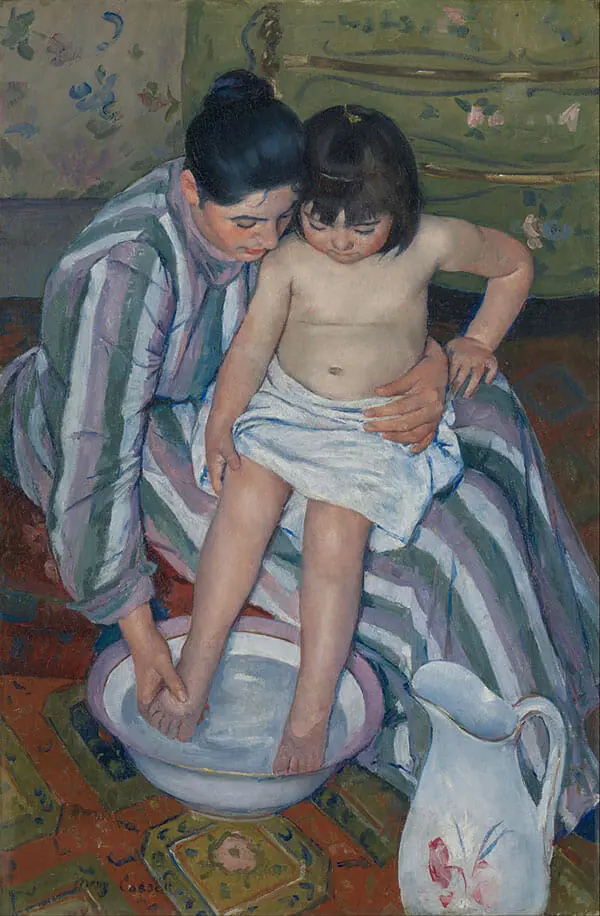 Mary Cassatt's ability to capture the simple details of everyday life is breathtaking. She always paid careful attention to the way people would interact with each other or their environment.
It's not hard to see why this is one of the most famous Impressionist paintings. The painter took great care to focus on the love and connection between mother and child, a subject not often explored outside of religious art at the time.
The deceptively simple subject matter is arranged carefully with contrasting patterns between the aged carpet, the mother's dress, and the child's simple towel.
In short, this famous Impressionist painting injects the magic back into the mundane. An everyday scene becomes a layered depiction of motherly affection and household history.
Critic's Reaction
This painting is widely beloved by critics for how it tried something new while being entirely ordinary, all at once. The complex bird's eye view and meticulous technique are still talked about to this day.
This piece is currently held at the Art Institute Of Chicago.
Fun Fact
Mary Cassatt was heavily inspired by Japanese woodblock prints when making this piece. She was fascinated with Japanese artists' portrayal of daily life, as well as their usage of top-down perspectives.
Starry Night Over the Rhône by Vincent Van Gogh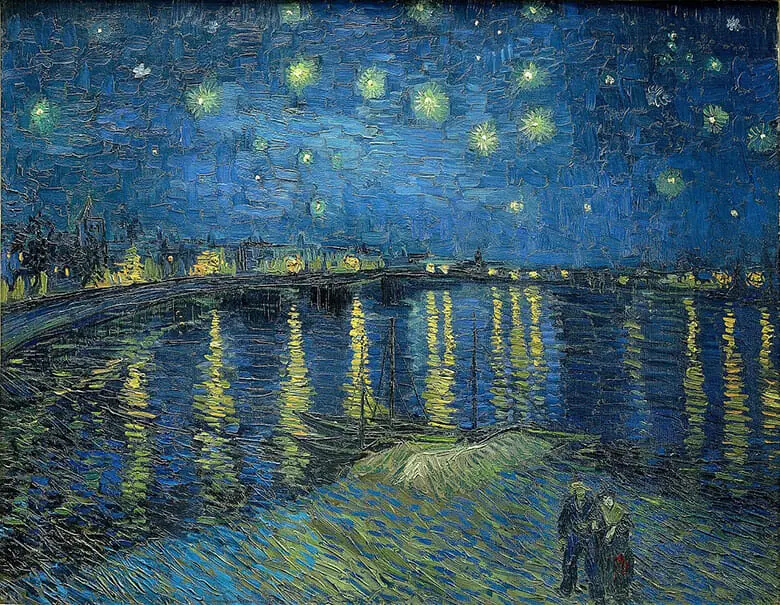 Also known as Starry Night, this illustration is actually an unusual painting in the movement. It's technically post-Impressionism, a sub-niche of Impressionism with a few key differences.
The most notable difference is that post-Impressionism is even more abstract than its parent. Linework and brushstrokes are broad to the point of outright surrealism. Compare this to other Impressionist paintings that still had elements of painterly realism.
The reason this painting is usually called Starry Night Over the Rhône is to avoid confusion with one of the most famous paintings of all time: Van Gogh's 'The Starry Night'.
Critic's Reaction
This painting has appeared in several Impressionist exhibitions, both in the 1800's and in modern museums. It stands as a testament to the flexibility of this art movement and its powerful portrayal of everyday environments.
This painting is kept in the Musée d'Orsay in Paris.
Fun Fact
Van Gogh wrote a detailed letter to his brother about the subject matter of the painting. He included a detailed sketch that served as the basis for the final piece.
Two Sisters (On the Terrace) by Pierre Auguste Renoir
This elegant and colorful portrait by Pierre Auguste Renoir makes it clear why he's one of the most famous Impressionist painters. He managed to take a medley of colors and transform them into an incredibly balanced portrait.
A major reason why this painting is so easy on the eyes is due to its contrast. The girl's bold blue jacket provides a breathing point to counteract the flurry of trees and flowers around her. The pop of red in both girls' hats also creates a sharp focal point to draw the eye.
Pierre Auguste Renoir debuted this work at the seventh Impressionist Exhibition back in 1882. His work would be bought by multiple people before being acquired by an art gallery.
Critic's Reaction
This painting is a love letter to texture. It stood the test of time in Impressionist exhibitions by showcasing skillful portraiture and magnificent technique.
This painting is now held at the Art Institute of Chicago.
Fun Fact
Pierre Auguste Renoir was very fond of the French landscape. The river behind the two girls is the famed Seine, a massive French river and dam system.
Poplars on the Epte by Claude Monet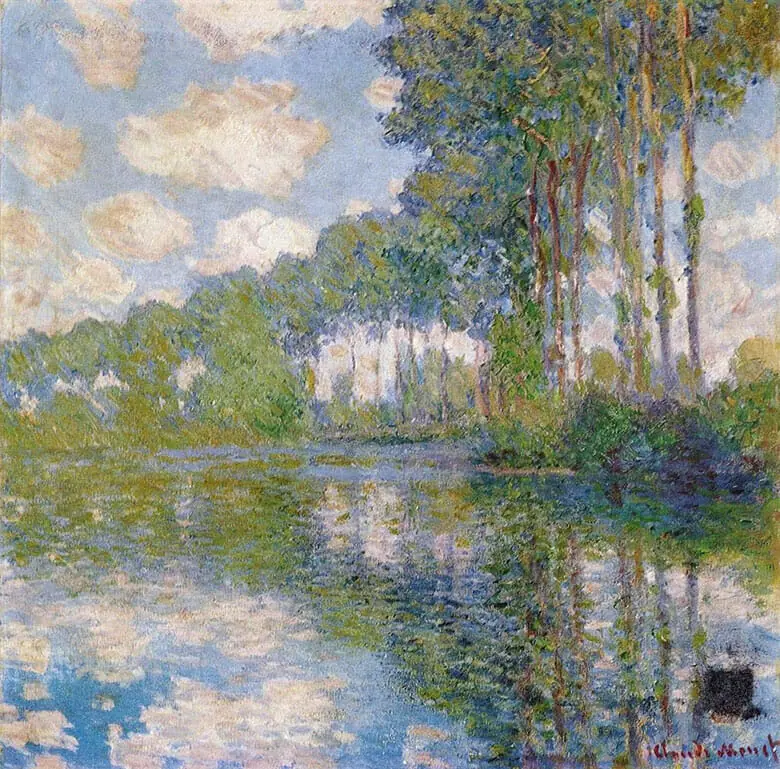 Claude Monet has many painting series where he explored different angles of the same subject, such as a time of day or a specific person. His Poplars series is an homage to the still beauty of trees lining rivers.
You can see his similar technique here alongside his other famous works – he had a brilliant way of hinting at detail in foliage with expressive brushstrokes. I'm particularly impressed by the sweeping curl of the trees in the distance. The stylized perspective here is worthy of study.
Critic's Reaction
This painting series is one of the lesser-known works of Claude Monet. Five of these paintings were shown in their first Impressionist exhibition together as recently as 2015, a rarity considering the artist's general fame.
This painting is now held at the National Gallery of Edinburgh.
Fun Fact
Claude Monet found his inspiration for this painting and the general series right outside his studio. When a lumberjack wanted to cut them down, Monet bought them to continue his paintings – he later sold the trees once he was finished.
L'Absinthe by Edgar Degas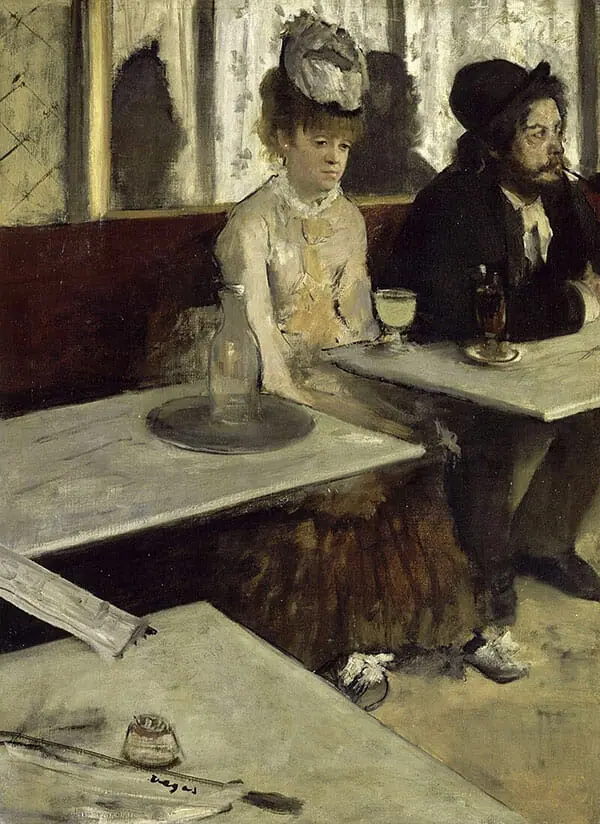 Edgar Degas created a highly controversial painting during the height of his career. As he displayed his work across eight Impressionist exhibitions, this one struck a cord for its unusual mood.
This painting stands out against the other examples in this list for its drab color scheme and morose mood. While many Impressionist paintings whimsically celebrate ordinary details, this painting explores the morose side of everyday life.
Critic's Reaction
Critics of the time were not fond of this piece. Many deemed it ugly and even disgusting. One of the most controversial elements was the focus on absinthe, the drinking of which was seen as uncouth.
The painting is now held in the Musée d'Orsay in Paris.
Fun Fact
Edgar Degas went through many titles before settling on L'absinthe. He considered 'A Sketch of a French Cafe' as well as 'Figures at Cafe'.
Portrait of Irène Cahen d'Anvers by Pierre Auguste Renoir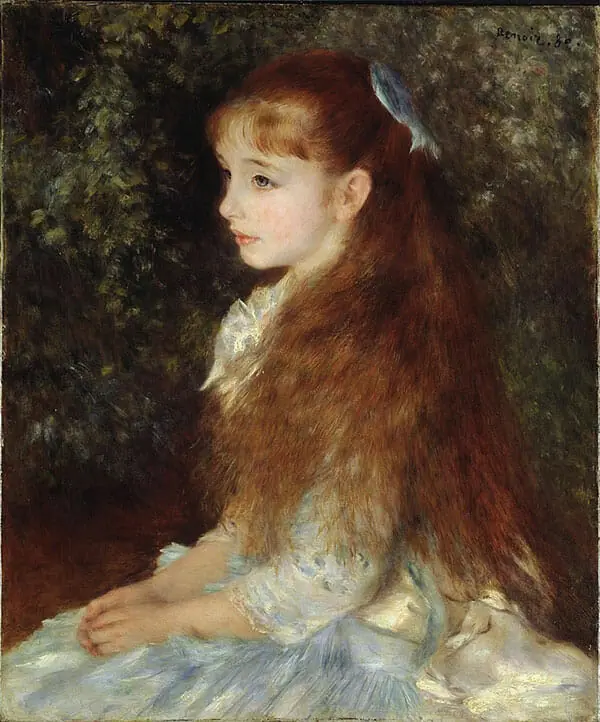 Last but not least, this portrait by Pierre Auguste Renoir is a striking example of the Impressionists' love for texture. The careful attention to the girl's gentle expression and long hair is humbling.
This painting was commissioned by a wealthy family who wanted a portrait of their eight-year-old daughter Irène. However, it was stolen during World War II and wouldn't show back up until nearly 1950.
Critic's Reaction
Critics were incredibly fond of this piece, with many outright considering it his masterpiece. The painting appeared in prestigious galleries and was later bought by the family Irène married into.
This painting is currently held in the E.G. Bührle Collection in Zürich.
Fun Fact
Interestingly enough, Pierre was less satisfied with the portrait. He even delayed payment because of it.
Impressionist Painters Were Masters of Mood and Texture
The most famous Impressionist paintings moved audiences centuries ago and inspire people today. Not only do they teach you famous techniques, but they remind you of the power of your own art.
From Edgar Degas to Claude Monet, many of these famous pieces were just casual observations of daily life. Even the most skilled artists needed studio references or practice pieces before they crafted their masterpieces. If you ever find yourself feeling critical about your own progress, let the artistic careers of the masters remind you of the journey.
You don't have to take said journey alone. Check out Evolve Artist! It is an online resource that provides fundamental painting classes to artists of all skill levels.