It is said that mastery of any craft comes only after 10,000 hours of practice.
And believe me, when it comes to becoming a digital artist online, nothing could be more true.
While some of us are born with a talent for the arts, most of us must hone our abilities through years of practice.
And that's exactly what these eight new media art artists did.
They didn't sit back and accept mediocrity; instead, they went on to master the craft, and master it they did!
If you want to be a digital artist, you might find some inspiration here for your digital artwork journey.
Here's a list of well-known digital artists who may inspire you!
Turine Tran
Turine Tran is one of the most well-known digital artists specialising in children's books.
She began studying art in 2001.Here are a few of her most notable accomplishments:
Finalist, AOI (Association of Illustration) Award (2015)
Imagine FX – 2014
Bronze winner, Spikes Advertising Award (2014)
Finalist, Adstar award (2015)
Finalist, Cannes Lions Award (2014)
Born in Saigon, Vietnam, her style is described as "nostalgic", "dreamy", and "fantastical." Her art frequently has fable-like qualities emanating from it.
Her work combines digital painting and hand rendering. She's also no slouch when it comes to traditional painting.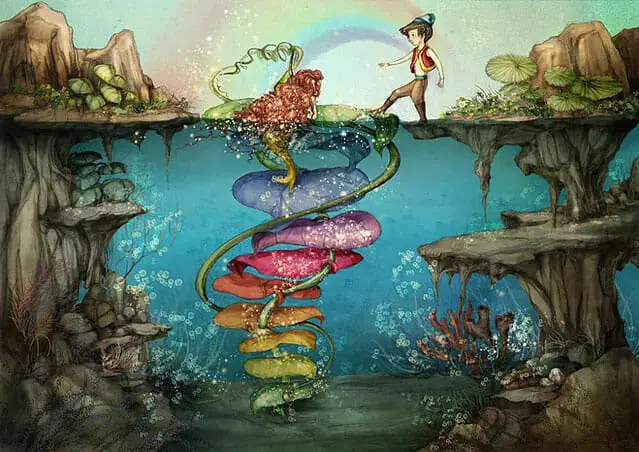 She's moved across countries to gain more knowledge and expand her artistic mastery. All done to explore and grow her poignant artistic style.
She relocated to Singapore to attend Nanyang Technological University. There she earned a Bachelor of Fine Arts in Visual Communication in 2009.
She dipped her brush a few continents later, furthering her studies in Edinburgh, UK. There she earned her Master of Arts in Illustration. She also spent time in Paris. She enjoyed exploring the city, networking, and gathering inspiration to hone her craft.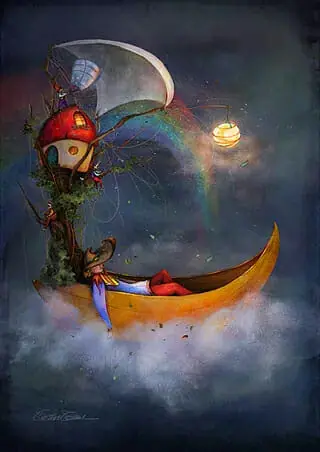 She then moved to Singapore to further her studies in visual storytelling. She also pursued a Doctor of Philosophy in 2019 at her alma mater during her first few years back.
Most of her work appears in children's books. She has worked with several well-known publishers, including:
Quarto Publishing Group USA
Saatchi and Saatchi Italy
Harper Collins UK
She is currently back in her hometown of Saigon. There she occasionally lectures on illustration and digital narratives. She also accepts requests for commissioned illustrations.
Turine Tran's magnificent work is a good starting point for anyone. Especially for those looking to break into the children's illustration world.
Riccardo Federici
Riccardo was born in Rome on September 2, 1976. It didn't take long for him to realize that he was interested in painting and drawing.
Fun fact: He discovered his passion for art through another creative medium—music!
He never lost sight of his passion. He progressed from traditional art and to full-fledged digital media artist.
Following his art diploma, he enrolled in the University of Rome's Faculty of Architecture. He also earned a double degree and studied psychology.
He also created children's comic strips, ad campaign illustrations, and anatomical illustrations. His first break came when he signed for "La Madone de Pillini 1-2," a pair of French comic books.
For years, he worked as a digital comic book illustrator while also exploring oil paintings and sculpting.
He was eager to learn new concepts and materials to shape his craft. His perseverance propelled him to great heights.
So, how so? You may be curious. A brief mention of some of the brands with which he has collaborated is enough to leave you impressed. It certainly piqued my interest.
According to his ArtStation About page, they are:
Blizzard Entertainment (a video game company)
DC Comics (home of Superman, Batman, and Wonder Woman)
Marvel Comics (known for Spiderman, The Avengers, and The X-Men)
XM Studios (luxury art collectables)
Whoa! Big names to drop! Along with creating art assets for these household names, he also continues to host workshops to help promote illustration, comics, and paint concepts all over Europe.
The journey of a digital artist is not just about honing your craft but also understanding how to hire an artist online. This knowledge can empower you to discover your audience and establish a unique presence within the digital art community, helping you to potentially land gig's like those above.
Today, he continues to dabble in both traditional and digital artistic expressions. His work primarily features humanoid depictions of today's beloved superheroes.
Take a look at his Instagram account.
John Sweeney
John Sweeney is one of the top digital artists who can direct the mood of a piece.
He does this extremely well when it comes to evoking a sense of desolation and misery against a hostile wilderness.
He works as a freelance concept digital artist for major pop culture brands in the entertainment and technology industry.
According to his Linkedin, this digital fantasy artist created fantasy digital art and concept art for the companies listed in this table:
Some of his most recent works were created while working as an in-house concept artist for Naughty Dog. They are the creators of beloved titles such as The Last of Us, Uncharted series, and The Last of Us 2.
These games are regarded as examples of graphical excellence and realism. It could be argued that they are industry pioneers of games with incredible graphics.
But don't just take my word for it; look up reviews for The Last of Us or Uncharted and you'll find them gushing with praise.
When it comes to visual storytelling, John Sweeney is a living legend. He's a graphic designer who knows how to create digital artwork, digital video, and other types of digital art with finesse. He's also one of my favourite artists.
After an 8-year stint with Naughty Dog, he now works as an art director for Insomniac Games.
His best digital art can be found on his Artstation account.
Laura H. Rubin
Laura H. Rubin is one of those digital artists not to miss. She continues with the theme of popular online digital artists who work in the pop culture space.
She is not a fan of imposing and daring art styles. Her graphic design of portrait images is quite simple, minimalist, and hyper-focused on the subject. She uses a lot of white space. And yet the subjects in her digital paintings are beautifully well-crafted and realistic.
But don't misinterpret her preference for simplicity.
According to her website, her clientele is comparable to that of the other best digital artists in the industry:
Ubisoft (video games)
Square Enix (video games)
Simon & Schuster, Inc. (publishing house)
Think Jam (film and entertainment marketing agency)
She is not only a digital artist, but she is also the author of several art and study books.
She also sells courses on her website, Laura H. Rubin.
Look her up on Instagram.
Josh Dykgraaf
If there's one thing you should know about Josh Dykgraaf, he's a well-known and respected Photoshop artist. He is quite capable of producing any computer-generated artwork.
While he is a master of photo and image manipulation, he is also a talented digital artist. He has a deft hand that can create amazing digital art pieces. This makes him one of the contemporary digital artists to keep an eye on.
He dipped his toes into the industry when he ventured out and became a full-time freelance illustrator in 2012. He quickly rose to become one of the best digital illustrators.
He had previously studied photography and graphic design.
Many of his works are grandiose recreations of places he's visited. For example, in his piece "Windjammer," he used hundreds of images that he had taken himself. This lovely digital art print was featured in the NEMO Science Museum Amsterdam exhibit.
According to his art page, it was a commissioned piece by the museum itself. It can now be found in the "Chain Reaction" section of the museum.
Don't be fooled by the fact that he developed much later than the other people on this list. His digital art is impressive. It's so popular that he hosted a solo exhibition at the FortyFiveDownstairs gallery in Melbourne, Australia.
Vini Naso
Vini Naso is a well-known digital artist and art director based in Toronto, Canada.
He creates enigmatic digital fantasy art that investigates how concepts of visual identity and beauty are evolving in the digital age.
He has created digital art designs for high-profile clients using motion graphics and AR/VR technology. Some of his best works have appeared in Vogue Magazine. He says the pieces were themed to be timeless or time agnostic, particularly in the face of the "New Normal."
Aside from his published art, his cool digital art is reminiscent of many crossovers to popular digital art fantasy works. He is best known for his futuristic cyberpunk and folkloric folk art. It incorporates both cartoon pixel textures and vividly detailed hyper-realistic drawing styles.
One example of the latter is the award-winning Kodama (seen below).
His modern digital art images are one-of-a-kind. They showcase a new contemporary wave of cool computer art that he's mastered for over a decade. He's even won the 2020 Beautiful Bizarre Art Prize for his posthuman aesthetic.
His Zoom backgrounds and Adobe Creative Cloud digital illustrations are also noteworthy. They can be found on his website.
His support for the LGBTQ community is exemplified by the artwork titled 'pride', shown above. He was involved in the creation of the artwork from conception to execution. He participated from creative direction to pixel rendering in software.
His well-known digital artwork can be found in the following brands:
Microsoft
Facebook
Zoom
Adobe
Nike
Visit the website of this digital artist to be inspired.
Android Jones
Android Jones is a Colorado-based digital illustrator. He has been creating stunning digital visual art for over a decade.
He attended the Ringling School of Art and Design in Florida while also launching his digital fine arts career in 2005.
See, for example, his 2009 work 'Wanderer Awake'.
On his product page, he recounted his inspiration in great detail, but in a nutshell:
"Android Jones was inspired to create this piece while attending the Universo Parallelo Festival on a beach in Bahia, Brazil. Enticed by the dark blue backdrop of the night and the humming bass beat of the festival in the venue, he let his pen loose to create something magnificent on the spot he laid."
He finished his work before sunrise the next day. It was a translucent spiritual being with bird-shaped eyes looking out over the vast horizon of the ocean.
"Wanderer Awake" was a crowd favourite. Android Jones claimed that many people felt a strong connection with this piece. It led them to believe that he drew a version of their higher selves.
Android Jones has come a long way since then on his path to becoming a well-known multimedia artist. He created dozens of famous digital art pieces as NFT pieces and publications between 2010 and 2021.
Visit his website for commissioned illustrations.
Peter Mohrbacher
Peter Mohrbacher, the Angelarium's creator, is a well-known artist.
He is known for his contemporary digital art for tabletop settings.If you play Magic: The Gathering, you may have come across his digital art pieces by accident through the cards.
This digital fantasy artwork is one of this famous new media artists best pieces. Kudos to this digital media artist!
Here's an example of one of his works: Bloodgift Demon. According to the card's description, "at the beginning of your upkeep, the targeted player draws a card and loses one life."
Play Magic? If your main deck has a higher average number of cards, then this card's a must-have.
The benefit of extra card draw is offset by 1 life loss. This can be negated with Life-based cards. Or, use it to your advantage with ability cards that benefit whenever your character is damaged.
There's no reason why non-Magic players shouldn't enjoy this artwork. Who doesn't love a classy devil holding up a chalice in celebratory fashion?
Murmuring Phantasms is another of his works.
Murmuring Phantasms is a character card in the Common Defender deck. While it is only a standard card in the MtG metagame, the artwork is enough to make my skin crawl. These fiend-like creatures encircling you, arms outstretched to grapple you? Shivers.
No artist can create something that can produce an emotional response like Peter Mohrbacher. Don't you think so?
This digital design artist also allows SoundCloud licensing. Diehard fans can even have tattoos of his work.
Digital Art: Get Inspired With Concept Art From a Digital Artist
So there you have it. A list of the best digital artists to get you started as an illustrator.
These well-known digital artists are undeniably talented at creating realistic digital art. You should keep in mind, though, that it took them years of creating portraits and creations to get to this point.
Get inspired. Start your journey as a digital artist today.