Have you felt drawn to oil paint for a while but didn't know where to start?
It's no secret that oil painting can have a bit of a learning curve— from materials to brush-handling, to the Herculean-feeling task of translating what you see to canvas.
There's a lot of information to take in when learning online, especially going it alone.
You may have heard Evolve Artist is a great learning platform for any artist wanting to master oil painting.
But the question remains…
Is Evolve Artist worth it?
In this Evolve Artist review, I cover what's included in the course, my experience with the content, the teaching style, how they address community, and my thoughts on the art materials supplied.
Stick around till the end if you're looking for a discount!
What Is Evolve?
Evolve Artist is an online oil painting course founded by Kevin Murphy, an accomplished artist, and teacher.
Co-founder Mitch Bowler (also the founder of Pencil Kings), is the expert who designed Evolve's systems for remote art production.
Evolve promises to provide buildable art skills that'll get you creating realistic art and painting like a pro— fast.
If you've tried your hand at painting without much luck or feel stuck where you're at, that might seem like a big promise to make. But thankfully, this isn't their first teaching rodeo.
Kevin has been teaching art in his in-person studio for the past decade and Evolve has taught solid painting skills to its art students worldwide in over 55 countries!
Pros
Carefully structured program with Step-By-Step instruction. (Something so many online resources lack.)
Fully online AND at your own pace.
Timely support from dedicated instructors. (Another needle in the haystack.)
Anyone can learn to paint with their system.
AND all supplies are provided for you.
Cons
Not the art program for dabblers who aren't ready to focus intently on oil as a medium and dedicate their time.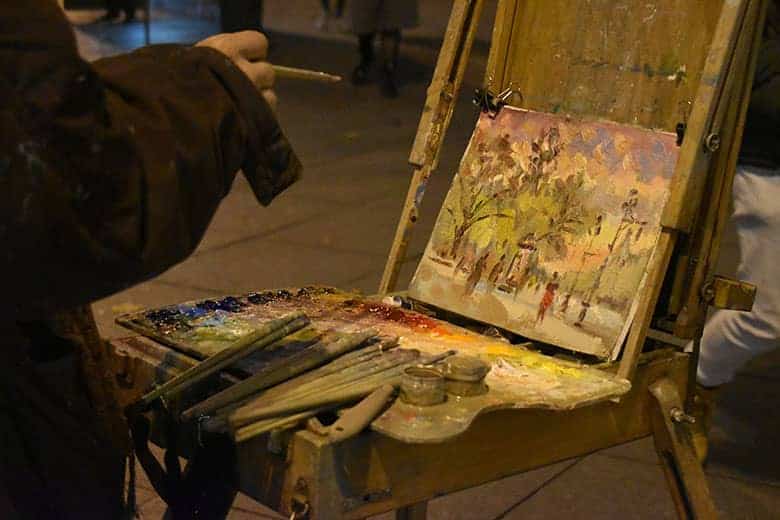 Things To Consider Before Joining the Evolve Artist Program
Are You Ready for an Art Course?
You might think you need to have a certain level of "talent", skill, or confidence before signing up for a serious art course. That isn't the case with Evolve. They welcome beginners who are ready to commit.
Kevin Murphy explains that building solid foundational skills translates directly to building the confidence needed to take on any subject.
Evolve's system demystifies the painting process. You don't have to be a wizard to paint (although that would be pretty cool).
You Need Dedication to Build Art Skills. Especially Online
They provide the tools and support to succeed. The more time you put in, the faster you see benefits.
Evolve teaches art in a Choose-Your-Own-Pace adventure, great for those with jobs, families, school, or who just don't like to leave the house (Okay, it's me, I'm raising my hand).
It's a ground-up program to learn to create skillfully produced art and potentially an art career. This course is for those ready to deep-dive into oil painting, committed to learning the ins and outs of the medium. It's great for people that want to learn the fundamentals and gain a pro-level skillset in the shortest time possible.
If you don't have the time to dedicate to consistent practice with oils, an online resource like New Masters Academy might be a better fit.
What Will You Get in the Evolve Artist Program?
The Evolve Artist program features eight clearly defined "blocks" of study. Each block focuses on key art fundamentals and builds upon the skills learned in the previous blocks.
You know what to expect, with mentors guiding you through each stage and priceless 1-on-1 personalized feedback.
Evolve breaks the basic aspects of painting down to mastering "value, edge, and color".
Painting becomes less of a mystery AND more accessible, producing consistent results.
The program provides the technical skills needed to create stunning artwork that has been beyond your reach so far.
The Curriculum: Create Art From the Foundation Up
Foundation Blocks:
Block 1: Value & Form includes value studies, blending, using a brush properly, etc. Mastering value and form allows you to make 3D objects come to life on a 2D surface.
Block 2 teaches you to craft precise Proportional Drawings and how to paint from still life in greyscale. With these particular skills, you'll achieve the realistic paintings you want without needing to copy references directly.
Block 3: Color. You'll become comfortable with your palette and be able to translate any colors you observe to your canvas. This adds another level of realism to your work!
Block 4: Direct Painting pushes you out of the painter's nest. Put everything you learned in the three previous blocks together and make fully developed paintings.
Advanced Blocks:
You'll begin incrementally incorporating skills developed in the prior blocks, with more nuance, new techniques, and a greater sense of the fundamentals.
Block 5: Vacant Shadows. Now that you know your way around value, edge, and color directly, explore some other approaches and elegant techniques.
Block 6: Speed painting. You have the ability. Turn up the speed and work faster and more efficiently in a natural extension of your skills.
Block 7: Puddling teaches you to put down individual brushstrokes and build up texture and another sense of dimensionality. Loosen up and go a little wild with the paint!
You'll be ready to utilize your rapidly developing skillset and explore the creative process with a classical approach or a more relaxed technique.
Block 8: Master Copies & Advanced Applications. Blend all of the knowledge they've given you and tackle master copies. Something painters have done for centuries to study.
You'll have the background to figure out how and why your favorite painters did what they did. Then, you get to bring that magic home to create original paintings!
Evolve lets you gain skills efficiently, and then your art practice comes alive.
You'll be creating fully finished works at a professional level. Most complete the 8 Blocks within a year. Some have even reached a level similar to that of other professional artists within 6 months!
Teaching Style & Video Presentation:
The Evolve program uses multiple methods of engagement:
Written feedback is given daily: I was never sitting around feeling lost. I knew what I was doing well and areas for improvement.
Scheduled 1-on-1 office hour video calls: Get personalized attention for your specific needs.
Weekly group video conferences: Learn from others' questions, critique, and progress!
If you want to experience how they present information firsthand, I highly recommend checking out Evolve Artist's FREE mini courses…
See their teaching style in action:
The Free Oil Painting for Beginners Course is for total newbies to oil.  It'll walk you through the medium and give you three great exercises to get you started.
The Free Depth Course guides you in creating depth and volume. It covers common mistakes and how to overcome them.
The Free Pro-Art Skills Mini-Course is for creatives not seeing desired results. It'll tell you all you need to develop your confidence and skills.
All Art Supplies Included:
Everything you need for Blocks 1-4 is provided for you. There's no need to stress about which colors or brushes to get or what really is the difference between synthetic and natural bristles.
These aren't cheap, student-grade art materials, either. Evolve's partnered with Old Holland, who unquestionably tops the Hall of Fame for paint, with a history as rich as their ultra-pigmented colors. They last forever and are so smooth to paint with. You'll want to mix endless colors on your palette all day.
Supplies won't make the artist, but the right supplies make high-quality art-making WAY more achievable, and learning how to paint with oils so much easier
Sign up, and they'll send your first box of supplies right away!
The second box arrives by the end of Block 2. (It's like having your birthday twice a year.)
The Boxes include:
Custom oils specially mixed for Evolve by Old Holland
Quality brushes
Linseed oil
Palette knife
Toned palette paper (which helps with your color mixing)
Canvas pads
Reference, & more.
It was enough to last me from Block 1 through Block 8 and beyond. The supplies alone are worth over $1000. (Which is incredible.)
In most other courses, you'd be responsible for the program's cost AND you'd have to find your own supplies.
These boxes saved me a bunch of money, time, and stress. No scrambling to find the right materials before starting your first art classes.
Will Evolve Artist Keep You Engaged Long Enough to One Day Build an Art Career?
A wise teacher told me the best way to keep working consistently is to remove the obstacles between you and your time with the brush. Evolve Artist says the same.
There are tons of reasons not to paint. Silly reasons I'm sure we've all experienced. All of them obstacles. Evolve offers solutions.
Lost with supplies? Evolve sends exactly what you need right to your door.
Lacking serious skills and confidence? Even if you've no prior art experience, they'll give you real skills to be confident in.
Lacking guidance and structure? It's all built into the program.
It's this tiny attention to detail that makes Evolve one of my favorite oil painting courses online.
When art isn't a hassle, you'll want to keep at it, and you'll find yourself doing it more and more, till finally, you have the kind of artwork you've always imagined yourself making, right in front of you.
Evolve Artist Community
The Evolve Artist training program is an online course that acknowledges the importance of community.
There's an entire community of students worldwide working toward the same goals.
You'll find it super supportive and welcoming. Many students helped me with my homework assignments if I asked, and provided awesome tips from their own experiences going through the course.
They connect through live group chats and a private Facebook community.
Evolve Artist Alternative: New Masters Academy
When comparing Evolve Artist and New Masters Academy, both online art platforms offer comprehensive resources for artists of varying skill levels.
Evolve is best you are looking to specialize in oil painting and appreciate a well-defined learning path.
On the other hand, New Masters Academy offers a broader range of artistic disciplines, including drawing, painting, sculpture, composition, perspective, and anatomy. It features an extensive library of over 1000 art classes taught by renowned master artists.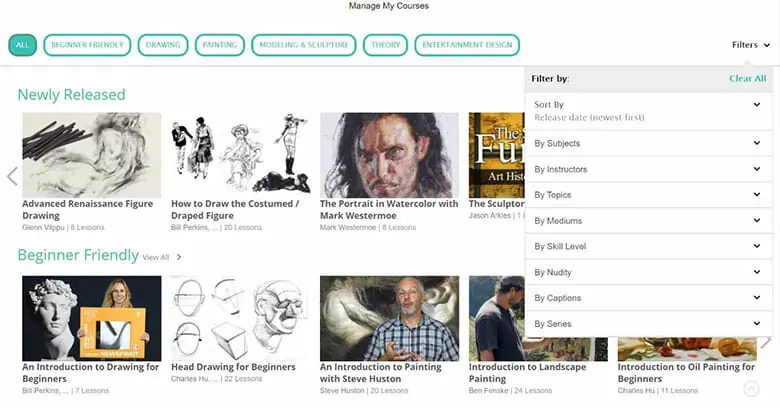 New Masters Academy is ideal for artists who wish to explore various mediums and techniques or develop a well-rounded foundation in art fundamentals. However, do note that personal coaching and group calls are optional extras with additional costs.
When choosing between the Evolve Artist program and New Masters Academy, consider your specific artistic goals and preferences.
If you're focused on becoming proficient in oil painting with a structured program and all-inclusive supplies, Evolve Artist might be your choice.
If you're interested in dabbling in a diverse array of artistic subjects and techniques, New Masters Academy could be the better fit – just keep in mind the added cost of personal coaching.
Is Evolve Artist Good?
Yes, Evolve Artist is great. I loved it, and I'm not alone.
Here's what other Evolve Artist students have to say, along with Before-And-After shots that exemplify a great system and results-driven option for those seeking an art course online.
How Much Does Evolve Artist Cost?
The price of Evolve Artist's first 4 Foundation Blocks costs $249 per month with the 12-month payment plan OR a single payment of $2500 (saving you $488).
For an art education program like this, you'd typically have to pay tens of thousands of dollars in art school tuition (not even including material, housing, and travel costs).
With Evolve, you get quality lessons at a fraction of the cost, PLUS the $1000+ in art supplies. (And you get to learn from the comfort of your own home.) It's a killer deal.
You can also save $100 right now on Evolve Artist with our Coupon Code: ARTIGNITION100
Is Evolve Artist Worth It?
Bottom Line? Yes, the Evolve Artist program is worth it.
Painting can be intimidating.
But Kevin Murphy believes anyone can do it with the right structure, skills, community, and confidence.
And that the Evolve Artist program is a clear path and the shortest path to eventually learning not just to make artwork but to craft poetry with it.
That kind of mentorship can make all of the difference.
Click below to buy the course and elevate your confidence and skills as a painter with real, tangible skills you can start building immediately!
And remember to use the coupon ARTIGNITION100 when you sign up for $100 off!