Are you an artist who feels frustrated with your current digital art skills and struggles to improve them, no matter how many tutorials and other videos you watch on YouTube?
Perhaps you've considered Digital Painting Studio's art course instead…
With a vast selection of courses catering to beginners and intermediate artists, this online academy can help you develop your illustration, concept art, and general digital painting abilities.
But is it worth it?
In this Digital Painting Studio review, you'll find out whether its courses are a good investment for your artistic journey.
Let's get started!
Overview of Digital Painting Studio
Digital Painting Studio (or DPS, as I'll refer to it) is a digital painting academy by Hardy Fowler.
The platform offers a variety of courses for artists of different levels and interests, ranging from basic digital painting techniques to advanced concept art.
It's a great academy for anyone looking to grow as an artist, personally and professionally, and it even has a career advancement track (more on this later).
It's an extremely affordable option for artists looking to invest in a professional art course.
Pros:
Affordable pricing and flexible payments
Forums and Discord communities that give you a sense of belonging and inspiration (I love their daily study sessions!)
A wide variety of courses that cater to different skill levels so you can be confident in your growth
Expert instruction from an industry professional so you get direct insight into the digital creative business
You can learn at your own pace
Jumpstart your art career with the career builder track (super useful)
Cons:
Doesn't cover any 3D or animation tools or processes.
A significant time commitment. Only take this on if you are serious about improving your art.
Who is Hardy Fowler?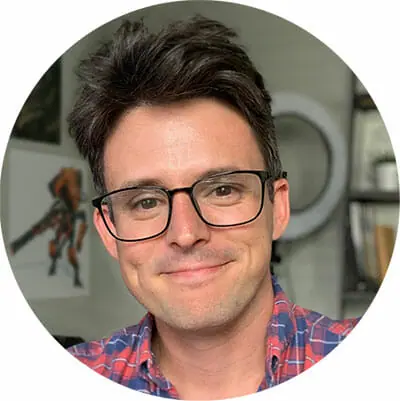 Hardy Fowler is the Founder and Expert Instructor of DPS.
He has over 14 years of extensive experience in the digital illustration industry, working with a variety of IPs (intellectual properties) and companies such as Disney Imagineering, Games Workshop, and Blockade Games.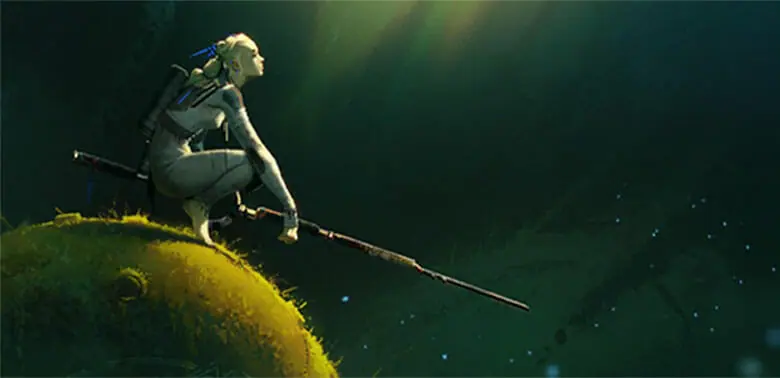 As an experienced concept and digital illustration artist, he provides valuable insight into what the industry requires so that you know exactly what to expect in the real world after taking his classes.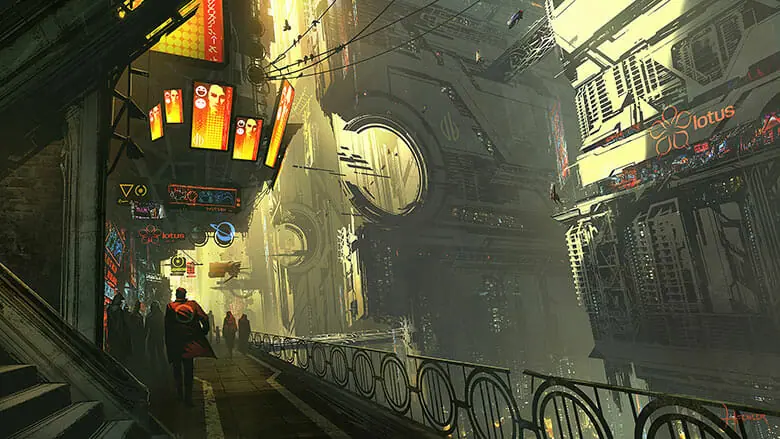 With a portfolio that spans a wide range of styles and genres, Hardy is well-equipped to help beginner and intermediate artists develop their skills and create compelling digital art.
Unique Features and Benefits of Digital Painting Studio
Here are just a few great things about Digital Painting Studio:
Access to a wide variety of courses that cater to different skill levels and interests so you can feel empowered, motivated, and confident in your ability to progress and succeed as an artist.
An expert instructor who has extensive experience in the digital painting and concept art industry which gives you technical knowledge and insight behind the creative process of an industry professional
Interactive elements, including forums and communities, provide opportunities for students to engage with instructors and other like-minded individuals, forming meaningful connections and friendships that can support you in your artistic journey.
Affordable pricing and flexible payment options reduce financial stress and provide a sense of relief for artists who may feel limited by their budget, so you're free to pursue your artistic goals without financial burden.
Course Content and Structure
DPS offers a range of courses that cover various aspects of digital illustration, from foundational techniques like form, lighting, and Photoshop tool essentials to more advanced courses in concept design and creature and machine painting.
In these next few sections, we'll take a look at the course details and instructor quality.
Clarity and Organization of Course Material
All-in-all, the course material on Digital Painting Studio provides a well-rounded, detailed education, covering a wide range of topics, including figure and face painting, line art, environment painting, and tons of other courses that build your professional portfolio.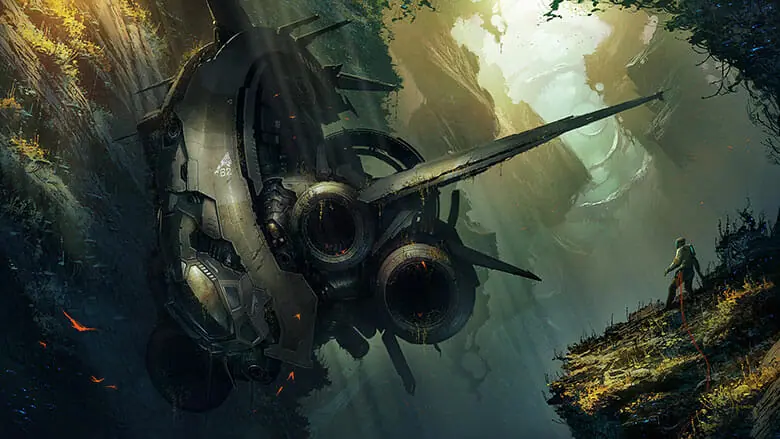 I found the video lessons to be clear and concise, making it easy for me to follow along and understand the concepts. On the odd chance I had any questions, people from the community were fast to respond.
The courses are organized in a logical learning path that builds on the previous lessons.
For example, in the Starter Accelerator Track, you start with basic foundational techniques such as color theory, composition, and lighting, before progressing to the SkillBuilder Track, which has more advanced topics such as character design and concept art.
The learning paths in each of the Tracks provide a clear and structured approach for students.
The courses are designed with a comfortable pace that allows for consistent learning without overwhelming you with too much information at once.
For the completionists out there (raises hand), with each video you finish, it's ticked off so you can keep track of where you are at. It gave me a real sense of progress.
Teaching Style
As a teacher, Hardy is engaging and informative in his teaching style.
The courses are pre-recorded, well-structured, easy to follow, and provide you with a wealth of industry knowledge and skills. It's like Hardy downloaded his brain onto the screen.
The courses are also highly practical; you take what you learn and apply it almost immediately with exercises and mini-projects throughout the course, and you can even get community feedback in the Discord server (more on this soon).
And if you prefer live classes and personalized feedback, you can receive live mentorship from Hardy with the Career Building Track (and if you couldn't guess, this track is designed to also jumpstart your art career).
Course Features
The material is presented in various formats, including videos, tutorials, and study assignments.
The videos are shot through a high-quality lens (when focussed on Hardy) or high-resolution screen shares. It's like you are looking over Hardy's shoulder as he provides step-by-step demonstrations, explaining his process and thought patterns as he goes.
No blurry images, so you get to see every miniscule detail in action.
All the tutorials and projects Hardy does are in Photoshop, and are eye-catching, stunning pieces that allow students to practice what they've learned.
Materials Needed
If you're looking into a digital creative course, you probably already own an Apple product (like an iPad pro) or a tablet (like a Wacom tablet) to make your own work…
But if you haven't purchased one yet, you will need one in order to follow along with Hardy's courses.
Photoshop is his primary software, and if you want to learn easily I recommend taking advantage of a student subscription.
However, many of the functions and techniques Fowler uses are applicable to other drawing software like Clip Studio Paint or Procreate. The interface (and smaller steps) will be slightly different, but it's doable.
At face-value, starting your journey into digital drawing from traditional artwork will be quite the learning curve, but Digital Painting Studio has covers this in their beginners Photoshop lessons. It's never too late to start and learn new techniques, you just need the right tools.
Interactive Elements of the Course
Hardy provides you with awesome, FREE digital art resources, including discussion forums and community practice in the academy's Discord server (which I'm so glad to be a part of), which is a treasure trove of inspiration and like-minded artist connections.
There are several labels within Discord, including social, intros, inspiration, peer-feedback, and even LIVE creative session tabs.
Members even partake in daily studies, where everyone works on the same image and shares their renditions for constructive criticism focused on artistic growth.
From my experience, they are challenging pieces. But there is so much to be learned through observation alone, and it's really interesting to see the different renditions the other members come up with.
And luckily, there are often professional artists on call who are more than happy to provide feedback and answer any questions I have.
Price and Value
Digital Painting Studio is an affordable option for artists who are looking to improve their digital drawing skills.
The courses are priced competitively and offer good value for the price, with monthly subscription options that won't break the bank (you can start FREE with the Starter kit, and the Skillbuilder track is only $39/m ).
Compared to other digital art courses on the market, whose courses range hundreds or even thousands of dollars to attend, DPS offers a great balance between affordability and high-quality, detailed instruction that will take your art to the professional level.
Not to mention, its art career-building track is perfect for those who want a job in the industry.
Accessibility and Usability
DPS is easy to use and accessible for artists of all levels.
The learning platform is user-friendly and easy to navigate, making it easy for students to access class material and resources.
Additionally, the subscription courses are self-paced, which allows students to work on their own schedule and at their own pace.
The flexibility is helpful for artists who have busy schedules or other commitments, but if you have a more open schedule and want a personalized learning experience with Hardy himself, his mentorship program runs multiple times a year over 12 weeks with regular calls.
Industry Relevance: The Career Builder Track
DPS provides technical skills and knowledge that can be applied to the digital design industry.
Of the three tracks, the Career Builder Track specifically focuses on building the necessary skills required of a professional digital illustrator and concept artist.
Courses include a design module, where you learn the principles, habits, and tools that will help you create stunning concept art from a simple idea.
There is also a painting module, 18 projects, and an exercise library, among others.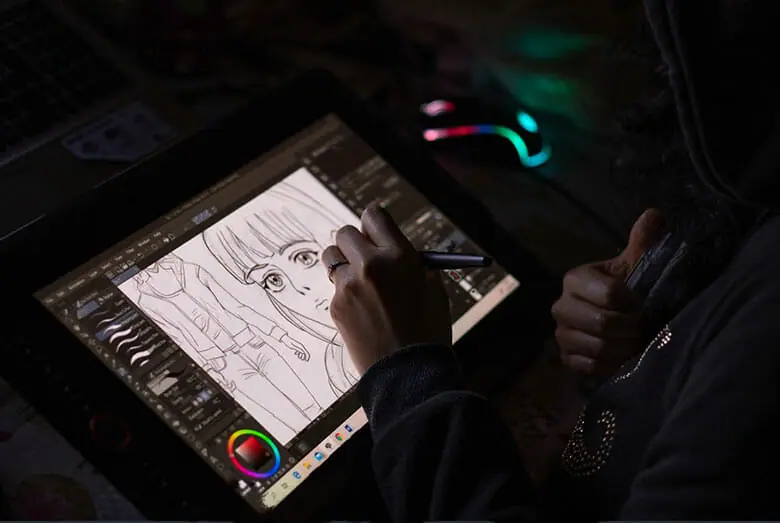 There are two subscription options for this career track; self-guided or LIVE classes and mentorship.
Both options will give you impressive, high-quality portfolio pieces that you can use when applying for a career in the industry; in other words, you've got a head start where others don't.
Things to Consider Before Investing in Digital Painting Studio
Before investing in DPS, it's important to consider your goals and what you hope to achieve from the courses.
If you're looking to improve your digital drawing skills, or work your way to becoming career-ready, DPS can help you achieve that.
However, it's important to note that the courses require a significant time commitment, so it's important to have the necessary time and motivation to complete the courses.
The courses are best suited for novice or intermediate artists who are looking to improve their concept art skills.
If you're an advanced artist looking for more specialized courses or techniques, DPS may not be the most fulfilling.
In this case, you may want to consider other digital creative learning alternatives, such as CGMA.
Digital Illustration or Concept Art Course Alternatives
When it comes to digital creative education, you have several options to choose from.
Some popular alternatives to Digital Painting Studio are CGMA, CG Spectrum, and New Masters Academy. Let's take a short look at them now.
CGMA
CGMA, or Computer Graphics Master Academy, is an online learning platform that offers specialized courses and techniques for advanced artists.
Taught by industry professionals, courses focus on topics such as character design, environment art, and visual development.
While CGMA is more expensive than DPS, it provides a tailored and advanced learning experience.

These classes vary in price and cover topics such as animation and 3D rendering.
Ultimately, the choice between DPS, CGMA, and other online art classes depends on the artist's goals and needs.
Digital Painting Studio is best for beginners and intermediate artists seeking comprehensive and affordable learning in concept art and design. CGMA is best for advanced artists seeking specialized courses, while other online digital art classes cater to a variety of skill levels and interests.
CG Spectrum
CG Spectrum is an online educational platform that provides specialized courses and techniques for advanced artists.
Taught by experienced industry professionals, the courses focus on topics such as character design, environment art, and visual development.
Their team of experts provide personalized instruction and mentorship, ensuring that students receive the best education possible.
However, it's important to note that CG Spectrum is not only more expensive than DPS, but doesn't have the supportive community DPS has within it's Discord chat.
If you're considering enrolling in CG Spectrum, I recommend reading this review to get a better understanding of what the academy has to offer.
New Master Academy
New Masters Academy (NMA) is an online art school alternative that offers courses in a variety of areas, including art fundamentals, illustration, and painting.
Like CGMA, CG Spectrum, and Digital Painting Studio, their instructors are top industry professionals who provide a solid education in drawing and painting.
NMA is a great choice for digital artists looking for a more well-rounded education that covers multiple areas of art.
However, for those specifically looking to improve their design and digital painting skills, Digital Painting Studio (DPS) may be the better choice due to its more focused and up-to-date approach to concept art education.
If you're considering enrolling in NMA, I recommend reading this review to get a better understanding of the academy courses and details.
What Others Have to Say About Digital Painting Studio
Here's what student William Sampson had to say about his experience:
Since starting my first training module from Digital Painting Studio, I've been completely hooked.

I feel it's the best art training I've ever had, and it has revolutionized my art skills. I'm not amazing or anything, but boy has it increased the quality of my work.

I have since signed up for all his other modules and enjoyed them immensely. The lessons were interesting, easy to understand, and the teacher clearly has a passion for what he does, which keeps the student engaged.

Can't wait for more lessons to come out – would definitely recommend.
Another student, Darko Silverstein, shares a similar story:
This course has been an absolute game changer, like hitting the fast forward button on my progress.

Hardy does such a great job of not only providing simple breakdowns of how to approach pretty much any project, but also cultivating a super supportive community.

I couldn't possibly recommend it more highly for aspiring concept artists.
Is Digital Painting Studio Worth It?
If you're looking to jumpstart your art career in concept art or just want to systematize your artistic process, Digital Painting Studio (DPS) could be just what you need.
Although DPS may not offer specialized course offerings or accreditation, its emphasis on providing affordable education and expert instruction can greatly benefit aspiring digital artists looking to unleash their creative potential.
By enrolling in DPS courses, students can receive personalized guidance from experienced instructors who are passionate about helping students achieve their goals in the digital arts field.
With DPS, students can gain access to valuable resources and training that can help them develop the skills needed to succeed in this competitive industry, all without breaking the bank.
DPS offers learning paths tailored to any level of artist, making it a great option for novice artists and those looking to kick-start their career.
Don't miss out on this incredible opportunity to take your digital art skills beyond what you thought possible with Digital Painting Studio.