Do you feel torn between buying a Cintiq pen display and conserving money or space?
Spending hours shopping around for the best-suited tablet for your needs really sucks when you have amazing art to make.
If you're looking for a reliable happy medium that feels natural to draw on, without wrecking your finances, I may have found what you seek.
In this Wacom Cintiq 13hd review I will help you find out if this is the graphics tablet that's just right for your artistic needs.
Things To Consider Before Buying A Pen Display Tablet
Image Source: Youtube
Visual drawing pads like the Cintiq 13hd creative pen display have, with various levels of success, done away with many downsides of traditional drawing pads.
It's a relief to skip the process of retraining your hand-eye coordination when you get a new tablet. A pen display has a screen where can see your work and draw directly on it, instead of having to look at a separate computer screen like you do with traditional pen tablets.
It feels more like drawing or painting "for real." Minus the joys of sharpening, stray brush hairs, eraser fuzz, and grooves in the paper…This makes pen display tablets like the 13hd ideal if you're eager to get started without that disconnect and learning curve.
Note that the 13hd must be plugged into a computer to work. If you need a standalone pen display you should look at the Cintiq Companion instead.
Before you choose a pen display, you'll also want to think about these factors:
What You Will Use It For
Do you need powerful software? You will need a decent computer to run it, and a pen display that's compatible and strong enough. Budget options aren't always compatible with top software.
Your Budget
Cintiq pads are known for being pricey. The quality merits the price, but it can be out of many artists' financial reach.
There are products that cut the price tag by sacrificing quality, and there are greater Cintiqs with an even higher price. The 13hd is cheaper than the typical Cintiq, but still delivers.
Where You Will Use It
Are you looking for something to use on train rides, or bring to work or school?
Weigh your needs for power and drawing space against the portability and price to find your best fit.
Build Quality
A lighter, cheaper tablet often means a weaker build that's more prone to damage, and less powerful machinery. However, reliable brands can balance this well.
Somewhere between minimalism and versatility, you'll find the sweet spot for your digital drawing needs.
A Closer Look At The Cintiq 13HD
Image Source: Wacom
The Cintiq 13HD is the upgraded successor of the 12wx. It's bigger and stronger, while remaining significantly cheaper and more portable than the 22HD.
However, Wacom removed the touch function, so unless you choose to upgrade to the Cintiq 13hd touch, the pen display is numb to your artistic touch.
It's a kind of "jack of all trades" type of tablet, rather than a one-trick pony. It's great if you're looking for a balanced option that still works and feels great.
Not quite optimal if you need the most powerful and responsive unit there is. I find these specs very versatile, but I've been known to draw mostly small things and if you're the opposite you may have to zoom a lot.
Pros
Portable Yet Powerful: For its small size, good price, and simple build, the Cintiq 13hd is a formidable creative tool. Great for traveling artists.
Amazing Stylus: The Pro Pen has an ergonomic soft-touch grip, an eraser, side buttons, and great pressure response. It feels good and fun to use.
Realistic Feeling: The matte finish and quality nibs along with the sensitive pen make me feel like I'm using a real sketchbook.
Cons
No Touch: There's no touch response, so no finger painting, gesture shortcuts, or "right clicks". If you're used to those functions, you'll miss them and their workflow improvement.
Connections: The 13hd needs an adapter to connect to displayport and mini-displayport/thunderbolt sockets. Mac users in particular need to check first.
What's In The Box?
Image Source
Here's what you will get when you buy the Cintiq 13HD:
Cintiq 13HD creative pen display
Adjustable stand
Pen Case, with a Pro Pen, pen stand, 9 replacement nibs, and a nib removal tool
Wacom 3-in-1 cable with USB, HDMI, and Power connection
AC power supply
Installation CD and Cintiq 13hd drivers
Quick start guide
Cintiq 13HD Features And Benefits
A Portable Build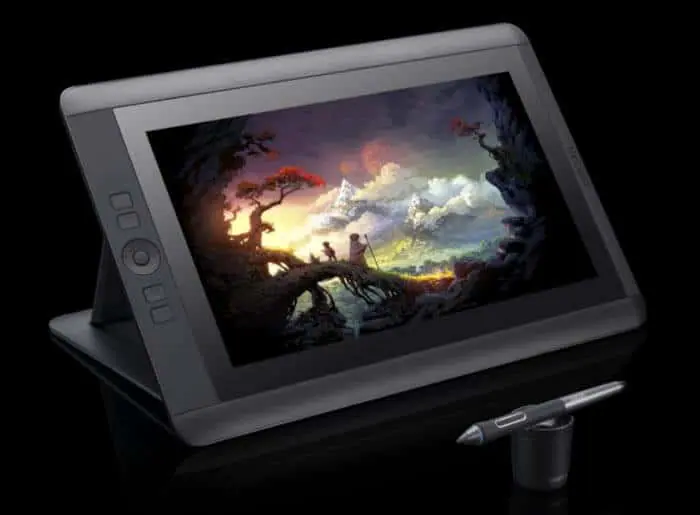 Image Source: Wacom
Weighing in at roughly 2.6 lbs, the graphics tablet is light without feeling like a cheap toy, I love this since I like changing postures and drawing on my lap or standing up. This light weight makes it perfect if you like to hold your tablet up while you draw.
An active area of 11.75 x 6.75 inches is equal to a medium size sketchbook, big enough to draw freely but small enough to bring along. If you're used to bigger drawing areas, using one of the four express keys or one of the directional keys of the rocker ring to zoom in and out will help you get comfortable with the size.
The Cintiq 13hd mount solution isn't as robust and flexible as the typical Wacom stand. It locks into three separate, fixed angle settings, and won't keep your tablet completely upright.
There's no VESA mount connection either. This is all a quite fair trade-off for a lighter tablet that fits in a small case.
Beside the carrying case sold by Wacom, there are some great third party Cintiq 13hd case options. The Bag of Holding is a popular choice, sturdy with enough space and divisions to organize and bring all your graphics tablet accessories wherever you go.
With a digital tablet this light, I can go almost anywhere to draw. It's not the most convenient for drawing on a crowded bus, but it's perfect for bringing and drawing in cafés or on your lunch at the office.
A Quality Screen
Image Source: Youtube
The screen has an HD resolution of 1,920 x 1,080p and 165 pixels per inch, which is a big step forward from the low-resolution 1,280 x 800p of the Cintiq 12WX.
I'm quite pleased with the contrast and general color quality. With its 700:1 contrast, 250nits brightness, and 16.7 million colors, the 13hd supplies vivid colors even through its matte coating.
The matte screen reduces glare and gives a more resistant feeling when you draw, similar to paper. It does dull the colors a bit, but if you like neutral colors the matte screen is even better for you. If you like extreme saturation or complete grayscale it may not be the right choice though.
However, the simple Cintiq 13hd driver gives you many options to configure the colors to your liking. If you feel constrained by dimness or oversaturation, you can break free with a few simple tweaks of the Cintiq 13hd driver settings.
Since I have a hard time sitting still when inspired, I appreciate the 178° span of viewing angles and low parallax, letting me see clearly without color distortion or cursor misplacement at almost every angle.
A Clever Pen
Image Source: Wacom
The Pro Pen that comes with the Cintiq 13hd is ergonomic and fun to use.
It's got 2,048 levels of pressure sensitivity in both ends. This pen sensitivity plus the paper-like feel of the nib against the matte coating makes it feel quite "real" and fun to use.
Three buttons on the pen speed up my workflow quite a bit, allowing for quick changing of size and such.
All of this makes it very easy to use, especially if you set the eraser to a different painting tool like I usually do.
As expected, the pen is battery-free and compatible with several other Wacom tablets.Its ergonomic design with a flared soft-touch rubber grip makes it comfortable to work for long hours without the tension I'm used to when working with simpler styluses.
I like how it comes with a neat little case for the pen and nibs, designed to fit in your pocket or tablet case for easier portability and a more organized case.
A Versatile 3 in 1 Cable
Image Source: Wacom
Do you like tangled cords in your carrying case, or the narrow portability bottleneck of setting up cords? Me neither, that's why I like the Cintiq 3 in 1 cable.
I've been struck by the urge to draw on a long commute many times, but given up due to the hassle required to even get started.
Since wireless connection is unfortunately not yet a viable option for this kind of digital tablet, Wacom tackle this issue with a clever 3 in 1 cable that handles all video and power through one slot.
The cable splits into separate USB, HDMI, and power connections in one end. The other end is one simple plug for the tablet.
It's practical but maybe a bit short, and it can get knocked out quite easily. So, it's not very ADHD-friendly, but a bit of tape will fix that. Also note that you will need an adapter if your computer only has USB displayport or mini-displayport/thunderbolt sockets instead of HDMI.
The Cintiq 13hd comes with its own power supply in case your unplugged laptop can't satiate its electronic hunger. Or if all you're a tech fanboy and your sockets are all occupied. I really like how the plug face can be swapped for different country outlets, since I travel a lot.
Other User's Experience With The Cintiq 13HD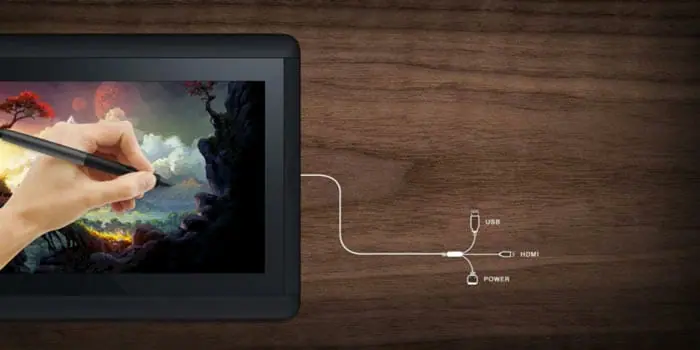 Image Source: Dell
I see this graphics tablet as a powerful drawing tool primarily for artists on the move. Artistry is as subjective as it gets though, and I don't want to overlook what could stand out to others.
Because I like to think of myself as an open-minded and relatively unbiased person (in my not so humble opinion), I looked around to see what other artists think when writing this Wacom Cintiq 13hd review.
Here's what they say:
Talking about the tablet now, I can say that it feels great. Pressure is awesome. It feels like the big Cintiq, and I like it a lot.
– ReiQ (Youtube Artist)
The thing that really sold it for me was the colors. The colors are Drastically improved from the 12wx, which is, for an artist like me, and a graphic designer, it is the most helpful feature to be able to see colors the way they would really look.
– Fin (Artist & Founder of SkyFin Media)
I can do precise work with this. I can do outlines, beautiful outlines. I can paint well. Everything's just more precise. I'm really happy with this product.
– Rocket Pen (Youtube Artist)
Comparison To Other Cintiq Tablets
Before you buy a Cintiq 13hd, consider the following alternatives.
Cintiq 13HD vs 13HD Touch
Image Source: Wacom
If you really want touch functionality and the shortcut gestures that come with it, the Cintiq 13hd Touch reintroduces this familiar signature function to the Cintiq 13 line.
Updated version: The Cintiq 13hd Touch is an upgraded version that came later and has a few differences. Nothing that stands out too much, other than the Touch function.
Special gestures: Zooming, rotating, changing brush size, and opening menus with a simple flick of my fingers is a great workflow booster.
This is an awesome pick for hopeless pen droppers and gesture shortcut fans. If you get annoyed by accidental touch reactions (or smudging when writing on paper,) you'll want a drawing tablet artist's glove, or the Cintiq 13hd without touch.
Cintiq 13HD vs 22HD
Source: Wacom
The 13hd is pretty much a minimized version of the 22hd, kind of like the miniature Schnauzer of tablets. Artists with more space and money and less need for portability should check it out.
Bigger Drawing Area: If you like drawing big stuff and don't like zooming, this is your kind of tablet. There's more room for panels and references.
More Powerful: Drawing area isn't the only the Cintiq 13 sacrifices for a more manageable size, over-all performance is a bit better on the 22hd.
Not Portable: This is a full-size display tablet and not meant for use on the go.
The Cintiq 22HD is more expensive, but if you have the money to spare and don't need portability it's the superior choice for you. Read our full Wacom Cintiq 22hd review.
Cintiq 13HD vs 27QHD
Source: Wacom
Cintiq 27QHD is the powerhouse of the Cintiq family and, in terms of purpose, it's a different device than the 13hd altogether. This is for those who draw professionally or aspire to be the new Rembrandt.
Higher quality display: If you're a color snob, this brighter screen with 97% NTSC color gamut is right up your alley. And you can feel the faster response rate of 12ms.
Huge drawing area: With this behemoth you'll have plenty of space for complex work, even with multiple reference images and advanced menus on screen.
Massive: You can't use this on your lap or bring it anywhere, it needs a designated desk.
The Cintiq 27qhd is not for everyone, it's a fancy specialty product for very serious artists and professionals.
Other Alternatives To The Cintiq
There's more than Wacom out there, and these cintiq alternatives may suit you better.
Artisul D13
Source: Artisul
Cintiq 13hd vs Artisul D13: which one is better?
Quite the doppelganger. Artisul D13 is a lightweight, simplistic pen display,with a battery-free pen with 2048 pressure levels. It even looks like a Cintiq.
This can make a good Cintiq 13hd alternative for hobbyists who want something cheap.
Less Pricey: If you're looking for a budget option, you've found it. Keep in mind that it comes without a stand, and has fewer features.
Less portable: The cord solution is nowhere near as elegant as the Cintiq, it's quite messy. The design and stand aren't quite as travel friendly either.
In summary, this copycat is a good choice if you're on a tight budget. But don't expect Cintiq level performance.
Surface Pro
Image From Microsoft
This ultra-portable laptop by Microsoft is an interesting candidate if you like to draw while traveling. The price and screen resolution are roughly equal to the 13hd, so it's all about other preferences.
Cintiq 13hd vs Surface Pro: what are the main differences? The Surface Pro is a standalone Windows device, no connections needed. The keyboard makes it an interesting hybrid.
More portable: If you draw everywhere you go, you'll love the fact that this machine doesn't need any connections, other than power when the battery is empty.
Keyboard: For keyboard power users and writers like me, the keyboard is a great feature.
Less precise: With half the levels of pressure sensitivity and so-so precision, you'll definitely feel that this is a multi-purpose device and not the best for serious artwork.
If you're all about portability and efficiency, this consolidated solution is worth considering.
iPad Pro
Image Source: Apple
Cintiq 13hd vs iPad Pro: what should you use? Apple's new tablet makes a pretty good tool for designs, artwork, and video editing. Having this built into the same device you carry around for pretty much everything else feels very practical.
If you like drawing on the bus or in the woods, the iPad Pro won't hold you back.
More portable: The iPad Pro is lighter than the 13hd and needs no computer or cord.
Stronger screen: The iPad monitor is a close match to the 27qhd, and has no matte finish. Perfect if you need great color quality.
Simple stylus: The lack of buttons, hover sensitivity, and calibration options, drawing on the iPad has a more primitive feel to it.
If you're a hobbyist looking for something to sketch on, the iPad Pro is something to look into.
Our Conclusion
It's no fun having to choose between an affordable, portable tablet and one that actually does what you want it to do.
If you aren't able to buy multiple tablets but need a balanced option that feels realistic, the Cintiq 13hd interactive pen display is a worthy contestant for your time and money. It's so nice to be able to just bring a powerful tablet everywhere, without breaking the bank.
Since you've read this Wacom Cintiq 13hd review all the way to the bottom, you're probably thinking it's a good choice for you.