Do you suffer from Blank Canvas Syndrome? Don't know how to start your oil painting? Would you like a strong foundation for your artworks?
Blocking-In could be the answer for you…
Below you'll find out what blocking in is and how it can help you refine your ideas, improve your composition, and make the painting processes much easier.
What is Blocking in Painting?
Blocking is the technique of creating an underpainting to establish "blocks" or shapes of basic color and/or value with minimal detail.
Similar to when you write an essay, you don't start by writing a finished draft; you make an outline first.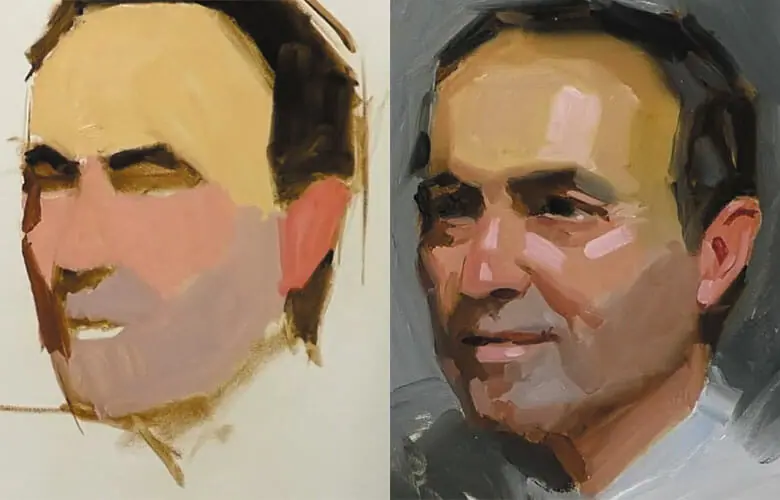 The same applies to blocking in, it's like your "outline" for your painting. Later, you can add different elements to refine your painting, like texture, refined gradients, and tone, to make your blocked-in painting into a complete piece.
It's a Map for your painting journey, so you don't wander and get lost. A color and/or value map empowers you to add details later with confidence.
Block Paint Layers vs. Final Painting
These images show what a painting looks like when using a color block painting technique. Blocking in Big Shapes exposes problems before too much time is invested.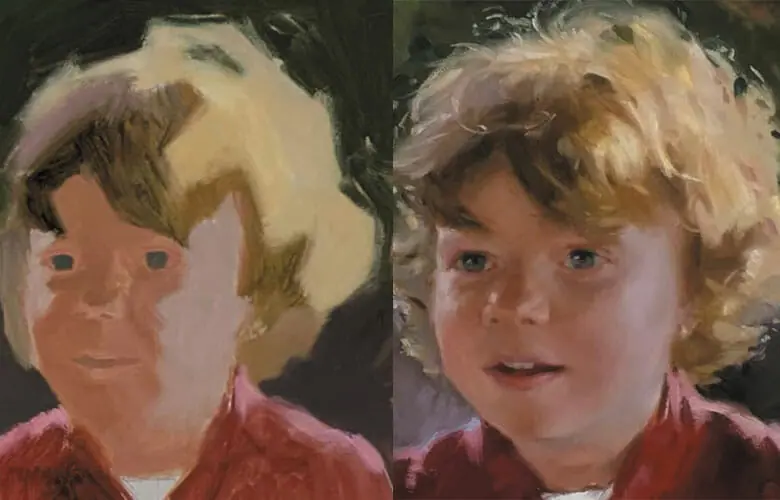 Why Use Blocking in Oil Painting?
Artists generally use blocking to speed up the process and limit worry and frustration in the later stages of the final painting. Blocking in art frees an artist to:
Check your composition in the first stage to see if the picture space is being used properly.
Make changes early and easily – you can move elements around quickly without using a lot of expensive supplies, like using Post-it notes to plan a project.
See the value range of the layer and determine the "key" (light or dark dominance) of the painting.
Test how colors might affect each other and the overall painting.
Drawing the outline of shapes and adding value and/or color in thinned paint is similar to a sketch that you can "erase" with water or solvent and a rag if something in your composition doesn't look right.
This technique makes it much easier to identify needed changes to a major aspect of a painting in the beginning rather than to tediously change things later in the painting process.
Some painters like a blocky painting style with fewer details and leave works in this stage with little refinement.
Supplies Needed
This painting process can be done in thin oil or acrylic. You will need a sturdy surface (canvas, canvas board, or canvas paper work well) that can withstand drawing and scrubbing with stiff brushes and moistened rags.
You can use cheap paint (student grade), as most of your marks will be covered in the next layers.
Blocking a painting can be done with acrylic even if the rest of your finished work will be in oil, but not the other way around; the "fat over lean" rule must be followed.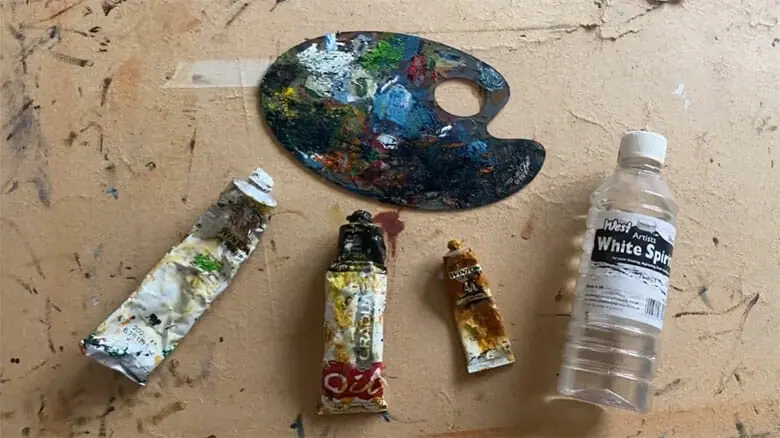 If using acrylic to block in your painted areas, it should be thinned with water to avoid thick layers and help your underpainting dry quickly.
When blocking-in art in oil, I use odorless mineral spirits to thin the paint (turpentine can cause headaches) like water for acrylics.
Many artists opt for burnt umber to draw with, but you can use any dark color.
Learning More Painting Techniques
Blocking is a popular technique where painters use a layer of thin paint with few details to check composition, value, or color before spending time and energy on more challenging details.
This technique is like an outline for your paintings!
Using this approach generally gives the artist more CONFIDENCE, like warm-up sketching in pencil or charcoal.
To learn more exciting techniques like this one, check out our favorite online painting classes!