What are watercolor pencils? How are they different from colored pencils? Which ones should I buy from the many many options available online?
You might have these questions in mind …
I've been there too. And spent hours hunting for the answers.
That's why I've put together this easy to use and practical guide. Below, I list the pros and cons of my favorite pencils. After that, I'll walk you through everything you need to know to pick the right pencil set for your art journey.
My Favorite Watercolor Pencils Comparison Table
1. Caran D'ache Museum Aquarelle Pencils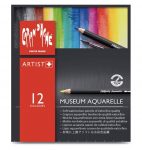 Best professional watercolor pencils
Beautiful, rich pigments
Lightfast
Gets easily activated with water and remains vibrant
2. Derwent Colored Watercolor Pencils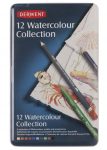 Best watercolor pencils for beginners
Most value for money
Perfect for blending and mixing
The soft and creamy core
3. Faber-Castell Albrecht Durer Artists' Watercolor Pencils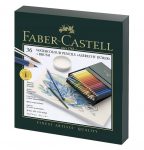 Best watercolor pencils for sketching
Extremely versatile and vibrant
Thick 3.8 mm core
Break-resistant
Easy to activate and blend
Watercolor Pencil Reviews: My Top Picks
1. Caran D'ache Museum Aquarelle
Best Professional Watercolor Pencils
Lead diameter: 3.8mm | Available sets: 12, 20, 40, 76, 80 | Extras: Synthetic Brush
Designed for professional artists, this Caran D'ache Museum Aquarelle set is among the most high-quality watercolor pencils available. It comes in a sturdy cardboard box with a foam tray.
I find this essential 12 color set the most versatile collection to begin with. The hexagonal build offers a good grip, there's a generous 3.8 mm diameter and the pencil's end has a band with the pigment color.
Pros
Each pencil has a thick core with beautiful, rich pigments.
The pencils move smoothly on watercolor paper, and there's minimal crumbling.
These versatile pencils can be used for a variety of techniques including blending, layering, and drawing.
The paint dissolves so beautifully that you won't be able to see any trace of the pencil marks.
Closest to real watercolor effects. Some watercolor pencil layers become permanent when they dry out. With these, you can still re-wet and lift colors.
Extremely lightfast.
Cons
2. Derwent Watercolor Pencils
Best Watercolor Pencils For Beginners
Lead diameter: 3.4mm | Available sets: 12, 24, 36, 48, 72 | Extras: None
Derwent is a British company best known for its high quality regular and Inktense water coloring pencils. This versatile set with 24 pencils is just right for getting started. You'll get professional quality pencils without breaking your bank.
The pre-sharpened pencils have a soft wax core encased in a hexagonal barrel. Color information is printed on the barrel.
Pros
Best value for money.
Vibrant colors and smooth application.
Releases color instantly when you add water.
There is a minimal color shift from wet to dry.
Perfect for blending and mixing.
Works well with dry and wet drawing.
Cons
Low lightfastness.
Moderate depth of color.
Dries up too fast.
See this Derwent Watersoluble Media guide for swatches and tips.
3. Faber-Castell Albrecht Durer Artists' Watercolor Pencils
Best Watercolor Pencils For Sketching
Lead diameter: 3.8mm | Available sets: 12, 24, 36, 48, 60, 120 | Extras: Water brush & water cup
Faber-Castell is a German manufacturer of art supplies – renown for their quality. Among their range of watercolor pencils, I find the Faber Castell Albrecht Durer watercolor set to be the most versatile. You can buy these pencils as sets or individually.
The Albrecht Durer studio gift box set comes with 36 artists' watercolor pencils, a size six water brush and a small water cup. The pencils have a thick, oil-based 3.8mm core in an 8.3mm cedarwood, hexagonal barrel. The entire body of the pencil is painted in the pigment color, with information printed in silver.
Albrecht Durer watercolor pencils are suited for professional work that can be sold or displayed.
Pros
Extremely lightfast.
Versatile – can be used dry or wet, and on black and toned paper.
Rich, soft pigments ideal for blending and layering
Offers great control (with both applied pressure and water).
A small amount of paint spreads over a large surface.
Sturdy and versatile. You can easily use them for sketching outdoors or at home.
Cons
4. Staedtler Ergosoft Watercolor Pencils
Best Watercolor Pencils For Kids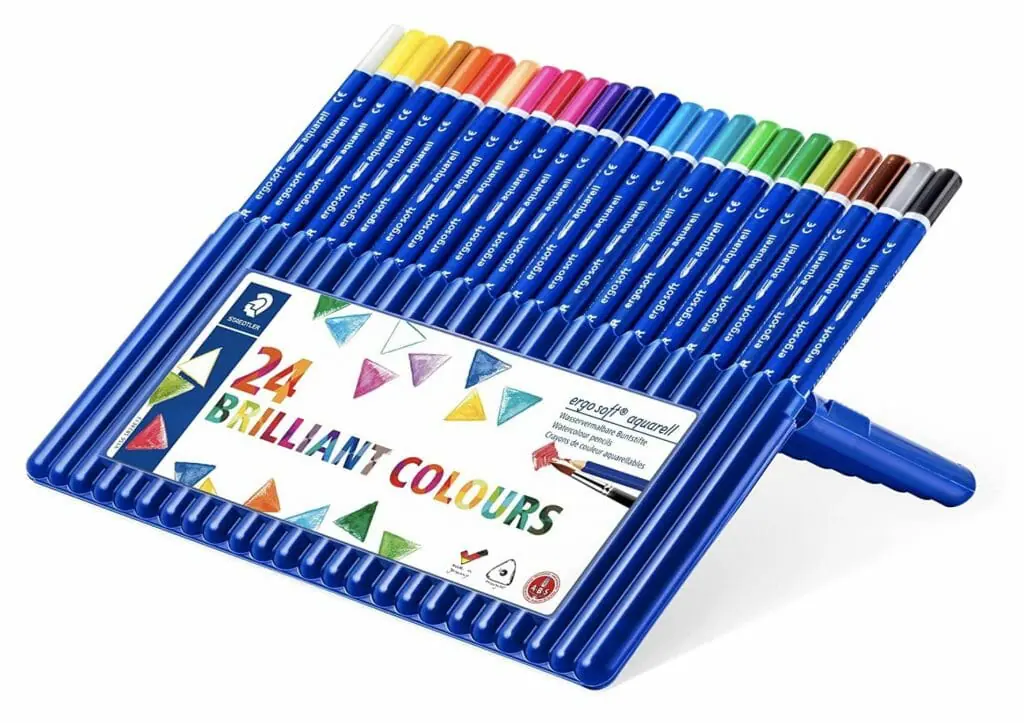 Lead diameter: 3mm | Available sets: 12, 24, 36 | Extras: None
Water-soluble colouring pencils are perfect for kids. The wood comes from sustainably managed forests. You can use these pencils to draw freehand or in coloring books.
The bright blue pencils have a colored end that indicates the pigment. The soft, wax-based core has ample pigment. I like to use this set for quick, thumbnail sketches with a single application of water.
Pros
Great value for money.
Triangular shape for a non-slip grip and easy control.
The stand-up plastic case allows easy access.
Bright and pleasing colors that flow smoothly.
Break resistant. These pencils have superior lead protection due to an internal layer of white resin. They hold up great under rough, careless use.
Works well on black and colored paper.
Cons
Being student grade pencils, some lines might show through even after applying water.
Limited color selection.
Won't support layering.
5. Prismacolor Premier Water-Soluble Pencil Set
Best Watercolor Pencils For Illustrations
Lead diameter: 4mm | Available sets: 12, 24, 36 | Extras: None
Prismacolor watercolor pencils are massively popular for their intense, vibrant colors and buttery smooth blending. This set comes in a small storage tin with three plastic trays holding 36 round-barrel pencils.
The colors absolutely pop out. You'll love using these for journaling, adult coloring books, greeting cards, and drawing cartoons or fashion illustrations.
Pros
Lightfast, highly-saturated colors with a creamy consistency.
Works with wet and dry techniques.
Lays easily on paper and great for graded applications.
Wets easily with just a little bit of water.
Easy to blend
Nice range of colors that work for all kinds of painting from portraits to landscapes.
Cons
These are delicate pencils. The soft leads tend to snap easily and the soft barrel is also prone to scratches and splits. Sharpen them carefully and avoid electric sharpeners.
The tin box design makes it difficult to remove the plastic trays.
Fewer shades compared to other professional brands.
6. Caran D'ache Prismalo Watercolor Pencils
Best Watercolor Pencils For Detail Work
Lead diameter: 3mm | Available sets: 12, 18, 30, 40, 80  | Extras: None
High-quality, water-soluble set of pencils for beginners and intermediate artists. These are the slimmest core watercolor pencils in Caran D'ache collection; designed for detailed painting in both wet and dry techniques. These pencils come in a variety of sets and open stock.
You can use this set for superimposing different colors, water-colour effects, coloring, cross-hatching and mixed media.
Pros
Softcore with high pigment concentration. Colors are intense when dry.
Thin lead allows a clear and precise mark-making.
Pigments move smoothly once activated with water.
Excellent lightfastness.
Hexagonal, cedar wood barrel for comfortable grip and easy sharpening.
Cons
Pigment names are not printed on the barrel.
Not suitable for delicate layering.
7. ARTEZA Professional Watercolor Pencils
Best Value For Money Pencils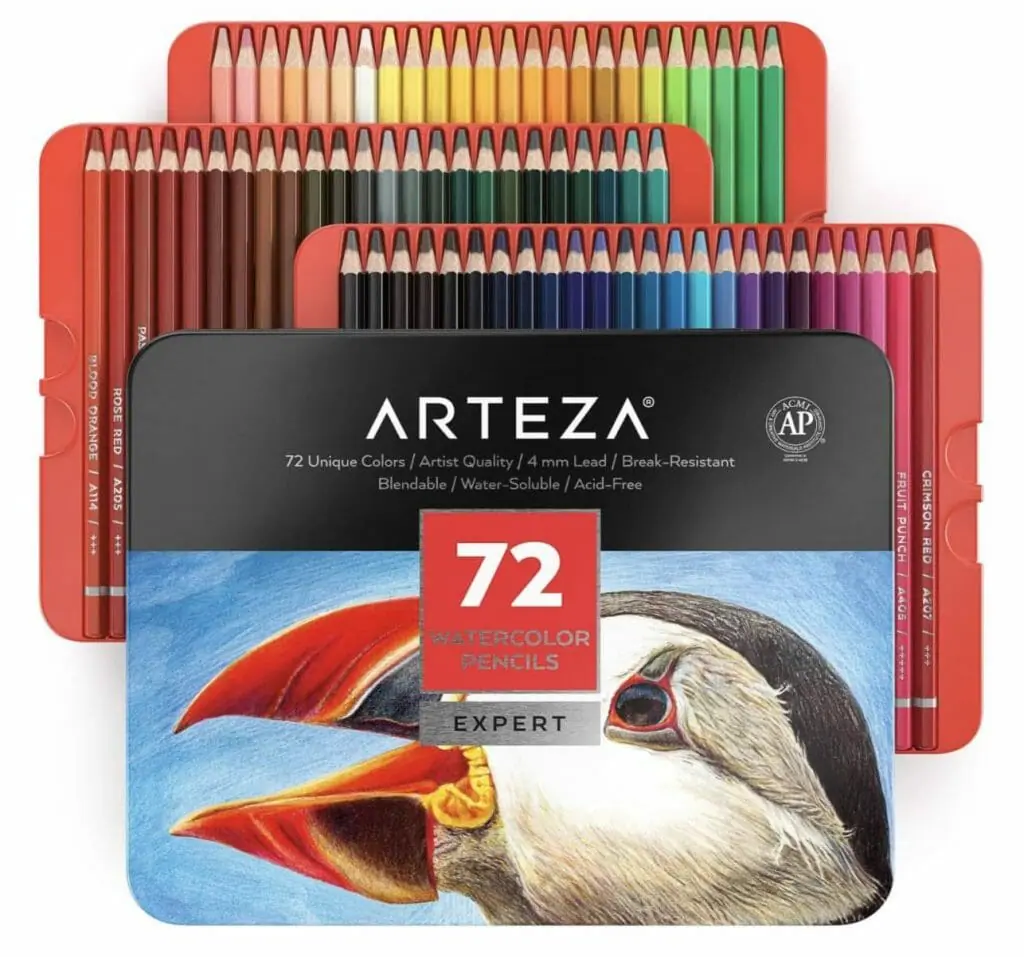 Lead diameter: 4mm | Available sets: 48, 72, 120 | Extras: None
This ARTEZA watercolor pencil set comes with 72 colors in three pans that fit into a compact and sturdy metal box. The pencils have a strong 4mm wax core with a 7.5mm, hexagonal, soft-wood barrel.
Each pencil is labeled with the color name, color number and lightfastness. A color chart is printed inside the lid.
The colors are certified non-toxic, making it a perfect gift idea for artists, coloring book enthusiasts, older kids and teenagers. Use these colors for journaling, mixed media paintings and crafting.
Pros
Brilliant, deep colors that create a rich, full-bodied application.
The tin is sturdy and closes well.
72 unique shades sorted into three trays – each designed as an independent set. I've reorganized them to suit watercolor techniques that I use.
A dense and durable core that is break resistant. You can sharpen them with both electric and handheld sharpeners.
Bright colors with plenty of dark shades.
Cons
The core of Arteza pencils has more fillers, making some colors feel waxy. It is slightly difficult to smooth out lines.
Only available as sets.
Fewer pale shades.
Low lightfastness.
8. Derwent Inktense Watercolor Pencils
Best Watercolor Pencils For Intensity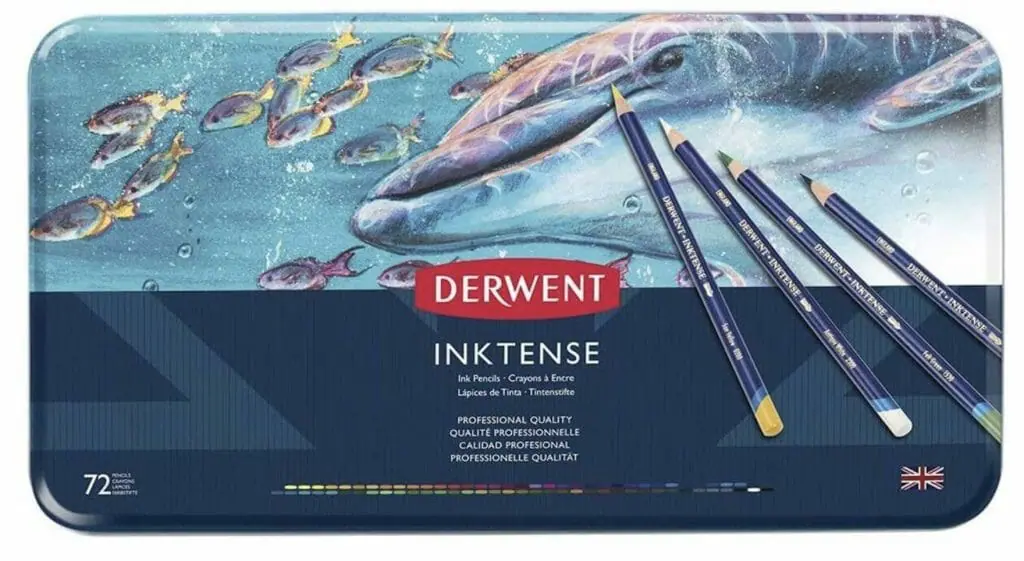 Lead diameter: 4mm | Available sets: 6, 12, 24, 36, 48, 72 | Extras: None
Inktense pencils are a popular range of water-soluble pencils by Derwent. The pigment dries to a hyper-intense, glossy finish – which makes it unique.
This set of 72 Inktense pencils comes in a sturdy tin that closes well. Color details are printed on the round barrel; a 6 or higher rating is considered to be lightfast.
Inktense colors are permanent when they dry out. Once dry, you cannot lift them or rework them (this is how it differs from the Derwent Colored Watercolor Pencils set). 
From quilters and hobbyists to graphic designers – anyone looking for bold and expressive coloring will love Inktense pencils. Just right for painting tropical fish, dreamscapes or even a bright red coat!
Pros
Extremely vibrant colors with ink-like intensity.
Can be used on fabrics like silk and cotton, toned and watercolor paper. Great for mixed media art.
Highly pigmented colors that intensify with water.
Colors can be layered easily and still maintain a nice depth of color.
Cons
Not suited for a genuine watercolor feel.
No cream colors in the set (for convenient portrait paintings).
Cannot be used dry, as the colors appear dull and faded out.
Needs some scrubbing to activate them with water; so it is preferable to use synthetic brushes.
9. Cezanne Professional Watercolor Pencil Set of 24 Colors
Best Budget Watercolor Pencils
Lead diameter: 3.3mm | Available sets: 24, 72 | Extras: Number 4 Brush
Cezanne Professional Watercolor Pencil Set is a good watercolor pencil set that you can get at extremely affordable rates. This set of 24 colors comes in a foldable cardboard case that can easily fit into your bag. Perfect for watercolor journals and outdoor sketching.
The smooth, round barrel pencils are clearly labeled with lightfastness information. The bottom half of the pencil indicates the color of the lead.
Pros
Superior, highly pigmented lead that holds a point well.
Vibrant colors that pop up. Great for adult coloring books.
Strong, hardwood casing that is break resistant.
Shades are carefully chosen to provide a middle, dark and highlight tone of essential colors.
Works well when used dry. You can even pick up color directly from the nib with a brush.
Cons
Pigments can feel a little stiff on application. They don't activate well.
You can't use these pencils for wet nib drawing.
Pencils tend to fall out of the flimsy cardboard packaging. A plastic box would have been a better alternative.
10. Koh-I-Noor Woodless Watercolor Pencils Set of 48
Best Watercolor Pencils For Coloring Books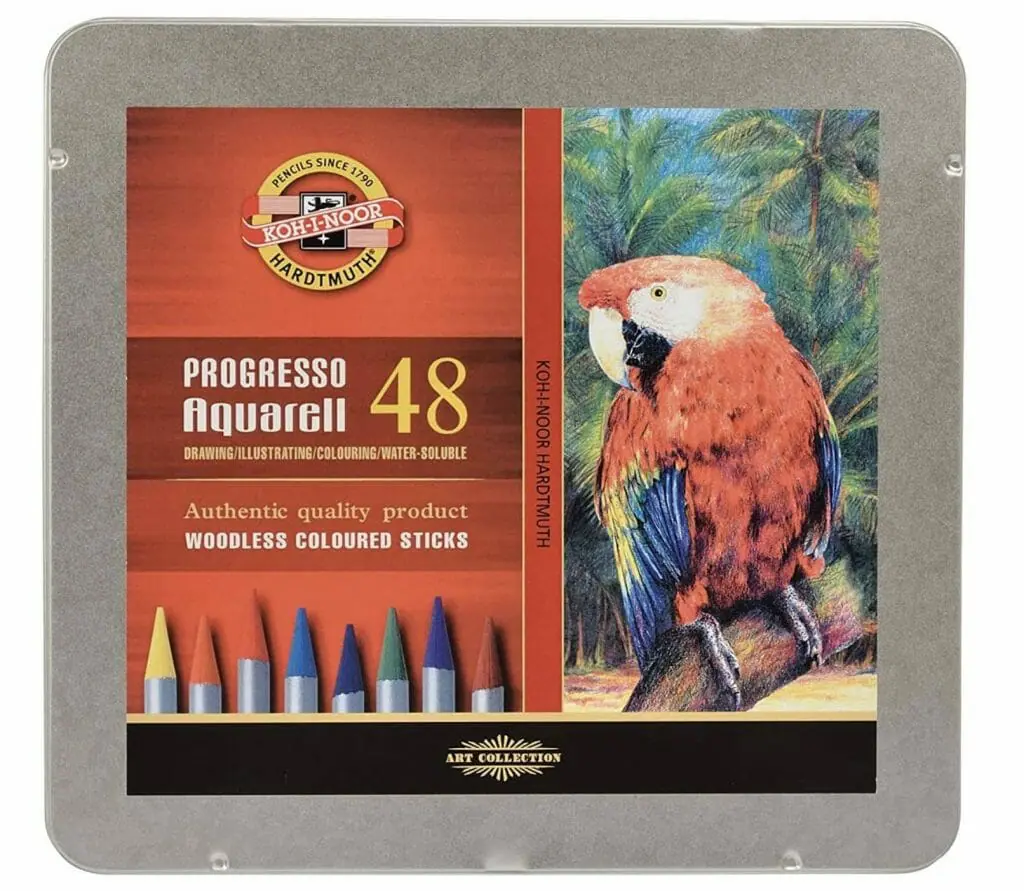 Lead diameter: 7.3mm | Available sets: 12, 24, 36, 48 | Extras: None
Rich and vibrant, these highly pigmented water colouring pencils are smooth and easy to use. They are woodless pencils which means the entire pencil is pure pigment protected by a silver lacquer layer.
This 48 color set comes in a metal tin with the pencils arranged in two, diagonally-placed sets. I like that there are flaps to lift out the pan easily. You can also buy them open stock.
The brand name, pigment number and lightfastness rating are printed on the smooth round barrel. Koh-I-Noor also manufactures a Mondeluz range with wooden barrels that come in a 72 set.
Pros
Can be used wet or dry.
Pigment activates easily. The pencil lines cannot be seen once water is applied.
Oil core pencils that can be sharpened quite easily into a fine point.
Overall, a nice collection of colors including convenient shades like skin tones, earthy colors, pinks and purples.
Cons
Many colors have a low lightfastness rating.
Not as easily available as other brands. Also, due to import fees, the sets can end up being more expensive.
Watercolor Pencils vs Colored Pencils – What's the Difference?
What makes watercolor pencils so special? Let's compare them with some similar mediums …
Traditional or 'True' Colored Pencil
Regular colored pencil has an oil or wax-based binder which helps it to stick to the paper surface. That's why they are great for dry layering and blending.
Regular pencils can be blended using alcohol, colorless blender pencil or with a white pencil.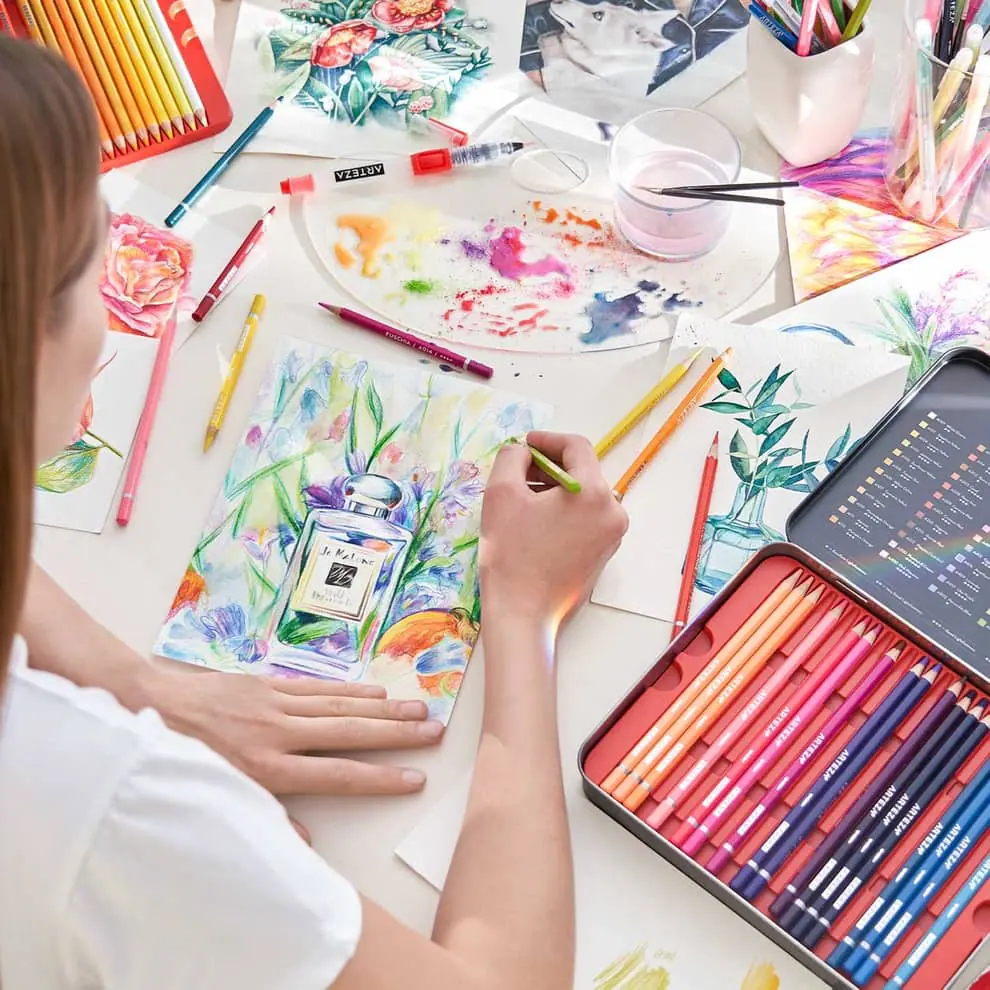 These colors don't bleed. So you can use the pencils on cartridge paper and in coloring books with prints on both sides.
'Aquarelle' or Watercolor Pencil
Watercolor pencils have a binder that dissolves in water, releasing and dispersing the pigment. You can't blend and layer these like regular color pencils – instead, they create some unique watercolor effects.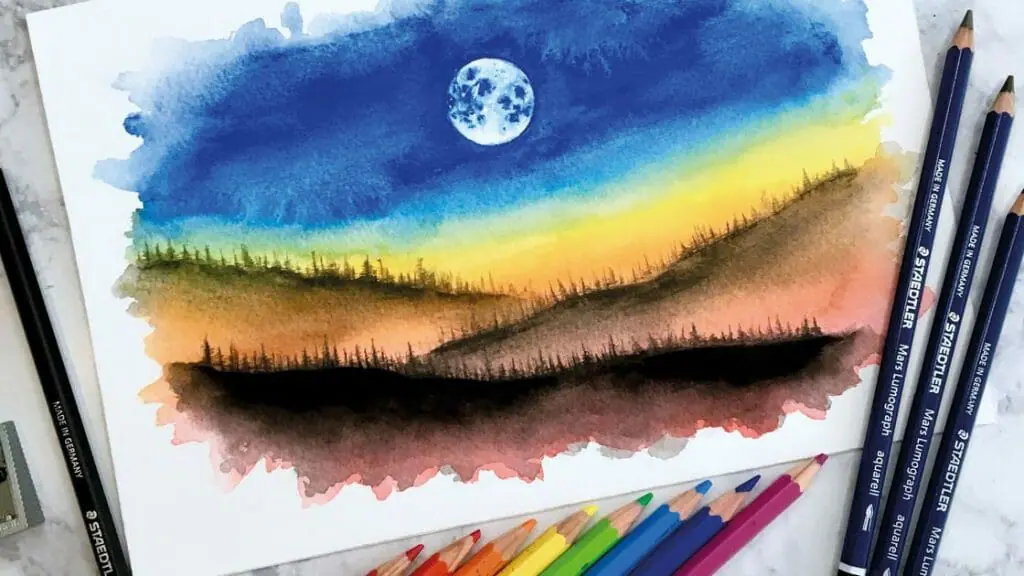 If you are new to water based colors, then these can be your stepping stone to mastering watercolor paint.
Using A Watercolor Pencil
Apply pencil marks and then activate it using water
Wet the nib slightly and draw directly. Creates bold and textured marks.
Shave some pigment on a palette. Add water and use it to paint with a brush.
Draw on a wet surface.
Find out more in my tutorial on how to use watercolor pencils.
Tip: Use hot pressed, 300 GSM watercolor paper for best effect. Otherwise they'll bleed and buckle the surface when activated.
Watercolor Pencils vs. Traditional Watercolor Paints
Unlike watercolor paint, these are much more portable.
You can sharpen them to a point for detailed work.
Finally, they are much easier to control.
How To Choose A Watercolor Pencil
With all the pencil options available, you might be thinking…
All the brands seem to have their strengths? How do I pick one?!
Here's how:
Start with the highest quality paints within your budgets. Now, compare the features to decide what suits your style.
Ask yourself:
Do the watercolor pencils get activated well? The mark of a good watercolor pencil is that when you apply water to activate it, the pencil lines don't show anymore. This means that all the pigment used is water soluble.
What's the core diameter? Choose a core thickness that suits your art style. Fine leads are good for detailed work. A thicker core is softer and covers more area easily.
Will I have enough color variety? Do you like a convenient set with lots of shades? Or, you'd prefer mixing them yourself?
Are they break resistant? If you like plein air and travel sketching, you'll need your pencils to be quite durable. Softer, brittle pencils are okay for careful, studio use.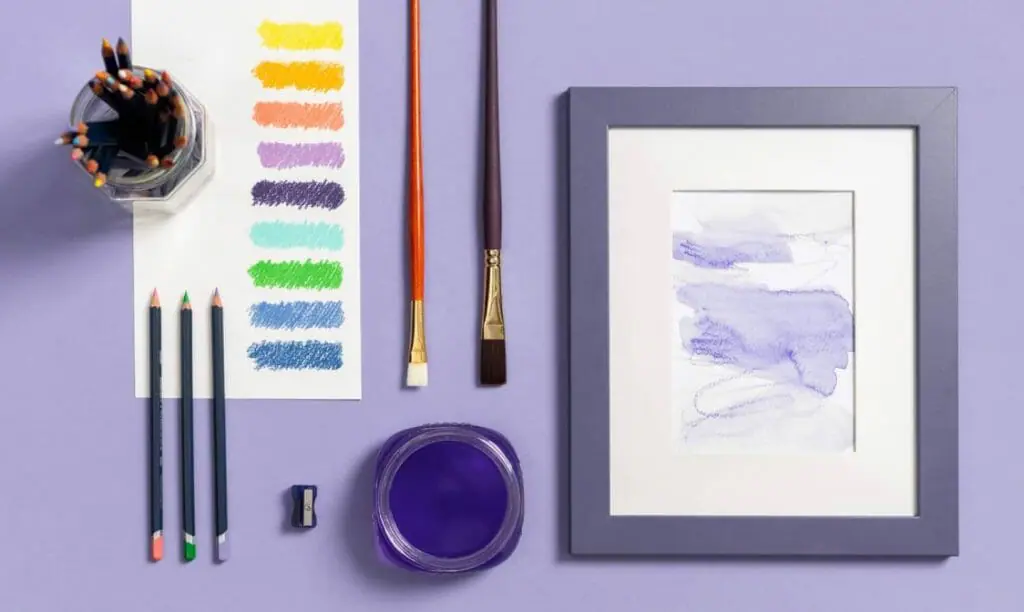 What Watercolor Pencils Would I Choose?
In this article, we've covered my top choices of watercolor pencil. I've also given you a quick guide to the unique features of watercolor pencils and how to choose the best pencil for your needs along with tips on how
I've listed 10 watercolor pencils and their advantages and drawbacks. Followed by a quick guide on the key features of these pencils, how to differentiate them from other supplies, and how to select the best pencils for your art requirements.
Still confused? Here's my quick verdict:
I'd pick this 12 Caran D'ache Museum Aquarelle soft watercolor pencils for beginners and professionals. You can mix the well-rounded colors to create different shades. The vibrant, extra fine pigments behave just like real watercolors – helping you to create all the watercolor effects you'd like.