Imagine if you had the best watercolor paints to help take your art to the next level? With a wide selection of watercolor brands available in art stores, it can get quite confusing.
You might even be wondering…
What is the difference between these brands? Are the highly priced ones really worth it?
The information in this guide will help you to make an informed choice and pick the best watercolor paint brands.
You'll also learn about paints along the way. I've simplified the watercolor-related jargon so you can compare brands effectively.
Watercolor Paint Comparison Table
How to Choose the Best Watercolor Paints
The paintbox looks super cute. My favorite Instagrammer swears by this brand. The paints have such cool names!
I've picked up watercolor paints for such reasons in the past…
While it is fun to 'gamble' a bit in the art store – this is not the best way to pick paints! Over the years, I've read books and talked to artists to understand my art supplies a little better.
Now, I know what I'm doing when I buy paints and I've found it works wonders for improving my art. Specifically, in avoiding muddy colors and fading paintings.
Quality: Professional or Student Grade Paints?
So, what's the difference…
Professional grade paints:
Also called 'artist' paints
High pigment concentration resulting in vibrant washes
Excellent lightfastness rating
Cleaner paint mixes
Supports layering, lifting, spreading and other watercolor techniques
Student grade paints:
Also called 'studio' paints
Pigments mixed with fillers leading to a slightly chalky feel. You'll need to pick more color to create vibrant washes
Low lightfastness rating
Notice that the artist swatch is brighter and more transparent. (Image by Author)
When you are first learning how to watercolor paint, and want to keep the costs low, pick up a student set. Otherwise, it is best to use a small selection of professional paints that fit your budget. Choose quality over quantity.
Characteristics: What to look for in Watercolors?
Have you ever read the fine print on a watercolor tube? I admit it sounds like a lot of numbers and confusing phrases. Let me simplify them so you can see how they'll end up looking in your painting.
Reading a Watercolor Label (Source)
Transparency – How clear is a paint application?
Watercolor paints are transparent. This means when you apply a wash on paper, it allows light to pass through.
The more transparent the paint the more layers you can add to your paintings. You can apply multiple washes over each other and create a subtle change in color (the layering technique). This is really the soul of aquarelle.
Opaque watercolors tend to dry with a chalky finish. And, mixing one or more such paints will result in a muddy wash.
Tip: Draw a black line in waterproof ink. Now apply a wash of paint on it. If there is a layer on the black line, it means the paint is not transparent.
Paints are categorized as transparent, semi-transparent, semi-opaque, and opaque.
Lightfastness – How long will the paint last?
Lightfastness refers to how long the paint will last on exposure to light. Some watercolor paints contain pigments and dyes that are not lightfast. They are 'fugitive paints.' This means the colors will tend to fade out, disappear, or turn grey, changing the feel of your paintings.
Watercolor paints have a lightfastness grading, as per the ASTM scale (American Standard Test Measure). It ranges from 'very poor/fugitive' to 'excellent.'
Some brands use their own classification, like Schmincke.
If you plan to sell or frame your art, it is important to check the lightfastness of your water colour paints.
The number of pigments – What is the paint made up of?
Pigments are what gives your paints their color. All watercolors have pigments – natural or synthetic. The more the pigment concentration the brighter it appears on paper after drying.
You'll find that every pigment has a specific color index code. Reading about the pigment will give you a deeper understanding of your paint.
A single pigment paint has only one pigment. It is purer and brighter than colors with multiple pigment paints.
Granulation – Does the paint create delicate textures?
Watercolor pigments have different characteristics. Some create smooth washes. While others dry into subtle, grainy textures. This is because of granulation or the way the pigments behave.
Non-granulating pigments are finely ground pigments. They distribute evenly on the paper surface, creating smooth washes.
Some subjects might work better with smoother watercolor paint. Such as children's illustrations and graphic designs.
Check the pigment charts of watercolor brands to buy specific, non-granulating colors.
Granulating pigments are heavier and tend to settle unevenly on the paper. So, when the paint dries, it creates an uneven texture.
Raw Sienna, Burnt Sienna, Burnt Umber, and Ultramarine Blue are usually granulating paints. Such colors are perfect for atmospheric landscapes.
Staining – How Liftable is the Paint?
Staining describes the property of watercolor paint to anchor into the paper surface.
Staining watercolor embeds into the paper surface. It is difficult to lift the colors once applied on paper.
Non-staining colors are easier to remove. You can lift it off the paper surface with a tissue and have it almost return to white.
For beginners, non-staining colors make it easy to correct mistakes.
Tube vs. Pans vs. Sticks – Which is the best?
Watercolor paints come in many forms, each suited for specific painting requirements.

Watercolor Tubes
Watercolor tubes contain thick liquid paint. You can take out as much paint as you need in a palette. The paint is more vibrant and easier to use for large paintings.
Watercolor Pans
Pan colors contain dried cakes of paint that are activated with water. They come in full and half pan size. They might have a slightly different formulation than tube paints.
Pans are extremely portable and great for starting with watercolors.
They have some drawbacks. Paint pickup is time consuming and uneven. You'll find a hole forms over time.
Some artists believe that the hardening process reduces paint quality.
Source: Author
Watercolor Sticks
Watercolor sticks look like crayons but are packed with pure, watercolor pigments. Reputed brands use the same quality of pigments in the sticks that they use in the tube colors.
You can cut these and keep them in pans or palettes for portable use. Or, use it on paper for a variety of effects.
Summary
Watercolor tubes work out the best. They provide greatest value for money. You can use them directly in a palette. If you like to paint outdoors, you can also keep some paint in empty pans and build your own portable watercolor sets
Are 'Liquid Watercolor' true watercolors?
Liquid watercolors are pure watercolor pigments sold in bottles. The super saturated washes are great for mixed media and illustrations.
Some 'vibrant liquid watercolors' (such as EcoLine Liquid Watercolor) are dyes and inks. They have low lightfastness. you won't get the classic aquarelle finish with these paints. While others are genuine watercolors (such as Schmincke Aqua Drops).
When compared to pans and tubes, these colors are not very portable.
What are dot cards?
Try professional watercolor paints before buying them – with these watercolor samples.
I've prevented costly mistakes! Artist dot cards are great fun to explore.
You'll get a sheet of watercolor paper with small dabs of paint and the pigment information. Pick up the paint with a brush and experiment!
Which Brand to Choose?
Professional artists are a selective lot, with reputed brands being a clear favorite. Some artists are brand loyalists. Others make their palette with a mix of colors from different brands.
It is best to get quality watercolor paints and paper from reputed brands – right from the beginning.
How do I know to find reputable brands?
Some brands don't offer clear and complete pigment information.
In contrast, reputed brands have clear product information. You will find the pigment information on the tubes and websites for the professional artist paints.
Building Your Palette – Which Colors to Choose?
My limited palette with 5 DS tubes and 1 Mission Gold tube (Gamboge)
When buying colors you have two options: individual tubes and pans or a set of colors.
After much experimentation, I've realized it is best to start with a small set. Choose one with the essential colors for greatest mixing possibility:
Split primary colors: Warm and cool yellow, blue, and red colors are the starting point of a palette. Try to choose single pigment and transparent colors.
Secondary colors: You can mix these colors using the primary colors. It helps to have the most used ones, such as orange and green.
Earth colors: These are shades of browns and ochers.
Convenience colors: These are usually personal favorites, that feature frequently in your art. For example, I always have a Paynes Grey and a Sap Green in my palette.
Having a smaller set of colors allows you to understand their behavior well. With time, you can keep adding single colors to your set.
Summary Table: How to Choose the Best Watercolor Paints
Buy the best paints that you can afford. Start with student grade if budget is a concern.
Transparent colors work best for watercolor techniques. Keep a few opaque colors for highlights.
Excellent lightfastness for professional works.
Use single pigment colors for vibrant washes. You'll also avoid muddy color mixes. 
Depends on your personal preference and art style. I love granulation as it adds a unique dimension to the painting.
Start with low staining watercolor paint.
Tube paints offer maximum flexibility and value for money.
Opt for the most reputed brands
Choose a set with warm and cool primary colors. Build to add more colors individually.
Best Watercolor Paints for Beginners
Winsor Newton Cotman is the student range of Winsor & Newton. They come in pans and tubes as well as a wide selection of sets.
These are the closest to professional colors. Professional artists and teachers usually recommend these as a starter set.
My favorite is the sturdy 12-color pocket box. When the box is new, the plastic pans might fall off. But, with use, the pans stick in. The lightweight box can fit into your pocket or slip into a bag – the best watercolor for painting outdoors.
This set has three primary colors in warm and cool tones, three rich earth colors, and two greens – an almost perfect color selection! Because all the colors have the pigment information, I could easily transition to artist colors.
What it has:
Plastic box with a 3-well mixing palette in the lid
A pocket brush
12 Cotman watercolor half pans
Pros:
Easy to re-wet
Vibrant and good flow
Very transparent – great for layering
Lightfastness rating of either I or II
8 single pigment colors in the set
Affordable pricing
Cons:
Chinese White is not useful
The brush included is very thin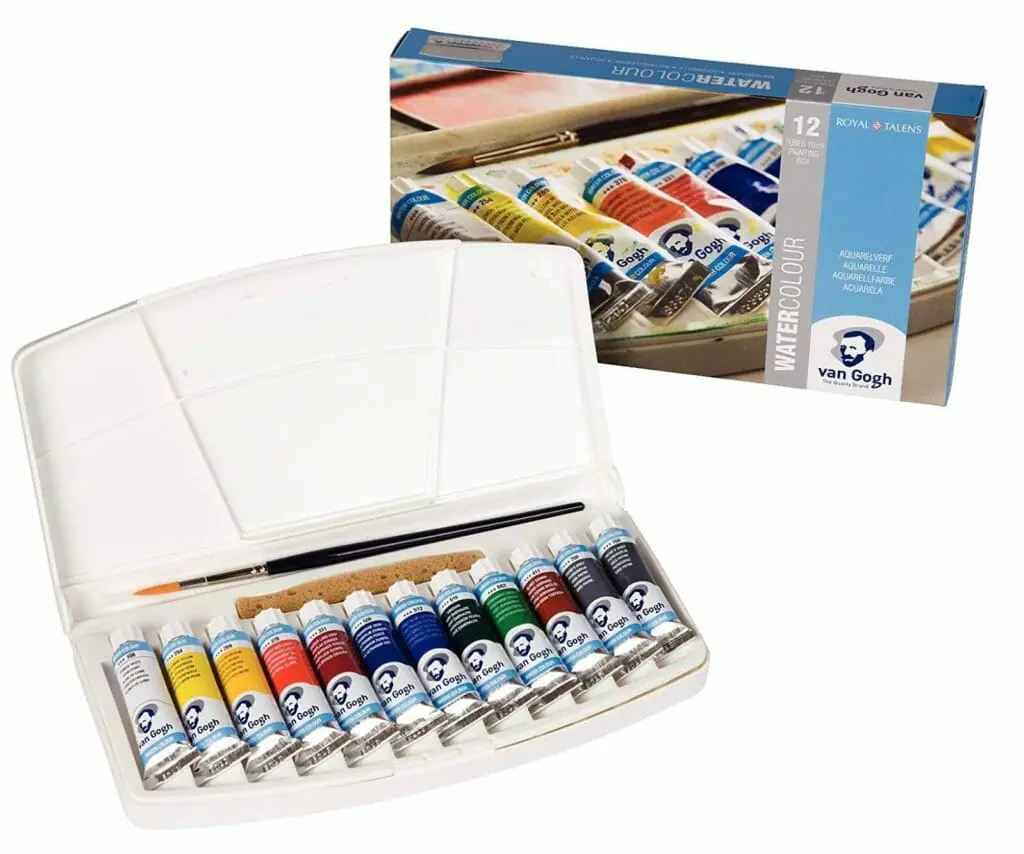 These are great watercolors to start with. A Netherlands-based company called Royal Talens manufactures these colors.
There is a selection of 12 colors: split primaries, greens, and earth colors. You can mix a variety of shades from dark shadow colors to skin tones. The colors blend well and can be used with a variety of watercolor techniques.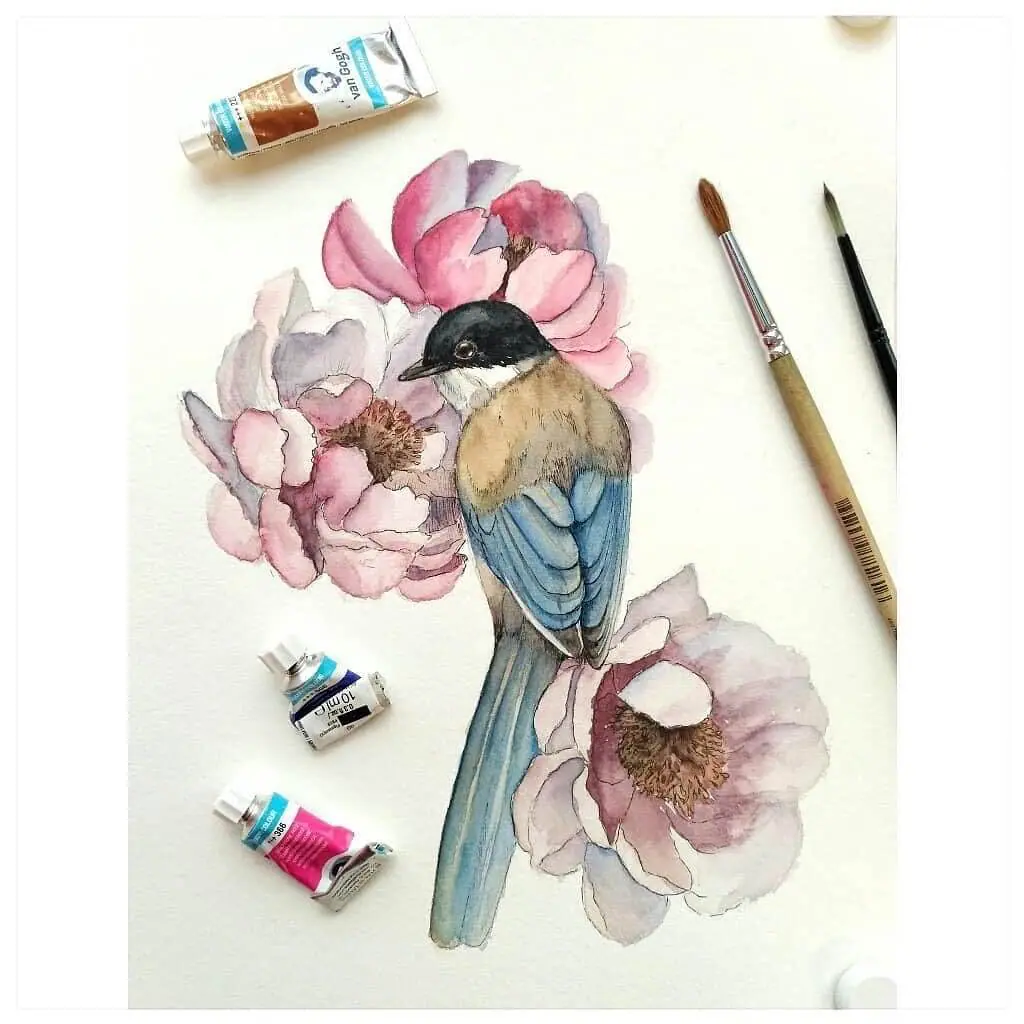 Source
Compared to W&N Cotman paints, these are less granulated and appear slightly more pastel-like.
What it has:
12 tubes of 10ml each
Plastic box with integral mixing palette in the lid
A pocket brush (number 6)
Pros:
Extremely transparent and well pigmented
Excellent lightfastness (rated to last 100 years)
8 single pigment colors in the set
Can be used in most techniques
Cons:
Chinese White color creates small bubbles on application at times
Slightly more expensive
True to its description – this set contains six essential primary colors in cool and warm tones. These are highly pigmented, artist quality paints – at an affordable price.
The professional watercolor will help you in making clean and bright mixes. French Ultramarine and Phthalo Blue are granulating colors that give a nice texture. You can use this set to transition from beginner to intermediate colors without buying a lot of tubes.
While the tubes are small, you'll find they last for quite some time as even a bit of color will create a vibrant wash.
Tip to reuse the leftover colors: Use a closed palette or keep the palette in a thick cover.
The limited palette might seem like a drawback. But, mixing greens, violets, and other shades, you'll become a more resourceful artist.
What it has:
6 tubes of 5ml each
Colors: Hansa Yellow Light, Quinacridone Rose, Phthalo Blue (GS), New Gamboge, Pyrrol Scarlet and French Ultramarine
DS color chart
Pros:
Intense and vibrant colors
Lightfastness rating of either I or II
Transparent and versatile
You can mix almost any color with a limited palette
Cons:
Expensive
Doesn't have a box or palette
White Night watercolors are student grade watercolors made by St Petersburg from Russia. These paints glaze extremely well and are easy to lift. Some of the colors like Ultramarine granulate well and create interesting textures.
As there are many single pigment colors, your mixes won't turn muddy. However, you have to know the opaque colors and avoid using those in the mixes. You can use Carmine to mix greys and skin colors.
Plein Air work by Alicia Aradilla using White Nights (Source)
Water tends to pool at the hinge and spill when you close the box. So you need to make sure that you dry the hinge area well.
What it has:
Plastic box with mixing wells in the lid
12 White Night full pans
Pros:
9 single pigment, intense colors
Good color selection
The large pans are very convenient
Soft, honey-based color that rewets instantly
Very affordable
Cons:
Three opaque colors (Cadmium Lemon, Cadmium Yellow Medium and Cadmium Red)
Not very suited for glazing techniques
Some colors are not lightfast
Reeves is a popular watercolor brand, famous for inventing the watercolor cake in 1781. Colart, the company which owns Reeves, also owns Winsor & Newton.
If you want to experiment without investing in expensive sets, then these watercolors are a great option. Colors are vibrant, with a cool and warm shade for all primary colors. There are a lot of secondary and convenient colors included, like flesh tint, grass green, orange, and violet.
Painting with Reeves (Source)
What it has
24 10ml plastic watercolor tubes
Pros:
Smooth paint that rewets well
Colors are fairly transparent and vibrant
Very affordable
Cons:
Some artists are unhappy with the chemical smell of these paints.
Paint separates in the tube. This means you won't be able to squeeze out small amounts of paint.
No palette or brush included
Best Watercolor Paints for Professionals
Winsor & Newton is the benchmark of the finest quality, professional-grade watercolors.  It has been around forever – the company started in England in 1832.
In this basic set you'll get split primary colors, 3 earth colors, 2 shades of green, black and white.
W&N colors rarely disappoint. The vibrant and delicate colors are easy to paint with. A little bit of color goes a long way. I love that the colors dry quickly in a pan, and yet rewet quite easily.
What it has:
12 professional watercolors in 5ml metal tubes
Metal box with a special hinged flap for mixing
Integral mixing palette within the lid with 4 wells
A thumb ring in the base
Pros:
Arguably the most reliable paints
Pigments are highly saturated
Most single pigment colors
Smooth flow and rewets easily
Transparency is great
Excellent lightfastness
Cons:
Ivory Black and Chinese White are not very useful
(Cobalt Turquoise Light and French Ultramarine would complete the set for me)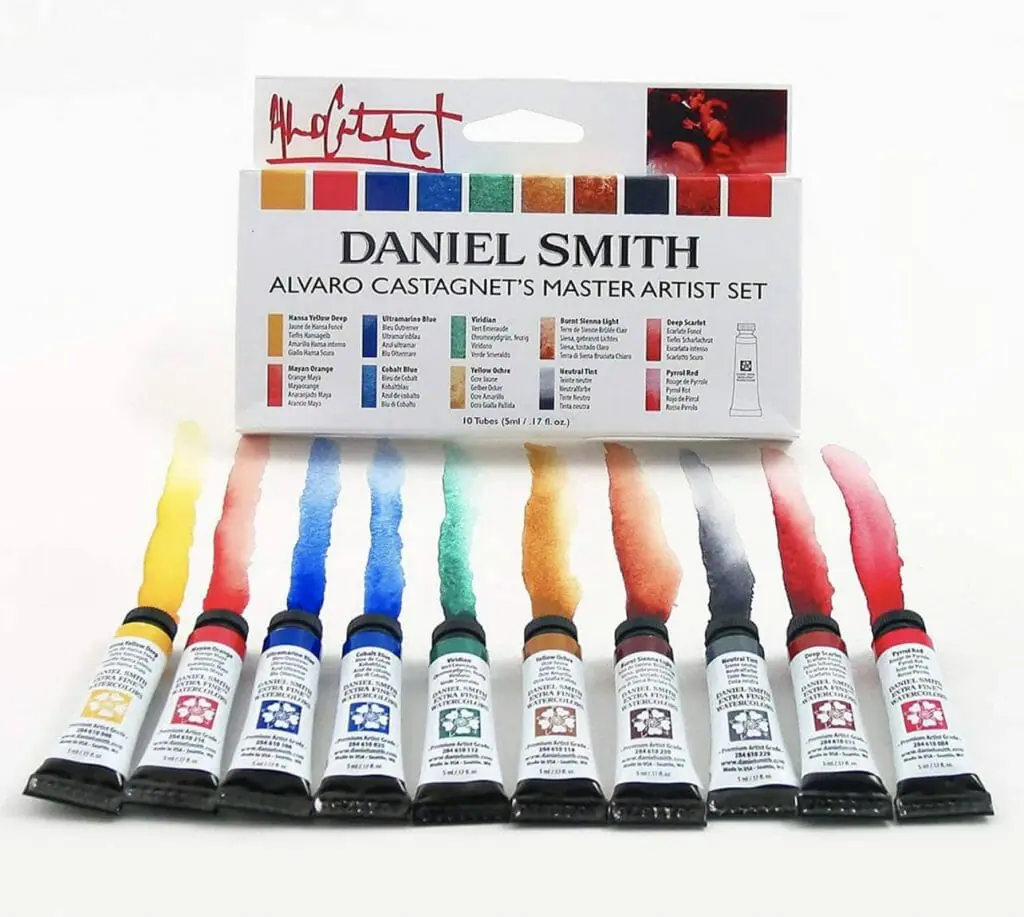 Daniel Smith watercolors offer an incredible range of 251 colors. PrimaTek, a special set of  35 mineral-based colors, offers unique shades like Moonglow and Undersea Green.
It can feel overwhelming with so many colors to choose from. That's why DS offers several sets of colors, chosen by master artists.
Alvaro Castagnet in Studio (Source)
Alvaro Castagnet has selected ten colors that offer a variety of mixing possibilities. These colors lend themselves to urban sketches and natural landscapes.
This set offers a unique selection. Instead of split primaries, it offers a 'warm and neutral' of primary colors. The 'perfect warm yellow' – Hansa Yellow Deep – is balanced by the neutral Yellow Ochre. The bright Pyroll Red is balanced by the neutral Deep Scarlet.
The colors rewet easily and blend beautifully.
What it has:
10 extra fine watercolor tubes of 5ml each
A special edition color – Burnt Sienna Light
DS color chart
Pros:
Vibrant and transparent
Great for control and precision
Extremely lightfast
Works with most techniques
No white and black colors in the set
Cons:
Comparatively more expensive
No cool yellows, reds, and blues in the set
This German brand has been using the same formulas since 1881. As a result, Schmincke is famous for making the best quality paint. The buttery, richly colored pigments spread beautifully on paper – just the way you want them to.
Botanical painting by Susanne Absolon using Schmincke (Source)
This set has some unusual shades like Phthalo Green, Permanent Green Olive, and Sepia Brown. All the colors blend beautifully.
Schmincke tubes and pans have the same paint watercolor formula and perform the same way. So you can use them interchangeably.
What it has:
Metal box with integral mixing palette within the lid
A special hinged flap for mixing
Removable tray with 12 open spaces and 12 half pans
A thumb ring in the base
Pros:
Colors blend beautifully
Colors dry and rewet easily
Great for control and precision
Extremely lightfast
No white color in this set
Cons:
Comparatively more expensive
M. Graham manufactures professional watercolor paint. Artists love MG for their gorgeous, creamy paints (from natural blackberry honey).
The use of honey ensures that the paints don't dry out while painting. Artists seem to either love or hate this texture.
M. Graham also uses minimal fillers or brighteners – so you get the natural intensity of pigments.
This watercolor paint set contains 3 primary colors, a green, and a brown. A little bit goes a long way with these paints. Having a limited palette helps to understand how the paints behave. And, with some practice, you can mix a range of colors.
What it has:
5 watercolor tubes of 15ml each
Pros:
Smooth and easy paint application
High pigment load
Environmentally friendly company and art supplies
Excellent lightfastness
Cons:
Comparatively more expensive
No cool yellows, reds, and blues
Because they don't dry easily, they not very portable
Rembrandt watercolors are vibrant, transparent, professional watercolors that are nice to paint with. Like the Van Gogh colors, these are also made by Royal Talens.
These are great professional colors with interesting earth colors and many single pigment colors.
Compared to other professional watercolor brands, Rembrandt colors feel runnier to me. They spread and move beautifully on paper and are great for wet on wet techniques. I find it tends to work best oh high-quality, watercolor paper.
What it has:
Gorgeous metal box
Integral palette within the lid with 4 deep wells
Removable tray with 48 half pans
Pure red sable brush (size 6)
A thumb ring in the base
Pros:
Among the most vivid colors
Spread beautifully on the paper surface
Great for trying a variety of shades
Moderate to high granulation
Cons:
Slightly more opaque than other professional watercolors
Expensive in the U.S.
The bold (almost glowing) shades may not work in all paintings
Conclusion – Best Watercolor Paint
"Less Is More"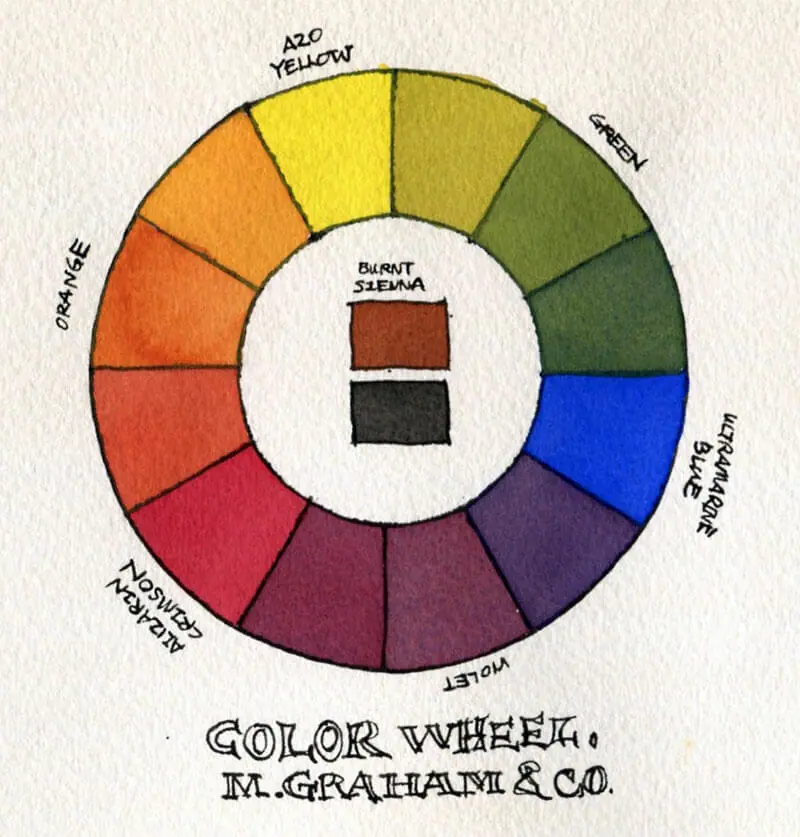 M. Graham Basic 5 Colour Set (Source)
The quality of paint has a HUGE impact on your art right from the beginning. It works with you to create the desired effect. The key is to buy the most reputed and best quality paints that you can afford.
Spoilt for choice? Still unsure?
Here's my quick verdict:
For Beginners: Winsor & Newton Cotman
Pick up the Winsor & Newton Cotman Water Colour Sketchers' Pocket Box – these are the closest you'll get to professional paints within the student range.
The pigments are colorfast, vibrant, fairly transparent, and work well with most watercolor techniques.
For intermediate and Advanced Levels: Daniel Smith
A DS Extra Fine Essentials Introductory Watercolor set will give you the primary pigments – in cool and warm colors. You can mix an incredible range of shades with these 6 tubes.
I find that it is vibrant, mixes beautifully both on the palette and on paper, and creates gorgeous textures. It has that lovely balance between 'having a mind of its own' and 'allowing for controlled washes.'
"Painter, paint!"
– Salvador Dalí
All said and done, you'll need to add practice to get your paints singing. So don't overthink it. Get your watercolor studio set up and start painting.