The right tool can transform the quality of your art and inspire you to master your craft. But Wacom has quite a bit to choose from, so how are you to know which device to go with? What features are most important for the specific work you do? In this article, I will help you decide which is the best Wacom tablet for your needs.
Who & What Is Wacom?
Wacom is the market leader in digital interface products, interactive pen displays, and pen tablets. The company serves a wide variety of creative hobbyists and professionals in animation, film, photography, graphic design, manga, and more.
If you've been creating digital art for long, you've likely already heard people claiming that it doesn't get any better than Wacom.
Though that's a matter of opinion, it's true that Wacom is the most recognized name out there for graphics tablets. And while competition (such as Huion, Monoprice, or Ugee) does exist, none of the competing brands are as known or trusted in this area.
This is one of the reasons Wacom tablets continues to dominate the market, but far from the only one.
Why Are Wacom Tablets So Expensive?
Wacom has been able to offer unique technologies that other brands haven't, like styluses that you don't have to charge. Their drawing tablets provide the stylus with power using resonant inductive coupling.
This is a fancy way of saying that the pointing device doesn't require any power.
And as a result of this, the pens are slimmer, lighter, and don't have batteries inside. Wacom has put intellectual property patents on technologies like this for tablets, forcing competition to license its patents or use other technologies.
And even once those patents expire (as some already have), it will still take competing brands a while to catch up in terms of these key features.
Wacom products also have wireless kits to unclutter your desk and make your drawing tablet more portable.
How To Choose A Wacom Tablet
When you're deciding which Wacom digital art tablet to go for, the first thing to think about is which line to select. ​
Intuos
If you're seeking something affordable, the Intuos line will have the lowest price tag.
If you're somewhat new to photography, graphic design, drawing, or art school, these Wacom tablets are probably going to fit your budget better than other Wacom products.
There's also a higher performance version of the Intuos, the Wacom Intuos Pro. As you might have guessed by the name, the Pro is aimed at creative professionals while the ordinary Intuos was released for hobby artists. The Pro is the next step up from the Intuos and has a tablet pen with reduced latency and 4x pen pressure levels.
Cintiq
If you plan to spend a lot of time using Lightroom or Photoshop, you may prefer the pen-on-screen experience and want to choose a Cintiq.
Instead of having to draw without looking at your hand, which can be hard to get used to, these let you draw or edit right on the tablet surface. Although a unit with a screen does sound automatically superior at first glance, the Cintiq tablets cost much more than a drawing pad.
Cintiq tablets, for example, are often sold for between 10 and 100 times more than Intuos products. If you must have a screen but also don't want to break the bank, you might be able to compromise by getting a smaller tablet.
Mobile Studio Pro
The Wacom Mobile Studio Pro line is a portable graphics tablet that allows you to draw on the go without needing a laptop. Like the Cintiq drawing tablets it offers a professional pen-on-screen experience, but with the added portability. It is a high end wacom tablet range and comes in 13 or 16 inches.
Read our full Wacom MobileStudio Pro review.
Which Size Should You Get?
Digital drawing pads all go up in price the bigger their active work area is. The Cintiq 13HD, for instance, costs less than the 22HD. There are two things you need to consider when choosing the size of your tablet.
Desk Space
Picking the right choice in terms of size will depend on what you'll use the tablet for. Medium drawing tablets are popular as they offer enough space to draw freehand but aren't as convenient for desks with limited space or for mobile use.
As someone who travels a lot and works from many different places, I would prefer either a small or medium tablet so I could bring it with me wherever I go.
Monitor Size
If you select a graphics tablet, you should choose a size relative to the size and screen resolution of your monitor. The smaller the surface of the drawing tablet, the less you'll have to move your hand to operate the cursor. But choosing one that's too small will make it hard to make fine selections and can cause a jerky cursor. Getting a tablet that's too big for your monitor will likely feel too slow and tire your arm out.
When trying to strike a perfect balance between screen quality, price, and tablet size, keep in mind that a portion of your work surface will be used for software controls. You may need to rearrange your tool palettes or desktops to accommodate this, or you might choose to use full-screen mode.
Just remember that if you want to get a smaller tablet for its affordability, you might need an extra monitor for non art-related tasks.
5 Of The Best Wacom Tablets For Artists
The Wacom Intuos is suitable if you're on a budget and is the smallest tablet on the list at 7.87 by 6.3 inches. This makes it super portable. If you want something slightly larger, the Intuos Medium is 10.4 by 7.8 inches.
If you've been looking for a lightweight replacement for your computer mouse to draw with, this could be a solution.
Pros
Cons
Overall, this tablet has everything to cover very basic digital drawing, painting, and editing needs.
The drawing tablet is responsive, has an easy-to-grip stylus, and programmable buttons for easily erasing mistakes. Depending on how hard you press the pen, it will draw thinner or thicker lines. With 4096 levels of pressure sensitivity, you have a lot of control.
And it's small enough to use with a clipboard for extra stability, to give you an idea of how light it really is.
>> Check Out The Wacom Intuos On Amazon <<
The Intuos Art Pen and Touch could be considered the a slightly cheaper alternative to the new intuos, however it doesn't come with some of the newer bells and whistles. The active area is about the same size as the entire Intuos Draw tablet at 8.5 by 5.3 inches.
If your main goal is to get a tablet for drawing and don't want to spend the money for a drawing tablet with a screen, this is probably the best option.
Pros
Cons
Though it's bigger than the first drawing pad we covered, it's still small enough to save desk space and free you from the imprecise shakiness of working with a mouse.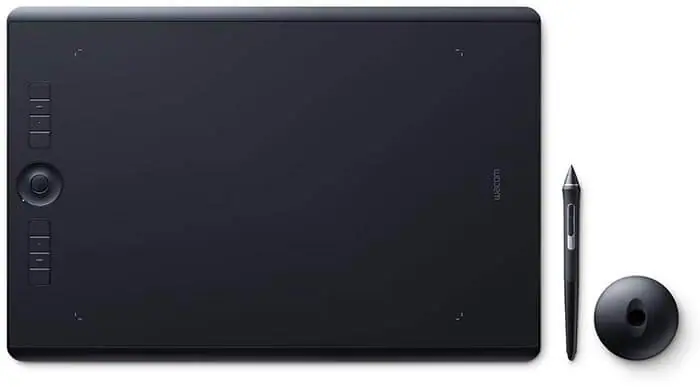 If you're seeking the best Wacom tablet for Photoshop, you will probably want something a little more advanced than the Intuos Draw or Art.
The Wacom Intuos Pro has a customizable active area and comes in small, medium, or large. It features the Wacom Pro Pen 2 with tracking that is virtually lag-free.
Pros
Cons
You can switch between using the whole active area of the tablet or mapping a small corner of it to correspond to your monitor. This is a good feature if you like being able to control your whole screen while keeping your hand in place.
>> Check Out The Intuos Pro On Amazon <<
If you want a product with a screen you can draw directly on and can spare the cash, the Cintiq 13HD could be a suitable place to start. This would give you more room to work with but is still small enough not to have to use your arm a lot as you draw. It comes with the Pro Pen, so it has 2048 pressure levels and tilt recognition. Read our full Cintiq 13HD review here.
Pros
Cons
For what the product is, it's actually pretty lightweight and easy to maneuver around your desk or hold propped up against your lap. At the same time, it's substantial and durable enough not to feel flimsy or cheap.
>> Check Out The Cintiq 13HD On Amazon <<
If you're a photographer and need an even larger tablet, this could be the best Wacom tablet for you. Its widescreen format and large 21.5-inch screen make it suitable for motion graphics, design, illustration, and animation, too. Read our full Wacom Cintiq 22HD Review here.
Pros
Cons
>> Check Out The Cintiq 22HD On Amazon <<
If We Had To Choose One…
It would be the Wacom Intuos Pro as the best wacom tablet for artists all around. It's useful for both photography and sketching work and has the best pen pressure levels out of any of the products on this list. It also comes with the convenience of an adjustable active area and 3 sizes to choose from.
Although it doesn't have a screen, the scroll ring, tilt response, and ability customize the surface area could be a worthy trade, especially if you work in multiple creative mediums. It's big enough to feel natural, yet small enough to be portable. This could be the best Wacom tablet for you if you value versatility over all else in your art tools.