Osu!—a Japanese-pop mosaic of upbeat music, flashy colours and blazingly quick reaction times.
While the good old-fashioned mouse and computer made me perform somewhat decently, I still wasn't satisfied. I felt that there were even better gadgets out there.
So I set out on a journey to scour the web for good gadgets up for the job. Tablets naturally came into mind, as I could more easily see the RPS, tracking capabilities, and active area size from the get-go.
And after trying them, I knew I could never go back to playing Osu! on the PC. Here's my selection of the best osu! tablet to dominate the rhythm game leaderboards.
What Are the Best osu! Tablets?
Our picks for the Best osu! Tablets are:
Wacom One
Huion H420
XP-Pen G640
GAOMON S56K Ultrathin OSU Pad
Wacom Intuos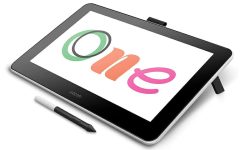 A battery-free stylus: Keep on playing without needing to recharge the stylus pen — you can play Osu on the go!
PC and Mac compatibility: Connects to OS X 10.10, Windows 7, and above, allowing for extra versatility.
Easy-to-use pen: A useful tool for beginners without a steep learning curve, meaning you can start playing immediately.
Best beginner osu! tablet (smaller active area)
7mm thick and 165g: Easy to carry and barely takes up any space. Fit it in your travel bag and take Osu anywhere.
Smooth to glide across tablet: Incredibly pleasant to use, which increases the overall quality of your gameplay.
Affordable price point: Worth trying out— even for beginners.
Best large osu! tablet for beginners
Customise and program the keys how you want. This ease of use gives you the freedom to play in comfort.
Sensitive pressure levels — Fancy a break from Osu? Create a full pallet experience for brushes and pens and feel like you're drawing on paper.
Precise digital inking for unhindered finger strokes and better quality art.
#4 GAOMON S56K Ultrathin osu! Pad
Best rubber-style pad tablet
Non-traditional tablet if you're looking for something new and niche.
Soft and thick — reminiscent of a non-slip mousepad. Fits in nicely on your desk.
Excellent performance for state of the gameplay. Use the latest software without slowdowns.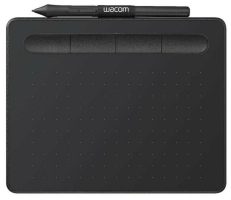 Best General Tablet not just for osu!
Battery-free, cordless pen for easy and comfortable gameplay.
Fresh and vibrant design that comes in either a small or medium build. Choose the model that best fits you and play.
Aside from osu! the tablet is built to allow digital drawing, painting or photo editing. This freedom allows you to experience all-new hobbies.
Best thin Tablet for osu!
Extremely affordable costs — less than a fraction of the other tablets on the list, so you can buy this and get a decent drawing app alongside it without breaking the bank.
Unbelievably thin and lightweight for effortlessly carrying around in bags and playing Osu on the go. (also comes with a felt case for protection)
Plug and play functionalities — no need for messing around with drivers! As soon as you've charged it up, you're ready to play
The Best osu! Tablets for Animation Reviewed
#1. Wacom One
Accuracy: +/- .02 in (+/- 0.5 mm)
Response Rate: 26 milliseconds
Pen Resolution: 2540 LPI
Orientation: For both left-handed and right-handed users
Pressure Levels: 4096
The Wacom One holds some fantastic dedicated features that make it a fan favourite all-night-long among osu! fans.
Did I become better at the game with this tablet?
Well, sort of. I did feel that I had more fluidity and control over the pressure I've added to the tablet. I think once I add more hours in, I could see a more noticeable difference.
Pros:
Ideal for beginners: It's easy to use, and the installation process is simple. Good for first-timers.
Topnotch pressure sensitivity: Fantastic performance and precise response for osu! gaming.
Battery-less pen: No need to charge your stylus with this tablet, unlike other brands or lines.
Great size: Its size comes to 8.9 x 14.1 inches with an active area of 6.5 x 11.6 inches. The size is an advantage for osu! fans, where smaller arm distance means quicker responses between taps
Cons:
Lack of express buttons: This is rather odd considering the tablet's high price point.
For those of you who want a luxurious tablet with pinpoint precision and impressive accuracy, you can't go wrong with the Wacom One.
#2. Huion H420
Active Area: 4 x 2.23 inches
Pen reading speed: 200 PPS
Resolution: 4000 LPI
Pressure levels: 2048
The Huion H420 may have a small active area, even more than the aforementioned Wacom tablet, but it's still loaded with great features for playing around in osu!.
It's a great choice for anyone looking to draw digitally or use other types of software. Its features translate well for osu! gameplay too.
Pros:
Complete package: Comes with a digital pen, a removal tool, driver CD, wool bag, cleaning kits and a glove.
Button controls: It comes with three buttons along the side that can change the controls for each program you use, notably in osu! And other rhythm games especially.
Smooth strokes: Its strokes are smooth and create gorgeous curves. The pressure change is precise and great for gameplay.
Lightweight: Small size enables it to weigh an ultra-small 132 grams.
Durable: The build quality of the stylus is durable and strong, capable of hitting music notes with pinpoint precision.
Cons:
Not ambidextrous: The tablet isn't built with left-handed people in mind. However, you can set up express keys within the tablet's settings to fix that up
Short battery life: Due to a smaller size, you may not be able to play all night long.
Very small: It might be too small for folks with larger grips.
All that said, don't let its small frame fool you. The Huion H420 packs a mighty punch as a tablet that's highly portable and lightweight.
#3. XP-Pen G640
Active Area: 6 x 4 inches
Pen Type: Battery-free
Pen Buttons: 2 side buttons, no eraser
Report Rate Speed: 265
Pen Pressure: 8192
Pen Tilt Sensitivity: None
Express keys: None
Multi-touch: None
If you'd rather have a larger screen, another good graphics tablet for osu! is the XP-Pen G640. It's a 2-mm thin tablet that manages to sport responsive and portable specs at a ridiculously low price.
Its features include a battery-less stylus and a button to switch between pen and eraser mode.
Overall, this XP G640 is a responsive tablet although it may not be ideal over long periods.
Pros:
Responsiveness: Playing osu! on the tablet surface of the XP-Pen G640 feels just as smooth and responsive as Wacom tablets, which fetch much higher prices.
Accuracy: With the Report Rate Speed of 265, you're guaranteed to have smooth and quick movements registered accurately with this tablet. However, if you play using your fingers, this tablet may be prone to catching fingerprints, so keep your microfiber cloth with you.
Versatile: While its size is great for playing osu!, you can also create and design highly detailed digital artwork with it as well.
Cursor Delay: No cursor delay to make for smooth gameplay.
Ambidextrous: Both right and left-handed players can also play osu! on this tablet due to its ergonomic design.
Cons:
Little drawing-room: The drawing area felt too tight and compact. It can feel like a squeeze hitting those tight spots with precision.
Wired and lacking portability: Needs to be connected with a PC to play.
Not optimal for drawing: Just in case you're looking for a well-rounded device. However, osu! gameplay isn't affected.
The XP-Pen G640 is great for people who love the comfort and reliability of a big-framed tablet.
#4. GAOMON S56K Ultrathin osu! Pad
Tablet body: Ultra-thin 2 mm; anti-slip mat
Pen Pressure Sensitivity: 266 PPS Report Rate
LPI Resolution: 4000 LPI
Compatibility: Windows and Mac
Pen Reading Height: 10 mm
Active Area: 6.5 x 4 inches (160 mm x 120 mm)
Have you ever wondered what it feels like playing osu! on a mat-like surface? With the GAOMON S56K Pad, it's more than possible.
Resembling a mouse pad more than a tablet, this unique design was quite the adjustment at first. Yet, after a few minutes of tinkering and testing it out with osu!, oh boy, did it hit the mark.
For its price point, this unique tablet delivers on value.
Pros:
Quick response time: Little input delay when fully charged (but falls off after time).
Portable: This tablet has a soft and ultra-thin 2 mm design that you can roll to make it even more portable.
Ergonomic design: Fit for both left and right-handed users.
Cons:
No driver customisation ability: The tablet doesn't allow you to adjust the play area, which is a bit of a downer
Heavy battery stylus: Uncomfortable and battery stylus might hinder long-term play.
Low hovering distance: Compared to other tablets that can register up to 15 mm.
The GAOMON S56K is a brilliant and unique tablet design that can give osu! players a new way of playing this addictive game. I'd recommend it in a heartbeat.
#5. Wacom Intuos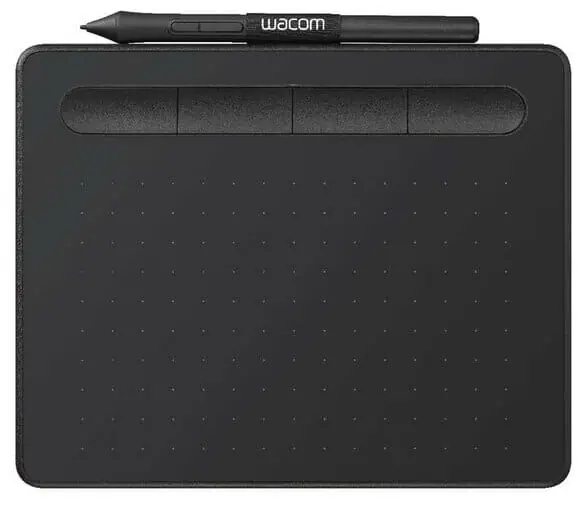 Active Area: 7 inches for Small; 10 inches for Medium
Table Width: Over 75% of it is an active area
Colour: Black, pistachio green, berry pink
Model Numbers: Medium: CTL-6100, CTL-6100WL (Bluetooth model); Small: CTL-4100, CTL-4100WL(Bluetooth model)
Pen Type: Wire-free and battery-free
Pen Pressure Sensitivity: 4,096 PPS
Pen Button: 2 buttons
Compatibility: Windows, Mac, Android
The Wacom Intuos is acclaimed as one of the best digital art tablets in the market as of writing.
Don't imagine, even just for a second, that its features stop there—it's also an incredible tablet to jam and tap to those ephemeral electronic beats that speckle the osu! omniverse!
Whether you want to push your creativity to the outer edges or compete against the osu! leaderboard—there's no better companion that's as versatile as this Wacom tablet.
Pros:
Different shapes and sizes: The super-slim Wacom Intuos comes in a catalogue of different shapes and sizes. You get an option of four different types; a mix and match of small and medium builds with or without Bluetooth connectivity
Free downloadable content: For everything except for the Wacom Intuos S build, you also gain an option to download two out of three of the following software for free: Corel® Painter® Essentials™ 8, Corel® Aftershot™ Pro 3 and CLIP STUDIO PAINT PRO.
Cordless and battery-less stylus pen: This tablet also comes with a cordless, battery-less stylus pen that hosts impeccable EMR (Electro-Magnetic Resonance) technology. This grants players a seamlessly smooth and lightweight gaming experience that can keep on running while the battery lasts.
Multiple pen choices: There's various Felt and Flex Nibs to choose from, all intuitively and cleverly designed to fit in the pen itself. You can even customise your tablet for osu! and the pen itself with four express keys and two buttons, respectively.
Minimum input delay: This allows for a faster response time and cutting-edge gameplay elements.
Versatility: Switch between competitive osu! gameplay and digital design software without much effort.
Cons:
Slight learning curve: Navigating and setting up takes a while to get used to.
Cross-gen incompatibility: Incompatible with pens of older tablets.
Driver issues: Infrequent crashes bring down performance and usability.
Despite these issues, the versatility of this tablet makes it an excellent investment for beginners.
#6. Veikk S640
Active Area: 6 x 4-inch active area
Stylus: Battery-free with 8192 levels of pressure sensitivity and one-click toggle to switch eraser and pen
Compatibility: Windows 7/8/10, Mac OS 10.12 or later, and Android 6.0 above
Report Rate: 230 RRS tracking speed
Reading Height: 10mm
Resolution: 5080 LPI
Weight: 177 grams or 4.13 ounces
Colour: Black
The Veikk S640 tablet may not be as popular as the XP-Pen, Wacom, and Huion tablets, but it still pulls its own weight as a fine, affordable alternative.
It's a fast tablet with no noticeable input lag hindering performance — which is a must when osu! gameplay requires deft and agile reaction times during those heart-pulsing moments.
Overall, this tablet is a great starting board for those just looking to try out something new. I absolutely love the minimalist, durable, and compact design of the tablet itself.
Pros:
Affordable price: It's a high-value tablet that goes for cheap in most online stores
Beginner-friendly: Plug and play tablet that can play games and run software without a need for driver installation.
Excellent display: The display of the screen is quite excellent for the price. It produces vivid images and smooth transitions with no latency issues.
Sleek and thin design: Extremely portable and easy to carry along in malls, parks, and other outdoor areas.
Runs most online software: Aside from osu!, you can also run popular programs such as MS Office, Photoshop, SAI, Illustrator, Corel Painter, Clip Studio, SketchBook, Gimp and more.
Cons:
Low-quality pen: Pen can sometimes fall off the grip which can spell all the difference in tight osu! Gameplay. Buying some Blu Tack or silicon pen grips may help mitigate this issue.
Pen sounds: Sometimes, the pen makes a squeaky sound when pressed against the tablet.
The Veikk S640 is an underrated gem among tablet enthusiasts. For osu!, it's an enthralling way to play the game, whether as a standalone or as a mouse of sorts.
Tablet Terminology — Terms To Know Before You Make A Purchase
When choosing and comparing between osu! drawing tablets, you'll come across some of the following terms found below. Understanding these terms will help shape your tablet-buying decision and ensure that you pick the best osu! drawing tablet to create a brilliant gaming experience.
Here are some of the definitions you'll need to know to choose between good osu! tablets.
Active Area
The area that you interact with and touch on the tablet. The edges of the active area may have a different outline or otherwise are indicated by a different colour.
Report Rate
The report rate speed (RRS) gives you a measurement of the frequency a tablet sends information regarding the location of the stylus and its pressure. The RRS also reports these data points back to your tablet's motherboard.
LPI Pen Resolution
The LPI (lines per inch) indicates how many digital lines can make up one inch of the graphics tablet's one-inch measurement. The higher the LPI, the better your resolution and display will be on the screen.
Reading Height
The reading height is where you can hover your pen over the tablet while still allowing it to measure your movement. It doesn't necessarily have to be the stylus; you can also gauge the reading height with other drawing tools or your fingers.
Input Lag
Input Lag (also known as input delay or input latency) corresponds with the time it takes for two electrical signals to respond to an action. The longer it takes, the laggier your tablet will feel.
Latency
Latency refers to the duration of data transfers between its source and its destination. It's a measure of delay and is counted in milliseconds.
Pen Pressure Sensitivity
The Pen Pressure Sensitivity is synonymous with the reports per second sensitivity. It reports back to the computer where your hands have touched the device in a given period.
Pressure Level
This refers to how your strokes will be measured on the tablet. The higher the pressure sensitivity, the more freedom you have in varying the size of your strokes for your graphics tablets.
Orientation
The orientation refers to the direction your tablet must be oriented, whether it's upright or horizontal. This indication helps you know whether a tablet is left-hand friendly, ambidextrous, or right-hand friendly.
Who Should Be Buying Drawing Tablets for OSU!?
Gamers who want to achieve mechanical freedom should buy a drawing tablet. This is the primary crowd of people who use drawing tablets for osu!.
Aside from them, digital artists and painters would find lots of use with these digital tablets. These tablets aren't exclusive to playing osu!, but can run a variety of programs that can suit the needs of people who haven't even heard of the game before.
Although the gameplay element does boil down to preference more often than not, many gamers do throw high praise with the tablet as opposed to a mouse:
What's My Favourite osu! Tablet?
Ultimately, the best osu! tablet for you depends on your playstyle and budget.
If you're willing to shell out money for a top-of-the-line tablet, the Wacom and Huion tablets are some of the best tablets you can find anywhere.
For something more approachable, go for the XP-Pen. Choose the GAOMON S56K for an osu! experience unlike any other, while the Wacom Intuos and Veikk S640 are great for both osu gameplay and digital art.
My favourite tablet for osu! is the XP-Pen G640 as it offers the highest value for price. It also has all the features you'd need for a competitive osu! gaming experience.

Featured Image from: commons.wikimedia.org