Online art classes of all shapes and sizes are out there in the depths of the internet, siren-calling to those who want to take their art to the next level.
So how do you choose the best online art classes for you with so many voices promising to be the one you need?
This guide will help you compare some of the best overall options, and the best options for specific areas of study, from painting to illustration and everything in between.
The Best Online Art Classes Compared
Best Online Art Classes Overall
Teaches a HUGE variety of skills and subjects by Master artists.
Affordable, subscription-based courses allow you to take multiple classes without limiting yourself. 
Comes with extensive image and 3D model resources to use at your disposal.
Optional coaching program to guide you on your artistic journey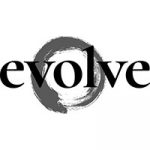 with Code: ARTIGNITION100
Best Online Oil Painting Classes
Teaches from basic painting foundations up, with each lesson building on the last.
Breaks down fundamentals into easy-to-understand concepts and gives you quick and actionable individualized feedback to help you improve faster.
Provides ALL materials for you, included with tuition.
#3. Digital Painting Studio

Best Online Digital Art Classes
Offers step-by-step lessons so you'll never get lost in the process. 
Breaks everything down into clear Learning Paths so you can focus on your goals.
Hosts a supportive community that'll keep you motivated and inspired.
Best Online Figure Drawing Classes
Makes drawing the figure feel achievable for anyone.
Provides a wealth of demonstrations and examples of each exercise.
Gives thorough and constructive critique and teaches you to critique your work and your peers'.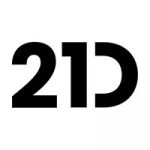 Best Online Illustration Classes
Thorough lessons on all facets of illustrating that you need.
Beginners welcome, even if you're unfamiliar with digital art software!
Individual courses OR monthly memberships available so you can gain more skills affordably.
Reviews of Online Courses
1. New Masters Academy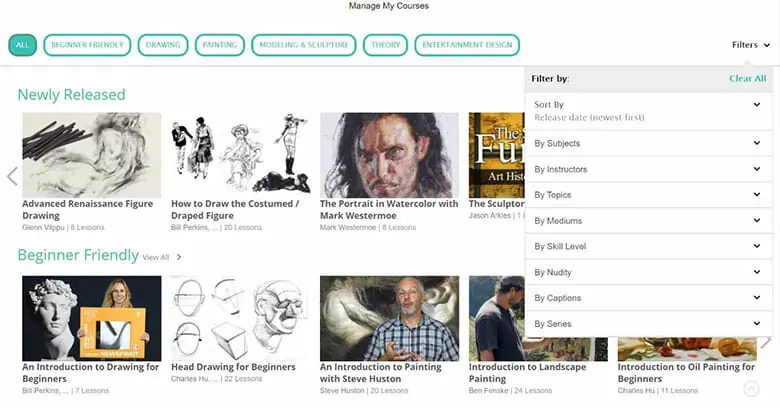 New Masters Academy is our "Best Overall" pick because of their huge range of high-quality online art classes offered across medium, subject, and skill levels.
With NMA, you get to choose which subjects you study and when. Whatever your current focus or goals, you'll find classes taught by masters in the field to suit all of your needs.
Subjects include portrait painting, illustration, animation, concept art and they are all well-organized and easy to sort through despite their abundance!
Whether you're a complete beginner and want to start out with their beginner-friendly courses or are more advanced and looking for a challenge, you'll find yourself mastering new artistic skills in painting, drawing, sculpture, or all three.
New Masters Academy offers some of the best online art classes for adults, allowing you to learn at your own pace and on your own schedule. This is perfect if you have other commitments or limitations that prevent you from attending traditional art schools.
NMA also provides additional resources like their entire library of images, 3D models, tutorials, and one-on-one coaching so you'll never feel alone.
Their affordable monthly subscription allows you to take whichever live or "on-demand" courses you choose, instead of having to pay huge tuition fees upfront or having to pay per class.
If you want tailored feedback and guidance, consider their one-on-one or group coaching.
Jumeirah Lake Towers (JLT) Restaurants Spas Salons Massage Fitness Hospitals Dental Clinic Pharmacy Nursery Daycare Grocery Petcare Realestate uk steroids.com balance pillow: how to choose the "half ball" – secrets of fitness
You can read our full review of New Masters Academy here.
Sign up for New Masters Academy today and take advantage of top-notch classes online that translate to tangible skills you can add to your artistic toolbox right away!
2. Evolve Artist
Evolve Artist wins in the "Best Online Oil Painting Classes" category for their dedicated, deep-dive focus into everything you could want to know about painting with oils.
Evolve Artist's online art school teaches you painting techniques from the foundations-up in easy-to-understand blocks of study that build on each other, one skill at a time.
Total beginners to painting are welcome, and if you want to get a head start, check out their FREE oil painting for beginners mini course to get a feel for their teaching style.
Evolve sends two boxes of high-quality materials (like Old Holland's renowned oil paints) straight to your door, removing the stress and scrambling for materials on your end. The supplies are included in the cost of your tuition, worth over $1000 alone.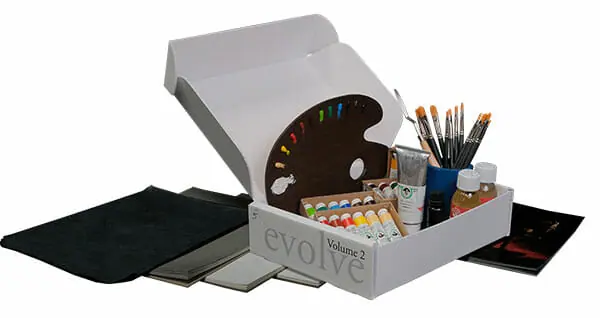 The course utilizes group lessons, one-on-one feedback sessions with personal critiques, and fosters a community of students learning alongside you that you get to interact with.
You can go at your own pace and are in control of how much time you dedicate each week to painting, working around your schedule and personal life.
Not a course for those wanting to dabble in different media, you must be dedicated to spending a significant amount of time painting.
Want even more info? Check out our full review of Evolve Artist here.
If you're ready to make oil paint your new medium of choice, but need some guidance and support along the way, sign up for Evolve Artist's online art class for a fraction of the cost of traditional art school!
AND get $100 off if you click the link and use the coupon code ARTIGNITION100
3. Digital Painting Studio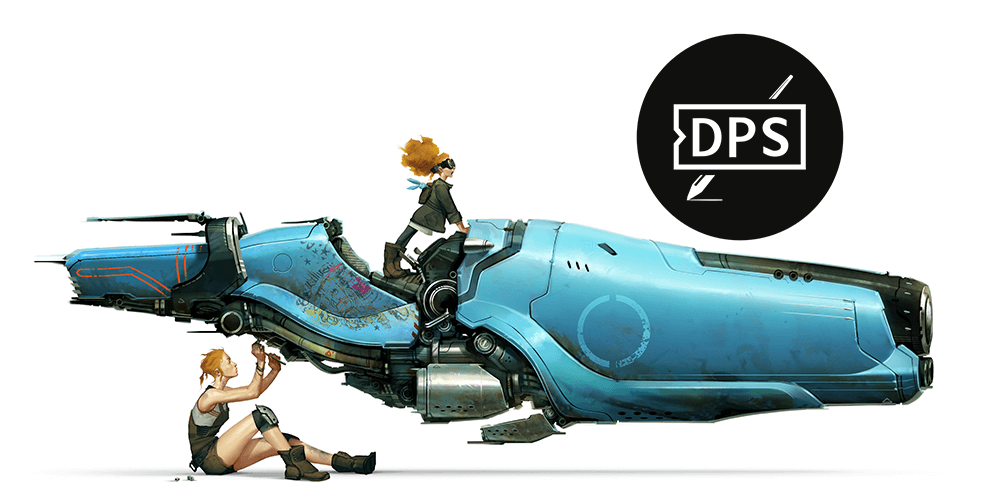 Hardy Fowler's Digital Painting Studio (DPS) is a treasure trove for artists seeking affordable and comprehensive digital art education. With courses suitable for beginners and intermediates, DPS provides a supportive community, expert instruction, and flexible payment options. If you're interested in digital painting, here are some of the things I love:
Affordable Learning: DPS offers budget-friendly courses with flexible payment plans, making quality art education accessible.
Engaging Community: Join forums and Discord communities to connect with fellow artists, find inspiration, and enhance your learning experience. There are weekly study sessions, and regular painting challenges. I found the community to be incredibly welcoming and supportive.
Expert Guidance: Hardy Fowler's 14 years of industry experience provide valuable insights into digital art and concept design.
Structured Learning: Courses are well-organized, allowing you to progress logically from basics to advanced skills at your own pace.
Interactive Learning: Practical exercises and community feedback foster skill development.
Career Building Track: Jumpstart your art career with specialized tracks, including a free course on how to create a portfolio for a career in concept art.
Variety of Courses: Explore a wide range of topics, from foundational techniques to advanced concept art.
Digital Painting Studio is perfect for emerging artists seeking affordable, well-structured digital art education and a supportive community.
Read our full Digital Painting Studio Review
4. Proko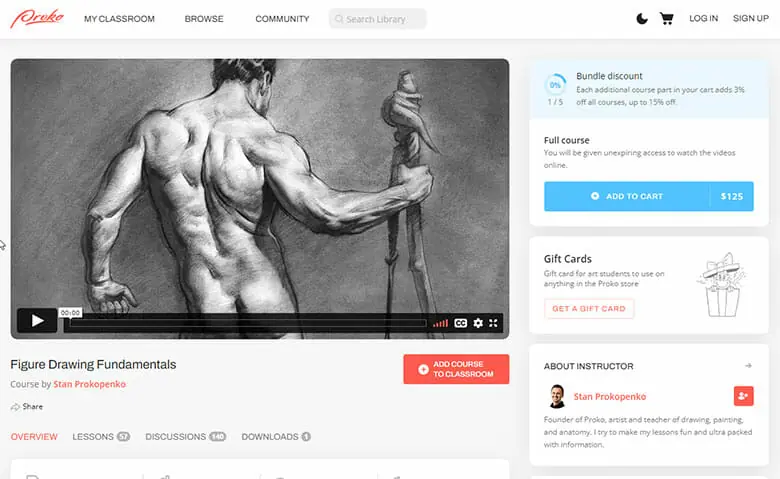 Proko's fun, engaging online courses have made it to the top for "Best Figure Drawing Classes" for taking the intimidation out of drawing the figure.
Proko lessons go beyond just figure drawing, though, and span sculpture, digital painting, character design, and pretty much every other subject you can imagine.
Proko courses are accessible and understandable for beginners and more experienced artists alike.
Proko provides hundreds of free videos of short lessons (with millions of views) that are expanded upon in more depth in the longer, paid premium courses taught by experienced instructors.
Classes focus on teaching you how to recognize and recreate drawing basics like gesture, structure, proportion, anatomy, and shading. With these skills, you'll be able to draw figures in any pose, like a professional.
Courses are broken down into lessons on specific skills like "How to Draw Gesture", "Anatomy of the Human Body", "Portrait drawing fundamentals", and "Figure Drawing Fundamentals". Each lesson is step-by-step and includes several demonstrations, assignments, pdf workbooks, and critique videos.
There's also an active online community on the Proko website. Students share their drawings, giving and receiving critiques, tips, and advice in a constructive environment.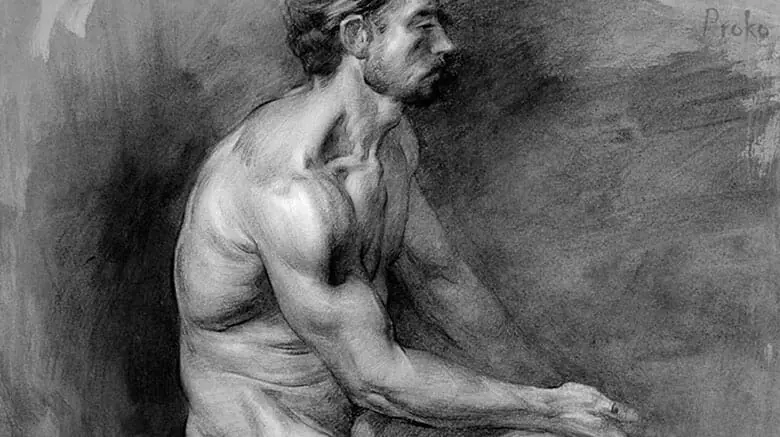 Read our full Proko Figure Drawing and Proko Anatomy Course reviews for more details!
Sign up for Proko's friendly and approachable courses today and join scores of other students learning to master the figure and all other subjects!
5. 21 Draw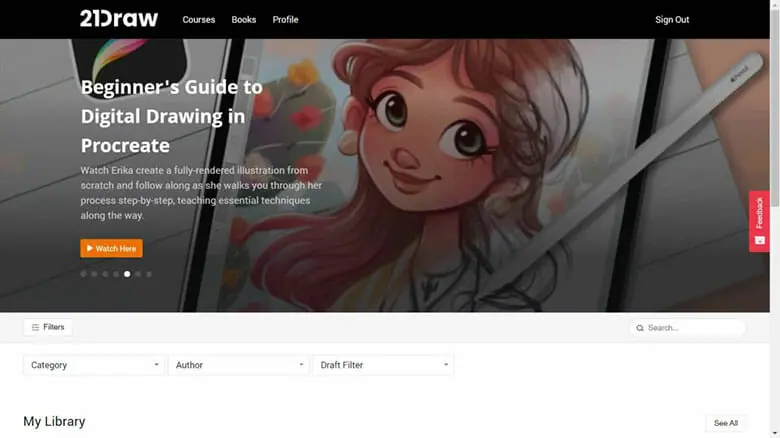 21 Draw was selected for "Best Illustration Classes" for their great courses taught by master illustrators who are active, recognizable names in the industry.
21 Draw's courses cover all of the topics that hopeful illustrators should work to master. They'll teach you character design, anatomy, lighting, shading, environments, and more.
They teach you to use specific, industry-standard illustration software like photoshop, procreate and clip studio paint. So if you're new to illustration and digital painting in general, you'll be taught everything you need to know to get started.
You can purchase courses individually, go the monthly subscription route, or save with an annual membership that allows you access to hundreds of lessons of video content.
Check out our Full 21 Draw Review to learn even more about their courses.
Aspiring illustrators, sign up for 21 Draw and let them show you how quickly you can build new skills and that all of your goals are within reach!
6. Aaron Blaise – Creature Art Teacher Review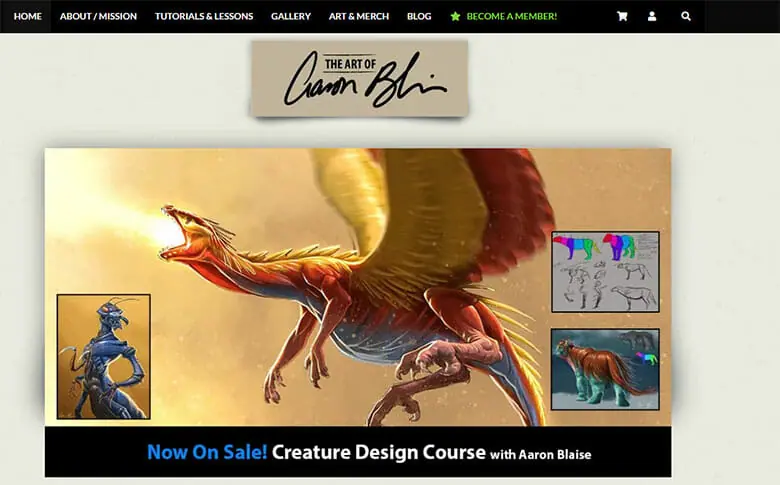 Aaron Blaise's thorough and affordable online courses at Creature Art Teacher are some of the best animation art classes online. Aaron Blaise is a master of animation who worked on Disney classics like Mulan, Lion King, and Beauty and the Beast, so you know he knows what he's talking about.
The Complete Animation course comes with over 20 videos of instruction that walk you through the 12 Principles of Animation as well as the "scene approach" to animating.
Aaron Blaise collaborates with other professional industry artists to offer amazing courses like "Sculpting in Z-Brush with Tony Cipriano", so you can hone skills in any area.
These courses are practical for both traditional and computer-based animators.
You can purchase individual courses OR an Annual Premium Membership. Premium members get access to all courses, brush packs, lessons, and bonus tips and tricks available on the site.
Current industry professionals have been taught by Aaron Blaise and you can join them!
7. Pencil Kings Review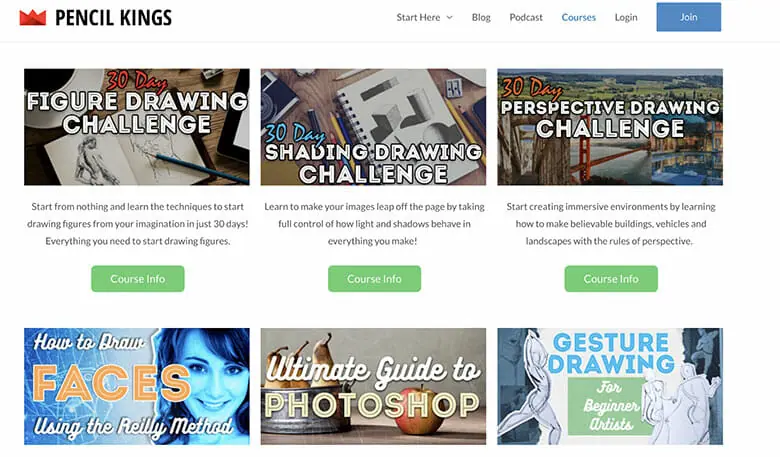 Pencil Kings offers courses in all different areas of contemporary art, both digital and traditional, taught by professional artists in their respective industries, like Loish, @Loisvb on Instagram!
There are a variety of classes, from short tutorials that are self-directed and pre-recorded to lengthier classes that include one-on-one coaching calls.
Pencil Kings organizes "30 Day Challenge" courses that keep students motivated, engaged, and having fun. They'll have you working more consistently with daily exercises targeting specific skills like shading and perspective.
They also share practical lessons about being an artist and building a contemporary art career based on the skills you learn with them.
Sign up for courses individually OR get the Full Access Pass to all 100+ courses for life.
Scroll through Pencil Kings' courses and discover everything they have to offer to help you meet your specific artistic goals.
8. Paintable Review
If you are looking for a CG academy alternative, Paintable is one of the best digital art classes currently available. Their Digital Painting Academy consists of hundreds of step-by-step video lessons, providing assignments, study groups, and monthly feedback from professional artists.
Utilizes what they call an "Active Learning Method" with clear, focused, and achievable goals.
There are 8 Learning Paths, including: foundations, advanced, light & color, anatomy, portrait & character, perspective, environment, and fantasy. Work on every skill area needed to become a professional-level digital artist.
You can also purchase bundles of their most popular courses to build specific skills like Portrait Art. Once you purchase a bundle, you retain lifetime access to it AND any future updates or additions.
There is a private Paintable Community for students to interact, critique, and learn from each other.
Over 60,000 students have signed up for Paintable's digital art masterclasses. The incredible results photos and testimonials prove that the lessons are actionable and make a huge difference for aspiring artists!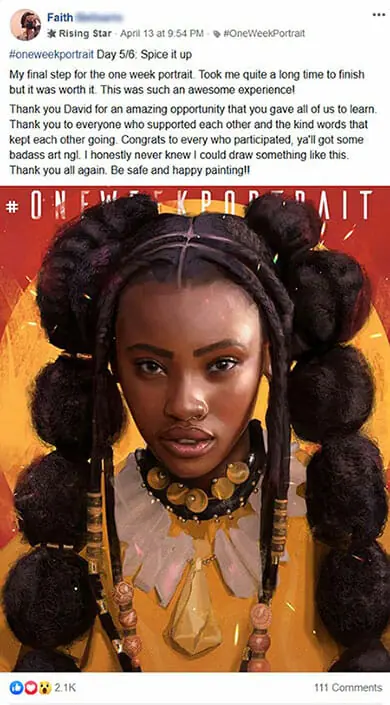 Join the huge community of Paintable's students to see the tremendous growth that you can achieve in your own digital paintings!
9. Domestika Review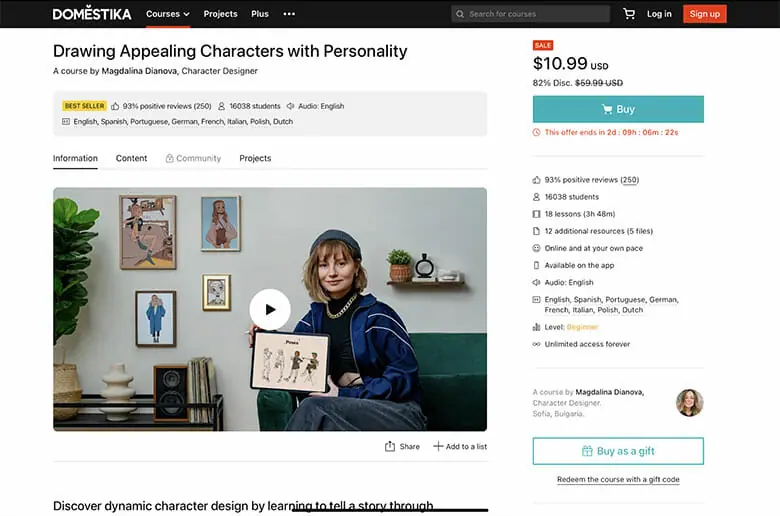 Domestika provides online courses in illustration, photography, digital painting, graphic design, 3D art, animation, modern art, art history, abstract painting, watercolor painting, acrylic painting, and more… The list just keeps going!
There are a variety of courses to choose from, ranging from affordably priced self-directed options to premium mentored classes.
Domestika's community forum allows you to interact with teachers and other students and get assignment feedback so you're not isolated while learning and can be sure you're on the right track.
They offer general courses like "Drawing for Beginners" and also some super specific courses like "Drawing Appealing Characters with Personality" so you can focus on skills you feel you're lacking.
You can see the stats of each course, including how many students have taken it, their reviews, how many lessons it includes and how many hours it will take to complete it. With all of this info and transparency, you'll know exactly what you're getting into and the quality to expect!
Receive unlimited access to go at your own pace once you sign up.
You can learn any fine art medium (including gouache and watercolor painting), illustration, graphic design, animation, concept art, modern art, art history, postwar abstract painting and more with Skillshare's online classes.
Skillshare features curated series of classes called "Learning Paths" to help you reach specific goals like "Watercolor Magic: The Basics of Color Mixing" and "Procreate Basics: Keeping a Digital Sketchbook on your IPad Pro".
This organization of courses helps to keep you focused and on track since there are SO many great courses to hop around and try out.
You conveniently get access to thousands of classes with one membership and don't have to keep paying a new place each time you want to learn a new skill. You don't have to limit what you're learning based on your budget.
There are courses, taught by professional artists, for all skill levels. Classes are rated by skill levels, so you know which are best suited for you, whether you're a beginner, intermediate, or more advanced.
You'll be sure to find classes that are the perfect fit for you when you sign up with Skillshare. (Good luck picking which to try first!) AND you'll get 40% off when you click our link.
How to Choose the Best Online Art Courses for You
The first question to ask in your search is what do you want from an online art class?
Since we know now that each course functions differently and has a different purpose and goal in mind, you'll want to find the one that best aligns with your current goals as an artist.
Are you looking for a longer, in-depth course that focuses on one medium? (Evolve Artist checks this box for aspiring oil painters).
Or do you want a broader overview of the fundamentals of different media like New Masters Academy or Skillshare offer? A subscription to these online art schools makes the best gifts for artists.
More Questions to Ask:
How much time do you have to dedicate to an art course? Different courses require different levels of commitment, requirements, and flexibility.
For example, 21 Draw offers tons of short lessons and tutorials, while Digital Painting Studio and Evolve Artist are courses that extend for months.
Is there a particular skill within a medium that you want to focus on?
What is your budget for an online art course? And do they offer payment plans?
Does the course you're interested in produce real, tangible results? (Read reviews by past students whenever possible and look at how their work has improved.)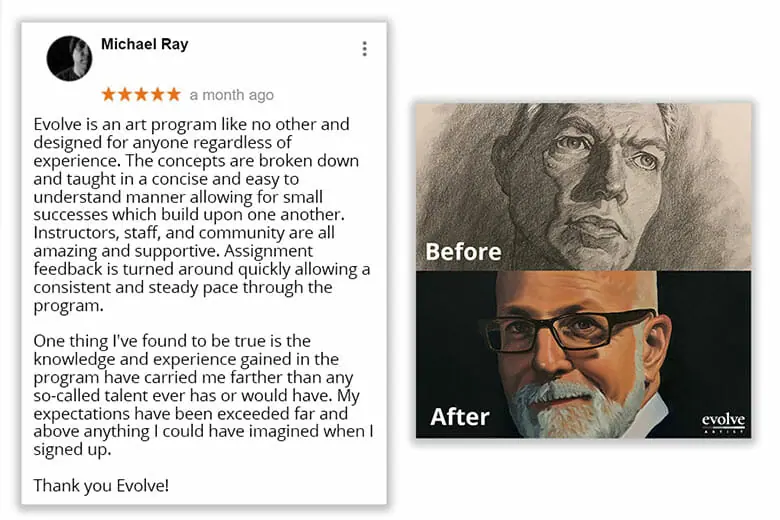 How Does an Online Art Class Work?
Online art classes are usually taught through a combination of live video lectures, pre recorded video lessons and tutorials, group online workshops and critiques, one-on-one guidance, and assigned projects.
What Are the Advantages of Online Art Classes?
The advantages of online art classes are numerous. You get to learn new skills from the comfort of your home. You can learn from some of the best artists all over the world who aren't accessible to you in person. And you can often learn at your own pace.
If your family obligations, job, finances, location, or health prevent you from taking art classes in person, online art classes can make learning visual arts more feasible.
Who Is Teaching the Online Art Class?
It makes sense to want to know who is teaching the online art classes you're thinking of taking. What makes them qualified to teach? Do they have experience teaching? Working in the industry? Have they taught in person and online?
The best online art classes give you the opportunity to learn from artists whose art, style, and approach you look up to!
Glenn Vilppu
Glenn Vilppu is one of New Master Academy's senior instructors and an example of how advantageous the best online art classes can be.
He's a master at his craft and an influential voice in the animation industry and the modern art education world, working with studios like Disney, Marvel, and Warner Bro's, as well as providing universities and art schools with his books and teaching materials.
Stan Prokopenko
Stan Prokopenko, classically trained and experienced artist and teacher, founded the Proko online courses after having taught drawing for years at the Wattis Atelier, where he originally studied himself.
He is dedicated to teaching drawing in a way that is accessible for everyone and entertaining. His videos have been viewed millions of times.
Kevin Murphy
Kevin Murphy, Evolve Artist founder, is an award-winning portrait painter, professional illustrator, and experienced teacher.
He founded the in-person Art Academy and has successfully taught painting to students of all skill levels with tangible results, in person AND through online classes with Evolve Artist.
How Much Do Online Art Classes Cost?
Online art classes costs can range from as little as $9.99 for short tutorials to an investment of thousands of dollars for the most in-depth and involved courses, but they are typically a fraction of the cost of traditional art school.
This variation in costs depends on the length of the course, whether they are live or pre recorded videos, group classes or one-on-one, and if supplies are provided.
If you are interested in the structure and mentorship offered at art school but aren't keen on paying the high fees, check out these alternative art schools.
Monthly Subscriptions vs. One-Time Tuition
Some online art classes are subscription-based and allow access to a number of classes and tutorials with a monthly fee. (Most courses will also offer a discount for signing up for an annual membership rather than paying per month!)
These courses are affordable in the short-term and allow students to try out different subjects on a budget, without a larger financial commitment upfront.
Lengthier, more specific courses sometimes charge a higher one-time tuition (often with the option of payment plans, however). These are more of a commitment initially but can keep students invested and focused.
Are There Free Online Art Classes?
There are some free online art courses and tutorials out there that can be a great place to start learning. Many paid courses offer free mini courses or post short versions of their video lessons on YouTube, so you can get a feel for their teaching style.
Free courses are usually self-directed and don't include feedback, critique, and guidance specific to you. Instead, they are more general lessons.
Community
Being around other artists and students is part of what makes in-person classes worthwhile. A community of artists learning alongside you can help motivate and inspire you.
With that in mind, the best online art classes are ones that work to build an online learning community alongside quality art education. Facilitating interaction between students is really important!
Can You Learn Art Online?
You can learn art online, and quickly, with the right dedication, guidance, instruction, support, materials, and feedback that the best online art classes offer.
No matter where your artistic goals and interests lie, the right fit is out there for you and you won't regret trying out the online art classes reviewed in this list.
It's a challenge to pick a winner for the best online art classes. New Masters Academy is our "Best Overall" choice, but Digital Painting Studio and Evolve Artist are favorites too for their specialties, and we know you'll love them all!