Whether you're about to make the leap into oil painting for the first time or you're ready to restock your palette, it makes sense to seek out the best oil paints you can find.
Here, you can learn about the best oil paint brands available today.
See how they compare to each other and what qualities set them apart, from affordable student-grade options to high-end professional grade paints!
The Best Oil Paint Brands Compared
Leads the painting world in safety with their carefully formulated paints, solvents, varnish, and studio practices, so you know you're in good hands and don't have to worry about what you're using.
Handmade paints at an affordable price allow you quality without the high cost.
Super lightfast and permanent, with alkali-refined linseed oil, so your colors will be preserved long-term.
Best Traditional Oil Paints
Uses only the most vibrant colors and historic production processes.
Maximum amount of pigment to binder ratio in every color, so each color will go a long way and be radiant in your mixtures.
Huge range of handmade colors for every painting need!
Best Oil Paints for Professionals
Extremely pigmented, so a little goes a long way despite the price.
No added fillers or driers, so they're less likely to crack in the future.
Handmade with a silky and blendable texture that you can brush smoothly across any surface.
Proven to be lightfast and permanent for up to 100 years.
Resistant to yellowing with their alkali refined linseed oil base, so there will be no surprises if you paint with light colors.
Offers beautiful and unique handmade colors like their "luminescents".
Best Oil Paints for Beginners
Affordable student-grade paints that let beginners practice as much as possible without the stress of a high price tag over their heads
Comes in many sizes and sets, so you can easily sample colors at a low price.
High pigment to binder ratio despite being student-grade, so you can still make beautiful artworks with them.
1. Gamblin Artists Oil Color Paints
Gamblin is our pick for "Best Overall" for its dedication to making their paints as safe as possible. They manage this without compromising the best pigments and qualities like texture, permanence, and lightfastness.
Pros
Maximum Safety: Their cadmium pigments are so well formulated that they don't even require federal warning labels for skin contact and ingestion like other brands' cadmiums do.
Handcrafted: They're carefully made by hand and come in 96 colors that are richly textured, individually formulated, and full of the best pigments at the perfect ratios. They assure the quality of each tube, so you know you're getting quality paints each time you buy.
Permanent and Lightfast: They use alkali-refined linseed and safflower oils to prevent future yellowing. For the utmost permanence, they combine contemporary materials with historical practices. (Their Conservation Colors have even been used to restore paintings by Van Eyck, Van Gogh, and Monet!)
Price: Their professional artist-grade paint is very affordable compared to other handmade oil paints.
Possible Cons
A few reviewers noted that the paint dries out a bit in the can options because they are difficult to reseal.
Try Gamblin's Artist Oil Colors for yourself to experience vibrant professional paints made with safety and quality in mind.
(Our full Gamblin Oil Paint Review)
2. Old Holland Classic Oil Colors
As the world's oldest paint manufacturer, Old Holland Classic Oil Colors are the best traditionally made oil paint brand available. They stay as true as possible to the pigments and manufacturing process that the Old Dutch Masters first used when they were established in 1664.
Pros
Incredibly pure pigment: Their handmade oil colors are formulated to include an extremely high pigment load of traditional pigments mixed with cold pressed linseed oil.
They have replaced only those oil colors that were not lightfast enough with modern pigments that are longer lasting.
Huge Color Range: Their artist-grade paints come in 168 vibrant colors. You can also purchase them in a carefully selected oil paint set designed for specific subjects. Choose from the introductory set, landscape set, or portrait set!
Commitment to quality: They are transparent about their production process and provide a step-by-step breakdown of how the paints are made, tested, and personally checked and packaged to ensure the best quality of each paint tube.
Possible Cons
Cost: These paints are not affordable for those on a budget.
Check out this free oil painting for beginner's mini-course with helpful painting exercises that'll allow you to see precisely how you can work with Old Holland paints (and why many people recommend them for artists at every level).
And test Old Holland classic oil colors for yourself to see what it's like to use the same materials as the Old Master painters like Van Gogh and Vermeer.
3. Michael Harding Artists' Oil Colors
Michael Harding offers the best professional grade paint on our list for their total lack of fillers in their richly pigmented paint.
They aim to uplift Old Master traditions by using historical pigments and processes, supplemented with modern pigments and technology.
Pros
Handmade: Their handmade paints are carefully formulated to be intensely pigmented, lightfast, and durable. They're made with refined cold-pressed linseed oil and don't include added driers to prevent future yellowing and cracking.
Reduced Yellowing: Refined cold pressed linseed oil as a binder limits future yellowing. They even make their titanium white with safflower oil to combat it further, so you don't have to worry about your carefully mixed lighter colors turning yellow later.
Uniquely textured: They describe their oil paint as "silky" rather than "oily" and perfect for both thin glazing or thick impasto applications.
Possible Cons
Drying Time: May take longer to dry because there are no added driers.
Cost: Not great for those on a budget.
See how beautifully Michael Harding oil paints mix in this extensive color mixing video artist, Vicki Norman.
If you're a professional artist or aim to become one, try them for yourself and see how much of a difference Michael Harding's high quality paints can make in your practice.
4. Daniel Smith Original Oils
Daniel Smith Original Oils provide a unique range of 113 highly pigmented colors, manufactured by hand in small batches with alkali-refined linseed oil to keep your colors as intended once they dry.
Pros
Takes Lightfastness very seriously: Daniel Smith tests their paint samples with a "Xenon Fadeometer". (Straight out of a sci-fi movie? Don't worry, it only sounds like it.) This machine simulates 100 years of sunlight in 10 days, so you don't have to wait around 100 years to see if the paints are really as lightfast as they claim.
Unique Colors: Many of Daniel Smith's thick, blendable colors are unique to their brand, including their "luminescent" range. They also have a transparent blender that can extend your paint without impacting the color intensity!
High Quality and Affordable: You don't have to compromise quality for affordability when it comes to Daniel Smith's artist-quality oils.
Possible Cons
Limited Sizes: Most colors are only available in small, 37 ml tubes, so if you like to work with large quantities, this can be frustrating.
Choose Daniel Smith's Original Oils for carefully formulated, highly pigmented colors, without damaging your wallet.
5. Winsor & Newton Winton Oil Paints
Winsor & Newton's Winton Oil paints are our student-grade pick for best oil paint for beginners. They're great for artists on a budget who are willing to sacrifice some intensity for affordability.
Pros
Most Affordable: Priced very reasonably while still providing solid quality that rivals some artist-grade brands, allowing you to paint on any budget.
Useful range of colors: There are 55 Winton colors available that are consistent in texture and great for mixing whatever you need.
Convenient Sets Available: You can find affordable sets of Winsor Newton Winton paints in small 12 ml tubes, like this set of 20,  that are perfect for testing out colors to see what you'd like as a staple on your palette.
Possible Cons
Weaker pigments: Rather than compromising the ratio of pigment to binder, they use a high pigment load of less expensive, synthetic pigments. The difference in color intensity is noticeable.
Oil used: They don't readily advertise the oil used in their paints like other brands do, so it's harder to find out what they're made with.
Stock up on Winsor & Newton's reasonably priced 200 ml tubes, or try one of their introductory sets if you're starting your paint collection from scratch!
How to Choose the Best Oil Paints for You
With so many oil paint options, it can be tough to decide which is the best oil paint for you.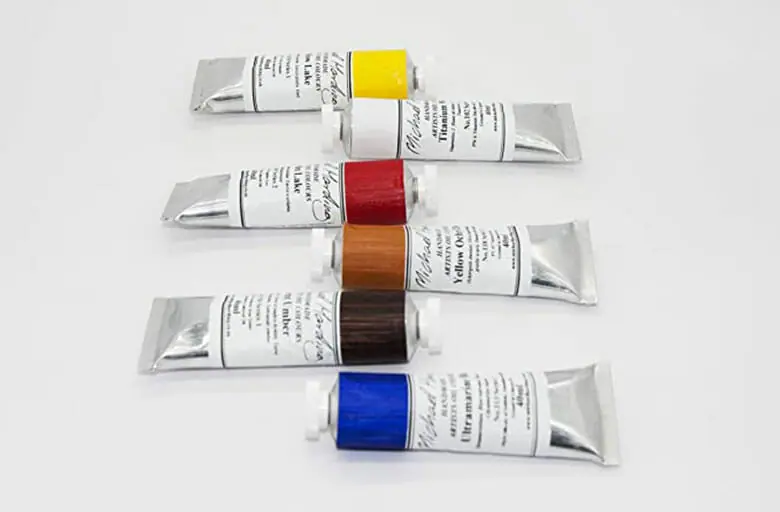 The most important factors to consider when buying oil paint are budget, grade, drying time, pigment load, and safety.
Consider Your Budget
There are quality paints out there at many price points.
With cheaper paints, you might have to sacrifice the strength or level of pigment, forcing you to use more paint in the long run.
Student-Grade Oil Paints:
If you're hesitant to make a significant investment or can only afford student-grade oil paints for now, that's okay! Don't let it stop you from painting.
It's ideal to have the best paints, but you can learn with whatever materials are available to you, even if that means cheaper oil paints.
Winsor & Newton's Winton line is perfect for beginners on a budget (Read our full Winsor and Newton oil paints review for details).
The difference in pigment and tint strength between professional and student grade paint is noticeable, so keep that in mind when mixing.
Professional-Grade Oil Paints
Professional, artist-grade oil paints use a higher ratio of pigment and don't include unnecessary fillers.
These are ideal for serious painters.
TIP: If you can't make a huge investment right away, consider buying a limited palette of a small range of colors and slowly adding to it over time.
Overall, Gamblin and Daniel Smith have fairly affordable professional grade, high-quality paints.
What Are Your Painting Goals?
Your goals and motivations will determine what you need from your oil paint.
Consider these questions:
Are you painting as a hobby or to potentially sell your paintings? If you're planning on selling your paintings one day, it will make sense to use professional quality paints that are guaranteed to last.
Are you concerned about future yellowing? If you paint with a lot of light colors, look for paints made with oils that are less prone to yellowing, like alkali refined linseed, safflower, and poppy oil.
How quickly do you need your oil paintings to dry? Can you wait however long is necessary? Or do you need to have commissions done quickly to meet deadlines?
Understanding what you need and looking for paints that will meet those needs is the key to making your painting experience the best for you!
What Type of Oil Is Used? Linseed Oil vs. Alternatives
Since oil is a massive part of the formula for oil paint; it makes sense to pay attention to which type of oil is used in them. Each oil has different drying properties and behaves differently over time.
Most oil paints are made with linseed oil because it has been used historically and is one of the faster drying oils, making it the most convenient.
However, we know now that linseed oil is prone to yellowing over time, most noticeably in lighter colors.
Because of this, many high-quality paint brands use modern solutions like alkali refined linseed oils in their paints. You get the benefits of traditional linseed oil with less yellowing.
Other alternatives are slow-drying walnut oil or safflower oil. These are often used in white paints, like Gamblin's Titanium-zinc white and the Titanium white Michael Harding oil paints. Occasionally, some brands, like M Graham, have an entire range of oil colors that use walnut oil. You can read our full M Graham Oil Paint Review for details.
Check out our oil paint drying guide for more information on how oils impact drying times. 
Are You Looking for the Safest Oil Paints?
If the safety of your materials is a top priority, there are some pigments with major warning labels you'll want to look out for.
Cadmiums, cobalts, and leads are some of the most toxic oil paint pigments. But you can avoid them by seeking alternatives like Winton's Cadmium Hues.
Gamblin has revolutionized studio safety and quality in oil painting – Many art schools now require the use of their materials over other brands.
They offer high-quality pigments and materials, like solvents and cadmiums – traditionally thought of as toxic, in much safer formulas.
Can You Mix Brands of Oil Paints?
Yes, you can mix brands of oil paint. Just keep in mind that different oil paint brands use different oils as their binders (like linseed vs. walnut oil), so the drying times may be different.
I often have favorite pigments in multiple brands on my palette, like Daniel Smith's lemon yellow alongside Gamblin's quinacridone magenta.
Where Can You Learn to Oil Paint?
You can learn to oil paint by taking oil painting lessons, either in person or online. Evolve Artist's online oil painting courses are perfect for those who want to learn to oil paint from home.
Learning to paint on your own can be intimidating, but Evolve Artist's experienced teachers help you learn everything you need to know, one step at a time.
They believe that even as a beginning oil painter, you should have the best oil paint to work with even as a beginning oil painter. Included in your tuition, you get $1000 of painting supplies (including Old Holland paints!)
And you can get $100 off if you use the coupon code ARTIGNITION100.
Choose the Best Oil Paints for Your Own Needs
Now that you have an idea of some of the high-quality paint that's out there, you can choose the best oil paint brand for you. Or feel free to mix and match! (I definitely do.)
Ultimately, Gamblin is our number one out of the top oil paints for their unbeatable safety standards that come along with vibrant colors and rich, yet reasonably priced paints.
Frequently Asked Questions
What Are Oil Paints?
Oil paints are rich, slow-drying paints that combine pigment and oil. Variations of linseed oil are most commonly used to make oil paint.
Oil paint first became widely used around the 15th century and has been used consistently ever since by students and masters alike.
The best oil paints are appreciated for their buttery texture, blendability, and vibrancy.
How Much Does Oil Paint Cost?
Oil paint costs vary depending on brand and quality. They can be expensive, but a little goes a long way, so a tube of oil paint will last you a long time.
High end, hand-made oil paints are crafted individually in small batches by the best oil paint brands, like Old Holland and Michael Harding, so they are often more expensive.
Factory-manufactured paints, like Winton, are able to be made more quickly with less individual attention, so the prices reflect that.
What Are the Advantages of Premium Oil Paint Brands?
The advantages of premium oil paint brands are that they use the highest concentrations of the highest quality professional-grade oils and pigments to make the best oil paints possible.
They include no fillers, so you'll have the most vibrant, light-fast oil colors.
The expense of premium paint brands, like Old Holland and Michael Harding, reflects a long history of pigment testing and a commitment to improving upon traditional practices.