You know a little about the oil painting process and have created some paintings that have come out O.K. But, what now?
You've come to the right place!! This article will share with you 11 time-tested, reader-praised how-to books that will take your oil painting skills to the next level.
The Best Books on Oil Painting Techniques Compared
Best Oil Painting Book Overall
Comprehensive instruction to develop your skills fast.
Step-by-step demonstrations to improve your brushwork.
Inspirational images and examples to showcase what's achievable.
Understand color theory and mixing for a more creative and innovative approach to your paintings.
Personal anecdotes from Schmid teach you how to think like an artist.
#2: Color Harmony, Kessler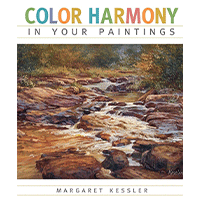 Best For Understanding Color
Simplifies Color Theory so you can mix colors with confidence.
Practical and Immediately Helpful tips you can apply now.

Intimate Instruction to coach you through using color.
#3: Fill Your Oil Paintings With Light and Color, Macpherson
Best For Landscape Painting
Useful for All Skill Levels means something for everyone.
How-to Capture Mood gives life to your paintings.
How to Deal With Changing Light to build your confidence.
#4: The Art Spirit, Henri
Best For Painting Philosophy
Insight Into the Mind of a Professional Artist Gives You Secret Tips.
Builds an Artist's Attitude So You Can Think Like an Artist.
Exercises for Better Observational Skills So You Can Paint What You See.
#5: Traditional Oil Painting, Elliott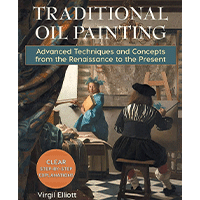 Best For The Science of Painting
Classical Techniques Explained for You In Modern Terms.
Answers All the Why Questions about Oil Painting You Can't Find Elsewhere.
Great Depth of Information
For One-Stop Learning.
1. Alla Prima II Everything I Know About Painting and More by Richard Schmid
This book is a legacy left behind by a recently deceased master who painted in the manner of John Singer Sargent and Anders Zorn.
Alla Prima II is half a philosophical treatise and half an instruction manual. Schmid gives you excellent advice on how to look and see like an artist and then how to recreate that vision on canvas.
This book includes instruction on how to plan a painting, practice color mixing, use purposeful brush strokes like dry brush painting, and everything else about Schmid's process in creating a painting in one session. The subtitle is Everything I Know About Painting and More, and indeed it is.
This book isn't cheap and can be hard to find, but it is well worth it if you are serious about painting.
2. Color Harmony in Your Paintings by Margaret Kessler
Color Harmony is probably the most concise and easy-to-understand, comprehensive guide to understanding and using color theory.
Kessler begins by explaining all the basics of paint colors and color mixing before sharing how to use color schemes (color pairings) practically and easily.
With excellent images and graphics, and simple to understand, no-fluff text, this book will be valuable whether you are a beginning painter or someone with years of experience.
Kessler makes understanding value, temperature, perspective, and design of color easy to digest and apply to your own paintings.
Not just a technical manual, this book explains and will help you to use the psychology of color to your advantage as you will learn to elicit emotions from the viewer and emphasize the themes and narratives of your paintings.
3. Fill Your Oil Paintings with Light and Color by Kevin Macpherson
Macpherson's book is a must-have if you are interested in learning how to paint landscapes. While there is a section on still life painting, the majority of the book will be helpful for those who paint alla prima or en plein air (outdoor landscape painting).
The book explains how to translate complex scenery into simple, confident brush strokes, while also helping you to understand how light changes with time of day and atmospheric effects. This practical guide will be useful for you if in your beginning, intermediate, and advanced stages of painting experience.
Macpherson's inspirational examples evidence his experience painting landscapes and will motivate you to try your hand at experimenting with his advice. His explanations and instructions are clear and simple to follow. This book is a must-have if you do or plan to paint landscapes in oil.
You will return to this book again and again as long as you paint.
4. The Art Spirit by Robert Henri
First published in 1923, The Art Spirit has been an "artistically spiritual" guide for many creatives, including famous visionaries such as film director David Lynch.
This book will motivate you to want to think about and look at the world like an artist.
Although this book doesn't have step-by-step painting instructions like some of the other books in this article, it does share some exercises you will find useful.
Henri shares an exercise where he had his students look at the model they were to paint in one room and then have them walk to another room where they were to paint what they saw in the first room. This exercise forces better observation to limit the number of times you would need to walk back and forth between the rooms.
The book is like a collection of inspirational quotes that will motivate you to look at more of your world through an artist's lens, as Henri's musings about the artistic process are so profound.
5. Traditional Oil Painting: Advanced Techniques and Concepts from the Renaissance to the Present by Virgil Elliott
Traditional Oil Painting will appeal to you if you have experience with oil painting but want to know more and take your skills to the next level. Virgil Elliot has created a complete oil painter bible that covers everything an oil painter needs to know in very easy-to-understand language.
Elliot covers in detail how to see like an artist and teaches you the principles of drawing and "Visual Reality."
You will also learn how oil painting materials are made and behave, and you will receive step-by-step instructions on some classical painting techniques of the old masters, such as glazing, grisaille, direct painting, and more.
This is indeed the most comprehensive reference manual on oil painting available!
6. The Oil Painting Course You've Always Wanted by Kathleen Lochen Staiger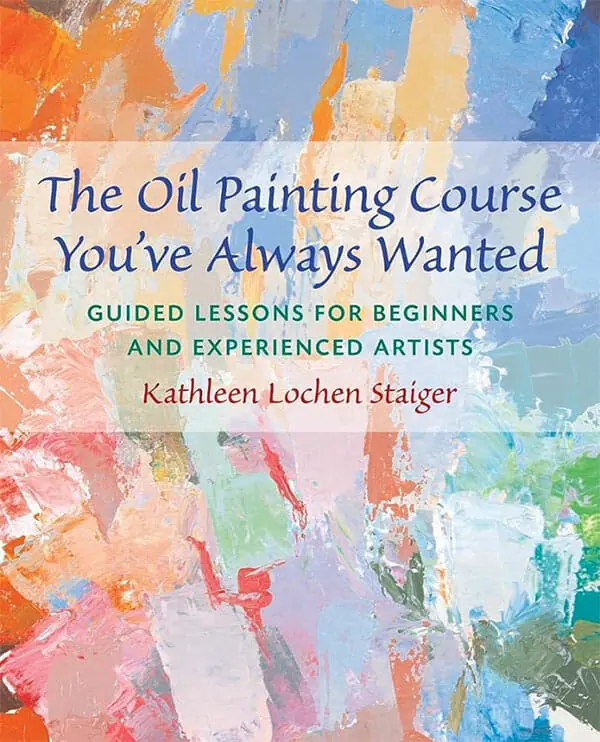 The Oil Painting Course covers a lot of information on the basics of oil painting. This is appropriate for the absolute beginner to the intermediate painter with practical advice for understanding oil painting and tips to avoid early pitfalls.
This book will improve your paintings by reviewing and teaching the basics of drawing skills, how to create the illusion of three-dimensional objects on a two-dimensional surface, and which tools and materials to choose and why.
Staiger's book gives you practical advice as it walks you through each step of "building" a painting from the idea to final touches.
There are sections on how to develop a painting in three specific genres: Still Life, Landscape, and Portrait oil painting.
Each genre-specific section takes your learning beyond general painting techniques and into skills you crave for paintings you're working on now, like how to create realistic skin tones.
7. Color Mixing the Van Wyk Way by Helen Van Wyk
Color Mixing is an easy-to-understand book on how to mix colors for a range of objects commonly found in paintings.
This book focuses on the big picture of color theory and mixing colors and would be most useful if you are a beginner or intermediate artist.
However, it is a good reference to return to occasionally, even if you are more advanced, even though it is accessible for utter beginner learning.
The book will guide you through practical step-by-step exercises on how to mix colors and paint specific objects. These exercises will make your finished paintings look more professional!
8. Daily Painting: Paint Small and Often To Become a More Creative, Productive, and Successful Artist by Carole Marine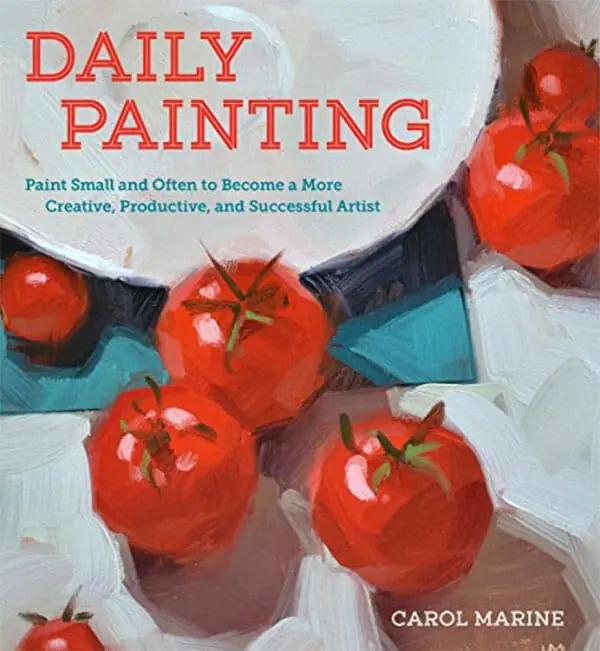 Carol Marine was a major player in the "Painting a Day" movement of the mid-2000s. Her fresh, smaller canvases carry the energy of impressionist works, and she quickly became a highly sought after painting workshop presenter.
While Daily Painting includes advice and instruction on how to paint and even market your works, its biggest value will be in motivating you to paint more often.
You, like many artists, may have hit creative blocks, and Marine's advice for this obstacle is to paint smaller and more often, even every day.
The pages are filled with beautiful, immediately appealing, and inspiring images of mostly still life paintings that make the process look so easy that anyone could do it, which you can!
Geared toward the intermediate painter that wants to move to the next level, this book will get you fired up to break out your supplies and start painting.
9. Color and Light: A Guide for the Realist Painter (Volume 2) by James Gurney
Color and Light may be the most useful technical guide for the widest range of abilities. Whether you are a beginning painter or someone with years of painting experience, you will find great value in this book.
Gurney covers every aspect of color and light as they relate to painting and goes into great detail for every factor.
If you want to know about how light behaves in different situations, it's here. If you want to know how and why we perceive light and color, it's in here. If you want to know how to translate fog into paint on a canvas, it's in here.
You won't want to keep this book on the shelf. You'll want to keep it on your desk because you will be reaching for it again and again. This book pays for itself and then some!
10. Classical Painting Atelier: A Contemporary Guide to Traditional Studio Practice by Juliette Aristides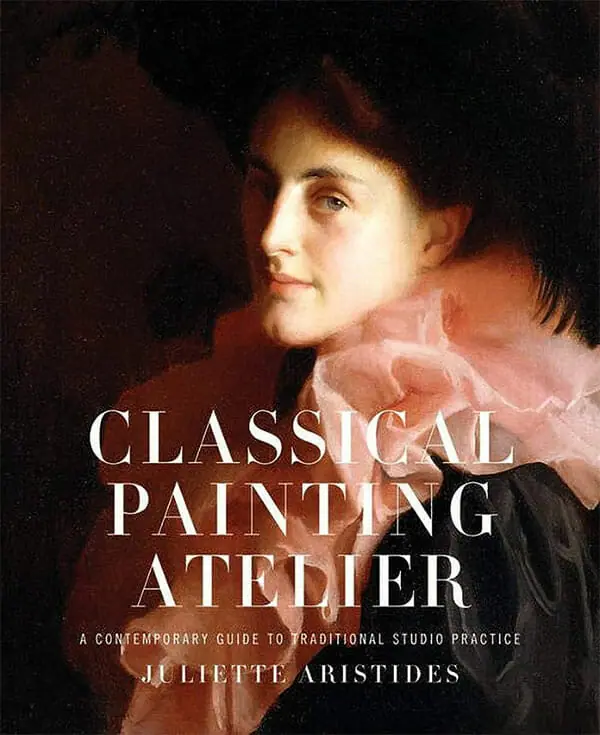 Atelier is a French term for professional studios where apprentices learned from master artists up through the 1800s. There has been a recent resurgence of this method of instruction for artists, with many of these studios appearing in Europe and the United States.
Classical Painting Atelier condenses the Atelier teaching structure, methods, and philosophies as a guide for you if you don't have the time or money to enroll in one of these studios. If you want to practice oil painting and learn how to master oils in the classical tradition in a DIY format, this book is for you!
More for the intermediate to advanced oil painters, this book covers the history of this tradition and the foundational principles of visual images.
Included are tips for practical painting applications such as painting portraits. There is also a section that analyzes the processes of works from famous historical and contemporary oil painters so you can see how professional artists use these techniques.
11. An Artist Teaches: Reflections on the Art of Painting by David Leffel
An Artist Teaches is included in the list as an indulgence purchase and something not everyone can afford. It is expensive but worth it if you are a serious painter. David Leffel is a master painter and much sought-after instructor who spent many years teaching at the infamous Art Student's League of New York.
In this book, Leffel's focal point is not how to capture a likeness but rather how to capture the essence of the subject you are painting. Using classical techniques from the Renaissance, Leffel's works are reminiscent of professional artists Rembrandt, Hals, Van Eyk, and others.
If you want to build your skills to a professional level and master techniques like chiaroscuro, this book is a great item to add to a birthday or holiday present wish list.
Choosing Art Instruction Books
Whether you are a beginning oil painter or someone who has been painting for years, you can benefit from the insights and experience of master oil painters.
Quality instruction books should include foundational information so readers of any level can follow along, step-by-step instructions, example images of each technique, advice on how to avoid problems, and tips and tricks for you to practice for yourself.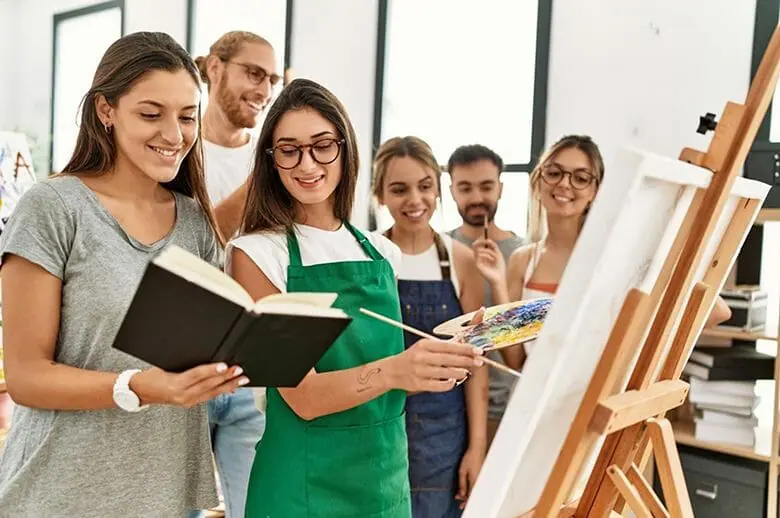 The books mentioned above tick the boxes on all of these.
Books on oil painting skills can be useful by themselves, but you may find you will benefit most from these guides if you use them as a supplement to other oil painting instructional resources.
The best way to learn from painting instruction books is to read through the information first, ensure you understand the skills, techniques, or concepts presented, and then experiment by following the step-by-step demonstrations.
Beyond Art Books
Whether you are an absolute and utter beginner, or an advanced artist, learning to paint through painting books and self-teaching is a great way to build foundational skills and practice techniques.
If you are ready to take your practice to the next level, you should also consider getting some formal instruction. Either way, paint seriously and paint often!!