Thumb hole or no thumb hole? Glass, plastic, or wood?
With all of the paint palettes out there, it can be difficult to choose which is the best oil paint palette for you – but this post can help you narrow down your options.
Below, you'll discover the key differences between wood, glass, paper, and plastic palettes.
You'll also find out when to use them and learn the pros and cons of using a disposable palette vs a more permanent option.
The Best Oil Painting Palettes Compared
#1. New Wave POSH Glass Artist Palette 12" x 16"
Best glass palette for oil painting.
Easy to clean
Large flat surface for color mixing
Tempered glass for durability
Rubber guards prevent sliding and protect surfaces
Can also be used with acrylic, gouache, or watercolor.
#2. New Wave POSH Natural Wood Stained Table Top Palette
Best wood palette for oil painting.
High quality, handmade palette
Large flat surface for color mixing
Treated to resist absorption of artist's materials, including solvents
#3. Imookyo Paint Palettes with Thumb Hole
Best painting palette for beginners.
Inexpensive and versatile palette, compatible with many mediums
Comes in a pack of 2 – one bean-shaped, one rectangular
Can be used by left or right-handed painters
#4. U.S. Art Supply Paint Palettes with Thumb Hole and Wells
Most organized paint palette.
Affordable and versatile palette, compatible with many mediums
Wells for greater organization
Includes 3 paint brush holders
#5. Mijello Artelier Airtight Palette
Best portable oil paint palette. Perfect for plein air and painting outdoors.
Portable option that extends your paint's life up to 7 days
Airtight oil paint palette with lid. Perfect to keep paint safe and wet for longer
Wells for greater
Easy to clean – dried paint peels right off
#6. Bellofy Paper Palette Pad – 50 Sheets
Easiest palette to clean up.
Disposable for easy cleanup.
Large flat surface for color mixing
Inexpensive option that includes 40 palettes
Paint Palette Reviews
To simplify your decision-making process, here is a list of our top 6 palette picks. It breaks down the features that make them so great, when you should use them, and a rough cost estimate.
1. New Wave POSH Glass Artist Palette
Available Sizes: 9 x 12", 12 x 16" and 16 x 20"
Available Colors: White, Clear, Neutral Gray
This glass palette is "our best pick" since it's the most versatile and available in three sizes and three colors. With this one palette, you can paint with oil, acrylic, gouache, and watercolors.
Pros
The glass palette is extremely versatile and can be used with all paint media, or as a mulling surface, mono printing surface, or tempered glass craft mat.
Available in three sizes: 9 x 12", 12 x 16" and 16 x 20", leaving a lot of room to color mix
It comes in three colors, gray, white, and clear, making it easy to match your tonal ground or slide a piece of paper below the clear option to customize the color.
The new wave posh tabletop palette also has rubber guards on the corners protect your surfaces
Cons
Not as durable or portable as other options.
These glass palettes are best for artists who paint with many different mediums and want the flexibility to choose the perfect size and color.
2. New Wave Table Top Wooden Artist Palette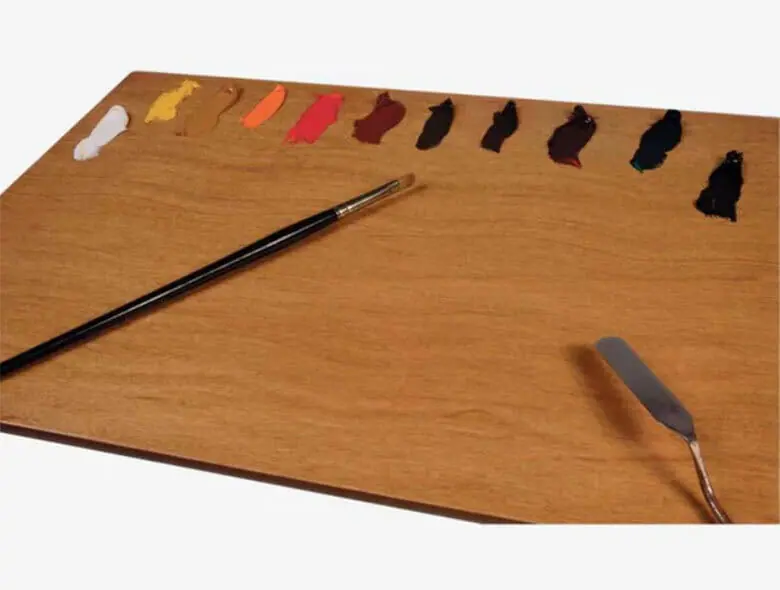 Available Sizes: 12 x 16"
The New Wave wooden palette wins in the best craftsmanship category. Every palette is handcrafted from hard white maple sanded and coated to completely seal the wood, making it an excellent choice for oil painting.
Pros
It's treated with a coating impervious to water, oil paints, and solvents. However, the manufacturer strongly recommends using it only for oil painting.
The palette is freezer-safe, so you can extend the life of your wet paint without removing it from the palette.
The palette is a 12 x 16" rectangle, leaving plenty of space for you to mix your colors, and it also has two rubber feet that hold it in place.
Cons
There's potential to nick or gouge the surface since it's wooden.
This is one of the best palettes for oil painters who favor a burnt sienna tonal ground and want a larger palette for color mixing.
3. Imookyo Bean-Shaped Plastic Palettes with Thumb Holes (2 Pack)
These palettes win the award for best handheld palettes for left and right-handed artists. Not all handheld palettes are suitable for both, but this two-pack is. It's also super versatile and can be used for oil, acrylic, gouache, or watercolor painting.
Pros
This bean-shaped palette duo features a hole for your thumb so you can stand as you create. One huge perk is that right or left handed artists can use this palette since you can flip it over to paint on either side.
This plastic palette pair is an inexpensive choice.
They're also completely transparent, making it easy to compare the colors you mix to the values already on your canvas.
Cons
The smaller surface (8×12") can make color mixing a challenge.
The pack is an inexpensive option – a good choice for an absolute beginner exploring different palette shapes and sizes.
4. U.S. Art Supply Bean-Shaped Plastic Palettes with Thumb Holes and Wells (2 Pack)
Available Sizes: 10 x 13.5"
These handheld palettes win in the most organized category. The duo features many small wells to help you organize your pigments and a few large wells to keep mixed colors separate. It can be used for oil, acrylic, or watercolors.
Pros
If you want to organize your colors in their own little wells, this is the palette for you. Both palettes have 12 small wells and 5 larger ones to separate your mixed paints.
The bean-shaped palettes also have 3 tiny holes to hold brushes you're not using.
They're an inexpensive option that comes as a 2 pack, so you always have a spare.
Cons
The well walls take up some mixing space, so this palette is better suited for projects that require small brushes.
This white palette duo is a good choice if you're a new artist who wants an affordable, organized, hand-held palette.
5. Mijello Airtight Plastic Paint Palette
Available Sizes: 9 x 13 x 1"
The Mijello multi-purpose palette wins in the Most Portable category. The airtight surface with a lid is ideal if you enjoy painting plein air, or transport your supplies often. It's compatible with oil, acrylic, and poster paints.
Pros
The palette has 25 wells around the edges of varying sizes, and one large white surface in the center for color mixing.
It's a convenient, lightweight, and inexpensive alternative to a pochade box.
Many artists say the air tight seal noticeably extends the life of their oil paints, especially when placed in the freezer.
Cons
The smaller size (13 x 9") and wells might make it difficult to mix pigments and clean .
This airtight palette extends the life of your paints and is excellent if you like organizing your pigments and plan to take them outside.
6. Bellofy Disposable Paper Palette
The Bellofy Paper palette wins in the Easiest Cleanup category. It's a convenient, disposable alternative to permanent palettes, and is still compatible with several wet mediums like oils, watercolors, and acrylics.
Pros
You can paint with multiple mediums thanks to the non-porous coating.
It has a thumb hold and is bound on the opposite side, so it won't flap in the wind if you prefer painting outdoors.
The pad comes with 50 sheets of white palette, and although they're disposable, you don't have to toss out your color mixes at the end of every session. Just like a permanent palette, you can cover it with plastic for later use so you don't waste paint.
Cons
Since they're disposable, it's a wasteful option compared to non-disposable palettes.
This is best for artists who want a palette that requires zero cleaning and can be used with several mediums.
How To Choose The Right Palette Shape And Size
Oil painting requires more supplies than most mediums, including a palette. But how do you choose which is right for you? Let's talk about shapes and sizes.
Bean Shaped vs Rectangular Palettes
The difference lies in how you like to arrange your paints. The rectangle shape makes it easy to organize your colors in rows, keeping the palette clean and tidy. On the other hand, if you have a free flowing style, you might prefer a bean shape.
Bean Shaped
Bean (or kidney) shaped palettes were originally made of wood, but today you can also buy a plastic version. It's uncommon to find a bean-shaped glass palette since they're usually used while standing, and glass would be too heavy.
The rounded shape is ideal for placing your pigments along the top edge, and putting your mixed paint in the center. Plus, if you choose a large kidney-shaped palette, it "hugs" your torso and arm, unlike rectangular palettes.
Rectangular
You can buy plastic, glass, or wood palettes in this shape. Many come in different colors, like New Wave palettes, which come in clear, white, or neutral gray.
Paint is typically placed on the edges of rectangular palettes and mixed in organized rows in the middle.
One perk of using a rectangle palette is that they work for both left and right-handed artists. Whereas some bean shaped palettes are only designed for right-handed artists because of the angle the thumb hole is cut.
Handheld vs Desktop
Handheld
You can find bean-shaped or rectangular handheld palettes. Both are designed to rest comfortably on your arm and feature a thumb hole for greater control.
Desktop
Desktop versions are best for artists who need a lot of space to color mix, and you can buy a glass, plastic, or wooden palette, depending on your preference. One thing that's great about the clear glass top, specifically, is that you can change the background color by sliding a colored sheet of paper underneath.
Choosing The Right Palette Size
One thing to consider before you buy a palette is the size.
Ask yourself
"Will I paint standing or sitting?"
"Will I paint outdoors?"
"How much space do I have?"
"Do I need a lot of room to color mix?"
For example, if Impasto oil painting is your typical painting style, a tiny handheld palette will probably lead to frustration. In that case, you should be shopping for large wooden or glass palettes that give you plenty of room – like tabletop palettes.
On the other hand, if you prefer creating detailed paintings done in tiny sections, the best palettes are likely small and lightweight, like a wood or plastic hand-held option.
When To Use A Glass Oil Painting Palette
Glass palettes, like the Wave Posh Tabletop Palette, are a convenient option for oil painters who tend to stay in one place, and need a lot of space for paint mixing. You can find a glass surface in clear, white, or gray – making it easier to ​​see how colors you mix will look on tone canvases.
Tip: If your canvas isn't a neutral gray or white, you can slide colored paper underneath the clear palette that closely matches your tonal ground.
How To Clean A Glass Oil Painting Palette
Because the smooth surface isn't susceptible to gouging and denting like plastic or wooden palettes, you can use a razor to scrape most of your dried paint away and clean the rest with a rag and solvent like Gamsol.
When To Use A Wooden Palette For Oil Painting
A wooden palette may be your best friend if you choose to paint with a burnt sienna tonal ground. This way, the palette, and your background will match closely, making color mixing easier. Wooden palettes are also lightweight and comfortable to hold if you stand while you paint.
How To Clean A Wooden Oil Painting Palette
Razors should be avoided on wooden pallets since they'll gouge the surface and leave empty pools for your paints to fill later. Instead, gently scrape off excess paint with a palette knife and remove the rest with your solvent of choice to keep your wooden palette clean.
How To Treat A Wooden Palette With Linseed Oil
Untreated wooden palettes will absorb paints and solvents. To prevent this, you can seal the wood with boiled linseed oil from the hardwood store. It's easy to do and takes a week to be fully dry.
You can watch this video to learn how.
When To Use Plastic Palettes For Oil Painting
Plastic palettes are an inexpensive and extremely lightweight option. Similar to the glass options, you can choose a white, gray, or clear plastic palette. Or maybe just buy all three since they're so affordable.
How To Clean A Plastic Oil Painting Palette
After painting, it's best to remove as much paint as possible with a palette knife or paper towel. Then clean off the remaining paint with Gamsol or a solvent.
When To Use Paper Palettes For Oil Painting
Paper palettes are a less sustainable option but extremely convenient to clean up at the end of a painting session. However, if you're painting en plein air, look for paper bound on two sides, or with a thumb hold like the Bellofy paper palette. Otherwise you risk a slight breeze causing chaos.
How To Dispose Of Paper Oil Painting Palettes
Before tossing any leftover paint, consider scraping it off and mixing it to create a neutral gray for future tonal backgrounds.
Once you've saved any remaining paint, you can dispose of the paper in a fire-safe container.
How To Store Paint On The Palette Between Painting Sessions
If you're painting in multiple sessions, it's essential to keep your oil paint from drying out. The easiest way to do this is to put your palette, or palette box, in the freezer. You can wrap it in plastic and set it inside until you're ready to paint.
If your palette isn't freezer-safe or you don't have the space, spray a small amount of linseed oil or a drop or two of clove oil over the oil paint and cover it with plastic wrap.
Artists, Choose Your Palette
Depending on whether you paint en plein air painting or in your studio, or standing vs seated it can be difficult to choose the right palette. Especially if you like to shake it up.
Based on all those factors it's hard to choose the best palette overall for oil painting, but the New Wave Glass Palette certainly offers the most variety in terms of size and color. And it's super easy to clean.
However, if you prefer to hold your palette as you paint, the plastic two pack is smaller, but just as versatile and more cost effective.