Can I be honest with you for a moment?
Not just direct, but say some things that'll make some digital artists mad?
The world of digital art has changed.
Once upon a time, Sketchpad was the only interactive digital art software. Instead of hammering professional and aspiring artists into buying from a pool of digital art tools, the world had only one option to create digital art:
Sketchpad.
Its invention was a game-changer. Professional artists could draw lines and shapes using electronic pulses shared between a photoelectric cell of light pen and an electronic gun fired from the CRT.
For the first time, the human race could practice drawing sketches on a computer monitor. Sketchpad became the foundation of modern digital drawing software.
But the crazy part?
Among the gazillion of paid and free drawing software available today, Sketchpad is far from the best painting software. It's still there—basic, without key features to bring your artistic inspiration to life. This begs the question:
Which are the best drawing software in today's technological world?
Top 5 Picks for Digital Art Tools
Best digital art software for iPad users
Full artistic capabilities at a one-time purchase of $9.99
Friendly interface that shortens your learning curve
Dazzling brush library—perfect for digital illustrations
In-built time-lapse recording that tracks the time you spend on an art
Best all-in-one drawing app
Fully-featured drawing tool—you can tackle nearly everything in digital art
Full Adobe suite subscription comes at $52.99/month
Compatible—available for both Apple and Microsoft users
Best painting software for comic artists
Advanced pen pressure detection that presents realistic-looking pen strokes
Two purchase options depending on the art you create
One-time pricing model—you won't need to worry about your subscription expiring
The design has artists in mind—you won't need detailed instructions to use it
Best budget-friendly graphic software
Advanced features at an affordable price
Excellent user interface that suits concept art and other digital painting projects
Available for nearly operating systems—you don't need to worry about compatibility
Has a 90-day trial period—you have enough time to evaluate before purchasing
Best free drawing software
Professional but 100% free graphics software
Well-featured—can handle nearly all types of art
Available for Mac, Windows, and Linux operating systems
Support Photoshop file formats which allow you to switch
#1. Procreate (Best Drawing Software for iPad Users )
Procreate for iPad is a relative newcomer in the world of professional creatives. The drawing tool was first released in 2014, and since then, many artists have been talking positively about it.
When I first got my hands on the Procreate app a couple of years ago, I wondered if it was going to replace Photoshop.
While Photoshop is an industry-standard drawing software, procreate is quite comfortable for sketching and feels like drawing on a real sheet. You can readily rotate and zoom the digital canvas in Procreate, and the workflow is incredibly smooth.
Pros
Over 130 built-in default brushes—of the 130, you can use the customization features of each to create a brush of your own.
Allows the importation of brushes from Photoshop—no need to change your working routine in case you shift software.
Has nearly all the artistic capabilities like:

Colour pellets that allow you to create, assign and save different colour pellets so that you can change the colour with a tap of your fingers.
Lettering—even though I'm not a lettering artist myself, many artists find this feature handy because it can mimic lettering tools but with way more control over your workflow.
Time-lapse recording utility that tracks the time you've spent on a particular piece of art.

Price—it costs $9.99, and once you pay, it's yours forever.
Cons
Procreate is only available for iPad users. It doesn't have a desktop version for Windows, Mac, or Linux users.
#2. Adobe Photoshop (Best All-in-One Painting Software)
Today, it's hard to find someone who hasn't heard of Photoshop, even when they don't work in the creative sphere. The digital art software has been there from the early 90s and has become a professional standard software.
Being a firm Adobe user for years, I think Photoshop is the best software for desktop computers.
Adobe was supposed to release a fully functional version for iPad in 2019, but everyone is still waiting to date, making Procreate a better choice for iPad users.
Pros
Unlimited brush choices—no need to customize a brush yourself—you'll find almost every brush you need saving you time.
Versatile—find all the tools for illustration and even photo editing.
Runs hundreds of layers at a time (which is vital for a complex project and highly detailed drawings). For me, this is the biggest advantage over Procreate.
There are multiple drawing tutorials online, so you won't struggle to find learning sources.
Cons
The subscription fee for Adobe full suite is $52.99/month. You subscribe through Adobe Creative Cloud.
Photoshop can be intimidating for beginners (However, I would recommend you learn Photoshop because it's a plus when applying for a job). Many companies state Photoshop skills as a critical requirement.
#3. Clip Studio Paint (Best Software for Comic Artist)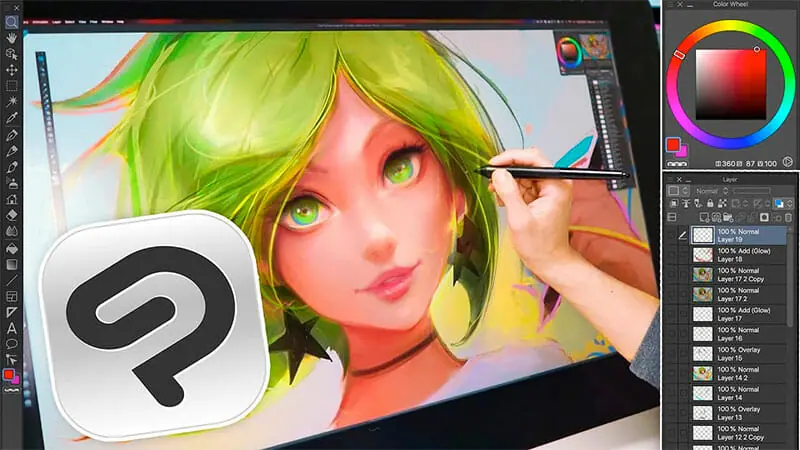 While Photoshop is the industry's giant, Clip Studio Paint is a well-known drawing software in the world of manga and comic art. What makes it unique is its natural-feel drawing experience when creating digital art.
It has advanced pen pressure detection that presents a natural brush feel beyond other graphic software. The app has two versions:
Clip Studio Paint Pro (has limited features but excellent in character art, concept drawing, and illustrations)
Clip Studio Paint Ex (has all features and best for manga arts, comics, and animations)
Pros
Advanced pen pressure detection that presents you a natural, realistic-looking pen strokes
Available for all platforms—Windows, macOS, iPad, iPhone, and even Android
Has customizable brushes so that you can enjoy art the way you would on a traditional media
Adopts a one-time purchase plan—you won't need to worry about your subscription expiring
Comes with a lineup of handy animation tools that make it favourable for animators than any other paint software
Cons
It lacks some filter tools that make a difference.
#4. Affinity Designer (Best Balance of Features and Budget)
While Photoshop has a pricier subscription and Clip Studio Paint lacks some critical filters, Affinity presents the right balance of budget and features.
You get all the key features for drawing without creating a massive dent in your pocket.
Pros
Presents advanced features at an affordable price—you can handle most artwork without spending a fortune on the tool
Excellent Photoshop compatibility—compatible with Photoshop files and has all the effects, vector drawing, filters, and brushes. You won't need to start afresh when you switch software.
Has platform-specific versions so that you can use it on Mac, Windows, or iPad
Cons
It lacks some features like automatic tracing. It's thus impossible to vectorize pixel-based images automatically.
#5. Krita (Best Free Open Source Painting Program)
I haven't tried Krita, but I heard from other artists that it's the best free drawing software you can get.
A friend told me that it has a good drawing engine, so I'm looking forward to trying it soon.
Pros
There are nine unique brush engines that present you with any brush you need.
It's completely free—with all critical features for digital art. You don't have to pay to use the tool.
There are many tutorials for this free tool which makes it easier to learn.
Cons
You'll experience frequent lags, no detection of the pen, pressure sensitivity issues—it forces graphic designers to move to other platforms.
What's the Best Drawing Program to Use?
I've personally used Procreate and Photoshop for years. I happily pay for the two drawing software because they complement each other.
However, I prefer Procreate on iPad because it's specifically designed for artists. It packs all the features I need, it's comfortable for sketching, and it feels much like drawing on a real sheet of paper.
On the flip side, Photoshop is an industry-standard overall, but Procreate is as good as what you need as an artist.
Frequently Asked Questions
Which Is the Best Free Drawing Software?
Krita—it has a great brush engine and key features that any artist may need completely free.
Is Photoshop Better Than Procreate?
The short answer is:
Each can replace the other depending on what art form you're doing. Meaning Photoshop is better for one set of tasks, and Procreate is better for other tasks.
What Drawing Tools Do Comic Artists Use?
Most comic artists use the Clip Studio Paint app. It has a lineup of features that specifically appeal to comic art.