Looking to get into digital art? Wondering, what's the best drawing app or which art app should you start with?
Whether you're a professional artist or just getting started, these apps can help you unwind and express your inner world digitally:
Procreate
Linea Sketch
Adobe Photoshop Sketch
Adobe Fresco
Adobe Illustrator Draw
Here are their pros and cons that'll help you choose the best art app for you.
My Top Picks For Digital Art Apps Compared
An intuitive user interface: Saves time during the adjustment period for new users.
Customizable brushes: You can add to over 200 available brushes to make your drawing one of a kind.
Unlimited layers: Add and create depth in your illustrations.  
The available animation feature: The app is suitable for both animators and digital artists.  
Easy to undo errors with a two-finger tap: No need to change tools and disrupt your workflow.
Best simple drawing app for beginners
Effortless to use: Easy even for those just getting started.
Record as you create digital drawings: Post your progress on social media.
Works without an apple pencil: Use your app even if you lose your pencil or prefer using the touch option
Five layers to build upon: Create realistic drawings. 
Use it as pen and paper: Ideal for when you want to jot down notes and ideas for future projects making sure you don't forget them.
Best drawing app for android
Available for both iOS and Android: It doesn't limit your options.  
Export your art as Photoshop files: Keep the layers and work on them via a painting app on the computer later. 
A wide array of drawing tools: Accommodates different drawing styles.
Easy to organize a toolbar based on your preferences: Have in hand all the brushes and colours you use regularly.  
Upload your art to the community gallery: Connect with other artists or get feedback if you're stuck.
Best for advanced artists
Accessible for both iPad and Windows: Enables you to alternate between devices. 
The largest collection of digital brushes: Lets you experiment with different styles while finding your own.
Offers an authentic experience: By making the drawing and painting look and feel like a real pen and paper. 
Pixel and vector brushes: Ready to use all in one app for versatile artists who combine techniques.
Timelapse feature: Share your art process across different platforms.
Best tablet for illustration
Customizable vector brushes: Helps you stand out as a graphic designer with your signature visual style.
Scalable vector-based images: Enables you to increase images without losing quality.
Easier to use compared to other vector drawing apps: Makes it accessible to sketch simple icons, logos, or graphics.
Digital Art App Reviews
1. Procreate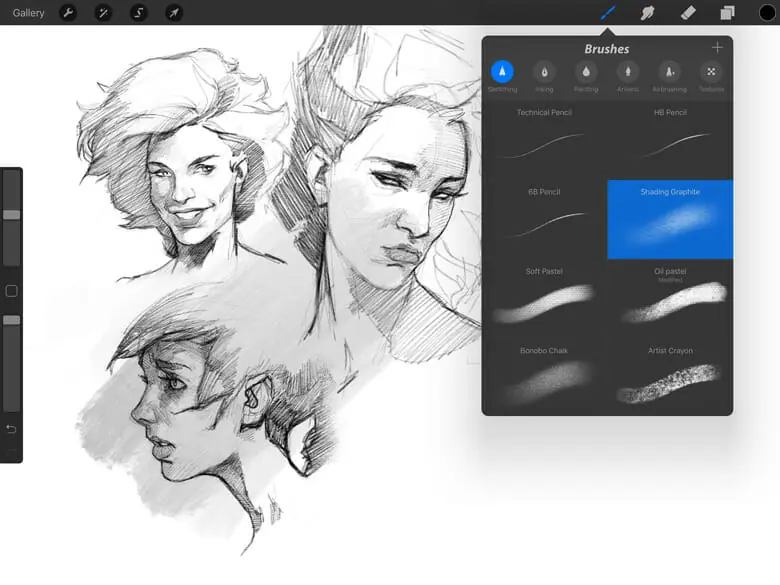 While drawing on his iPad in 2010, James Cuda had a big idea—what if you could sketch, paint and illustrate on your tablet as well?
Not expecting much from his humble startup, he teamed up with the coder Lloyd Bottomley, and together they developed one of the most popular drawing apps up to date—Procreate.
Pros:
Feels like pen and paper, making the smooth transition from what's familiar to you as a traditional artist into the unknown world of digitized art.
The user-friendly interface makes it effortless for beginners to learn the ropes without getting frustrated with the lack of progress.
Versatile as it is, this digital drawing app can aid you to brush up on your illustrations, animations, and painting.
Custom brushes help you develop recognizable brushstrokes.
Cons:
Available exclusively for your iPad or iPhone.
It's not a free app, but it's still super cheap.
Check out this sticker making tutorial for the site RedBubble if you need some ideas on how to use Procreate's drawing tools here:
Overall, it's one of the best drawing apps if you transition to digital drawing after years of working with physical materials and don't want to feel you're learning to draw all over again.
2. Linea Sketch
Linea Sketch makes the drawing process effortless for those who find an overwhelming number of creative tools and options in digital apps frustrating and confusing.
How Does It Compare to Procreate?
Linea Sketch is a simplified version of Procreate. It's easy to get a hang of it since you can start drawing, sketching or jotting down notes on a drawing tablet right away.
This best sketching app is user friendly and has more options that can make your art stand out from other digital artists, such as more colours and layers to work with.
Pros:
Simple drawing tool to use even to those who aren't tech-savvy but would love to create digital artwork.
In case you lose an apple pencil, you can use your fingers to create art via this art app.
ZipLines feature helps you get those accurate geometric shapes and straight lines.
The touch eraser feature enables you to instantly delete your mistakes without interrupting your workflow by changing tools.
Cons:
Only in the Apple store for your iPad or iPhone, the drawing app isn't accessible to android users.
Less digital features compared to other apps.
Check out this tutorial to get a gist of how to do a simple sketch in this best app for drawing:
Linea Sketch is ideal for artists who want to try out digital apps or casually sketch in their free time and want to get straight into it.
3. Adobe Photoshop Sketch
For professional artists who lean more toward technical drawings, Adobe Sketch is one of the best android apps that offer various traditional art forms in digital format.
Whether you want to practice calligraphy or transfer your specific painting or drawing style into digital, the app has the tools for you.
Photoshop Sketch vs Linea Sketch
Adobe Sketch is accessible to both iOS and Android users, but it's more complex to use than Linea Sketch. Photoshop has more tools and layering options for advanced artists.
Linea is intended for users who are beginners or non-artists who want to take quick notes and Adobe is one of the best drawing apps for the professional in the field.
Pros:
The pencil is real, allowing precise sketches without pressure curve tweaking of the pen, as the Apple pencil works like a regular pen.
Various tools are available for artists who use watercolours, pencils, pens, charcoal, markers or alternate and combined techniques.
Both Android and iOS friendly, it's convenient for those who want a drawing tablet app for their mobile devices.
Background images from your library can be added if you'd like to build upon them with more complex art or avoid black canvas.
Community Gallery lets you connect with other artists on this artwork app and get inspired by their sketches.
Cons:
No free version of the app, but you can get it free as part of the Creative Cloud subscription.
Complex to use unless you're already familiar with Adobe apps.
The app is ideal for different drawing styles, from manga, comics, and watercolours to the artwork you can print and sell on Etsy.com.
4. Adobe Fresco
Inspired by advanced drawing apps such as Procreate, Adobe wanted to accommodate artists who draw on their iPads—and the drawing and painting app Adobe Fresco was born.
Is It Better Than Adobe Photoshop Sketch?
Adobe Fresco is more similar to real-life painting and drawing. However, both drawing apps could be considered as some of the best painting app tools for professional artists.
Fresco is also a vector graphic art app—which makes it more suitable for both graphic design and varied techniques such as watercolour, painting, and drawing.
Pros: 
Vector drawing program for those who use vector brushes to create smooth transitions that make your painting, illustrations and designs come to life.
Available on both App Store and Google Play revealing the world of creative vector brushes for both iOS and Android users.
The largest digital brush collection enables you to hone your unique style while making art.
Visually similar to real-life drawing, the app is art in itself because you can see watercolours spreading through the water as well as drying.
Cons:
Apple Pencil isn't compatible with all tablets.
No text or animation is possible with the app.
Adobe Fresco is for traditional artists that turned digital and miss the genuine experience or for professionals who seek to create art for their Artstation portfolio.
5. Adobe Illustrator Draw
Adobe Illustrator Draw is for graphic designers who already know their way around adobe tools and need an app to create unique graphic illustrations on their touchscreen devices.
How Does Adobe Illustrator Draw Compare to Adobe Fresco?
Both are advanced drawing apps for artists. However, Adobe Illustrator Draw is targeted towards graphic designers with brushes you can use to create vector illustrations.
While Adobe Fresco also has vector brushes that make graphic design possible, it's beloved by traditional artists for its similarity to real-life painting and variety of brushes for different artistic expressions.
If you have a creative cloud account, you can access both of these apps or any other that is included in Adobe's subscription plan.
Pros:
Vector drawing brushes enable you to create images with smooth lines and separate shapes that are part of the larger image.
Customizable brushes help graphic artists to create recognizable work that doesn't resemble every other graphic out there made using the same illustration app.
Create scalable art with vector tools that can be enlarged for print without sacrificing details you worked hard for.
Multiple layers you can add to your images help your 2D images come alive more realistic and complex than ever.
User-friendly drawing app compared to other apps.
Cons:
The app is not suitable for larger projects that take time because it starts to lag if you add too many layers and build upon your images.
Increased chance you'll undo something you finished when trying to move the canvas because the app utilises similar motion to do both using two fingers.
Overall, Adobe Illustrator Draw was created with graphic designers in mind and creating logos, graphic illustrations and icons are where its strengths lie compared to other art apps.
How to Choose the Best Drawing Apps for Your Needs?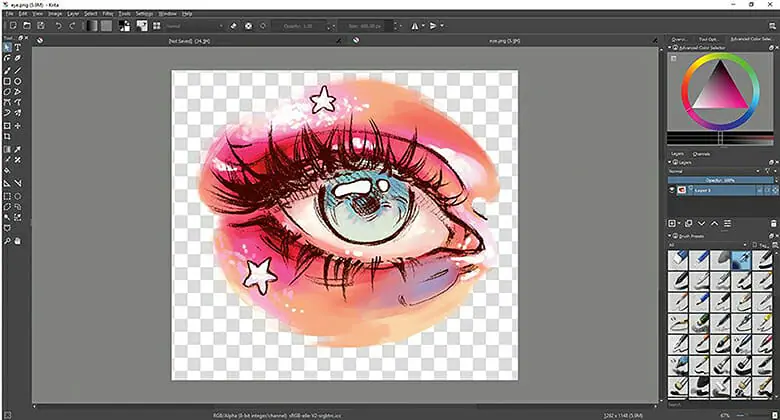 Some factors to consider when choosing an app are:
Price range (and whether free apps can suit your needs)
Your skill level
The difficulty of the app interface
Your artistic style/ prefered techniques
These factors make a difference in your progress because choosing the wrong app (e.g. too technical or advanced for your level) is demotivating and deters artists from artistic apps.
Should You Get a Free or Premium App?
Free apps are mostly simple with minimal features compared to premium apps.
For many artists, it's difficult to remain engaged on free apps because once you try out all the basic features, you won't find many tools to express complex ideas.
Premium (paid) apps on the other hand have a plethora of varied tools for different types of art—many of them customizable. They also feature community galleries for artists to post their digital art.
In addition, premium apps connect you with a community of artists who can share your art and give you feedback in case you begin to stagnate with your progress or aren't sure how to improve your work on the painter app.
Bottom line—go with premium apps to get professional-level software like Procreate to improve your art skills quickly at a bargain price.
Are You an Advanced or Beginner Digital Artist?
Advanced digital artists have more hours of practice under their belt and they're already familiar with most of the tools apps provide while beginner artists are new to digital art.
If you're an experienced artist, consider if you need advanced features that will make your art look professional or want to continue sketching casually in your own time and terms.
Varied tools will help you establish yourself with unique art among fellow digital artists, but also clients that might need your services and want to check out your portfolio.
A larger number of tools can be overwhelming for beginner artists who are just getting started.
Simplified, free apps are a better choice for inexperienced beginners as they also enable you to test the waters and see whether digital art is for you.
If you're trying out digital art after years of practising traditional art, that might set you as a beginner digital artist as well.
Even though many apps feel like pen and paper and even look like you're working with traditional materials, the skill you need for digital art is slightly different.
Experienced app users are already familiar with different tricks and tool setups that make the end result more realistic.
Inexperienced (beginner artists) don't know all the shortcuts and the extent of what is possible with the app—making their progress slower in the beginning.
Another factor that makes apps better for either advanced artists or beginners is the adjustment period, i.e. difficulty of use.
Is the App Difficult to Use?
All apps take some getting used to and an adjustment period can be frustrating to artists who are not tech-savvy, first time trying out such apps, or already got used to different apps.
However, some digital art apps have an effortless interface easier to navigate for inexperienced users.
For example, Adobe apps are ideal for advanced artists who like the technical aspect of drawing, illustrating, and sketching.
Apps such as Procreate and Linea Sketch are apps that welcome new digital artists with their effortless interfaces and shorter learning curves.
Advanced artists that switch apps also have to overcome the adjustment period because the same tool can be used differently.
For example, two-finger taps can undo the last stroke in one artistic app and activate the eraser in another.
Even switching the pen can slow down experienced artists once they opt for different tools and apps.
What Is Your Artistic Style?
Specializing in one of these techniques or combining them, using specific colour palettes or showing the art from a different perspective all count towards your unique artistic style.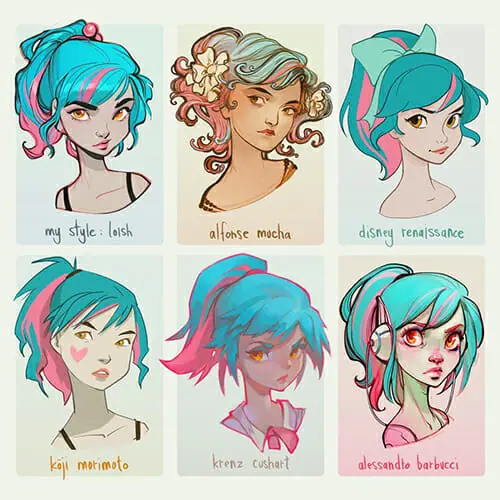 Beginners do not have a distinct visual style because they're still learning and possibly recreating art from other artists, but all artists develop their signature styles over time.
Start by choosing the technique that you're familiar with if you practice traditional art or go for the style that speaks to you the most.
You'll have different artistic needs for varied techniques such as apps to draw, sketching, illustrations, creating mangas, comics, graphic design, animation, etc.
Certain computer art apps are great for graphic design because they have all the tools such as vertical brushes for digital illustrations and built-in graphs that aid you to create realistic 3D images.
Different brushes and tools make your digital drawing look blended, realistic as if it's made with various traditional techniques, or with sharp edges.
Some painter apps will have animation features enabling you to create both static and animated digital art.
You also may not have a niche (e.g. a single prefered technique such as digital watercolours) or combine and change your tools depending on a project.
If you or your team or artists combine techniques or alternate between different ones depending on a project, it's important to look for an app you can use for both.
Another option is to get an app from the Adobe family as in that way you'll have access to varied apps from their brand.
When finalising your decision, consider your budget, skill level, preferred technique and the devices you have on hand as some apps are limited to either android or iOS users.
Which Drawing App Do I Use?
For me, it's all about art apps that resemble traditional art the most. I prioritize apps that feel and look like a real-life drawing.
I also don't want something too difficult to use as it makes drawing frustrating.
Drawing apps with a limited number of tools were also out of the question as they get boring once I try out all the features.
Adobe apps are often regarded as an industry standard and the best drawing apps but take a while to learn.
Compared to the app Procreate that was developed to be used on touch devices, apps from the Adobe family that were adjusted for tablets and phones are more likely to crash.
Adobe Apps on tablets and phones have too many tools and features and don't have enough memory as PCs that can support any complex drawing app for a computer.
The drawing app Procreate has proven to be the most intuitive tablet drawing app while offering the most similar experience to analogue art.
Procreate is ideal for beginners who are afraid of making mistakes and experienced artists who seek a way to view their art in another form or from another angle.
Frequently Asked Questions (FAQs)
How Do You Make iPhone Text Images Using Digital Art?
Open Digital Touch option to create simple digital artwork and choose the colour and a brush.
Draw the wanted shape with your finger and send it as a text message on your mobile device. Watch the video below.
Which Digital Art Software Is Most Similar to Art Flow?
Besides Art Flow, some of the best drawing apps for android tablets are Adobe Illustrator Draw, Art Rage, Clip Studio Paint and Infinite Painter.
Similar creative apps to Art Flow that aren't compatible with android devices are Linea Sketch, Procreate, and Autodesk Sketchbook.
What Are the Best Free Digital Art Apps?
Some of the best free drawing apps are Sketchbook, Krita, Tayasui Sketches, Microsoft Paint 3D and Autodesk Sketchbook.
Adobe's Creative Cloud subscription comes with a lot of digital art apps at no extra cost if you already use professional drawing apps from the Adobe package.

Featured Image from: Pxhere