Wondering if the 21 Draw courses are worth it?
There's been a boom in online courses for creatives. With so many choices, finding the right learning platform can feel overwhelming.
That's why in this 21 Draw guide, I review 21 Draw books and masterclasses. You'll have an overview of the instructors, teaching highlights, and the prices. I've included plenty of screenshots to give you a feel of the books, tutorials and the video clarity.
By the end of the guide, you'll have a clear idea of the platform content and be able to decide if 21 Draw is the right solution to your art problems.
21 Draw Illustrators Guidebook Review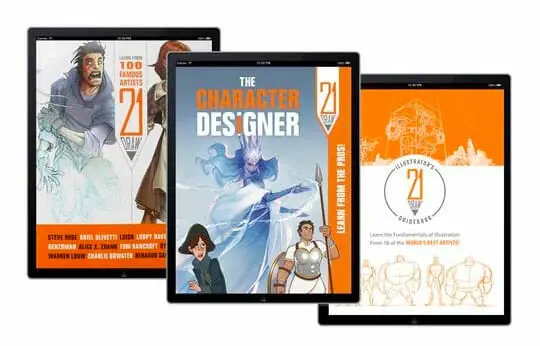 21 Draw started out with books that would help any character designer, such as their famous 21 Draw Illustrators Guidebook. This 192-pages art book was crowdfunded on Kickstarter and started out with a heroic promise of – "solving all your art problems."
Published in 2016, the art book comes in both hardcover and ebook formats. Every illustrator has at least two pages of content, and a dedicated 'meet the artist' page.
What's in the book?
There are eight chapters, with content chosen specifically for illustrators. For example, 'Text Into Art' pages show the same brief, Helen of Troy, by three character designers along with comments on the process.
All the pages have a gorgeous layout, with plenty of full-size illustrations and image libraries. Four of the eight chapters contain contributions from multiple character designers and artists.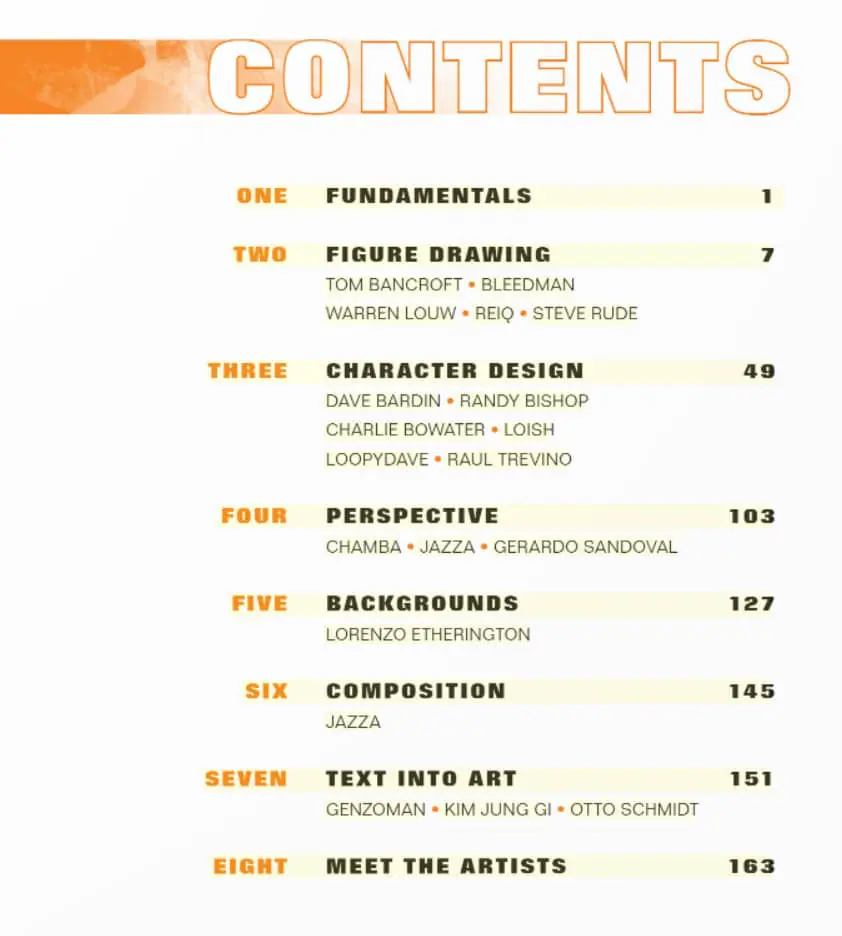 The coming together of master illustrators is something unique to this book, and 21 Draw platform. It adds a rich variety to the content. There are 18 master character designers and illustrators who have contributed to this book:
Tom Bancroft – Design An Animation-Style Male Hero
Dave Bardin – Designing Witches And Warriors
Randy Bishop – Otherworldly Character Design
Bleedman – Create A Cartoon-Style Female
Charlie Bowater – Creating A Heroic Couple
Chamba – Drawing A Scene In Perspective
Lorenzo Etherington – Start Small To Build Big & Weapons With Character
Genzoman – Helen Of Troy
Kim Jung Gi – Helen Of Troy
Jazza – What Is Perspective? & Composition
Loish – Designing A Female Superhero
Loopydave – Welcome To The Villain's Lair!
Warren Louw – Drawing The Ideal Female
Reiq – Mastering The Art Of Hands And Feet
Steve Rude – Drawing The Ideal Male
Gerardo Sandoval – Designing In Perspective
Otto Schmidt – Helen Of Troy
Raul Trevino – Creating Heroic Characters
You'll read about art fundamentals and illustration concepts explained from an illustration and creative industry point of view. For example, the male and female proportions are explained from a more 'cartoon' like perspective with a focus on storytelling.
What's it for?
21 Draw Illustrators Guidebook helps you to explore a variety of illustration styles from industry legends.
You'll get plenty of pages with full-page illustrations that you can copy to hone your art. Artworks include comments describing the artists' insights, giving you a sneak peek into the process. It is the ideal art book to add to your creative inspiration bookshelf.
While the books contain some tutorials, to really learn from the masters I'd recommend the 21 Draw online courses.
That's why I've taken a deep-dive into the courses in this article. Here's everything you'd want to know about their video content …
21 Draw Masterclass Courses Review
The 21 Draw courses bring resources from the world's best artists to anyone that has an internet connection – something that is a game-changer for art education.
21 Draw has over 40 fantastic courses in their library…and the best part? They're adding fresh new courses every single month! With a yearly subscription, you get full access to their entire course library. It's tough finding something with this amount of value from other competitors in the market.
In this section, I'll provide an overview of the most popular 21 Draw courses by famous character designers and artists.
The Courses
On the 21 Draw website, you can find a variety of courses in illustration, character design, lighting and shading, anatomy, and figure drawing. There are 21 Draw courses built around specific tools such as Photoshop and Procreate. The courses are designed for beginner, intermediate and advanced levels.
I'd suggest choosing the course content that resonates with your art goals and helps you address your art problems.
To make it easier, I've gone through all their courses and shared my six top masterclass picks for beginner to intermediate levels in the next section. These courses will give you a solid foundation to build your art practice.
Character Design
This course from 21 Draw is taught by Kenneth Anderson, a character designer who has worked for companies like BBC and Disney. Kenneth walks you through his process of character design as he creates an undead pirate character for a TV show.
What I loved about it: As a self-taught illustrator, the transition from learning a skill to applying it on a client project was something I struggled with. This course from 21 Draw bridges that gap and teaches how to breathe life into character designs.
Tip: Draw along with Kenneth and try out the assignments with a personal project later on.
Course Snapshot
Instructor: Kenneth Anderson
Course Length: 2.76 hours
Lessons: Introduction + 7 Lessons (The Brief, The Story, Research, Thumbnails, Refining, Refining Part 2, and Final Image)
Level: Intermediate
Tool: Adobe Photoshop
Lighting + Shading: Make your Art Shine!
Make your characters pop through shadows. In this 21 Draw course Italian illustrator and character designer, Maria Lia Malandrino introduces the theory of shadows. She teaches you to create different types of shadows using a clipping mask and blending modes.
What I loved about it: The strategy of planning for shadows – like a thumbnail sketch of the lighting – this helped me to apply her process to my art style instead of just copying her style. I found I could observe the subject for my outdoor sketches more accurately.
Course Snapshot
Instructor: Maria Lia Malandrino
Course Length: 1 hour
Lessons: Introduction + 6 Lessons (Preparation, Theory Shadows, Practice Shading, Theory Light, and Practice Lighting)
Level: Intermediate
Tool: Procreate & Ipad
Environment Design
This tutorial gives an in-depth understanding of environment design. The tutorials are in the form of demonstrations with a clear narrative to explain the process. Michael Bills and Kenneth Anderson both create a Utopian City for a creative brief from the 21 Draw team. Michael Bills is a concept artist and illustrator who specialises in mobile games.
What I loved about it: I found Michael Bills' suggestion to first research the point of view of the design has improved and added variety to my art. Both approaches are a mine of actionable tips and design theories … just remember to note them down.
Course Snapshot
Instructor: Michael Bills & Kenneth Anderson
Course Length: 5.6 hours
Lessons:  Michael Bills Course has 7 Lessons covering: thumbnailing, composition, choosing brushes, refining your idea, planning on lighting, adding in colors and finally polishing your environment design. Kenneth Anderson Course hsa 15 Lessons covering: composition, detailing, using atmospheric perspective, painting and evaluating the work to finish it.
Level: Intermediate
Tools:  Photoshop
Character Design from a Brief: The Male Superhero
I must confess, this 21 Draw course left me a little starstruck! The standalone lesson is from Tom Bancroft, a character designer and animator for Disney. He's best known for his creation of the Mulan character, Mushu.
In this art video, he shows how to create a male superhero character in a simplified animation style. He warns you of potential art problems and how to avoid them. You'll also learn to prepare your character sketch for photoshop and coloring.
The process is described clearly with some trademark tips, like Tom's lightbulb method. You'll also learn industry terms like line mileage. The highlight for me was the use of crosshair to create the character in different angles.
Course Snapshot
Instructor: Tom Bancroft
Course Length: 0.83 hours (50 minutes)
Lessons: 1 lesson with 3 Parts;
Part 1 – Key concepts and making rough sketches
Part 2 – Drawing different superhero body types using simple shapes
Part 3 – Dynamic posing, clothing and accessories.
Level: Beginners
Tool: Traditional media (soft pencil)
Posing for Character Design
Posing is so much more than just unusual postures. In this 21 Draw course character designer, Jeffrey Cruz shows how to choose poses that bring out the key features of your character. It is essentially a window into better storytelling.
Jeffrey Cruz shares insights gathered from working as a concept artist and comic book character designer for Bandai-Namco, Marvel, DC, Image Comics, and Disney. The course comes with seven assignment resources coupled with theory and character design demonstration.
He goes through the complete process from drawing roughs to choosing a style or look and using a skeleton frame to try out dramatic poses. I loved that Jeffrey turned the entire process into a fun conversation, so engaging I didn't realise how quickly I went through the videos.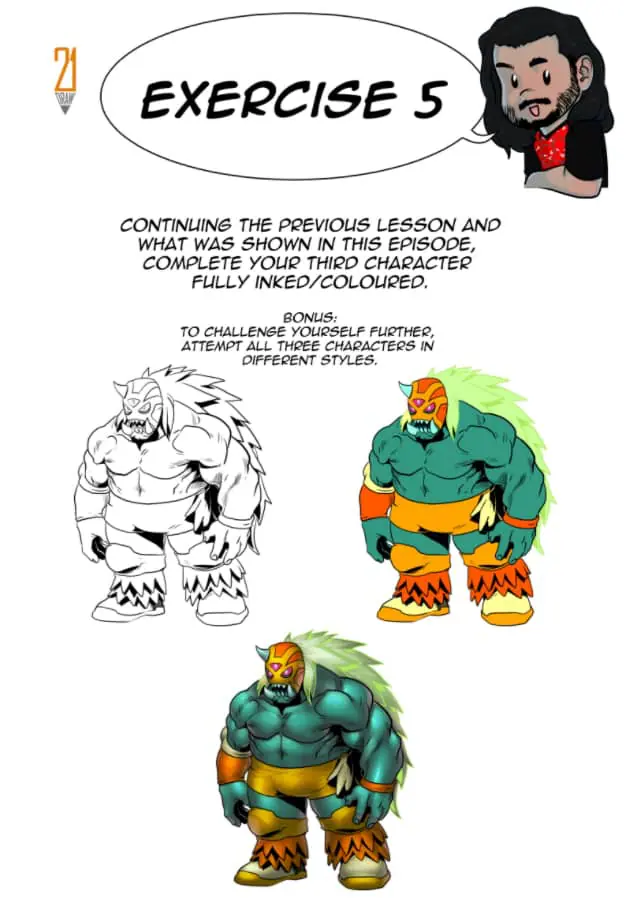 Course Snapshot
Instructor: Jeffrey Cruz (CHAMBA)
Course Length: 4.2 hours
Lessons: Introduction + 6 lessons (Roughs, Character One, Character Two, Character Three, Frames and Posing, Final Dynamic Posing)
Level: Intermediate
Tool: Photoshop
Anatomy & Gesture
Gesture drawing is the backbone of all your artworks – be it cartoon characters or classical portraits. I can't review 21 Draw without mentioning this awesome course by Warren Louw.
Warren Louw is a digital and traditional artist from South Africa who works in the gaming and comic industry. He's worked for a bunch of established clients such as ImagineFX, Udon Entertainment, Bandai Namco, and DC Comics.
You'll learn fundamental concepts like form, perspective, foreshortening, and flow. The course is split into easy to practice lessons. I'm sure you'll be stoked to have fancy concepts – like Contrapposto and counter angles – demystified!
I loved how he explains something like perspective in figure drawing, using examples and then the exercises help to put it in practice. The step by step instructions never gets boring or intimidating.
Course Snapshot
Instructor: Warren Louw (bonus lesson by character designer David Rosel and Genzoman)
Course Length: 2.7 hours
Lessons: 9 lessons (Flow, Contrapposto, Perspective and Form, Foreshortening and Angles, Dynamic Flow, Alternate Ways to Flow, David Rosel draws Aphrodite, and Genzoman draws Aphrodite)
Level: Beginner
Tool: Photoshop
This list is just a glimpse of what you'll find on the 21 Draw website. Every few weeks, you'll find new courses added to their list. Their Kickstarter supporters get access to the courses before they are launched on the website.
Keep checking to find new lessons from your favourite illustrators and character designers. It's one of the reasons, 21 Draw is listed as one of our top drawing courses online.
Read on for a list of their famous instructors – have you heard of them? I got introduced to some great artists here whom I've been following since.
The Instructors
With over 15 master and character designer, illustrators and artists – there's a variety of styles, tools, and points of view to learn from. The incredible recording quality and detailed narratives make it crystal clear what the instructor is doing.
Layout Of The Courses
21 Draw website pages are intuitively designed. When you click on a course, you'll see:
The name of the course with a video below it.
The autoplay button, selected by default.
You can watch the trailer, add the video to your favorites, rate it, and share it.
The illustration courses are split into lessons that build on each other. Every lesson is a standalone chunk of information – focusing on a single concept or a step in the process.
What I loved is, most lessons end with assignments to help you practice what you've learnt. You don't always find this with other digital art classes online.
Teaching Style & Video Presentation
All the artists on 21 Draw have a unique voice and style of teaching, and the high-quality videos do justice to their content. They use a good balance of lectures (often explained engagingly) and demos.
Teaching elements I found common across courses:
Artists create character design and illustration from scratch.
Artists generously share their process and technique through meaningful narratives.
Artists tie the content with how you would work in a real-world setting.
Artists focus on the planning stage – how to think before you even touch the pencil or digital pen.
Artists add useful resources and assignments to help you overcome art problems (exercise sheets, assignments, PSD files etc.)
Good lighting, high resolution, and excellent camera angles ensure that the artwork is always in focus. I found that all the tool based demos have really great screen recordings – every option selected is visible.
There are no blurry, out of focus bits. Unlike free Youtube videos, you don't have any annoying ads. You'll get premium, professional-level video content.
Course Pricing & Target Audience
On 21 Draw each course is sold separately, with different prices for the artists' masterclasses.
They also have a monthly membership and annual membership.
For about the price of one week's coffee, you'll get access to high-quality tutorials from renowned artists every month. Since the courses complement each other and target different aspects of illustration, I feel a bulk purchase is something worth investing in.
Is 21 Draw Worth It?
In one word – Yes!
21 Draw does a great job of delivering on the promise of – "solving all your illustration problems." Of course, only if you're willing to put in the practice.
It has practical tips and extremely good advice. You'll learn methods to come up with initial ideas and then execute and refine them. For aspiring illustrators and character designers, many of the course assignments can be a starting point for building a professional portfolio.
Sign up to the 21 Draw Masterclass to take your illustrations to the next level.